A customized print-friendly version of this recipe is available by clicking the "Print Recipe" button on this page.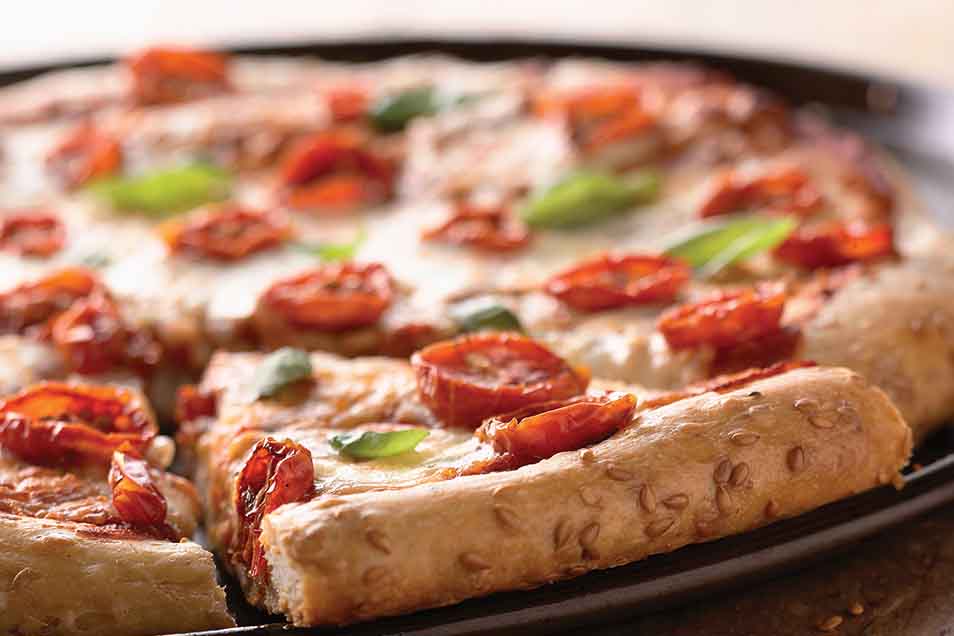 Enhanced with flax and whole wheat, this golden pizza crust is a high-fiber, nutritious way to serve your family their favorite takeout meal — right from your own kitchen!
Ingredients
2 teaspoons instant yeast
1 1/4 cups lukewarm water
1 tablespoon olive oil
1 1/4 teaspoons salt
1/4 cup whole flax meal
1/4 cup whole flax seeds, plus more to sprinkle over dough
Instructions
Combine all of the ingredients except the milled flax and flax seed. Mix and knead everything together — by hand, with a mixer, or bread machine set on the dough cycle — until the dough is soft and slightly sticky. If you're kneading in a stand mixer, it should take 4 to 5 minutes at second speed, and the dough should barely clean the sides of the bowl, perhaps sticking a bit at the bottom.

Add the flax meal and flax seeds and mix or knead until evenly distributed.

Place the dough in a lightly greased bowl or 8-cup measure, cover, and allow to rise until very puffy, about an hour.

Divide the dough in half for two 1/2"-thick 14" round pizzas; or leave it whole for one thick 18" x 13" rectangular pizza.

Lightly grease the pan(s) of your choice. Place the dough in the prepared pan(s), pressing it out and stretching towards the edges. If the dough starts to shrink back, cover it and walk away for 15 minutes to let it rest. When you come back, you should be able to pat the dough closer to the edges of the pan.

Allow the dough to rise, covered, until it's noticeably puffy, about 45 minutes. Towards the end of the rising time, preheat the oven to 450°F.

For crispiest crust, bake the crust on the lower oven rack until it's just beginning to brown around the edges, but is still pale on top. This will take about 8 minutes for thinner crust pizza; 12 to 14 minutes for thick-crust pizza.

Remove from the oven, and arrange your toppings of choice on top — we like oven-roasted tomatoes and fresh basil with mozzarella.

Return to the oven, and bake on the center oven rack for an additional 10 to 15 minutes, until the crust is nicely browned, and the cheese is melted.

Remove the pizza from the oven, and transfer from the pan to a rack to cool slightly before serving. For easiest serving, cut with a pair of scissors.

Yield: two medium 14" round pizzas; or one thick 18" x 13" rectangular pizza.
Reviews
My family and I love this pizza crust. This is my second time making it. We loved it the first time and decided to switch to this crust, but this time it was even better. I didn't use the whole flax seeds. I used 2 oz of flax meal instead after chatting with the baker's hotline because I didn't have them and I didn't really want actual seeds in my pizza crust. This time I also reduced the water to 9 oz because last time the dough was a bit too sticky to handle easily. I put it in a 16-inch pizza pan and put the pan on my baking stone and baked it on the bottom shelf of oven for the entire time. This made it perfect for us. Crunchy on the outside and chewy on the inside. I never thought of putting flax seed in pizza crust but I am glad you all did. :-D
This is the second time I've made this recipe and it's great! The dough is crispy, light, and a really nice texture. It's also incredibly easy to make. I've been baking for about 6 month but certainly wouldn't call myself an "experienced" baker...and this one gives terrific results. I like the addition of the flax seed and the whole wheat flour, too...both for taste and nutrition. The dough rises easily...Neither time I've made it have I had to let it rise the full hours, and it's "noticeably puffy" within about a half hour, so it's quick, too. All in all, a great recipe!
This is a hearty-flavored, rustic, crispy-edged, thin pizza crust which makes for a very good change of pace from a puffy-edged, unbleached bread flour crust:) The nutty flavor works well with all of the topping flavors. You know it passed the hubby-test when you hear, "You can make this again!" I used my food processor with the dough blade on low speed until all the flour was incorporated, perfect sticky dough that doubled in an hour. I then divided the dough, easily shaped to 14" diameter on floured parchment papers, covered and let rise for recommended time. After the 2nd rise I spread with sauce/toppings and baked on hot pizza stone placed 7" from the top of oven at 450 degrees for 10 minutes, turning half way through. Thank you for your "Bake with what's in my pantry" option. We love the Oatmeal/Flax/ Cranberry cookies and having plenty of flax seed I wanted to find another use for the seed.