A customized print-friendly version of this recipe is available by clicking the "Print Recipe" button on this page.
Flourless Chocolate Nut Cake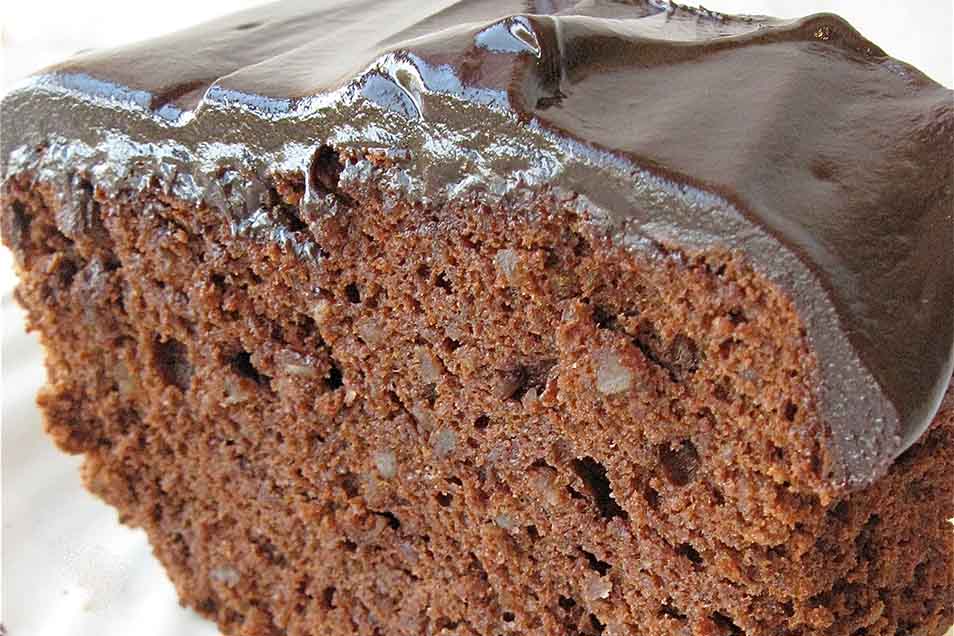 Perfect for Passover, this moist, light cake gets its body from egg whites and nuts. Chocolate-espresso glaze adds another dimension of flavor.
Ingredients
Cake
10 large eggs, at room temperature, separated
3 ounces unsweetened baking chocolate
1/2 cup chocolate chips
heaping 1/4 teaspoon salt
2/3 cup granulated sugar, to mix with the egg yolks
2 cups diced pecans or almonds, finely ground; OR 2 cups pecan meal or almond flour
1 teaspoon vanilla extract
1/4 cup granulated sugar, to mix with the egg whites
Glaze
1 cup chocolate chips
1 tablespoon butter
1 teaspoon espresso powder
3 tablespoons heavy cream
Instructions
Lightly grease a 10" tube pan or angel food pan. For best results, cut a piece of parchment or waxed paper to fit the bottom of the pan, and grease the paper. Preheat the oven to 350°F.

Separate the room-temperature eggs, putting the whites and yolks in separate large bowls.

Melt the two chocolates together, stirring till smooth, and set aside.

Beat the egg yolks till smooth and lemon-yellow. Add the salt and 2/3 cup sugar, and beat again till thickened and lightened in color.

Stir in the melted chocolate.

Stir in the nuts. They should be processed as fine as possible; they'll probably be a bit pasty.

Beat the egg whites and vanilla till foamy.

With the beater going, sprinkle in the 1/4 cup sugar, beating till soft peaks form.

With the mixer at low speed, gradually fold the whites into the yolk mixture, mixing gently till no streaks show.

Spoon the mixture into the prepared pan.

Bake the cake for 35 to 40 minutes, till a cake tester inserted into the center comes out clean. Remove it from the oven, and set it on a rack. Loosen the edges, and let it cool in the pan for 1 hour. Loosen the edges again.

Invert the cake onto the rack, and prepare the glaze.

To make the glaze, combine all of the ingredients in a microwave-safe bowl or saucepan, and heat till the chips are very soft. Stir till smooth.

If the glaze isn't pourable, add more cream to thin it out. Pour over the cake. It's OK if the cake is still warm when you glaze it.

Yield: 10" cake, about 16 servings.
Nutrition Information
Serving Size

82g

Servings Per Batch

16
Amount Per Serving:
Calories

300

Calories from Fat

200

Total Fat

22g

Saturated Fat

7g

Trans Fat

0g

Cholesterol

120mg
Sodium

85mg

Total Carbohydrate

26g

Dietary Fiber

4g

Sugars

20g

Protein

7g
* The nutrition information provided for this recipe is determined by the ESHA Genesis R&D software program. Substituting any ingredients may change the posted nutrition information.
Tips from our bakers
Forgot to bring your eggs to room temperature? Just place them in a large bowl of warm water for 10 to 15 minutes.
When separating the eggs, drop the eggs into a cup, one by one, before adding them to the large bowl. That way, if a stray piece of shell sneaks in, you can easily fish it out. And if the yolk breaks into the white, you'll only lose that single egg, not a whole bowlful.
What's the difference between using finely ground pecans or almonds, and pecan meal or almond flour? The cake with the finely ground nuts will rise a bit taller, and its texture will be less smooth; a bit chunkier. Our tasters said the texture brought to mind Passover charoset.
Reviews
I made this for my daughters birthday. She and her family love chocolate and this did not disappoint. The cake was a big hit. I served it with whipped cream and fresh strawberries. OH YUMMY! Thanks for this awesome cake.
I made this cake for the memorial day weekend and it was fabulous. Rather than 1 huge cake, I made it in 2 round 9" pans which only took 25 minutes to bake and I only had to wait 20 minutes to turn the cakes out of the pans. both cakes were frozen after they had cooled completely. I used 1/2 the glaze for each one. This recipe is definitely a keeper!
I loved this cake. I substituted cocoa powder and oil (3 T cocoa + 1 T oil per ounce unsweetened chocolate) for the unsweetened chocolate because I couldn't find unsweetened chocolate that was kosher for Passover. I found the yolk part of the batter VERY stiff but not unmanageable. When I folded the whites into the rest of the cake, I first folded only 1/4 of the whites in to loosen the batter up. That worked very well for me. I also used almonds instead of pecans. I got rave reviews from my family. I plan to add this to my list of Passover cakes.
I was so excited to try this cake for a super bowl gathering that included two gluten free friends. I loved that it was flourless, but didn't require special flour, since it is hard to find this locally in my small rural town. The overwhelming impression I had after wrestling this thing together, was that it is in no way, shape, or form a "quick and easy recipe!" I am NOT a novice baker, and have been baking treats following recipes since I was a little girl, and I found this to be rather involved. First of all, there is nothing quick about separating 10 eggs. And unless you have done this before(which I have many times), joining back together your whipped up whites with your yolk mixture takes a pretty high level of skill and tact, IMO, and is not really "easy," especially with the quantities in this recipe. This is where I think mine went wrong. My yolk, chocolate, nut mixture was beautiful, but rather stiff, and no matter how gently I tried, I could not get it to combine nicely with my whites without deflating them. I was shocked that the instructions said to do this in your mixture, and I quickly abandoned that when I realized that they were not joining so easily, and began to try and bring it all together by hand. The mixture was still very chunky even after the whites were no longer streaky, and so I knew that in order to fully combine it I was going to flatten them. But I forged ahead, and got the thing in my tube pan, then watched and waited to see if it would rise, while I tackled the mess strewn across my kitchen!! Seriously....I had used 6 bowls, several mixing utensils and measuring cups, PLUS my food processor(to grind the nuts), and the whole process had taken about an hour. My kitchen was a disaster! So, no...this was not quick or easy. The results(drumroll).....decent taste, but as I feared it had lost its egg white power. It did rise, but sunk by probably 1/2 its height while cooling, and actually came out with concave sides. It was tasty(chocolate+nuts+eggs=yum), but the texture was definitely lacking. Served with ice cream it was passable, but more like a torte. My gluten free friends really appreciated my efforts though, and were psyched to eat a cake! I probably won't make this again, and would not recommend this to a beginner. I think your labelling on this one is off....but great concept! My 100% Austrian in-laws make a traditional flourless, nut-based cake that only uses a small amount of breadcrumbs, so I might try adapting that recipe instead next time I need to make a gluten free cake.
I swapped the pecans for hazelnut meal...delicious cake! Stayed moist for days, too. I did a half recipe, baked in 2 eight inch pans and had a nice small cake for a couple people to share over several days. Better than a lot of wheat-based cakes!
This makes an awesome birthday cake. If you're a chocolate and nut lover, you definitely need to try this cake!!! Yum yum...
Even with the exchange of granulated sugar for whole evaporated cane juice (which required a much longer whipping time with the egg whites), this cake was absolutely delicious. Do not omit the glaze, as it enhances the cake tremendously. We were all amazed at the texture and height of this grain-free cake.
I made this with half the recipe in a Maryann cake pan with a softer ganache (whit more cream, next time I´ll try the original but didn´t want to open the cream just for 3 tablespoons) and it was great, everybody loved it. The texture is a little like souffle. I didn´t have any problems with the cake sticking to the pan, I greased the pan without any parchment paper and removed nicely after like 10 minuts of cooling.
I cannot possibly rave enough about this cake! You would never know it didn't contain ANY flour! I made it for my husband's birthday in an angel food cake pan. It was light and fluffy, not at all dense. The kids gobbled it up. It tasted somewhat like German Chocolate cake. It took me quite a while to make. I had to switch the batter from bowl to bowl since my standing mixer only has one, but it was well worth the effort!