A customized print-friendly version of this recipe is available by clicking the "Print Recipe" button on this page.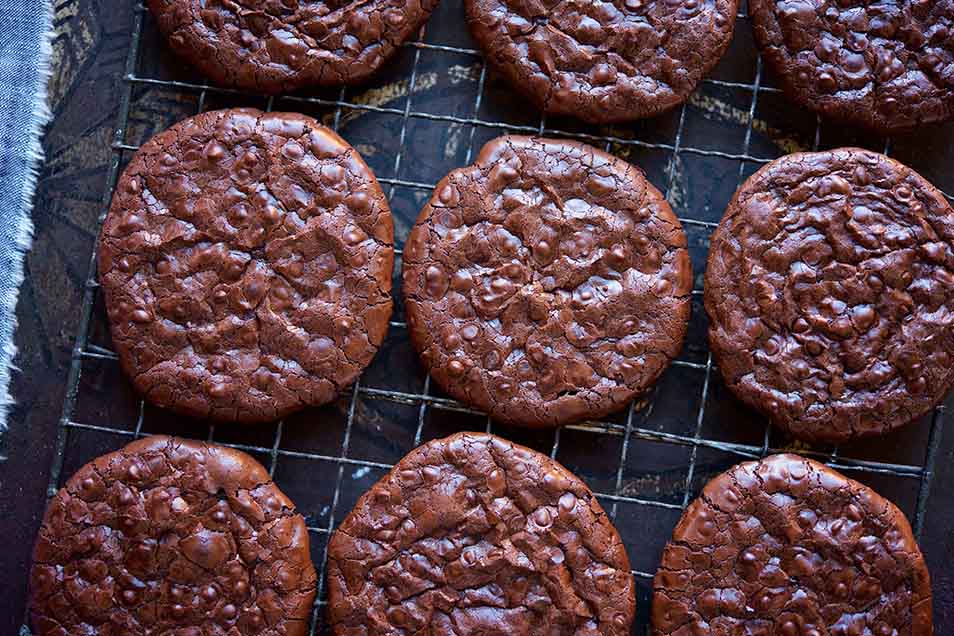 Ultra-chewy, rich chocolate cookies with no added fat? And no gluten? Impossible! But it's true: these flourless chocolate cookies get their texture from egg whites, and their flavor from cocoa powder (which represents the only fat in the recipe). Plus they're easy to make: Just stir together a few simple ingredients, scoop onto a pan, and bake for 7 to 10 minutes. You won't believe the delicious result. Speaking of delicious, though — adding chocolate chips and/or chopped nuts to this basic recipe takes these cookies to a whole new level. If you can afford the calories, we highly recommend this addition.
Ingredients
2 1/4 cups confectioners' sugar
1/4 teaspoon salt
1 teaspoon espresso powder, optional but good
1 cup cocoa powder, natural or Dutch-process cocoa
3 large egg whites
2 teaspoons vanilla extract
2 cups chocolate chips, chopped nuts, and/or chopped dried fruit, optional
Instructions
Lightly grease two baking sheets. Or line with parchment, and grease the parchment. Yes, grease the parchment; these cookies are sticky, and need to be baked on a greased surface.

Whisk together the egg whites and vanilla. In a separate bowl, whisk together the dry ingredients, except for the chips/nuts/fruit. Stir the wet and dry ingredients together. Scrape the bottom and sides of the bowl, and stir again until smooth. The sticky batter will be the consistency of a thick syrup. Add the chips and/or nuts, if you're using them.

Drop the syrupy batter onto the prepared baking sheets in 3" circles (for large cookies), or 1 3/4" to 2" circles (for smaller cookies); a tablespoon cookie scoop or teaspoon cookie scoop, respectively, work well here. Let the cookies rest on the baking sheets for 30 minutes, while you preheat your oven to 350°F.

Bake the cookies for 7 minutes (for smaller cookies), 8 to 9 minutes for the larger cookies; they should spread slightly, become somewhat shiny, and develop faintly crackly tops. Note: large cookies with added chips/nuts will need to bake for 10 minutes.

Remove the cookies from the oven, and allow them to cool right on the pan. When they're nearly cool, carefully loosen them from the pan with a spatula.
Nutrition Information
Serving Size

1 cookie, 28g

Servings Per Batch

16
Amount Per Serving:
Calories

88

Calories from Fat

5

Total Fat

1g

Saturated Fat

0g

Trans Fat

0g

Cholesterol

0mg
Sodium

47mg

Total Carbohydrate

19g

Dietary Fiber

1g

Sugars

16g

Protein

2g
* The nutrition information provided for this recipe is determined by the ESHA Genesis R&D software program. Substituting any ingredients may change the posted nutrition information.
Tips from our bakers
Yes, this batter is supposed to be syrupy and sticky. If it's not, add more egg white until it drips from a spatula in a thick ribbon.
This recipe can be tricky to nail, especially the first time out. Please read our blog post, Putting a Tricky Recipe to the Test, for some handy tips.
The yield on this recipe can vary quite a bit, depending on size and add-ins. Without add-ins, you'll get 16 large (3 1/4") cookies or 32 smaller (2 1/2") cookies. With added chips/nuts — 2 dozen large cookies, or 4 dozen smaller cookies.
Reviews
I LOVE these cookies. I tweaked the recipe because I am following Keto. I used Swerve confectioners sugar substitute (Erythritol) and reduced the amount to 2 cups. I also used Hershey Unsweetened 100% Cocao powder and used 1 cup. I used Egg Beater 100% egg whites. I used the measurement for 3 eggs. I needed to add more because the texture was too dry until I got a smooth consistency. I did not get the "syrupy" batter. Mine was more like brownie batter. I used Lily's chocolate chips with Stevia. I used a small cookie dough scoop. The bake time was a little more than 10 minutes. The taste was excellent. Light little puffs. About 50 calories per cookie. I got many complements on them. Will definitely make these again.
I followed the recipe to the letter. First the "batter" was so dry, it might as well have been dough. I added water, thinking the recipe called for espresso, and not just powder. The batter was certainly runny and probably I added too much water. The cookies were now running all over the parchment. So, what went wrong? And how much are the egg whites supposed to be whisked? Just to blend, soft peaks, or what? After reviewing the recipe, I see it asked for more egg white, quantity unknown. Maybe that note should be higher in the recipe? Still, we learn from our mistakes.I'll give it another try.

Hi there, Jeff. We're sorry to hear that you had a bit of trouble with this recipe, but we admire your can-do attitude and are glad you're willing to give this recipe another try.
It sounds like there might have been a bit too much confectioners' sugar in your batter making it too dry. Just like flour, confectioners' sugar is easily compacted into a measuring, so we might suggest either weighing out your sugar of using the fluff and sprinkle technique we outline in the "Recipe Success Guide," you can find the link next to the ingredients header above. You want to whisk the whites until they become frothy and have lightened a bit in color on the surface, but not quite soft peaks. The Baker's Tip at the bottom of this page mentions adding a bit of extra egg white, as needed or if needed. We'd suggest starting by whisking up one additional white and adding that slowly.
Getting this recipe right can be a bit tricky, so we'd suggest checking out the blog article that is also linked in the Baker's Tips — Putting a tricky recipe to the test. Also our friendly Baker's Hotline folks are always happy to help answer questions about recipes, you can reach them at 855-371-BAKE (2253). We hope these tips help and happy baking! Morgan@KAF
My 3 egg whites were 1.5 grams short so I put some water in to get to 106 grams. They came out just as described, so yummy!
After searching for a recipe to use leftover egg whites, I came across the Flourless Fudge Cookies. After reading the recipe and the tips on the blog, I decided to bake these cookies. I found the cookies to be fudgy, and had a lot of chocolate flavor. I did not add in any nuts, chocolate chips or dried cranberries this time, but I will give it a try next time. I used my teaspoon cookie scoop, and it only made 24 cookies, but the recipe states that it would make about 32 cookies. Maybe my cookie scoop is not the same size. After the cookies cool on the cookie sheets, are the cookies suppose to be thin and flat?
Success! I read the full recipe and the blog posts and followed the instructions (for once in my life). I used the extra chips and nuts and made the larger size and they held together just fine. Best eaten cold from the fridge!
Easy and delicious. Added 2 more egg whites and baked 12 min (1tbs size)
They tasted too dry for my tastes.

Hi there, Dianna! We're sorry to hear that this well-loved recipe didn't do the trick for you. If we can help troubleshoot or pick out a recipe that better fits your tastes, please give our Baker's Hotline a call at 855-371-BAKE (2253). Kindly, Morgan@KAF
I have changed this recipe in the following way and it is foolproof no problems ever. 3/4 cup Dutch process cocoa, 3 cups confectioners sugar, 1/2 tsp salt, 4 egg whites unbeaten, I added about 5ounces choc chips and 1 1/2 cups chopped pecans (or equal amount of chips and or nuts) 1 tsp vanilla , espresso powder is nice if you have it. Stir everything together and bake in 325 oven 20 to 25 minutes on parchment paper.Watch carefully these burn easily. Remove carefully when almost cool. This batter is a little thicker than the original recipe. It spreads so leave plenty of room between cookies. Thank you King Arthur for creating recipes for us celiac sufferers. I made popovers for the first time with your Gluten free baking flour using the recipe on the box! Perfect!
Excellent recipe! I used 4 egg whites and they turned out nice and chewy. I might try and use a little less sugar the next time. Would definitely recommend adding the chocolate chips.
This cookie is delicious and I love it, but I really think you need to alter the recipe, or inform that a 4th egg white may be necessary. Also, I read the recipe 4 times before i noticed that the preheat is in the middle of the recipe, at the end paragraph of step 3. Why isn't that the first step??? It feels like this recipe was written as an afterthought.