A customized print-friendly version of this recipe is available by clicking the "Print Recipe" button on this page.
Fluffy White Buttercream Frosting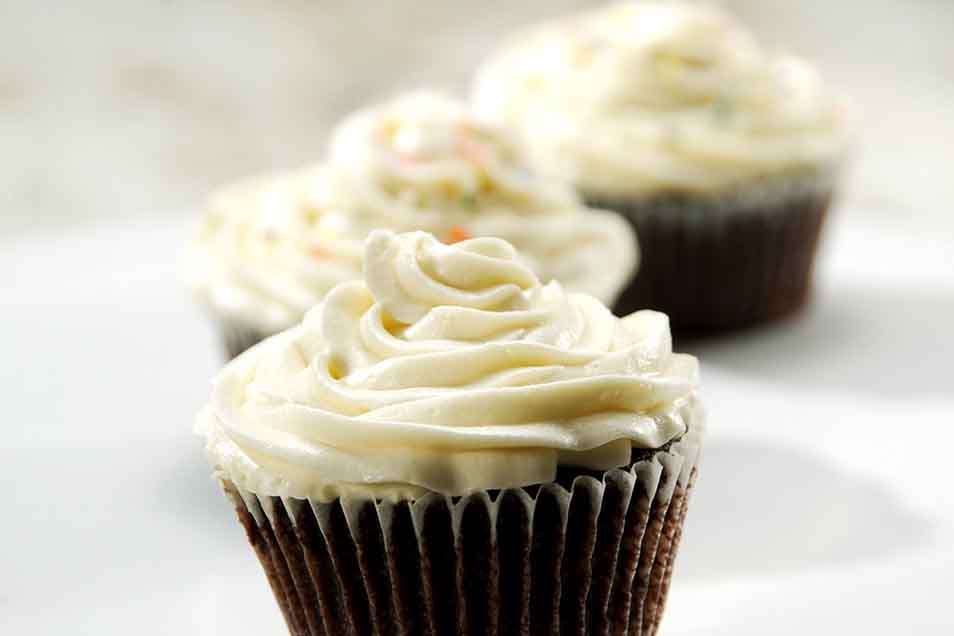 This rich, creamy frosting is lovely swirled atop a cake or cupcakes.
Ingredients
3/4 cup granulated sugar
1/4 teaspoon salt (if you use unsalted butter)
1/2 cup boiling water
1/4 cup meringue powder
1 tablespoon vanilla extract
4 cups sifted confectioners' sugar or glazing sugar
2 cups soft butter, vegetable shortening, or a combination of both*
*We love the flavor of butter, but if your cake will be sitting in a hot place, using some (or all) vegetable shortening will help keep the frosting from melting.
Instructions
Dissolve the sugar (and salt, if you're using it) in the boiling water, and cool to room temperature.

Use a mixer on low speed to beat in the meringue powder, until the powder is dissolved and the mixture is foamy.

Increase the speed and beat until soft peaks form.

Beat in the vanilla, then the confectioners' or glazing sugar.

Add the soft butter or shortening a few tablespoons at a time, beating well after each addition. Frost cake immediately; or store buttercream at room temperature, covered, for a few hours before using.
Tips from our bakers
For coconut frosting, add 4 to 5 drops coconut flavor and 1/4 cup (1 ounce) coconut milk powder along with the confectioners' sugar. Or flavor to taste with almond extract; coffee flavor; 2 teaspoons espresso powder dissolved in the boiling water; butter-rum flavor, or 2 tablespoons fruit purée, added after the confectioners' sugar. Be aware that adding fruit or espresso will change the color of the frosting.
For zesty lemon or lime frosting, add 1/4 to 1/2 cup lemon juice fruit powder or lime juice fruit powder to the frosting along with the confectioners' sugar.
Reviews
For a chocolate frosting, the Baker's Hotline advised me to sub 1/2 cup cocoa powder for 1/2 cup of the confectioners sugar. I also added 1/2 teas instant espresso to the sugar water mixture for a richer chocolate flavor. Excellent
Made this recipe for a candy corn themed hi hat cupcakes recipe inspired by one of your Instagram posts. The recipe is delicious!
I have made this several times and again I will be making it this weekend, my hubby's favorite cake is devil's food with true buttercream frosting. I usually only use 3 sticks of butter, I cant bring myself to use the whole pound of butter. Thank you for a wonderful recipe!
I've been looking for a buttercream recipe that is similar to Swiss meringue but a bit sweeter and this one worked. It is very good, smooth and holds up welll. This is a keeper!
Check the ingredients list on any 'meringue' powder especially from bulk store. Some has only 3% protein, meaning the sugar is already mixed in. I find it more reliable to use powdered egg white because the recipe works perfectly every time.
I have two daughters with distinctly different preferences in frostings - one wants buttercream with all butter, while the other prefers one made with shortening. No matter what I made, someone was always disappointed...until I made this recipe! They both have declared it a keeper! It's light and fluffy without any kind of heavy, greasy taste and the consistency is perfect for cakes and cupcakes. Thanks so much!!!
I could taste the meringue powder in the frosting.

Dear Avid Baker, we're sorry this wasn't the right frosting recipe for you, but we do have good news! We have a fabulous recipe for Swiss Buttercream, which is similar to this Fluffy White Buttercream Frosting except it uses real egg whites instead of meringue powder. We hope you give it a shot and find it's more to your liking. Happy baking! Kye@KAF
This is one of my favorite frosting recipes. We have used it many times on chocolate cake. Do you have any tips for using egg whites in place of the meringue powder?

Lia, if you'd like to use real egg whites to make your frosting, try our Swiss Buttercream recipe. It's equally fluffy, creamy, and delicious; it just uses real egg whites along with sugar, butter, and salt. Check it out in the recipe section of our website. Happy baking! Kye@KAF
This frosting came together easily and piped like a dream. The silky smooth texture was heavenly. I used only one stick of butter and 1.5 cups Crisco. This recipe makes a large batch. I had enough to frost a 9" round cake, plus filling, and had 3-4 cups leftover. Frosting is very sweet, and did not note any aftertaste using the meringue powder. This one is a keeper!
I made this frosting for some devil's food chocolate cupcakes and the frosting was a silky smooth texture and piped nicely. I used half butter and half shortening. It was very warm in the room where these were served and the frosting held up well. I was a little disappointed because the overwhelming flavor was the tang of the meringue powder and nothing else. I might use half of the powder next time to see if the buttery vanilla comes through better.