A customized print-friendly version of this recipe is available by clicking the "Print Recipe" button on this page.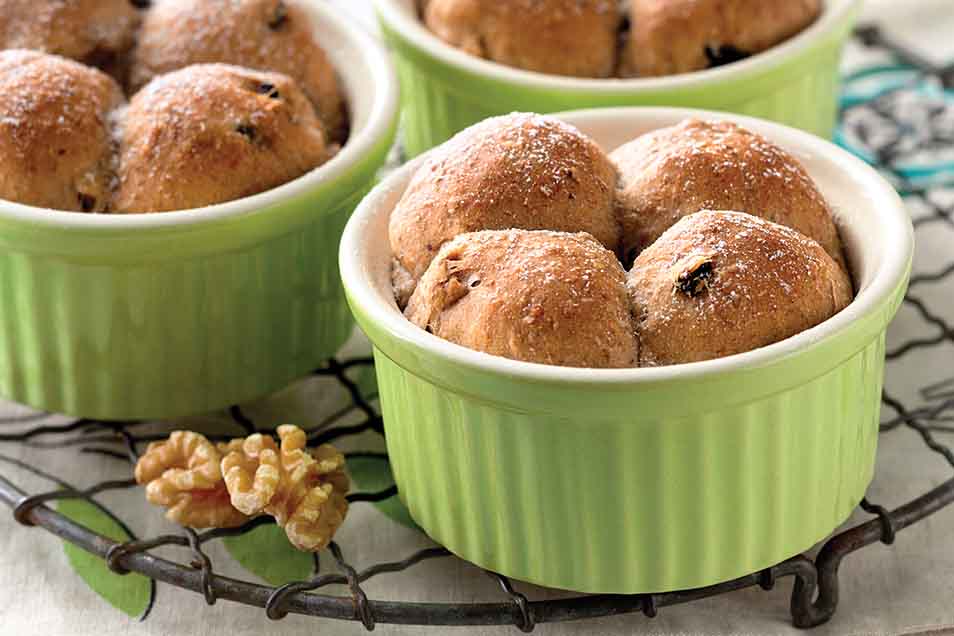 These lucky rolls are the perfect addition to a corned beef and cabbage dinner — or any dinner, for that matter.
Ingredients
1 cup King Arthur Irish-Style Wholemeal Flour
1 teaspoon salt
2 tablespoons honey
2 tablespoons soft unsalted butter
1 cup lukewarm water
2 teaspoons instant yeast
1/2 cup toasted walnuts, optional
1/2 cup currants, optional
2 tablespoons melted butter, optional; for a glossy finish
Instructions
Mix and knead all the ingredients — by hand, stand mixer, or bread machine set to the dough cycle — until the dough is smooth and elastic.

Place the dough in a greased bowl, cover, and let it rest for 60 to 90 minutes, until puffy but not necessarily doubled in bulk.

Grease eight 5-ounce or 6-ounce ramekins.

Gently deflate the dough, divide it into 32 pieces, and shape each piece into a ball. It helps to first divide the dough into eight medium balls, and then further divide these into four balls each.

Place four balls into each of the ramekins. Cover the pans and let the rolls rise for 45 to 75 minutes, until they've crested over the rims of the ramekins.

Preheat the oven to 350°F.

Bake the rolls for 25 to 30 minutes, until they're golden brown and an instant-read thermometer inserted into their centers reads 200°F.

Brush the rolls with the melted butter, and let them cool for 5 minutes in the ramekins. Turn them out onto a rack to finish cooling. Serve warm, or at room temperature.

Yield: 8 large rolls.
Tips from our bakers
Don't have our Irish-Style Wholemeal Flour? You can substitute 1 cup (4 ounces) of our White Whole Wheat Flour or Premium Whole Wheat Flour.
Reviews
I love using wholemeal four, so I was excited to see this recipe in the catalog recently. I used the ounce weight measurements for everything including the water. I omitted nuts and used raisins instead of currants. I kneaded it by hand for several minutes but it was still a gloppy mess on my hands and counter. Two tablespoons more all purpose flour cleared things right up. I baked them in a standard muffin pan that I greased the tops as well as the cups. These are large rolls but the kids ate two of them each. Definitely a keeper.
I loved having this recipe to use some of my Irish whole meal flour. Just a little reminder - the Irish have shamrocks (3 leaves) so I made mine as traditional cloverleaf rolls to serve with my Irish dinner as today is St. Patrick's Day and also my name day!
I didn't have Irish-Style Wholemeal Flour so I used the recommended substitution of White Whole Wheat Flour and made them sans the optional walnuts and currants. I used the scoop and level method and ended up adding about a 1-2 tablespoons additional flour to get the proper consistency. I called the Baker's Hotline to ask what temperature "lukewarm" is and they were so incredibly helpful (80 degrees F) and wished me luck with my baking. These turned out beautiful! Another great recipe by King Arthur Flour.
I was able to make this recipe, but the gram conversions are way off. It does not give the proper weight. My dough was more like a batter when my bread machine was done with it. I was able to fix this by hand kneading in a mixture of AP Flour and Irish Style Flour. I also reduced the baking time to 20 minutes. I made 6 Clover rolls and 2 Kaiser rolls. I added a fresh herb mix instead of walnuts and currants. These came out soft and flavorful.

We're surprised to hear about the consistency of your dough, as we've double-checked the ingredient weights by grams and they're correct as written. We're wondering if perhaps you used other kinds of flour than the ones listed here, or even other brands. King Arthur Flour has a higher protein content than most other brands, which means that it absorbs liquid more readily. Using other types may have results in the loose dough; in these cases you should do just as you did and add additional liquid as necessary until you have a slightly tacky dough. Happy baking! Kye@KAF
these were ok, maybe i didn't do it justice by substituting rye flour for irish-style wholemeal flour and figs for currants, but they didn't rise very well. granted i was running around so didn't strictly stick to the time frame outlined in the recipe. all in all, not one of my favorite king arthur bread recipes.

It's true, rye flour doesn't rise the same way wheat flour does, so we're not surprised to hear your rolls weren't quite as light and tender as you were hoping. We encourage you to give this recipe another try using the Irish-Style Flour (or White Whole Wheat Flour) to make tasty clover leaf rolls. Kye@KAF
Made these rolls using whole wheat flour instead of wholemeal. And I skipped the add-ins at the end. Cut them into six large, bun-sized rolls and baked them for about 5 extra minutes. They were DELICIOUS!!! And I just added the recipe to my recipe box so I can make them again and again.
I used currants in the dough and it added just the right level of sweetness.