A customized print-friendly version of this recipe is available by clicking the "Print Recipe" button on this page.
Fourth of July Flag Cobbler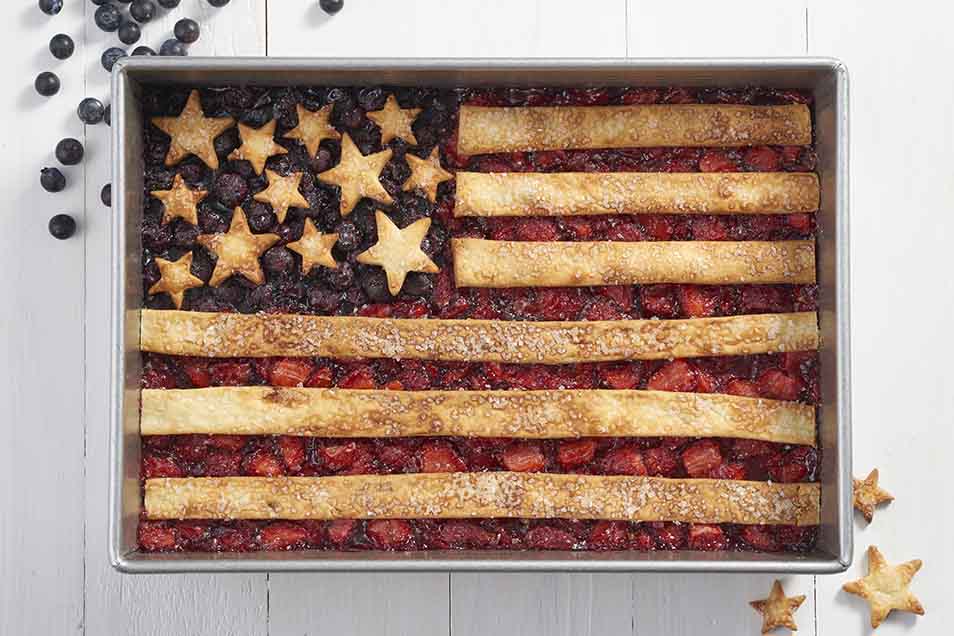 Fruit cobbler comes in many guises, from biscuit-topped peaches, to blueberries on a cake batter base to this red, white and blue version: basically, a blueberry/strawberry pie made in a 9" x 13" pan. And when the Fourth of July rolls around, what better way to show your colors than this?
Ingredients
Blueberry filling
1 pint (or 2 cups) fresh blueberries
2 tablespoons sugar
2 tablespoons Pie Filling Enhancer*
1 1/2 teaspoons lemon juice
*See baker's tips, below.
Strawberry filling
2 quarts (or 8 cups) fresh strawberries, hulled, and cut into 1/2" to 3/4" pieces
1/2 cup sugar
1/2 cup Pie Filling Enhancer*
1/8 teaspoon salt
2 tablespoons water
2 tablespoons lemon juice
*See baker's tips, below.
Instructions
To make the bottom crust, stars, and stripes: Divide the pastry in half. Roll one piece into a generous 9" x 13" rectangle, and place it into a lightly greased 9" x 13" pan, pressing it to the edges if necessary. Refrigerate for at least 30 minutes.

Roll the other piece of dough into a 6" x 13" rectangle. Cut six 3/4"-wide x 13"-long strips; these will be your flag's white stripes. Use a star cookie cutter to cut 9 to 12 small (about 1 1/4") stars from the remainder of the dough. Place the stars and stripes, spaced 1" apart on a baking sheet, and refrigerate for at least 30 minutes.

Preheat the oven to 425°F while the crust is chilling.

Prick the bottom crust all over with a fork. This will help keep it from puffing up too precipitously. If desired, for sparkle and crunch, brush or spray the stars and stripes with water, and sprinkle with coarse white sparkling sugar.

Place the bottom crust on a middle oven rack, and the stars and stripes on a lower rack. Bake the stars for 10 to 12 minutes; the stripes for 18 to 20 minutes, until set and barely browned. You want them to be fully baked, but still be fairly light-colored. Remove them from the oven.

Bake the bottom crust until it's a light golden brown, about 20 to 22 minutes. Check it several times; if it's puffing up, deflate it with a fork or the sharp tip of a knife. Remove the baked crust from the oven.

To prepare the blueberry filling: Place half the blueberries in a saucepan and crush them a bit with a spoon. Stir in the sugar and enhancer. Cook over medium heat until the mixture starts to thicken, about 5 minutes. Remove from the heat, and stir in the remaining blueberries and lemon juice.

To prepare the strawberry filling: Place half the strawberries in a saucepan, crush them, and stir in the sugar, enhancer, salt, and water. Cook until thickened then remove from the heat and stir in the remaining strawberries and lemon juice.

To assemble the cobbler: Spoon the strawberries over a bit more than 3/4 of the bottom of the pan, leaving a rectangular space in the top left for the blueberries.

Spoon the blueberries into the bare space.

Lay the six stripes atop the strawberries, leaving a long edge of berries showing at both the top and bottom of the pan. Trim the stripes where they meet the blueberry filling.

Arrange the baked stars over the blueberries.

Serve lukewarm, or at room temperature. Store any leftovers, well-wrapped, in the refrigerator for a couple of days; freeze for longer storage.
Tips from our bakers
You can make this cobbler a couple of days ahead; store it, tightly wrapped, at room temperature. The crust will lose its crispness as it sits. To refresh, place in a preheated 350°F oven, lightly tented with foil. Heat until it's as hot as you like — 30 minutes or so should do it.
If you don't have Pie Filling Enhancer to thicken the strawberries and blueberries, use an alternate thickener. For the strawberries, you'll need about 1/4 cup Instant ClearJel (mixed with the sugar in the recipe); or 1/2 cup unbleached all-purpose flour. For the blueberries, substitute 2 teaspoons Instant ClearJel (mixed with the sugar); or 2 tablespoons unbleached all-purpose flour.
Why do you make six 13" stripes when you need only three 13" stripes (for the lower half of the flag), and three shorter ones (for the upper half)? Because it's easier to trim longer stripes to length than it is to guess ahead of time, before baking the pie, just how short they need to be.
If using frozen berries, we recommend thawing them and draining them of their juices to avoid a runny filling. Additionally, for the strawberry filling, skip the 2 tablespoons of water, and add an extra 2 tablespoons of pie filling enhancer or flour; and for the blueberry filling, simply add an extra tablespoon of pie filling enhancer or flour.
As a result of reader feedback, as of 3/21/17 we've amended the recipe as follows: we reduced the amount of thickener (pie filling enhancer) in the strawberry filling, and called for precooking both the blueberry and strawberry fillings so that once the cobbler is assembled, all that is left to do is eat and enjoy it! As a result, the blog post attached to this recipe doesn't reflect its updated preparation method; but still includes lots of good tips around making the crust and assembling the cobbler.
Reviews
I forgot to show picture! Posted it on FB also Go Red White Blue wish I could show picture
I only gave this one star because it is clever and really fun in appearance. If it were not for those qualities I would have give it a minus one. I am a huge fan of KAF and follow their suggestions regularly. This was a mistake. I used KAF pie cruise mix. My own is much flakier. The fruit fillings (using their pie enhancer) were much too thick--gloppy messes in fact. They were so thick that any attempt to find a nice flavor was lost in the regrettable texture. I did love the way it looked but any enthusiasm for this cobbler ended the minute we put a fork in a piece. Almost all of it quickly found its way to the trash.

Aw shucks, Shauneen. We're sorry to hear about the texture of your filling, and we're genuinely surprised too. We're curious to hear more about what kind of fruit you used, as these ratios were tested both with fresh and frozen fruit to ensure a slightly thick but still pleasant consistency. It may seem to be a bit thick at initially, but it helps keep the blueberry and strawberry fillings separate and distinct. If you'd like to share any additional feedback with us, feel free to give our Baker's Hotline a call at 855-371-BAKE(2253). Kindly, Kye@KAF
This was very good. But I made it on a Sunday afternoon and followed your recipe instructions to leave it at room temperature. By Tuesday morning, it had spoiled and we lost nearly $10 in fresh strawberries! If I ever make this again, I will refrigerate it. Your instructions were poor!

We're sincerely sorry to hear about this experience, Alice, and we appreciate you letting us know. We take feedback like yours seriously so we've gone ahead and adjusted the recipe to say, "Store any leftovers, well-wrapped, in the refrigerator for a couple of days; freeze for longer storage." This should help extend the shelf life of the flag cobbler during the warm summer months. We apologize again for your experience, and we hope you have better results with our recipes going forward. Kye@KAF
I read the recipe, read the baker's tips, read the blog and even contacted KAF for clarification since the blog directions differ from the recipe directions. I precooked the filling and assembled the cobbler and the results were so nice I posted a picture to the KAF Facebook page. I made this cobbler in a 9x13 glass pan to avoid having the fruit "turn". I stored the cobbler for two days at room temp and that caused the stripes to start to almost dissolve. To serve I reheated the cobbler as directed. The results were so nasty I threw the whole cobbler in the trash! The fruit was starting to ferment, the stripes firmed up somewhat but weren't nice like they were before storage. If you decide to try this I would refrigerate if not going to serve immediately. Perhaps the changes to the filling directions caused this problem. Generally baked cobblers are OK at room temperature, but his recipe combines cooked and uncooked fruit.

Hi Elizabeth, thanks for taking the time to share your thoughts with us about this recipe. We apologize for any confusion regarding the instructions. The article on our blog was written before the recipe was updated to call for pre-cooking the fillings. We found that this step made it easier to shape the filling and keep the strawberries and blueberries distinct.

We've also updated the instructions to call for keeping the cobbler in the fridge if not serving immediately to help prevent the berries from spoiling. We genuinely apologize for any disappointment you may have experienced, and we hope you're willing to try again with the clarification and updated instructions. Kindly, Kye@KAF
Excellent recipe. I used all your recommended products for this beautiful delicious pie. Take exception with cobbler title. I took the flag to a 4th of July party. It was a hit for appearance and yumminess. The pie crust mix and pie filling enhancer are well worth the money. Not fair to write a review if you don't follow the recipe. Thank you for helping me celebrate grandly with the grand old flag. My stripes broke too, but that was user failure by rolling out thin spots in dough. Nobody minded the pieced stripes. They were too busy getting second helpings.
I have made the recipe but I'm not going to put it together until time for dessert at the BBQ we're attending as I'm afraid the stripes and stars willl get soggy sitting on top of the fruit mixtures. Hence I've only given it 3 stars until I know for sure how it works out. The fruit mixtures taste very good. Since I didn't have any of the KA pie enhancer I used what my Grandmother always used in her fruit pies - minute tapioca. On the blueberry mixture I used the same amount of tapioca as what you called for using your pie enhancer. It came out like glue. So I added some water to it and I think it's going to be OK. When I mixed the strawberries, I used half of the tapioca. It seemed to come out correctly. I don't know how the amount of your pie enhancer correlates to the amounts of the tapioca I used. The pie crust definitely took far less time to bake than you recommended. Fortunately I saw your tips about checking for the crust puffing up so I kept checking the oven every five minutes and avoided a burned crust. A question. The picture of the recipe in the flyer/booklet I picked up when visiting KA last week does not show a crust on the bottom of the cobbler, but the directions call for a bottom crust. Why the difference?

Thanks for giving this recipe a bake, Judie. Our Pie Filling Enhancer is a combination of Instant ClearJel (a thickener), sugar and ascorbic acid, so we generally call for more of it than you would use of other thickeners like Instant ClearJel, quick-cooking tapioca, flour, cornstarch, etc. We've found that quick-cooking tapioca and Instant ClearJel have roughly the same thickening power, so we'd recommend using the amounts suggested for ClearJel under "tips from our bakers" - they are significantly less. As for the bottom crust, there actually is one called for in the catalog recipe you're referencing, it's just well hidden beneath all of the delicious fruit! Mollie@KAF
this is a gorgeous thing. i don't know about adding all of king arthurs expensive additives, i opted out, but it still was delicious.
I loved the idea of this recipe, but it did not work well for me when I made it. The crust came out well, although my stripes broke like the other reviewer commented. The stars were so cute! My main problem was the filling. I used the flour method for the filling, and the filling got too thick. After 40 minutes into the filling baking, the blueberries and strawberries had developed a hard crust on top and began to burn. Wouldn't it just be easier to make the fillings on the stove and then add it to a fully-baked crust? There's so much potential here, and it looked very pretty, but it didn't taste good due to the burned berries and how thick and gunky the filling got.

Thanks for giving this recipe a try, Melissa. We're sorry to hear your filling didn't turn out as you hoped. It sounds like there may have been just a bit too much flour in the filling, and there's a chance your oven was running hot causing it to burn. We think you'll like the results much better if you try using our Pie Filling Enhancer; it doesn't get gummy, it stays clear instead of cloudy, and the fruit tends to release some of its juices as it bakes so it gets pleasantly thick but not burnt. If you'd like to try using a stove-top filling recipe for your next attempt, you're more than welcome to. We have a great no-bake strawberry pie filling recipe you might like. Good luck! Kye@KAF
Delicious. My stripes broke in pieces, however. I didn't have a little star cutter, so had to use little leaves instead.

We're glad to hear you gave this patriotic dessert a try! Using parchment paper to transfer the stripes can help prevent breakage. We like how creative you were with your cutouts. We bet the leaves added an "au naturale" look to the flag. How fun! Kye@KAF