A customized print-friendly version of this recipe is available by clicking the "Print Recipe" button on this page.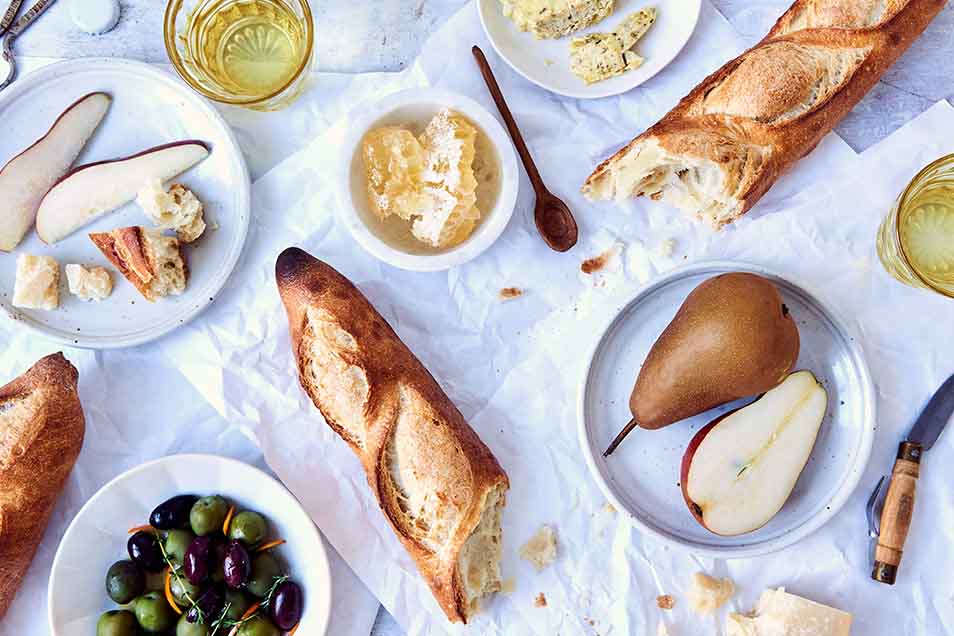 This recipe has appeared on the back of the King Arthur Flour bag — so if you cut it out and then lost it, this is the one you're looking for.
Instructions
Mix the starter ingredients till smooth, cover, and let rest at room temperature overnight.

Next day, mix the starter with the remaining ingredients, kneading until the dough is nice and springy, but not totally smooth. Place the dough in a lightly greased bowl, cover, and let it rise for 3 hours, gently deflating it and turning it over after 1 hour, and again after 2 hours.

Divide the dough in half, and shape each half into a rough oval. Wait 15 minutes, then fold each oval lengthwise, sealing the edge, and use cupped fingers to gently roll each piece into a long (about 17") log.

Place the loaves onto a lightly greased or parchment-lined pan, cover, and let them rise until they're puffy but not doubled, about 2 to 2 1/2 hours. Towards the end of the rising time, preheat the oven to 425°F.

VERY gently, use a sharp knife or razor blade to make three diagonal 1/3"-deep slashes in each loaf. Mist the loaves heavily with warm water (or add steam to your oven; see "tips," below).

Bake the baguettes for 22 to 28 minutes, until they're golden brown. Take the baguettes off the pan and place them right on the oven rack. Turn off the oven, crack the door open about 2", and let the baguettes cool completely in the oven.
Nutrition Information
Serving Size

56g

Servings Per Batch

16
Amount Per Serving:
Calories

120

Calories from Fat

5

Total Fat

0g

Saturated Fat

0g

Trans Fat

0g

Cholesterol

0g
Sodium

220mg

Total Carbohydrate

26g

Dietary Fiber

1g

Sugars

0g

Protein

4g
* The nutrition information provided for this recipe is determined by the ESHA Genesis R&D software program. Substituting any ingredients may change the posted nutrition information.
Tips from our bakers
For baguettes with enhanced flavor, cover the shaped loaves, let them rise for 30 minutes, then refrigerate overnight. Next day, take them out of the refrigerator and let them rest at room temperature, covered, for about 3 hours, or until they're nice and puffy. Then bake as directed above.
For extra-crusty crust, add steam to your oven as follows: While the oven is preheating, place an empty cast iron frying pan on the oven rack below the stone. If possible, adjust stone and pan so that the pan isn't directly under the stone, making it easier for steam to reach the baking baguettes. Once you've placed the baguettes in the oven, pour about 1 cup of boiling water into the cast iron frying pan. Steam will billow from the pan upwards to envelop the baking baguettes; be sure to wear good oven mitts to shield your hands and arms. Quickly close the oven door to trap the steam.
Reviews
First attempt making baguettes and we were very pleased with the results. While the crust was just fine, think I should have baked them a little longer. I love KAF recipes but wish they'd pul what internal temperature to bake a loaf. I pulled them out a little over 190...other recipes I've now read say to bake to 205F. I use a large baking stone so wonder if that should change to cooling process detailed in the recipe....seems like the oven would stay too hot/too long. I took them out early just in case.

Steve, for crusty artisan breads (including baguettes), we usually suggest an internal temperature of 200° to 205°. On the other hand, 190° is a good temperature for soft white sandwich breads, which tend to have less water in the dough than crustier loaves like these. Happy baking! Kat@KAF
I made these today. They were delish! The crumb didn't have the airy holes though. What can I do to make those holes inside the bread?

That's a good question, Michelle, and also a super-common one! We actually have a blog post on precisely this topic. If you type "How do you make that bread with the big holes" into the search bar of our website, it will take you right there. While the post is about ciabatta, the principles are just the same when making baguettes. Happy baking! Kat@KAF
I knew something was amiss when I took my loaves out of the oven and they did not make the usual crackling sound. I think think the second rise in this recipe is too long and that my loaves lost their air. The final loaves looked lovely and the taste was fine, but the crumb is dense rather than open. If you're just looking for a pleasant crust with a soft interior, this is good, but it's a lot of time for what's essentially a high-quality white bread. I prefer KAF's "Classic Baguette" recipe, which gave me a great result in a much shorter timeframe.
I've been making bread for a few months now. I've had a lot of mediocre results but recently I've been getting things right and making rolls and bread that are at least as good as anything I've bought in a shop partly due to my acquisition of a KitchenAid stand mixer and an accurate scale. My wife bought me a baguette pan so I decided to give this recipe a try to test it out. I followed the recipe exactly measuring the ingredients in grams which I find is the only way to get dough exactly right. I mixed them in my stand mixer with the dough hook for around 5 minutes and I used the steam method to bake them and I was blown away by the results. I made 2 perfect baguettes. Beautifully brown and crunchy on the outside and light and soft on the inside and they taste amazing. Thank you so much for this perfect recipe. It takes a while but it's so worth it.
This bread turned out exactly how I wanted! I used the unbleached bread flour because the store my husband bought it from didn't have the all purpose but it still turned out great! Perfect crust with a little crunch but chewy at the same time. The hardest part is waiting for the bread to cool in the oven & then pushing it away from you when you are full. I am making it for the second time tonight to go with beef stew. Thanks for the great recipe!
I made these today. The crumb is fantastic and reminds me of baguettes I had in Paris. On the other hand, The crust is pale and looks like homemade bread. Would lengthening the baking time give me the deep golden brown crust that I want without ruining the crumb?

We're glad to hear you were able to have a little food flashback to Paris after making these baguettes, Matt! The key to a golden brown crust is steam, and the most effective way to incorporate steam is to bake the baguettes in either something with a lid, or making your own lid. If you don't have a baguette pan with a lid, you can make your own with a roasting pan. Once your baguettes are on your baking stone or sheet pan, cover them with an upside-down roasting pan; either one you have on hand or a disposable one from the grocery store. Keep it on for the first half of the bake time, then remove it for the remainder so they can brown. Baking them closer to the top of the oven is another way to ensure they brown well. Take care not to let the dough overproof, as the longer it rises, the more sugars are eaten up by the yeast, and the less it will brown. We hope this helps! Annabelle@KAF
This was great bread, it did take longer than 3 hours to rise. It was however, delicious.
I just bake one loaf french bread today. It turn out beautiful. I want to make four loads, so do i have to multiply by 4 everything even yeast. Please let me know. Thank you
This is the best receipy to make french baguette. The first time i made it was perfect, but the second time for some reason my shaped loadf raise very nice and when i score the loaf and bake the bread turn flat so what is my mistake. Please help me to fix that. Thanh you

Hi Ngo. It sounds like the second time the dough had overrisen so it collapsed. Try shortening your final rise time by 5 to 10 minutes and you should be good to go. Annabelle@KAF
My dough was kneaded and ready to go in the bowl to proof when I realized that I had not added the starter. Not knowing if I could properly incorporate it into the kneaded dough, I set it aside and remade the dough. Didn't want to just throw out the mistake so I let it proof, flattened it out, shaped it, put it in a loaf pan and let it rise again, baked it at 350 for 30 minutes then 450 for 15 minutes. One of the best loaves of bread I have ever made, rose beautifully and was very soft inside, great flavor. Now have a recipe for Mistake bread in my recipe box.