A customized print-friendly version of this recipe is available by clicking the "Print Recipe" button on this page.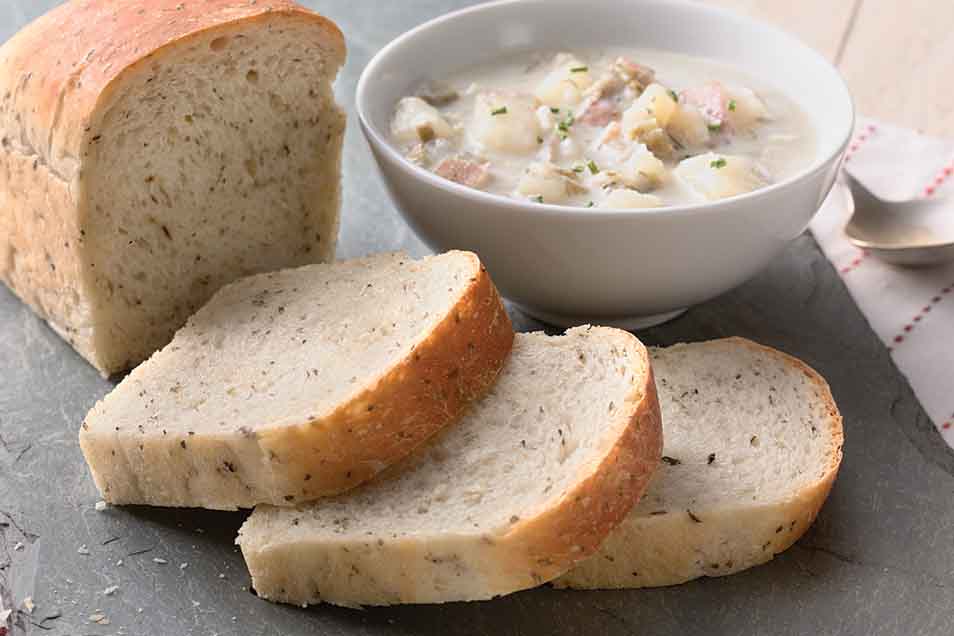 Make your very own version of flavorful herbed peasant bread. With minimal effort and a dash of herbes de Provence, you'll feel like you've been transported to the South of France!
Instructions
Combine all of the ingredients, and mix and knead — by hand, mixer, or bread machine set on the dough cycle — until smooth, adding additional water or flour as needed.

Cover the dough, and let it rise for 1 hour.

Divide the dough into 4 pieces, shape into logs, and place in lightly greased mini loaf pans. For one large loaf, shape the entire piece of dough into a log and place in a lightly greased 9" x 5" loaf pan.

Cover and let rise until the dough has crowned about ½" over the rims of the mini loaf pans, or 1" over the rim of the larger pan, 30 minutes to 1 hour, depending on the warmth of the kitchen. Towards the end of the rising time, preheat the oven to 350°F.

Bake the bread for 30 to 35 minutes for the mini loaves, 35 to 40 minutes for the larger loaf. An instant-read thermometer, inserted into the center of a loaf, should register at least 190°F. Tent the bread lightly with foil if it appears to be browning too quickly.

Remove the bread from the oven, turn it out of the pan, and cool on a rack.

Yield: 4 mini loaves, or 1 large loaf.
Reviews
This is a versatile general-purpose loaf bread. Replacing the oil with butter and the herbs with sugar (by weight, not volume) makes a great toasting bread. I make it with about 20% white whole wheat flour. If you don't have potato flour, just use wheat flour instead.
If you don't have potato flour or potato flakes, what could be used as a substitute?

In a pinch, you can use 1/4 cup of cornstarch in place of the potato flour in this recipe. It will make the bread tender and soft, but it will be slightly paler and less flavorful than when it's made with potato flour. Give it a try with the cornstarch and see what you think. It'll make fantastic toast! Kye@KAF
I was a little worried about using a 9 x 5 pan for a 3 cup flour recipe. But no worries. The loaf rose beautifully and fast - by the time I saw it, it was close to 2 inches over the rim. I don't know how much the fact that I subbed 1 c bread flour for 1 c of the AP factored into that. Lovely flavor. I used only 1.5 T herbs to start off conservatively. I would use 2T if I were making rolls or mini loaves to serve with a meal. Texture was very soft. I think this recipe might do well with a little white whole wheat as part of the flour, but I don't know if I want to mess with it since it came out so good. Great for sandwiches and toast. Grilled cheese was delicious.
I had the same experience with this bread as a previous reviewer. I used my Zo bread machine to knead and give the initial rise. I checked the dough a few times - it was smooth and just slightly tacky to the touch, but when the dough cycle was complete and I took it out of the machine to do its second rise in the bread pan, the dough was extremely wet. It struggled to rise over the lip of the pan, and when I finally baked it, it fell in a few spots. The interior of the loaf was very "holey" and coarse. I'm going to try this bread again, and start with only one cup of water and reduce the amount of Herbs de Provence, as both my husband and I thought the herbs were overpowering. As it is, I used only 1 1/2 Tbsp. Instead of the 2 Tbsp. called for. Next time I'll try 2 tsp.

It sounds like you've got the right idea with using less water next time, Monica. The exact ratio of flour: water can vary from kitchen to kitchen, and especially from season to season. If you happened to be baking in a more humid environment, then we'd expect to need a bit less water, whereas when baking in a drier environment, we often need a little more. As for the flavor, we're glad you're feeling empowered to adjust it to fit your preferences, and we hope you'll better enjoy your next bake. Mollie@KAF
Great taste, but texture was off. Too dense for me or the fam. I used a mixture of herbs since I didn't have here's de Provence.
Scaled this up to make 2 large loaves. I used Walter Sands' Basic White recipe as an ingredient guideline to get the salt/flour/milk/oil volumes right. Taste and crumb were excellent. Could have risen more and next bake I will add a shade more yeast, maybe less milk and a sploosh of water. Per the KAF chatline: I used 2% milk (lukewarm) to replace the water/dry milk and I substituted Potato Starch for the Potato Flour because thats what I had on hand! I think the Potato Flour would have added a subtle flavor to the bread. Next time! Bread was cooked through to 190+ and was still very moist when sliced. I toasted some slightly which added a slight crunch or crisp to the cut side, very nice!
This is another fantastic recipe! I replaced the potato flour with another starch due to allergies and didn't have dry milk so I replaced some of the water with almond milk. Also subbed one cup of White Whole Wheat. Otherwise, I was faithful to the recipe. It was a great riser (SAF yeast, based on looks I let it have a whole hour on each rise even in the proof setting on my oven), smelled fantastic and was great with a subtle soup. The crust was great, great texture inside. Family loved it. My son didn't even cry when he realized it wasn't pizza he had been smelling. Will make this a lot.
This bread is delicious, but it did not rise as expected. After an hour in the large loaf pan, it had only risen to the height of the pan. I baked it anyway and when in the oven it actually fell a bit.
I am sorry this recipe didn't work for you. Please call us at the Hotline (855 371 2253) so that we can troubleshoot together. ~Jaydl@KAF
Was looking for an herb bread recipe, and found this one to my delight. I used about 1/4 white whole wheat flour, the rest bread flour, and instead of herbs de provence (which I didn't have bottled) I put in fresh oregano, thyme and chives from the garden, and added some garlic powder, marjoram, and rosemary from my dried stock. Oh! and tossed in a couple tablespoons of pecorino romano cheese. I was worried with all the additions that the dough would be slow to rise but it wasn't. It took maybe an hour in the bowl after kneading, and then just a little over an hour in the loaf pan. The results were outstanding, and even though I probably won't be able to totally duplicate the loaf, I will surely go to this recipe again.
The snow was blowing and I made this wonderful bread. The kitchen smelled great, the recipe couldn't have been simplar and the outcome was wonderful. This is a keeper.