A customized print-friendly version of this recipe is available by clicking the "Print Recipe" button on this page.
French-Style Country Bread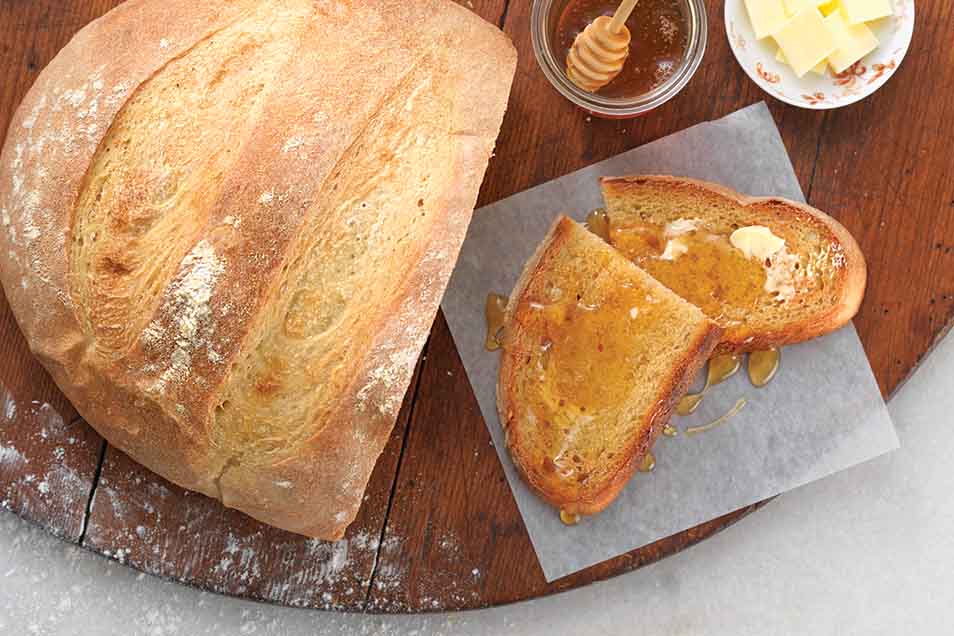 You could make this bread, and no other, for the rest of your baking career, and never feel cheated. It uses the sponge, or poolish, method: sort of a poor man's or woman's sourdough starter — no feedings, little pre-planning, lots of flexibility, and superb bread. If you've always wanted crusty, hole-ridden, French-style bread, this is it.
Ingredients
Dough
all of the starter (above)
1 cup lukewarm water (100°F to 115°F)
3/4 teaspoon active dry or 1/2 teaspoon instant yeast
1 tablespoon sugar
3 3/4 to 4 cups King Arthur Unbleached Bread Flour or Organic Bread Flour
1 1/2 to 2 1/4 teaspoons salt, to taste
Instructions
To make the starter: Stir all of the starter ingredients together to make a thick, pudding-like mixture. Cover with plastic wrap and let it rest for at least 2 hours. For best flavor, let the starter rest longer; overnight (up to 16 hours) is best. If you plan on making the dough in a bread machine, place the sponge ingredients in the bucket, and turn the machine on for just a few seconds to mix the ingredients together. Turn the machine off and close the cover, then let the starter rest as directed above.

To make the dough: Stir down the starter with a spoon and add the water, yeast, sugar, 3 1/4 cups (13 3/4 ounces) of the flour, and the salt. The dough will be a loose, messy mass. Let it rest for 12 to 15 minutes, then stir it again; it should become more cohesive and a bit smoother. Dough handles better once it's had time for the flour to absorb the water while resting and relaxing. By using this method, you'll tend to add less flour, and have much bigger holes in your finished bread.

Knead the dough, adding up to an additional 3/4 cup (3 ounces) flour (as necessary to make a soft dough), 10 to 12 minutes.

Place the dough in a lightly greased bowl or plastic container, cover with lightly greased plastic wrap, and let it rise until almost doubled (depending on the weather, this could be 1 to 2 hours). If you're going out, or if you prefer, let the dough rise slowly in the fridge. If your dough has been refrigerated, allow it to come to room temperature before shaping; it'll warm up and rise at the same time.

Deflate the dough gently, but don't knock out all the air; this will create those "holes" so important to French bread. For one large loaf, form the dough into a round ball; for two loaves, divide the dough in half and shape into two balls.

Place a semolina- or cornmeal-dusted piece of parchment paper onto a baking sheet. Gently place the ball(s) of dough on the baking sheet, seam-side down.

Cover the bread gently with lightly greased plastic wrap, and let it rise until it's puffy and about 40% to 50% larger, anywhere from 45 to 90 minutes.

Preheat your oven to 475°F.

Slash or cross-hatch the bread with a sharp knife or lame. Dust it with a little flour. Spritz water into the oven with a clean plant mister, and place the bread in the oven. Reduce the heat to 425°F and spritz with water every few minutes for the first 15 minutes of baking.

Bake the bread for about 25 to 30 minutes, or until it's a rich golden brown, and its interior temperature registers at least 190°F on a digital thermometer. The smaller loaves will bake more quickly, so keep your eye on them.

Remove the bread from the oven, and cool it on a rack. Store bread, loosely wrapped in paper, for a couple of days at room temperature; wrap it in plastic and freeze for longer storage.
Nutrition Information
Serving Size

69g

Servings Per Batch

16
Amount Per Serving:
Calories

140

Calories from Fat

5

Total Fat

0g

Saturated Fat

0g

Trans Fat

0g

Cholesterol

0mg
Sodium

220mg

Total Carbohydrate

29g

Dietary Fiber

1g

Sugars

1g

Protein

5g
* The nutrition information provided for this recipe is determined by the ESHA Genesis R&D software program. Substituting any ingredients may change the posted nutrition information.
Tips from our bakers
Want to bake your bread on an outdoor grill? Preheat your grill to High. Place the bread (on doubled-up baking sheets) on the grill, and close the cover. Immediately reduce the heat to Medium (400°F), and allow the bread to bake for 25 minutes, or until it's well-browned. Reduce the heat to Low, and carefully place the bread directly on the grill. Continue to bake until completely done, about 5 minutes.
Reviews
I wasn't expecting much from this bread since my dough was so wet, wobbly and fragile that I couldn't handle it, but the baked bread is excellent! The crust is hard and crunchy, and the crumb is loose and open. It's great toasted or plain. I used 2 teaspoons of salt and wouldn't have wanted it any saltier. I followed the recipe using a stand mixer to knead the dough for 12 minutes, starting with 447 grams of flour and adding 85 grams of flour. The dough was very wet and sticky but I didn't want to add any more flour. First rise was 1 1/2 hours and the dough had doubled. It came out of the bowl in a stringy mass, deflated completely when I rolled it out onto the counter, and wouldn't hold any shape when I tried to form it into a ball. I was able to scoop it up with a bench scraper into my clay baker for the final proofing. The second rise was 1 1/4 hours and the dough had almost doubled. I dusted the top with flour but couldn't slash it so took a reviewer's suggestion to snip with scissors and this worked well. The clay baker I use has to be started in a cold oven. I started timing once the oven had reached 425°, and baked covered for 25 minutes, then uncovered for 28 minutes. Internal temperature was 205°. Turned the bread out of the baker then let it cool in the oven with the door open.

Hi there, Sadie! We wonder if you ended up with such a slack dough from using a flour with a lower protein content? Our flour has a bit of a higher protein content than most others available, which makes it absorb a more liquid. We might suggest holding back some of the liquid (about a 1/4 cup) and adding that slowly if needed. Also, it sounds like the gluten started to break down a little from over mixing — typically dough only needs about 6 to 8 minutes to become fully kneaded in a stand mixer. We hope this helps and happy baking! Morgan@KAF
Happy to say the rises all went real well, proofed each of the 2 loaves in glass bowls lined with floured towels. Boules held their shape nicely, but not too dry, and got a good bounce in the oven. I had a pot of boiling water in the oven bottom, and the finished product was pretty, but the crust was still thin, not crunchy, and what I seem to have here is nice sandwich bread, makes GREAT toast. What I was after though was a chewier French loaf, with larger air cells in the crumb. Any ideas?

Hi there, Chris! For a crustier loaf, we'd suggest baking in a Dutch oven or some kind of covered baker. The thinner crust you experienced could have been caused by too much steam in the oven as well. Maybe try putting a smaller amount of water in the pot next time around, so you're only steaming the loaves for the first ten or so minutes while the crust forms. Too much steam can result in a softer crust because there is too much moisture in the oven which doesn't give the loaf a chance to crisp up.
For a loaf with a more open crumb structure, you'll want to increase the hydration of your dough — we'd suggest starting out by adding an extra 1/4 cup (56 grams) to your dough. We hope this helps and happy baking! Morgan@KAF
This recipe reminds me of sourdough bread which I also bake on occasion - it is a very similar recipe other than the starter being made from regular yeast as opposed to a sourdough culture. I let the second rise occur in a proofing basket and baked it in a cast iron dutch oven, exactly as I would sourdough bread. It turned out excellent and very flavorful; amazing what the difference in fermenting method does with the same basic ingredients! My wife and daughter loved it ( as did I). I will bake it again.
I use the bread flour from local farmer's market, which is half whole wheat. Should I add little more water? Thanks

Hi there, Lulu! You will definitely want to increase the liquid a bit to accommodate for the whole wheat flour in your blend. Typically when adding whole wheat to a recipe, for every cup used you'll want to add 2 teaspoons to of additional liquid to your dough. Happy baking! Morgan@KAF
I make this recipe once or twice a month. It's my fav. I use whole grain rye flour in lieu of the whole wheat flour in the starter. That had yielded lovely results. I make 2 loaves and freeze the second. It freezes beautifully. I also recommend using any leftover or stale bread to make croutons. Croutons from this bread are fantastic.
After baking this French bread a few times, it came out perfect in every way On Valentine Day, I made it into two loaves since it was for two of us. When it was ready to be shaped, salt was still on the counter. I gently kneaded in and ended up with an extra rising. I do not know if the extra rising was a part of success but I just rolled the dough out of the bowl to floured surface and folded over and pinched edges to shape into loaves and baked as it directed. Moist and tender inside and crisp on outside. It gives me such a pleasure when I see that bread texture It was so delicious. We had some more next day with homemade tomato soup. I froze the other loaf but I have to bake again soon to see if I can bake it exactly alike
Absolutely the best bread ever!!! Better if you let the poolish set for at least 12 hours....Just made this tonight again....will enjoy with spaghetti and meat balls tomorrow with family....highly recommend...
I enjoyed this recipe--my first time using a starter of this kind, which I let sit for about three hours while I also made focaccia (it was a bread kind of day). I did the kneading with a stand mixer + dough hook, and I suspect that I mixed it too long, since the bread ended up a bit too rubbery? The flavor's really good, though, and the crust is well-browned but not too tough. I'm looking forward to giving this one another try.
Have made this great bread multiple times but am curious about how I lost the crunchy exterior this time. I used a pan and filled it with a cup of water after I put the bread in the oven. I baked for 30 minutes and the crust was crunchy when I checked the temperature for 190. I left it in the oven with the door open to cool. After it cooled, the crust became chewy instead of crunchy. What do you think might have happened? Thanks in advance for any wisdom.

Hi Lar! This was probably just a one time fluke and it won't happen with your next batch. Flour is hygroscopic and will absorb any moisture it possibly can, so it's possible there was just a lot of moisture in the air that day. There could have been some steam from cooking or making tea on the stove, steam from the dishwasher, really any moisture the loaf can absorb, it will. Retoasting slices before eating is probably the most effective solution for this particular loaf. Annabelle@KAF