A customized print-friendly version of this recipe is available by clicking the "Print Recipe" button on this page.
French-Style Country Bread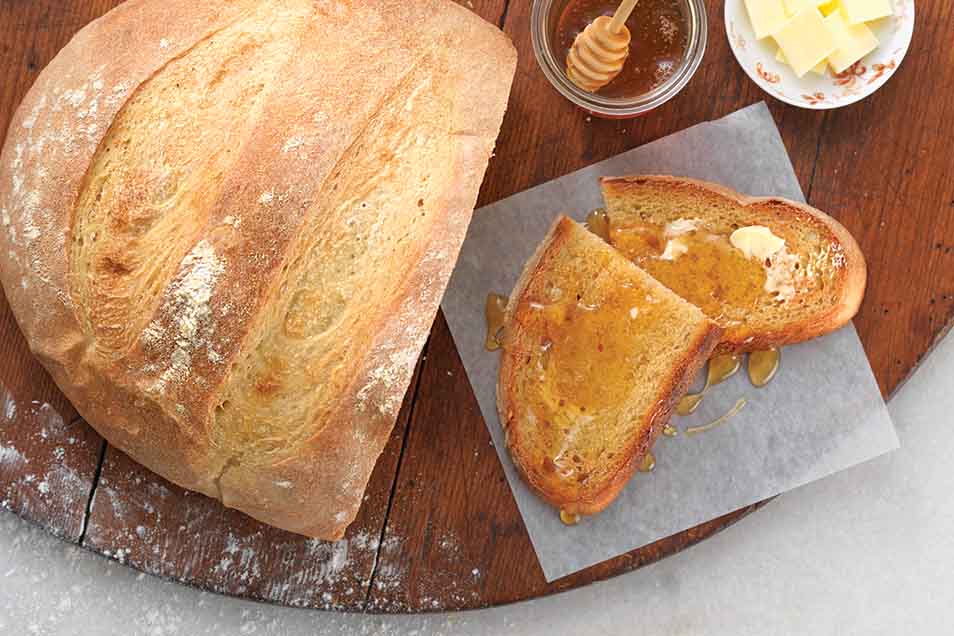 You could make this bread, and no other, for the rest of your baking career, and never feel cheated. It uses the sponge, or poolish, method: sort of a poor man's or woman's sourdough starter — no feedings, little pre-planning, lots of flexibility, and superb bread. If you've always wanted crusty, hole-ridden, French-style bread, this is it.
Ingredients
Dough
all of the starter (above)
1 cup lukewarm water (100°F to 115°F)
3/4 teaspoon active dry or 1/2 teaspoon instant yeast
1 tablespoon sugar
3 3/4 to 4 cups King Arthur Unbleached Bread Flour or Organic Bread Flour
1 1/2 to 2 1/4 teaspoons salt, to taste
Instructions
To make the starter: Stir all of the starter ingredients together to make a thick, pudding-like mixture. Cover with plastic wrap and let it rest for at least 2 hours. For best flavor, let the starter rest longer; overnight (up to 16 hours) is best. If you plan on making the dough in a bread machine, place the sponge ingredients in the bucket, and turn the machine on for just a few seconds to mix the ingredients together. Turn the machine off and close the cover, then let the starter rest as directed above.

To make the dough: Stir down the starter with a spoon and add the water, yeast, sugar, 3 1/4 cups (13 3/4 ounces) of the flour, and the salt. The dough will be a loose, messy mass. Let it rest for 12 to 15 minutes, then stir it again; it should become more cohesive and a bit smoother. Dough handles better once it's had time for the flour to absorb the water while resting and relaxing. By using this method, you'll tend to add less flour, and have much bigger holes in your finished bread.

Knead the dough, adding up to an additional 3/4 cup (3 ounces) flour (as necessary to make a soft dough), 10 to 12 minutes.

Place the dough in a lightly greased bowl or plastic container, cover with lightly greased plastic wrap, and let it rise until almost doubled (depending on the weather, this could be 1 to 2 hours). If you're going out, or if you prefer, let the dough rise slowly in the fridge. If your dough has been refrigerated, allow it to come to room temperature before shaping; it'll warm up and rise at the same time.

Deflate the dough gently, but don't knock out all the air; this will create those "holes" so important to French bread. For one large loaf, form the dough into a round ball; for two loaves, divide the dough in half and shape into two balls.

Place a semolina- or cornmeal-dusted piece of parchment paper onto a baking sheet. Gently place the ball(s) of dough on the baking sheet, seam-side down.

Cover the bread gently with lightly greased plastic wrap, and let it rise until it's puffy and about 40% to 50% larger, anywhere from 45 to 90 minutes.

Preheat your oven to 475°F.

Slash or cross-hatch the bread with a sharp knife or lame. Dust it with a little flour. Spritz water into the oven with a clean plant mister, and place the bread in the oven. Reduce the heat to 425°F and spritz with water every few minutes for the first 15 minutes of baking.

Bake the bread for about 25 to 30 minutes, or until it's a rich golden brown, and its interior temperature registers at least 190°F on a digital thermometer. The smaller loaves will bake more quickly, so keep your eye on them.

Remove the bread from the oven, and cool it on a rack. Store bread, loosely wrapped in paper, for a couple of days at room temperature; wrap it in plastic and freeze for longer storage.
Nutrition Information
Serving Size

69g

Servings Per Batch

16
Amount Per Serving:
Calories

140

Calories from Fat

5

Total Fat

0g

Saturated Fat

0g

Trans Fat

0g

Cholesterol

0mg
Sodium

220mg

Total Carbohydrate

29g

Dietary Fiber

1g

Sugars

1g

Protein

5g
* The nutrition information provided for this recipe is determined by the ESHA Genesis R&D software program. Substituting any ingredients may change the posted nutrition information.
Tips from our bakers
Want to bake your bread on an outdoor grill? Preheat your grill to High. Place the bread (on doubled-up baking sheets) on the grill, and close the cover. Immediately reduce the heat to Medium (400°F), and allow the bread to bake for 25 minutes, or until it's well-browned. Reduce the heat to Low, and carefully place the bread directly on the grill. Continue to bake until completely done, about 5 minutes.
Reviews
The bread is great. However, it doubles in width size but not in height. Could it be the yeast? Should I use more flour? I weigh all my ingredients. If I use a Dutch oven, should the baking time be the same and should the lid be on while baking?

Hi Franceen! Bread dough will always take the path of least resistance, so if it has the option to rise outwards rather than up, it will. One solution to this is to let your dough rise in a bread basket (often called a brotform) or in a bowl lined with a flour dusted tea towel. We encourage you to check out our blog article "Shaping a boule" by entering it into the search bar above. This article shows helpful tips on how to fold and shape loaves to have a tight skin and how to let it rise in a brotform.

We're glad to hear you're interested in baking in a Dutch oven, as it creates such a nice crisp loaf. This recipe will make two loaves so you can bake one while the other rests either on the counter or in the fridge. (If it's on the counter, keep an eye on it to make sure it doesn't over-proof. See our blog "Over-proofed dough" for visual signs of it.)

Bake the loaf with the lid on for approximately the first 2/3 of the baking time, then remove it for the final 7 to 10 minutes so it can brown. You'll know it's done when the internal temperature of the loaf reads 190°F on a digital thermometer. Happy baking! Annabelle@KAF
Used this recipe about 30 times. The only thing I do differently is I bake the bread in a Dutch oven. My favorite bread! Tomorrow I'm going to try to bake this in a wood fired oven (ooni pro pizza oven.) It will be great it if I can manage to control the temperature of my fire. Honesty, I don't know why I'm trying this other than fun because I don't believe I can make it better.
In answer to JoniT regarding a toaster oven. I have exclusively used a Gourmia Convection Oven since I got into breadmaking about a year ago. Although I have never used the convection setting, I place this bread on a pizza stone that sets upon the pan (included with oven) at the lowest point in the oven. I then subtract 25 degrees from the temperatures that KAF specifies.....and you need to keep a close watch on cooking times....usually the bread is done just prior to the lowest time specified by KAF. With this recipe, I set the oven to 450 deg (bake mode) and then reduced to 400 deg when I placed in the oven. It turned out pretty well.....but a toaster oven is no substitute for a full size oven......yet good enough in a pinch.
I substituted 100 grams of my sourdough starter (50/50 water/flour) to the starter. I also added 1/4 teaspoon more yeast (I am going to add more next time) to the bulk dough. It's a very soft dough and not overly sticky. It would be a great beginning bread. It didn't crust up like I hoped but it did end up an awesome accompanying bread to steak. Perfect vehicle for "steak juice".

We're glad you enjoyed this recipe, Jason! For a better crust, you might consider pouring a cup of water into a cast-iron skillet below your bread rather than spritzing it. It's not risk-free (steam burns are not fun), but if you move quickly and wear good oven mitts while doing it, it should get you a much steamier oven than the water spritzing method does, resulting in a crustier loaf. Happy baking! Kat@KAF
@KAF - why does this recipe say a cup of water is 227ml when I flip from volume? Isn't a cup of water just shy of 240ml? As for my review I absolutely love this bread. It's simple yet so flavorful!

We're so glad this was a hit! By weight a cup of water will weigh approximately 225 grams, give or take a gram or two. You can always check our "Ingredient weight chart" by searching for it in the search bar above if you're curious. Annabelle@KAF
Me and my family love this recipe. My oven is broke at the moment though and I'm wondering if anybody has made this in a toaster oven that only goes to 450. I hope somebody can answer me.
This recipe is the BEST crusty bread recipe I've found!! Thank you to the staff at King Arthur for sharing it; it will be my go-to recipe from now on. I used 2 tsp. salt and found it was the perfect balance. I baked the bread in my EH bread and potato pot and it was perfect for a charcuterie platter. No more searching for a bread recipe!
4 loaves in 4 days - each one lovelier than the next. I'm a fairly new bread baker. Most of my yeast baking experience has been based around rolls and pizza dough. This recipe is so well laid out and flexible that it's easy to work into my day with 3 little ones underfoot. I've been baking the loaves on a preheated stone and adding hot water to a cast iron skillet on the bottom oven rack as the loaf goes in. I wanted to eliminate the misting steps/opening and closing the oven door. I was concerned that the spray bottle and hot open oven may prove to be too intriguing for my curious toddlers. This loaf has become the house favourite and it's looking like our bread buying days are over. Thank you for such a wonderful guide to a great loaf.
I have a question: Has anyone added anything to the bread, olives, rosemary, garlic, etc? When would you incorporate that if you did, and is it even appropriate for this recipe? Thanks for any advice!

Feel free to experiment adding mix-ins to this recipe, Deanna! You'll want to add them towards the end of kneading. Start by adding up to 1/2 cup of your chosen ingredients and go from there. Happy baking! Annabelle@KAF
My son's class is learning about bread, and we had a lot of fun making this as homework! The steps were easy to follow, and the end result was delicious! Soft and light on the inside, with a beautiful golden-brown crust!