A customized print-friendly version of this recipe is available by clicking the "Print Recipe" button on this page.
French-Style Country Bread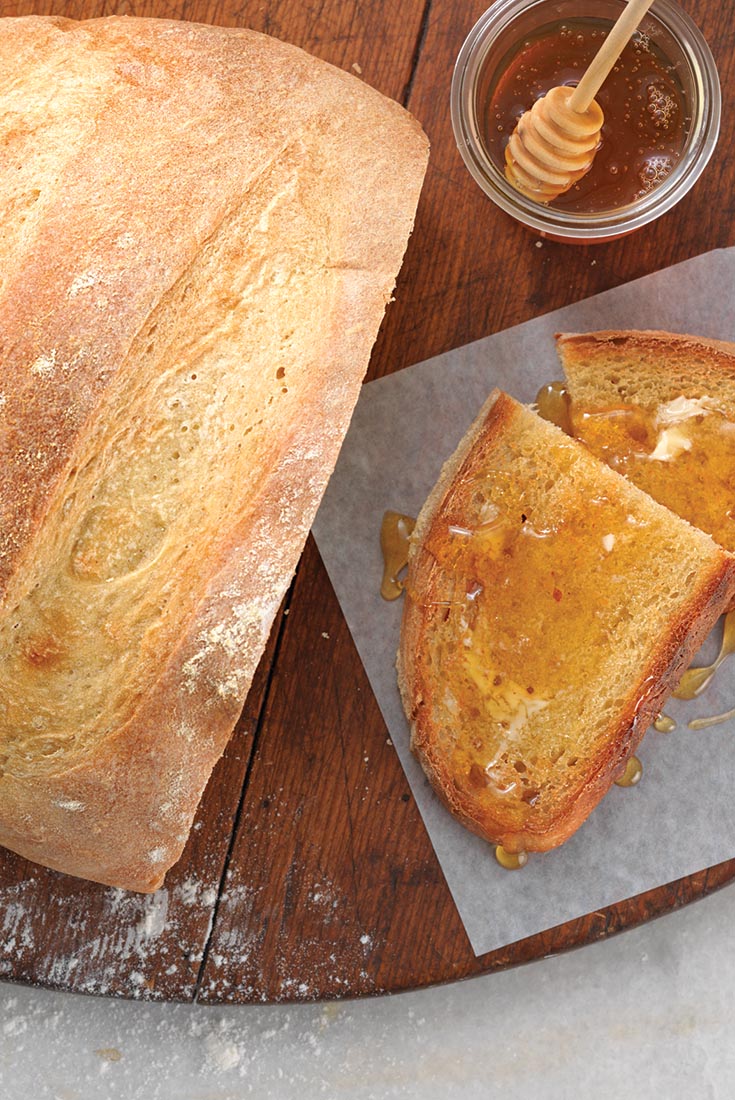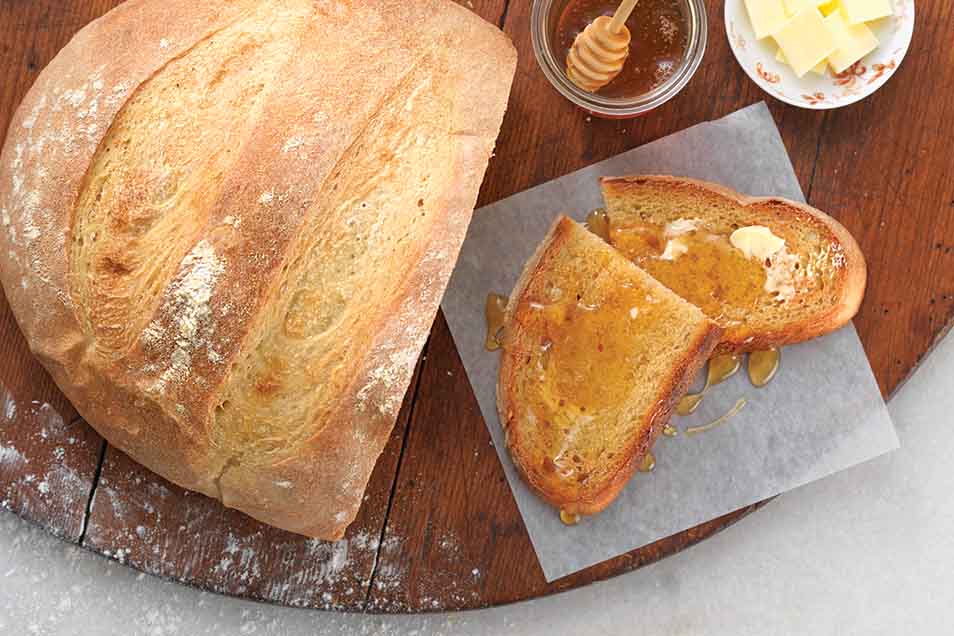 You could make this bread, and no other, for the rest of your baking career, and never feel cheated. It uses the sponge, or poolish, method: sort of a poor man's or woman's sourdough starter — no feedings, little pre-planning, lots of flexibility, and superb bread. If you've always wanted crusty, hole-ridden, French-style bread, this is it.
Ingredients
Dough
all of the starter (above)
1 cup lukewarm water (100°F to 115°F)
3/4 teaspoon active dry or 1/2 teaspoon instant yeast
1 tablespoon sugar
3 3/4 to 4 cups King Arthur Unbleached Bread Flour or Organic Bread Flour
1 1/2 to 2 1/4 teaspoons salt, to taste
Instructions
To make the starter: Stir all of the starter ingredients together to make a thick, pudding-like mixture. Cover with plastic wrap and let it rest for at least 2 hours. For best flavor, let the starter rest longer; overnight (up to 16 hours) is best. If you plan on making the dough in a bread machine, place the sponge ingredients in the bucket, and turn the machine on for just a few seconds to mix the ingredients together. Turn the machine off and close the cover, then let the starter rest as directed above.

To make the dough: Stir down the starter with a spoon and add the water, yeast, sugar, 3 1/4 cups (13 3/4 ounces) of the flour, and the salt. The dough will be a loose, messy mass. Let it rest for 12 to 15 minutes, then stir it again; it should become more cohesive and a bit smoother. Dough handles better once it's had time for the flour to absorb the water while resting and relaxing. By using this method, you'll tend to add less flour, and have much bigger holes in your finished bread.

Knead the dough, adding up to an additional 3/4 cup (3 ounces) flour (as necessary to make a soft dough), 10 to 12 minutes.

Place the dough in a lightly greased bowl or plastic container, cover with lightly greased plastic wrap, and let it rise until almost doubled (depending on the weather, this could be 1 to 2 hours). If you're going out, or if you prefer, let the dough rise slowly in the fridge. If your dough has been refrigerated, allow it to come to room temperature before shaping; it'll warm up and rise at the same time.

Deflate the dough gently, but don't knock out all the air; this will create those "holes" so important to French bread. For one large loaf, form the dough into a round ball; for two loaves, divide the dough in half and shape into two balls.

Place a semolina- or cornmeal-dusted piece of parchment paper onto a baking sheet. Gently place the ball(s) of dough on the baking sheet, seam-side down.

Cover the bread gently with lightly greased plastic wrap, and let it rise until it's puffy and about 40% to 50% larger, anywhere from 45 to 90 minutes.

Preheat your oven to 475°F.

Slash or cross-hatch the bread with a sharp knife or lame. Dust it with a little flour. Spritz water into the oven with a clean plant mister, and place the bread in the oven. Reduce the heat to 425°F and spritz with water every few minutes for the first 15 minutes of baking.

Bake the bread for about 25 to 30 minutes, or until it's a rich golden brown, and its interior temperature registers at least 190°F on a digital thermometer. The smaller loaves will bake more quickly, so keep your eye on them.

Remove the bread from the oven, and cool it on a rack. Store bread, loosely wrapped in paper, for a couple of days at room temperature; wrap it in plastic and freeze for longer storage.
Nutrition Information
Serving Size

69g

Servings Per Batch

16
Amount Per Serving:
Calories

140

Calories from Fat

5

Total Fat

0g

Saturated Fat

0g

Trans Fat

0g

Cholesterol

0mg
Sodium

220mg

Total Carbohydrate

29g

Dietary Fiber

1g

Sugars

1g

Protein

5g
* The nutrition information provided for this recipe is determined by the ESHA Genesis R&D software program. Substituting any ingredients may change the posted nutrition information.
Tips from our bakers
Want to bake your bread on an outdoor grill? Preheat your grill to High. Place the bread (on doubled-up baking sheets) on the grill, and close the cover. Immediately reduce the heat to Medium (400°F), and allow the bread to bake for 25 minutes, or until it's well-browned. Reduce the heat to Low, and carefully place the bread directly on the grill. Continue to bake until completely done, about 5 minutes.
Reviews
Well, buckaroosmy first shot at French-Style Country Bread was a rousing success. It was almost as if the birds sang to me and the clouds spelled out my name, so perfect was my loafy loaf. The resultsand I purchased a handy red spray bottle specifically for this recipelooked exactly like the photograph (sans the nice honey pot thingie, which I don't haveyet). As is my habit, I followed the instructions to the letter and presto: bread that I could brag aboutwhich, of course I did: I am that guy. I did use a pizza stone; but that's simply because I had forgotten to remove it after an earlier adventure in baking. The results were as advertised. Sidenote: I ordered some fancy ingredients that will be arriving soon from you fine folks, but I've forgotten why I purchased them. When they arrive, I'll need to do some sleuthing. Oh - and I made yoghurt. That was a colossal pain and I don't yet know if the resulting coagulation is yoghurt or poison.
I used my mature sourdough starter in place of the sponge. The resulting bread was one of the best loaves I've baked. Crisp crumb, wonderful chew, and light tang. I've since made dinner rolls with the recipe, and those were a huge hit. Love this recipe!
Love this recipe. My only question has to do with the cooling process. When I pulled it from the oven it had the perfect crispy crust, but as it cooled it turned soft. Should I have let it cool in the hot oven with the door cracked?

Your baking instincts are right on! If you allow the loaf to cool in an open, turned-off oven, the loaf will cool more slowly and any condensation that forms on the top crust will evaporate. (This layer of moisture is typically what softens the crust as the loaf cools at room temperature.) Once the loaf is cool, try storing your bread in a paper bag, or without any wrapper at all, placing the cut side down on a cutting board to keep it from drying out. Letting air circulate around the crust will help keep things crispy. Happy baking! Kye@KAF
Hi , thanks for all the recipes and your guidance videos on youtube , I am new to bread , I don't have the stabd mixer so I knead by hands, when I kneading, the dough was so dense and in recipe it takes about 10-15 minutes knead Should I knead it till get the window pane or just knead it as the recipe needs

One of the most common reasons why baked goods turn out dry and heavy is because too much flour is used. To ensure you're using the right amount, we recommend checking out the "Measuring Standards," link next to the ingredients header above. You'll see that either measuring your flour by weight using a scale, or fluffing and sprinkling the flour into your measuring cup are the best ways to ensure your recipe turns out perfectly. last time it's turn out good but tasteless so I wonder what I did wrong on it I was kneading for an hours by hands , is it because of that the bread I got was golden brown and crispy but the taste and smell that missing by the way , I live in thailand in asia, can you suggest me some tips I really love to baking good bread

Hi Jayanis, it sounds like there might be a bit too much flour added to the dough if it feels quite so dense and heavy. To ensure you're using the right amount, we recommend checking out the "Measuring Standards," link next to the ingredients header above. You'll see that either measuring your flour by weight using a scale, or fluffing and sprinkling the flour into your measuring cup are the best ways to ensure your recipe turns out perfectly.

As for how much to knead your dough, you'll want knead it until it feels smooth, bouncy, and springy to the touch. The window pane test isn't always necessary when making yeast breads, so focus more on how the dough looks and feels. When it's ready to be baked, you should be able to poke it with your finger and it should spring back readily. We hope this helps, and happy baking! Kye@KAF
This makes wonderful bread. I haven't done French bread before, although I've baked bread for almost 60 years. It was fun to use poolish for the first time and stretch and fold technique. I think my first try was a little heavy on flour, but in fact, I make America's Test Kitchen recipes a lot, and think I'm used to a heavier cup than you use. I just ordered a scale. My first loaf was really good - crust had just the right bite, and the flavor was wonderful, but the crumb was lacking in big, open holed texture. What a shame that I'll have to continue to practice :):) My friends are happy.
I believe that I may have reviewed this bread in the past, but I have to sing it's praises again. I've made 4 loaves in the last two days and between my husband and I.....and the neighbors.....we have gobbled it up. Yes, the dough is very sticky.....which is exactly what makes this bread so good. Made in the Emile Henry cloche it turns out simply fantastic. If you want to feel like a bread rockstar this is the one to make.
Followed the directions exactly, let the sponge cure overnight. Yep, it's a high hydration dough, and everyone should learn how to work with it. Pizza dough should be the same, so there's that. Produced a wonderful loaf. The kids next door smelled it, wanted a taste, I made them sandwiches which they scarfed down saying it's the best bread they ever had. The loaf was gone within 45 minutes as the kid's mom came for a taste, loved it and wished he husband could taste it too, I gave her what was left, and started another sponge...
Hi yesterday I made this bread, and it was delicios, but i had to used more flour than the recipes said, about half of cup, and still, the dought was very liquid, and had to knealed longer and beside that, it remains very liquid. I didnt wanted to add more flour, so I let it that way, and the bread turned out very good.
I've made this twice now, the first time I kneaded by hand and the second I used my stand up mixer. Both times I added all of the (weighed) flour and still ended up with an extremely sticky dough. What am I doing wrong? The loafs still turned out but I know it could be better.

Hi Sarah. It doesn't sound like you're doing anything wrong at all — this makes a very wet dough. If you prefer a denser dryer loaf, feel free to sprinkle in extra flour until the consitency is smooth rather than sticky. Annabelle@KAF
For anyone who's never made a starter before, you let it sit at room temp. I wasn't sure if I should put it in the fridge since I was planning to let it sit overnight, but on the countertop is fine. For anyone else using 1/4 oz. packets of yeast, I used a 1/2 tsp for the starter, like it calls for. Then I dumped the rest into the dough. Kneading the dough was really frustrating. I tried doing it by hand, but it was just too sticky (even after sitting for 20 minutes). I added some flour, which helped a bit, but it was still sticky. I finally gave up and dumped it in my stand mixer with a dough hook. I added some more flour and let the dough hook have a go at it. Then it ended up stiff, but still sticky. Then I let it rise, but instead of 2 hours, I left it sit for 4 to relax the gluten. It doubled in mass and overflowed the bowl slightly, but it was much easier to work with after that. I made one big loaf, which turned out to be about 12' across and 3' high. It came out great. Very soft and flavorful.