A customized print-friendly version of this recipe is available by clicking the "Print Recipe" button on this page.
French-Style Country Bread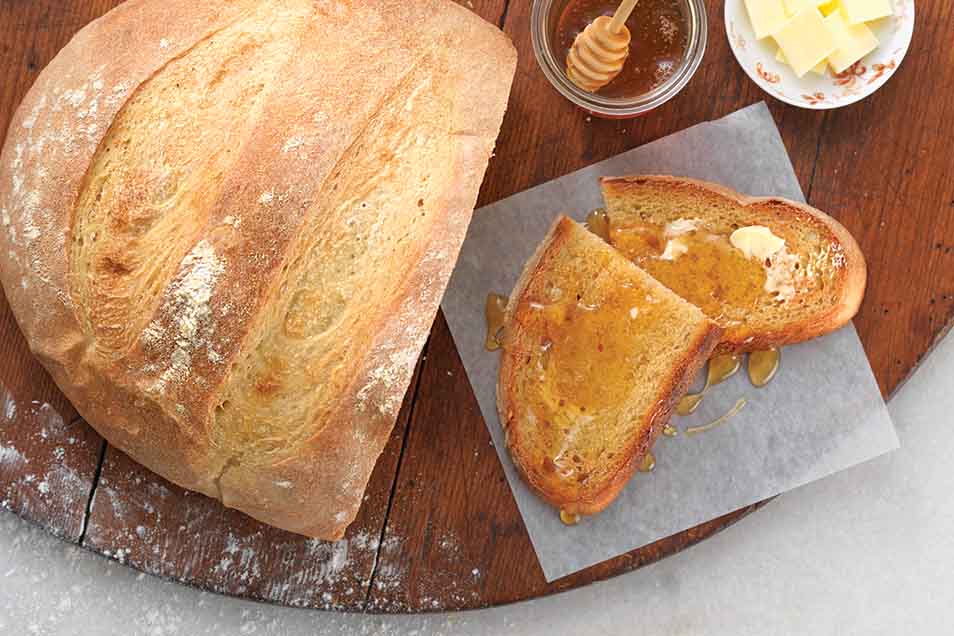 You could make this bread, and no other, for the rest of your baking career, and never feel cheated. It uses the sponge, or poolish, method: sort of a poor man's or woman's sourdough starter — no feedings, little pre-planning, lots of flexibility, and superb bread. If you've always wanted crusty, hole-ridden, French-style bread, this is it.
Ingredients
Dough
all of the starter (above)
1 cup lukewarm water (100°F to 115°F)
3/4 teaspoon active dry or 1/2 teaspoon instant yeast
1 tablespoon sugar
3 3/4 to 4 cups King Arthur Unbleached Bread Flour or Organic Bread Flour
1 1/2 to 2 1/4 teaspoons salt, to taste
Instructions
To make the starter: Stir all of the starter ingredients together to make a thick, pudding-like mixture. Cover with plastic wrap and let it rest for at least 2 hours. For best flavor, let the starter rest longer; overnight (up to 16 hours) is best. If you plan on making the dough in a bread machine, place the sponge ingredients in the bucket, and turn the machine on for just a few seconds to mix the ingredients together. Turn the machine off and close the cover, then let the starter rest as directed above.

To make the dough: Stir down the starter with a spoon and add the water, yeast, sugar, 3 1/4 cups (13 3/4 ounces) of the flour, and the salt. The dough will be a loose, messy mass. Let it rest for 12 to 15 minutes, then stir it again; it should become more cohesive and a bit smoother. Dough handles better once it's had time for the flour to absorb the water while resting and relaxing. By using this method, you'll tend to add less flour, and have much bigger holes in your finished bread.

Knead the dough, adding up to an additional 3/4 cup (3 ounces) flour (as necessary to make a soft dough), 10 to 12 minutes.

Place the dough in a lightly greased bowl or plastic container, cover with lightly greased plastic wrap, and let it rise until almost doubled (depending on the weather, this could be 1 to 2 hours). If you're going out, or if you prefer, let the dough rise slowly in the fridge. If your dough has been refrigerated, allow it to come to room temperature before shaping; it'll warm up and rise at the same time.

Deflate the dough gently, but don't knock out all the air; this will create those "holes" so important to French bread. For one large loaf, form the dough into a round ball; for two loaves, divide the dough in half and shape into two balls.

Place a semolina- or cornmeal-dusted piece of parchment paper onto a baking sheet. Gently place the ball(s) of dough on the baking sheet, seam-side down.

Cover the bread gently with lightly greased plastic wrap, and let it rise until it's puffy and about 40% to 50% larger, anywhere from 45 to 90 minutes.

Preheat your oven to 475°F.

Slash or cross-hatch the bread with a sharp knife or lame. Dust it with a little flour. Spritz water into the oven with a clean plant mister, and place the bread in the oven. Reduce the heat to 425°F and spritz with water every few minutes for the first 15 minutes of baking.

Bake the bread for about 25 to 30 minutes, or until it's a rich golden brown, and its interior temperature registers at least 190°F on a digital thermometer. The smaller loaves will bake more quickly, so keep your eye on them.

Remove the bread from the oven, and cool it on a rack. Store bread, loosely wrapped in paper, for a couple of days at room temperature; wrap it in plastic and freeze for longer storage.
Nutrition Information
Serving Size

69g

Servings Per Batch

16
Amount Per Serving:
Calories

140

Calories from Fat

5

Total Fat

0g

Saturated Fat

0g

Trans Fat

0g

Cholesterol

0mg
Sodium

220mg

Total Carbohydrate

29g

Dietary Fiber

1g

Sugars

1g

Protein

5g
* The nutrition information provided for this recipe is determined by the ESHA Genesis R&D software program. Substituting any ingredients may change the posted nutrition information.
Tips from our bakers
Want to bake your bread on an outdoor grill? Preheat your grill to High. Place the bread (on doubled-up baking sheets) on the grill, and close the cover. Immediately reduce the heat to Medium (400°F), and allow the bread to bake for 25 minutes, or until it's well-browned. Reduce the heat to Low, and carefully place the bread directly on the grill. Continue to bake until completely done, about 5 minutes.
Reviews
I have a question: Has anyone added anything to the bread, olives, rosemary, garlic, etc? When would you incorporate that if you did, and is it even appropriate for this recipe? Thanks for any advice!

Feel free to experiment adding mix-ins to this recipe, Deanna! You'll want to add them towards the end of kneading. Start by adding up to 1/2 cup of your chosen ingredients and go from there. Happy baking! Annabelle@KAF
My son's class is learning about bread, and we had a lot of fun making this as homework! The steps were easy to follow, and the end result was delicious! Soft and light on the inside, with a beautiful golden-brown crust!
This recipe came out beautifully, and the instructions are clear and easy to follow. The outside of the loaves are crispy and chewy. The inside is light and airy. I chose to let the sponge sit for a longer period of time (overnight) and the bread has a subtle but distinct tangy taste. Delicious!
Delicious and light. Beautifully crusty. Recipe was very accurate and easy to follow. I will definitely make this bread again.
Great recipe! One of the best breads I've made, and I've one quite a few. 12 hr starter fermentation, and substituted 1/4 of the flour for White Whole Wheat for the bread. I was fresh out of bread flour, and used AP instead- turned out beautifully. I weighed everything out, but still had to use the largest amount of flour here. Still sticky but I went on anyway. It didn't need a full 25 minutes in my fan oven, but after 20 it had a beautiful dark/crispy crust.
Hi. I have a batch of KAF French-Style Country Bread finishing up its second rise right now. Everything, from fresh polish to first mix, time in the Ank and first rise went beautifully. When I attempted to remove this very sticky dough from the bucket, without floured hands, i wound up tearing a lot of the incredibly beautiful and long gluten strands that had formed during the second rise. Now, looking at the formed balls of dough on the baking sheet, I am having a hard time ascertaining whether the dough has risen adequately. I have opted to allow the dough to rise for an hour of the recommended 45-90 minute rise; I am looking for a 40-50% increase in volume. I was not successful in splitting the dough into two equal pieces. One loaf is definitely larger than the other. My slashes did not go too deep*, so I was successful in not deflating the loaves too much. *On the completed bake, I see that I definitely should have tried to go deeper with the slashes, as they did not make a deep enough opener get on the finished product. They went into the oven at 0957 hrs. This bread gets an oven spritz every few min for the first 15min. I took the bread off the baking tray at 1022 and am allowing the bread to cool in the turned off oven, on the rack, to allow for a crispier crust. The final result might be a tad undercooked or cut into too soon. The flavor is nice though not as tangy as I hoped for. The crumb is very tight with uniform itty bitty holes. It slices beautifully. More salt would be a boon to flavor. I opted for 1.75 tsp of salt.
I just got my new long covered baker - very excited to try it out but see that it has max temp of 450*. Can I adapt this recipe for my new pan?

We're glad to hear you're eager to put your new pan to good use, Margaret. You can preheat your oven to 450°F and then extend the baking time to 30 to 35 minutes to account for the decrease in temperature. Don't worry: The final loaf will still be crusty and delicious! Kye@KAF
Made the bread while watching The Great British Baking Show this morning. It's fantastic. I even made a mistake with the dough - I accidentally grabbed the regular flour out of my pantry rather than the bread flour. (I did use bread flour for the "starter", which I made last night before bed.) I used the max amount of salt called for in the recipe, but next time I would use more. (But I am a salt-a-holic.) I had a hard time cutting the 'X" in the top of the dough before baking, so it ended up more of a dent. I sprayed the oven every three minutes for the first 15 minutes.
I've baked this bread many times and it tastes amazing! My problem is no matter what I do, once the oiled plastic wrap comes off and slash the loaf it deflates like a sad balloon. I thought maybe I was over proofing, but I've kept an eye on the dough and the clock. I'm keeping the dough pretty wet, just out of shaggy. Is this the problem? I feel like if I add too much flour it wont be right either. Any suggestions on how I can keep the dough from collapsing before it goes into the oven?

We think your initial instinct of guessing the dough is over-proofed is right on here. Try cutting back on the rise time or reducing the yeast by about 1/4 teaspoon. The dough can be slightly sticky to the touch but it shouldn't be wet. It should look smooth rather than shaggy or ragged. Try adding slightly more flour and reducing the rise time or yeast, and we think you'll end up with a perfect loaf! Kye@KAF
What a great recipe. Allow the yeast to sit overnight gives it a slight tang of sourdough. I have made this twice and will be making it often. I make one loaf and leave the rest of the dough in a bowl in the refrigerator for a couple of days while we eat the first. The second one always comes out as tasty as the first.