A customized print-friendly version of this recipe is available by clicking the "Print Recipe" button on this page.
French-Style Country Bread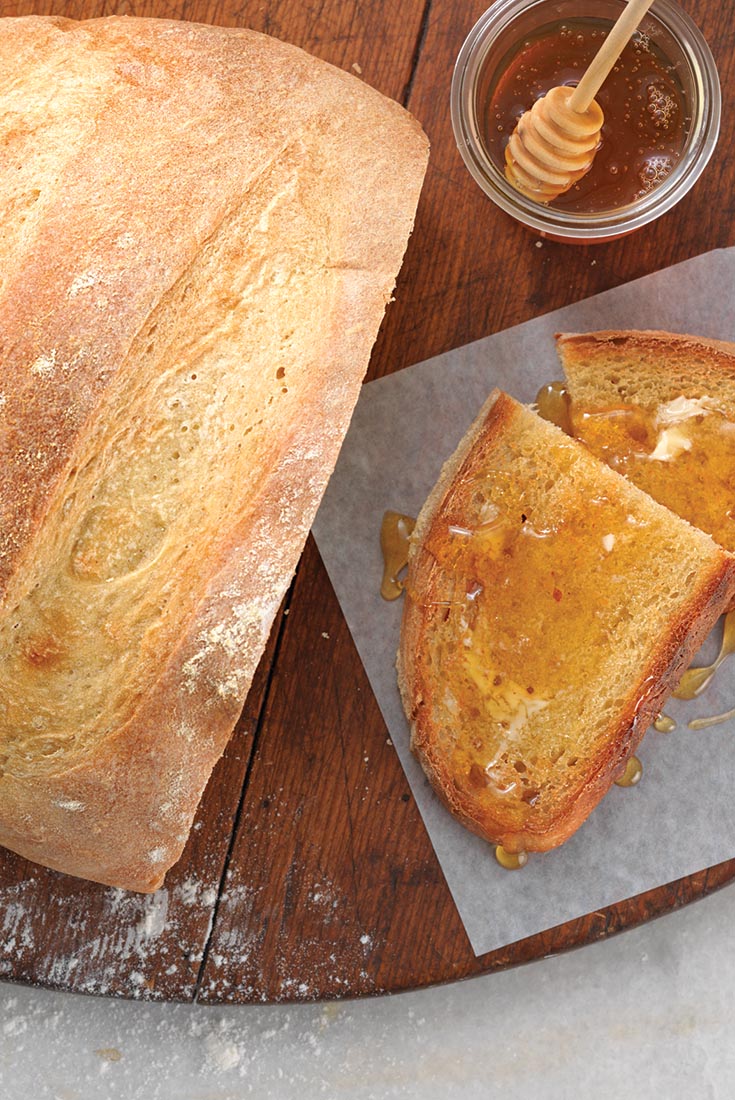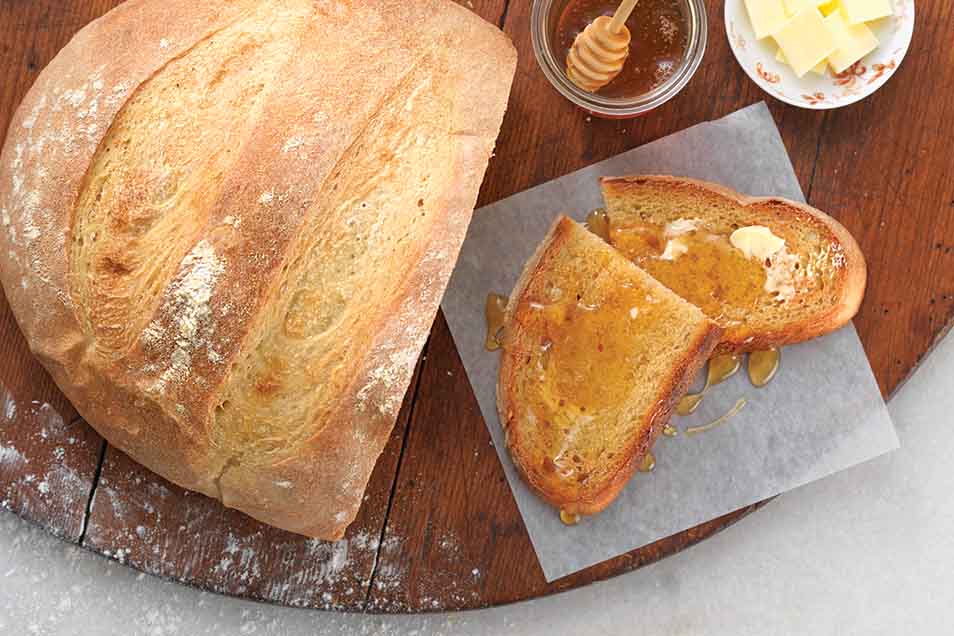 You could make this bread, and no other, for the rest of your baking career, and never feel cheated. It uses the sponge, or poolish, method: sort of a poor man's or woman's sourdough starter — no feedings, little pre-planning, lots of flexibility, and superb bread. If you've always wanted crusty, hole-ridden, French-style bread, this is it.
Ingredients
Dough
all of the starter (above)
1 cup lukewarm water (100°F to 115°F)
3/4 teaspoon active dry or 1/2 teaspoon instant yeast
1 tablespoon sugar
3 3/4 to 4 cups King Arthur Unbleached Bread Flour or Organic Bread Flour
1 1/2 to 2 1/4 teaspoons salt, to taste
Instructions
To make the starter: Stir all of the starter ingredients together to make a thick, pudding-like mixture. Cover with plastic wrap and let it rest for at least 2 hours. For best flavor, let the starter rest longer; overnight (up to 16 hours) is best. If you plan on making the dough in a bread machine, place the sponge ingredients in the bucket, and turn the machine on for just a few seconds to mix the ingredients together. Turn the machine off and close the cover, then let the starter rest as directed above.

To make the dough: Stir down the starter with a spoon and add the water, yeast, sugar, 3 1/4 cups of the flour, and the salt. The dough will be a loose, messy mass. Let it rest for 12 to 15 minutes, then stir it again; it should become more cohesive and a bit smoother. Dough handles better once it's had time for the flour to absorb the water while resting and relaxing. By using this method, you'll tend to add less flour, and have much bigger holes in your finished bread.

Knead the dough, adding more flour as necessary, to make a soft dough, 10 to 12 minutes.

Place the dough in a lightly greased bowl or plastic container, cover with lightly greased plastic wrap, and let it rise until almost doubled (depending on the weather, this could be 1 to 2 hours). If you're going out, or if you prefer, let the dough rise slowly in the fridge. If your dough has been refrigerated, allow it to come to room temperature before shaping; it'll warm up and rise at the same time.

Deflate the dough gently, but don't knock out all the air; this will create those "holes" so important to French bread. For one large loaf, form the dough into a round ball; for two loaves, divide the dough in half and shape into two balls.

Place a semolina- or cornmeal-dusted piece of parchment paper onto a baking sheet. Gently place the ball(s) of dough on the baking sheet, seam-side down.

Cover the bread gently with lightly greased plastic wrap, and let it rise until it's puffy and about 40% to 50% larger, anywhere from 45 to 90 minutes.

Preheat your oven to 475°F.

Slash or cross-hatch the bread with a sharp knife or lame. Dust it with a little flour. Spritz water into the oven with a clean plant mister, and place the bread in the oven. Reduce the heat to 425°F and spritz with water every few minutes for the first 15 minutes of baking.

Bake the bread for about 25 to 30 minutes, or until it's a rich golden brown, and its interior temperature registers at least 190°F on a digital thermometer. The smaller loaves will bake more quickly, so keep your eye on them.

Remove the bread from the oven, and cool it on a rack. Store bread, loosely wrapped in paper, for a couple of days at room temperature; wrap it in plastic and freeze for longer storage.
Nutrition Information
Serving Size

69g

Servings Per Batch

16
Amount Per Serving:
Calories

140

Calories from Fat

5

Total Fat

0g

Saturated Fat

0g

Trans Fat

0g

Cholesterol

0mg
Sodium

220mg

Total Carbohydrate

29g

Dietary Fiber

1g

Sugars

1g

Protein

5g
* The nutrition information provided for this recipe is determined by the ESHA Genesis R&D software program. Substituting any ingredients may change the posted nutrition information.
Tips from our bakers
Want to bake your bread on an outdoor grill? Preheat your grill to High. Place the bread (on doubled-up baking sheets) on the grill, and close the cover. Immediately reduce the heat to Medium (400°F), and allow the bread to bake for 25 minutes, or until it's well-browned. Reduce the heat to Low, and carefully place the bread directly on the grill. Continue to bake until completely done, about 5 minutes.
Reviews
This is my first attempt at making bread...successfully. Thank You King Arthur Flour!!! I am an avid baker but all my attempts at yeast recipes have flopped right from the start. I finally had someone tell me I probably had my water too warm and was killing the yeast. So for this recipe I made sure that when I added water, it wasn't more than barely lukewarm to the touch. I was also intrigued by the reviews where bakers said that they used a Dutch oven to bake the bread. I decided to try it and I think it was part of the perfection of the texture. What I did: -I opted to leave the starter overnight ( the full 16 hours) -I was gentle with my kneading and slowly added flour to ensure it still stayed somewhat sticky. -I pre-heated my le cruset (bottom & lid)and then added the dough to a lightly oiled and polenta (cornmeal) sprinkled bottom. -I baked the bread for 25 minutes covered and uncovered the lid the last 5 Result: Perfectly soft inside and crusty exterior. When I cut into it after resting I had perfect holes throughout. I took 1 star off for the following reasons: - While I admit I maybe went a little light on the salt, the bread itself tasted a little bland. I almost wish this had more of a sourdough flavor to it or used a sourdough starter. - When I tried to cut my slits in the dough, I never really cut through the dough. I was afraid pressing too much into it would punch the dough down. Maybe I just need to be more aggressive with my cuts. I used a pizza cutter to slice the dough ball in half and froze the half I wasn't planning on baking, but kind of felt it was difficult to cut through the pillowy sticky dough at that point as well. While I'll definitely add more salt to loaf #2 when I defrost it,I'm hoping KAF has some ideas on bumping up the flavor and getting lovely slits in my loaf. I will definitely use this recipe again. It's great for yeast beginners.

Jenn, in addition to bumping up the salt in the dough, you can try letting the shaped loaf rest in the fridge overnight. Yes, this makes baking this recipe a multi-day process, but it can help coax out some of that satisfying, deep yeasty flavor you're looking for. As for the scoring, you can try dusting the top of the loaf with a bit of flour before making the marks (this creates contrast as the scores open up during baking). Also don't be afraid to really slash the dough: the cuts can about 1/2 to 1" deep. Last tip? Practice makes perfect, so whip up a few more batches and try your hand at scoring more often. Kye@KAF
I used grams for measurement. But, in step 2, the recipe did not convert the flour measurement to grams. I had to do some math to figure how how much flour I should add. Baking it today. Hope this measurement issue won't affect the final product.

Jane, we hope your French-Style Country Bread turns out perfectly. We agree that it would be helpful for those baking by weight to have the flour listed within the recipe by grams/ounces as well. We've asked our Recipe Team to consider adding this information to make future bakes a little easier. Kye@KAF
Thank you, King Arthur Flour, for this awesome recipe and for all the phenomenal resources to home bakers that you provide. I literally just made this bread--in fact the loaf is cooling on a rack as I type. I know I ought to hold off writing a review until I try it...but this is the very first loaf of 'real' bread that I have EVER baked and I just couldn't contain myself. It appears to have turned out perfectly--like something from out of a fancy bakery. I am so proud. The smell is divine. I can hear little crackling noises coming from within the loaf as it cools...I think I read somewhere (probably on the KAF blog) that this is a sign of lots of those little air pockets that you want in a nice crusty French bread. I can't wait to see (and taste) what lies within.
Dough is definitely sticky and a little hard to work with. But, makes a really tasty loaf of bread with good texture and a great crust. Well make this often.
I followed the instructions in the comments to reduce flour by 1/2 c and this has come out wonderfully for 2 weeks in a row. Love it!
I've made this a few times now and it comes out great every time! I bake it in an oiled cast-iron Dutch oven, then remove the lid for the last 5 or so minutes to help the top get crispy.
I suppose if you are accustomed to cottony soft super market bread you might think this is a good recipe. If you are an advanced bread baker, you will be disappointed. Very little crust. Typically using a poolish will add some flavor and chew. Unfortunately this recipe didn't. I think a lower percentage of yeast and a longer period of fermentation might have helped.
My go to bread. I make the starter at night and fibush the bread the next day.
The recipe is a five for sure. It makes wonderful bread. I use it to make baguettes too as it is so versatile. The tiny bit of whole wheat flour gives a beautiful golden color. My problem is when I try to score the bread it falls. Can anyone tell me what I am doing wrong?

Maria, this means the bread has been left to rise for too long (also known as over-proofed). Next time, try cutting back on the rising time slightly, then slash your breads and put them into the oven. It's normal for the loaf to deflate slightly before it goes into the oven, but it should pick back up and have some notable oven-spring if it's risen for the right amount of time. Good luck and happy baking! Kye@KAF
This recipe is great! I've made this a few times and my only gripe is that I cannot get my crumb to have holes in it. Every time I make this I let it rise for two hours in the bowl, then I proof it for another hour~hour and a half on the baking trays. My crumb always comes out tight though. I'm sure I'm goofing it up somehow...

Hi Anthony, try measuring your flour by weight if you're not already doing so. One of the most common pitfalls in baking is using too much flour, which can make baked goods dry and heavy, and in the case of bread, have a tight-crumb. Check out the "Measuring Standards," link next to the ingredients header above for more details on how to ensure you're using the right amount. Kye@KAF