A customized print-friendly version of this recipe is available by clicking the "Print Recipe" button on this page.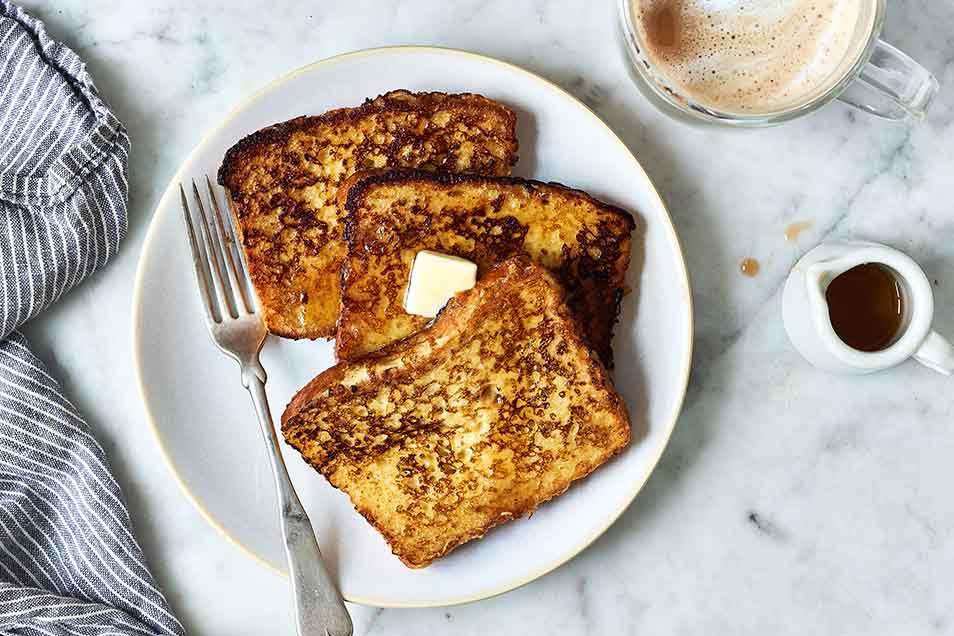 When this recipe was tested, it met with universal acclaim. "This is the best French toast I've ever tasted" sums up most of the comments. The difference between this and everyday, run-of-the-mill French toast? The quality of the ingredients. Start with a high-rising, golden-white, tasty white bread; challah is a particularly good choice, as is English Muffin Toasting Bread. Slice it thick; we found 5/8" just about right. Bathe it in cream and eggs accented with nutmeg, vanilla and a touch of rum. Sauté it gently in butter; keep it warm in a hot oven, then serve it, on warmed plates, with sifted sugar and maple syrup. Crispy on the outside, toothsome/tender within, this is the French toast of which dreams are made.
Ingredients
1 tablespoon butter
1 tablespoon vegetable oil
6 to 8 slices bread, somewhat stale
3 large eggs
3/4 cup cream, heavy, whipping, or light; or eggnog, for a holiday breakfast
pinch of salt
1/4 teaspoon nutmeg
2 tablespoons sugar
2 tablespoons rum, optional
1 teaspoon vanilla extract
Instructions
Preheat the oven to 400°F. Line a baking sheet with parchment paper, and set aside. Place 1 tablespoon each butter and vegetable oil in a heavy skillet, and set it to heat over medium heat. Alternately, heat an electric griddle to 300°F.

In a small bowl, whisk together the eggs, cream, salt, nutmeg, sugar, rum, and vanilla. Stir until smooth but not foamy. Pour the batter into a shallow casserole dish large enough to hold two pieces of bread snugly.

Place two pieces of bread in the pan; let them soak for about 30 seconds, then turn them over, and let soak for about 30 seconds on the other side. You want the bread to absorb some of the liquid, but not to become soggy.

Place the bread in the skillet or on the griddle, and fry until both sides are golden brown; this should take about 2 minutes each side.

Transfer the French toast to the baking sheet, and place it in the preheated oven. Allow it to remain in the oven while you cook the remaining pieces.

When all the pieces are cooked, serve the French toast with soft butter and maple syrup. Or dust it with confectioners' sugar or cinnamon-sugar.
Tips from our bakers
Ordinarily you'd consider 2 to 3 pieces of French toast a single serving, but this particular recipe is so rich, and each slice of bread is big and thick enough, that we consider one piece a serving, particularly if you add fresh fruit and/or some breakfast ham, bacon or sausage.
Want to make a delicious holiday version of this recipe? Substitute eggnog for the 3/4 cup cream called for in the recipe.
Reviews
I have to agree with the description at the front of this recipe, this is indeed the best French toast I've ever had. Just the perfect texture and flavor. Ever since I tried this recipe, it has become my go-to for French toast. We've enjoyed it at multiple Sunday breakfasts and plan to enjoy it for many more. Thanks KAF for another great recipe.
Simple, easy and delicious. I know I can trust KAF when looking for a the perfect go to recipe. This was certainly it. I used cinnamon raisin bread and 2/3 milk, 1/3 half and half. Still delicious but would use the full cream if making for a special occasion.
My kids (9 years old) made this for Mother's Day today. They used brioche and said the recipe was super easy. It was the most delicious french toast my husband and I ever had!!!
I have to be very particular about what I serve to my family, as they have very picky palates. This French Toast recipe truly satisfied the critics! The only issue I have with this recipe is that once you get lost in its third dimensions of delectability, you will eat way too much at one time and still want more!!! Seriously, it is THAT good! Aside from all the heavenly flavors that this rockin' recipe delivers, the reason I appreciate even more so is because of its willingness to be subjected to variations of its ingredients. For instance, I used a lactose-free milk instead of cream (didn't have any) and substituted cinnamon for the nutmeg (a lil too pungent for us), but equally as important is the technique that is used as well. When made according to the recipe's instructions, no one will complain that their French Toast is cold. And, because the ingredients list is not extensive, the prep takes less time to whip together than it will to read this review! Additionally, it's reasonably quick to make if you are pressed for time. To preheat the oven, gather the ingredients, mix them together, and to cook six slices of bread, it only took me roughly thirty minutes from start to finish. A little time was spared because I used a thick cut French Bread that seemed to absorb the egg mixture quickly so I just dipped and pan-fried them for the suggested of two minutes each side, over a medium heat. I highly suggest this recipe because of its simplicity, great flavor & perfect texture, and for its affordability.
So good. It's the new way we have french toast. Even with cheap bread!
I left out the rum but it was still wonderful. My husband raved.
This was delicious! My husband and I ate 3 pieces each it was so good! My new go to.
Wow! Best French toast I've ever made. My whole family loved it. Perfect taste and texture. Will definitely make this again!
I've made this numerous times and I'm delighted with the results. The Challah bread is a good choice, to be sure but Trader Joe's sells a "Sliced French Brioche" that brings it from "excellent" to the "sublime." The combinations of flavors - eggs, cream, nutmeg, rum and vanilla - are unbeatable. The thickness of the bread is a factor in this dish - the recipe recommends 5/8 and I think that's about right. The Sliced French Brioche sold by Trader Joe's is nice and thick. The crispy outside coupled with the tender inside make for a wonderful and flavorful breakfast!
Perfect! So delicious. I made this Christmas morning and my family loved it. Next time I will have to double the recipe. My son added a little vanilla ice cream on top of his and said it was terrific. Great, simple recipe.