A customized print-friendly version of this recipe is available by clicking the "Print Recipe" button on this page.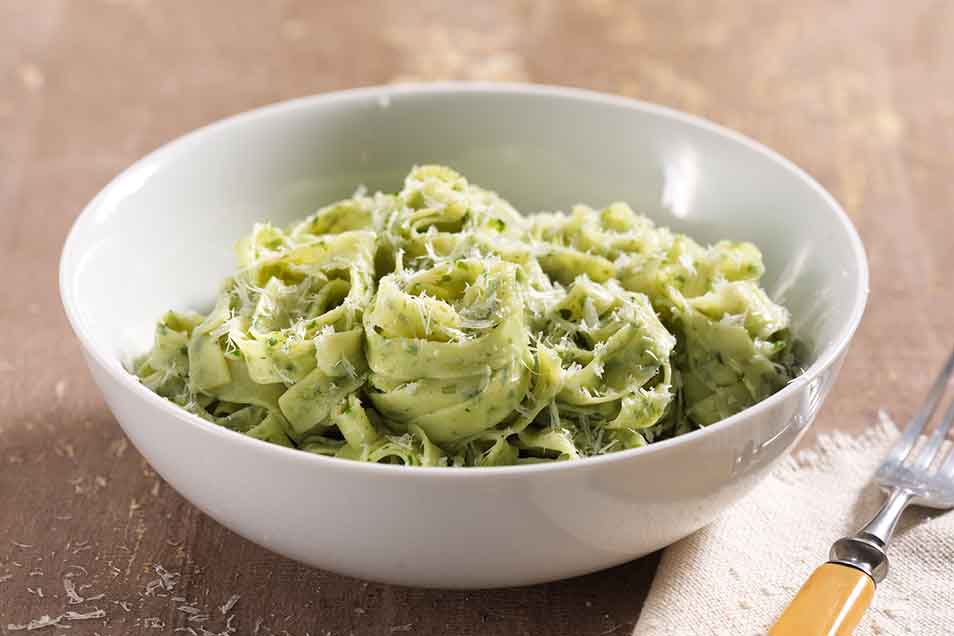 Plain egg pasta is elevated to new heights by adding fresh herbs to the dough. Inspired by Richard Olney's recipe in his stunning book "Provence the Beautiful Cookbook," the recipe offers endless variations depending on your choice of greens and herbs.
Instructions
Wash and dry your fresh herbs. Basil, chives, spinach, arugula, green onion, baby salad greens, or any combination of fresh herbs/greens will work well.

Coarsely chop the herbs with kitchen shears or a knife. Place in a sturdy bowl and sprinkle with the coarse salt. Use a pestle, dowel or even the handle of a whisk to grind the salt and herbs together into a wet paste.

Add the flour and eggs to the bowl and mix well. Add water 1 tablespoon at a time until a rough dough forms and there's no dry flour in the bowl. The dough will be fairly stiff, and firmer than bread dough.

Turn the dough out onto your work surface and knead for 8 to 10 minutes, until the dough is smooth and springy. Wrap well in plastic wrap and let rest at room temperature for 30 to 60 minutes. Note: you may also choose to do this in a stand mixer, or in your bread machine set on the dough cycle. If you use your bread machine, cancel the cycle after about 10 minutes of kneading, and remove the dough.

Following the instructions on your pasta machine, roll the dough to the desired thickness. Allow the sheets to dry for 15 to 20 minutes before cutting into strips. Meanwhile, bring a large pot of water to a boil.

Cook the fresh pasta for 3 to 4 minutes, testing for doneness after 3 minutes. Drain the pasta and serve as desired. A simple dressing of melted butter and fresh Parmesan cheese is outstanding, and lets the flavors of the herbs shine through.

Yield: 6 to 8 servings.
Tips from our bakers
No King Arthur Perfect Pasta Blend on hand? You can use an equal amount of King Arthur Unbleached All-Purpose Flour instead.
Reviews
Update: I made the lasagne I'd mentioned in my earlier comment. I cut my 3 remaining sheets into 4 noodles each, and used an oblong dish, about 8"x10". After consulting the Chef Talk forum, I boiled the noodles first. Wonderful! Did not leave me feeling stuffed, either. I may not be able to return to store-bought lasagne noodles.
4c. really isn't that much. If you look at the ingredients by weight, it's only a half a bag of fresh spinach. I did the dough in my Kitchen Aid, including rolling out with the pasta attachment, which I like very much. Trim the stems, or the pasta may break up when you try to roll it. As a general rule with homemade pasta, keep the flour handy for sprinkling, in case the dough becomes sticky or shreddy. Served with a simple, homemade sausage-tomato "gravy" and a green salad. Yield: 6 5"x12" pasta sheets. Fed three tonight, and am planning to make a small lasagne tomorrow with the rest of the noodle sheets. Thank you, KAF. More dinner recipes, please, please, please!
Although I had never made pasta or used the KitchenAid pasta attachment, this was ridiculously easy and a whole lot better than store-bought dried or "fresh". I knew that the dough had to be of a certain consistency not to clog the machine, but I had no idea what that meant.....now I do. Although I didn't have 4 cups of herbs (that's a whole lotta green stuff!), I used maybe 2 1/2 cups, total, of fresh spinach & basil..The taste was good, but I'm sure that the 4 cups as stated in the recipe would have better. 'can't wait to make this again....so many possibilities....Mangia! Mangia!
Beautiful & delicious. I used all fresh herbs from my garden. Basil, mint, thyme, oregano, lambs quarters, parsley, sorrel and some type of spicy lettuce. Very time consuming. Makes a lot! Invite someone over you want to impress. I made a simple melted better sauce with a tiny bit of garlic & red pepper. Served with diced tomato & fresh Parmesan.