A customized print-friendly version of this recipe is available by clicking the "Print Recipe" button on this page.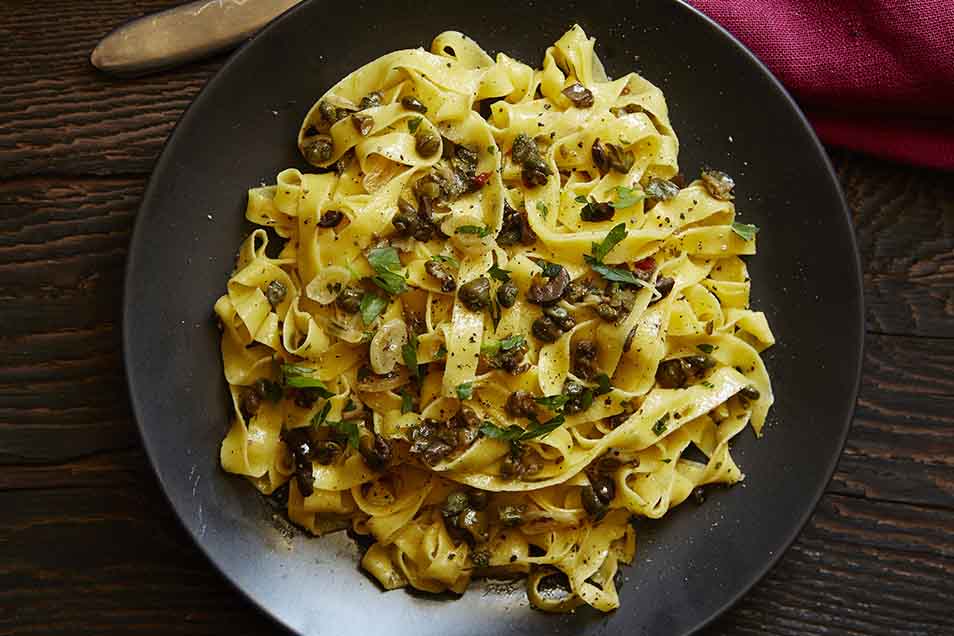 There's nothing that enhances a pasta dish more than fresh, homemade pasta. This recipe makes wonderful homemade pasta for any type of sauce.
Instructions
Combine the flour, eggs, and salt in a food processor or mixer, and pulse/mix to make a smooth dough; you may also mix by hand.

Knead the dough briefly, wrap it in plastic, and let it rest for 30 minutes.

After its rest, run the dough through a pasta machine on its thickest setting. Repeat the process, flouring as necessary, and gradually reducing the thickness to the last setting.

Cut along the length of pasta at 12" intervals, then cut each piece into strands of the desired thickness.

To cook pasta, bring 4 quarts salted water to a boil. Drop the pasta into the boiling water, stir, then boil gently for 4 minutes.

Drain the pasta through a colander, and refresh under cold running water to stop any further cooking.

Continue to drain the pasta for 10 minutes or so, until it's thoroughly dried. Toss with the hot or cold sauce of your choice.

Yield: 3 to 4 servings.
Reviews
Used said ingredients but added 6 tablespoons of water and 1 tablespoon of olive oil a stand mixer and cut the noodles with a pizza cutter turned out excellent .
The ingredients and directions for this recipe are good, with the EXCEPTION of #6 and #7. I learned to make pasta by hand at home from my father, an Italian immigrant who also owned and operated his family pasta manufacturing company. His ingredients were as you directed. However, no self-respecting Italian would EVER rinse the pasta in cold water, unless it is in a restaurant where you keep the partially cooked and drained pasta to heat again for individual servings. Nor is it necessary to drain the pasta for 10 minutes until it is dry unless you wish to dry and freeze it for use on another day . If you remove those two directions for making pasta at home the recipe is great and I'd give it 5 stars. (by the way, in the first question above, did you mean to say "bake" this recipe? or is it supposed to be "make"?
Ok I'm an experienced bread maker, not so much for pasta. I followed the recipe to the letter using KA 00 Italian flour and weighing out everything including eggs. The dough seemed very soft compared to what I've seen in other videos but I continued on. I tried to put it through my kitchen aid pasta extractor and as I thought, way too soft and made a sticky mess. Not sure what my mistake was? Do I need a different recipe to use for the press to extract pasta (not using rollers)? The recipe included with it uses almost half as many eggs. Thanks

Thanks for reaching out to us, fellow baker. It sounds like the dough just needed a little more flour, and we encourage you to check out the blog article linked to the right of the picture above, "Homemade Pasta" for trips, tricks, and helpful visuals throughout the whole process. It's a fantastic resource. If you have additional questions, please give our Baker's Hotline a call at 855-371-BAKE (2253). Kindly, Annabelle@KAF
I don't know why i didn't think to look here for pasta earlier. i bake many of the KA bread recipes on a regular basis and love them all. Anyway, this was my first attempt at homemade pasta and it came out perfect! thank you. i did not make any changes other than to cut the recipe by 1/3 for a single sized portion.
I made the tomato pasta variation for this recipe, and it was amazing!!! Made it as fettuccine with Alfredo sauce.
Delicious! Once you make your own pasta its hard to go back to store bought dried pasta. When I make this pasta I leave out the salt and occasionally substitute some of the 00 four for semolina. It comes out great. Mixing by hand it takes a bit more kneading (especially using the semolina) to get the smooth consistency but the taste is well worth it. It makes more dough than I need and while i have kept a portion of dough in the fridge to roll out the next day I would really like to dry my rolled/cut pasta for later. I have tried but i find it breaks up/ cracks so am wondering about the best way (if possible) to do this? Thanks.
Perfect pasta! I used 8.5oz KA all-purpose and 2oz of WWW and it turned out beautifully! It had just a little trouble coming together in my mixer bowl (probably because of WWW) so I added 1tsp of water. The texture of the dough after just 30 minutes in the fridge is totally different from right after mixing so I would say you definitely CANNOT skip the resting period!!
King Arthur wins again! I decided that my kids and I would learn together how to make pasta and use this recipe as our first try. No second try was needed. it was easy and came out beautifully. It needed some water to bring it together but as an experienced baker using my own intuition about ingredients didn't bother me. We will make it again this week. And again and again I expect. Thanks King Arthur.
I used the Italian style flour and followed the recipe exactly to make lasagna. It was perfect. I will definitely be making this again.
Would it work if I substituted KAF White Whole Wheat flour? Would I need to make any adjustments?

Hi Peg, The pasta will be much chewier using whole wheat flour, and it will probably need a bit of water to pull it together. For a tender-yet-chewy pasta, start with 25% white whole wheat in conjunction with the pasta flour. Happy baking! Laurie@KAF