A customized print-friendly version of this recipe is available by clicking the "Print Recipe" button on this page.
Frozen Chocolate Mousse Tart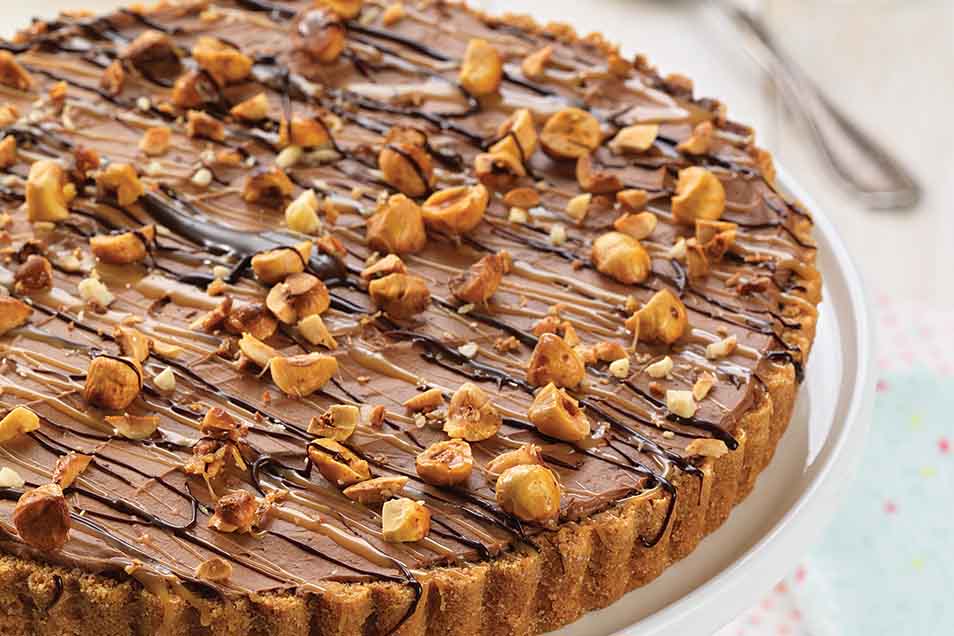 Delicious and elegant, this tart is perfect for a party.
Ingredients
Crust
1 1/4 cups finely crushed graham cracker crumbs
1/4 cup sugar
5 tablespoons butter, melted
1/2 teaspoon cinnamon, optional
Filling
1 7/8 cups heavy cream
1 1/2 cups chopped bittersweet chocolate
Garnish
1 tablespoon butter
pinch of salt
1/2 cup chopped nuts (hazelnuts, almonds, walnuts, or mixed nuts)
Instructions
Preheat the oven to 375°F.

To make the crust: Blend the crust ingredients, and press into the bottom and up the sides of a 9" tart pan.

Freeze for 15 minutes, then bake for 8 to 10 minutes. The crust won?t look much different; it'll just get slightly brown around the edges. Set aside to cool.

To make the filling: Place the chocolate in a bowl. In the microwave or a saucepan, heat the cream until steaming.

Add 1 cup cream to the chocolate; stir until smooth. If all the chocolate doesn't melt, heat mixture very briefly until all the chocolate is melted.

Brush 1/2 cup chocolate/cream onto the inside of the completely cooled graham cracker crust. Refrigerate the crust.

Gradually stir the rest of the heated cream into the remaining chocolate/cream. Stir until completely smooth, then cover and chill 8 hours, or overnight.

When you're ready to fill the tart, whip the chilled filling until stiff peaks form. Spoon into the crust, and smooth the surface. Freeze, covered, until ready to serve.

To make the sauce: Heat the caramel and cream over low heat, whisking until smooth. Cool to room temperature.

To make the garnish: Smear the butter into a 12" square on a cookie sheet. Spread nuts atop the butter, then sprinkle with a pinch of salt. Bake in a preheated 300°F oven for 8 to 10 minutes, stirring every couple of minutes. Remove the nuts from the pan and cool to room temperature. Sprinkle with additional salt, if desired.

To serve: Transfer the tart from the freezer to the refrigerator 30 minutes before you want to serve it, to soften. Drizzle with caramel sauce, sprinkle with nuts, cut, and serve.

Yield: one 9" tart, about 16 servings.