A customized print-friendly version of this recipe is available by clicking the "Print Recipe" button on this page.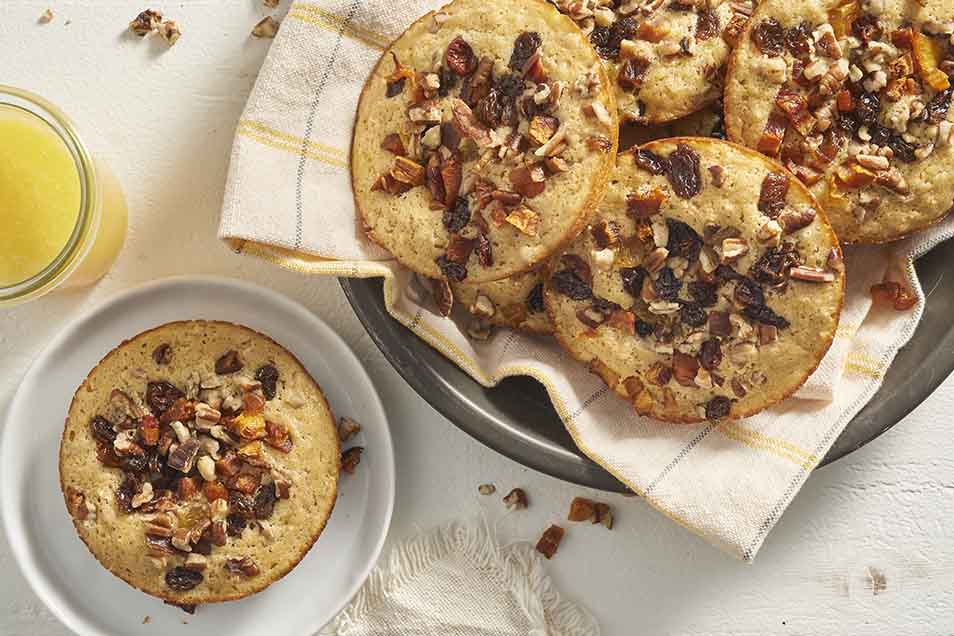 Tasty, healthy, and convenient — these are hard to beat. Make them on a weekend, freeze, then toast for warm weekday breakfast on-the-go.
Ingredients
1/3 cup yellow cornmeal
1/4 teaspoon salt
1/3 cup Sustagrain barley flakes or rolled oats
1/4 cup melted butter
1/4 cup brown sugar, firmly packed
1 teaspoon baking powder
1 teaspoon vanilla extract
1 large egg
1/2 cup milk
1/2 cup Baker's Fruit Blend, raisins, dried cranberries, or other fruit
1/4 cup chopped pecans, walnuts or almonds
Instructions
Preheat the oven to 375°F. Grease the wells of a muffin-top pan, or hamburger bun pan.

Whisk together the flour, cornmeal, barley flakes or rolled oats, brown sugar, baking powder, and salt. In a separate bowl, whisk together the melted butter, vanilla, egg, and milk. Add the dry ingredients to the wet ingredients, stirring just to combine.

Scoop the batter into the wells of the prepared pan, using a generous 1/4 cup of batter in each a scone and muffin scoop works well here. Sprinkle the fruit and nuts evenly over the cakes.

Bake for 10 to 12 minutes (slightly longer if baking in a hamburger bun pan), until golden brown around the edges. Remove from the oven, and cool for 2 to 3 minutes in the pan, then turn out onto a rack. Serve immediately; or freeze, then toast to reheat. Yield: 6 toaster cakes

Yield: 6 toaster cakes.
Reviews
Came across this recipe in the June 2018 KA mailer catalog and just had to have one ( OK two) with my coffee this morning. They came together very quickly and are delicious! Used what I had in my pantry, rolled oats instead of barley flakes, dry organic cranberries & raisins vs. baker's fruit blend used my muffin top pan vs. bun & mini cake pan. I mixed the raisins, cranberries & pecans in with dry ing. vs. sprinkling on top. Looking forward to trying them with KA Barley Flakes and Baker's fruit blend, I will always have a batch of these in my freezer!
I made these with dried cranberries and chopped pecans, and they are delicious. They are soft, not overly sweet and tender. And the best part is that no one else in my family will touch cranberries, so these are all mine! Maybe next time I will use blueberries, but only if I feel like sharing.
I made two batches for Sunday brunch. One using vanilla extract, cranberries and walnuts. The other using almond extract, cherries, and sliced almonds. Both were a hit. Very easy and quick to make. Next time I will use orange extract instead of vanilla with the cranberries and walnuts.
Some changes: I didn't have the pans, so I made them in a Belgian waffle iron (1/4 cup of batter in each waffle "well"). I have a dairy-free house, so I made them with marg. and almond milk. Mixed craisins and toasted hazelnuts into the batter. Froze them, thawed in the microwave, and finished in the toaster. They were wonderful!! My husband doesn't normally like sweet-ish things for breakfast, but he loved these. Highly recommended!
We cooked up a storm for houseguests -- lunch and dinner. We also offered these toaster cakes (which we had in the freezer) for breakfast. It was the only recipe that our guests asked for. The cakes are delicious, and the texture is very satisfying. I made these for the first time a couple of weeks ago and have made them twice more since then.
Hello Everyone, I can't wait to try this recipe, can i add some grounded flax seed and chai seed, to the recipe, and if yes, what would be the quantity. Thank You so much for your time, I Enjoy making your recipes.

We think you'll be more pleased with the texture of flax; you can replace 1/4 to 1/2 cup of the flour with Golden Flax Meal (not whole seeds). You may need to add a few tablespoons of extra liquid to help the batter hold together. Happy baking! Kye@KAF
I made these with a few changes. I eat love fat foods most of the time. So, I followed the basic recipe but used dried cranberries and blueberries, fat free milk, 2 egg whites, and liquid " I can't believe it's butter". I also added 1/4 tsp orange oil. (That I purchased from the site). They were WONDERFUL! Even my husband who does not normally eat low fat LOVED them! If you are watching your fat gram intake, try these. I sure you will be glad you did.
I made these toaster muffins using the recipe as written, but noticed the flavor was on the bland side. I made them a second time with the nuts and raisins in the muffins, instead of on the top. I also toasted the oats and nuts before adding them to the recipe. I added a small sprinkle of oats on top before baking them. They came out great! The flavor of the muffin was great and the oats on top, toasted and looked wonderful! Thanks for a healthy and yummy recipe!
I baked these this morning. I made them without nuts and used a hamburger bun pan. They are not as pretty without the nuts, but are very tasty, although a bit too sweet for my taste. Next time I might try mixing the fruit in instead of sprinkling it on top. I will be freezing them to give away.
I just made this recipe and I love it. I did not have the correct pan but I have a pan of my Grandmother's that is just a little smaller. It made 7 cakes and was so quick and easy.