A customized print-friendly version of this recipe is available by clicking the "Print Recipe" button on this page.
Fruited Sourdough Sandwich Bread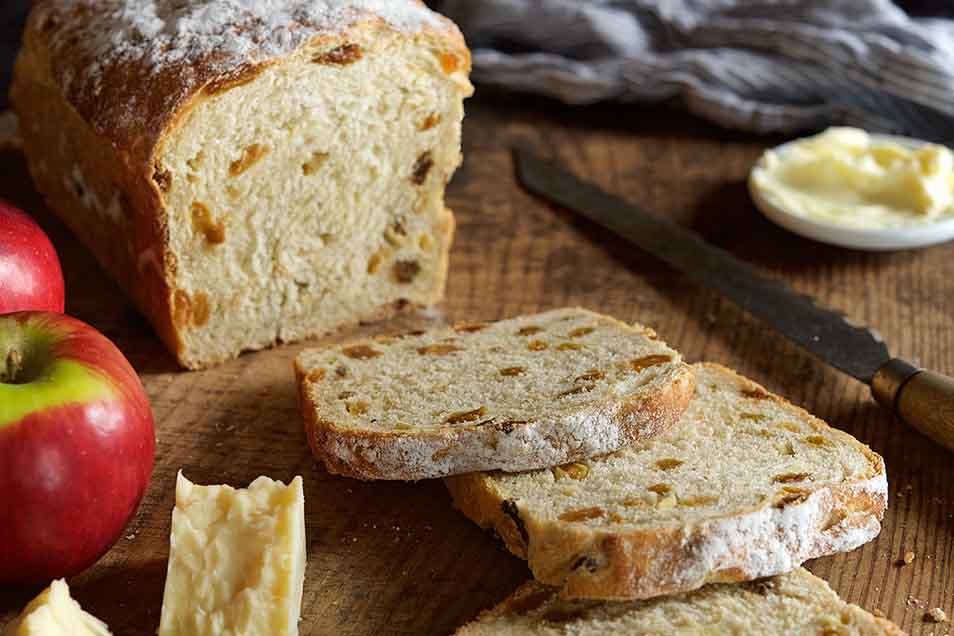 This soft sourdough loaf is studded with sweet raisins and tangy apple pieces. We like it served simply toasted with melting butter; or as a grilled cheese sandwich with apples and arugula.
Ingredients
2/3 cup sourdough starter, ripe (fed) or discard
2/3 to 3/4 cup lukewarm water*
1 tablespoon olive oil or vegetable oil
1 teaspoon to 4 tablespoons sugar, to taste
1 1/4 teaspoons salt
2 1/4 cups King Arthur Unbleached All-Purpose Flour
1/4 cup potato flour or 1/2 cup instant potato flakes
1/3 cup rolled oats, traditional or quick
2 teaspoons instant yeast
1 cup chopped Granny Smith apple (about 1 small apple), peeled or not
1 cup raisins, golden or dark
*In summer, or during hot/humid weather, reduce the water by 1 tablespoon.
Instructions
Combine all of the ingredients in a bowl, the bowl of an electric mixer, or the pan of your bread machine, and mix and knead to form a smooth yet sticky dough. If you're kneading by hand, you'll want to keep your hands well greased.

Place the dough in a lightly greased bowl, cover it, and allow it to rise for about 90 minutes. The dough will become puffy, though it may not double in bulk.

Lightly grease an 8 1/2" x 4 1/2" loaf pan.

Gently deflate the risen dough, and shape it into a log. Place it in the pan, cover it lightly, and allow it to rise until it crests at least 1" over the rim of the pan, 60 to 90 minutes.

Towards the end of the rising time, preheat the oven to 350°F.

Bake the bread for 40 to 45 minutes, tenting it with foil after 15 to 20 minutes; it will continue to brown slowly. When it's done, the bread will be golden brown, and will register 190°F on an instant-read thermometer inserted into the center.

Remove the bread from the oven, and after a couple of minutes turn it out of the pan onto a rack to cool.

Yield: 1 loaf, about 12 to 16 servings.
Tips from our bakers
This bread is a wonderful choice for grilled cheese. Try our recipe for Grilled Cheese with Apple and Arugula.
This bread can be baked in our bread baking bowl. Shape the loaf into a round (boule), cover, and allow to rise until it has domed about 2" over the rim of the bread baking bowl, 60 to 90 minutes. Bake the bread according to recipe instructions.
Reviews
Another way to use my sourdough.
this was great. i added an extra pear i had on hand and it was super moist.
I just made this bread today. It is delicious!! Best fruited bread I have ever made and tasted. This is a great recipe, easy to follow and make.
Excellent. This was my first time baking bread and the family is raving about it. Looking forward to trying more recipes from KAF.
Delicious and attractive loaf. To avoid the density that potato flour can sometimes add to a loaf, I cut the amount in half (to 3/4 ounce, or 21 grams) and added that amount more white flour. I allowed the dough to fully double on the first rise, then shaped the loaves into boules, allowing them to rise in lined and lightly floured bannetons (due to the stickiness of the dough). When almost double, I scored them and then baked them at 350 on a baking steel for 53 minutes. They came out beautifully! (I doubled this recipe, by the way - why make just 1 loaf?) Wish there was a way to add a photo to my review!
Delicious. I used the bread machine for the mixing and first rise. Worked perfect. Excellent for grilled cheese.
I used currants and added orange zest. Did the last proof and baked in my 4 quart staub pan. It was fabulous.
I changed dried apples for the fresh, and craisins instead of raisins. I had trouble getting the dough to rise at all. I'm thinking perhaps my kitchen was just a little too cool. The flavor came out great, but the loaf on the dense side. Wonderfully moist. Plan to try it for grilled cheese tomorrow.

We bet the slight sweet of the dried fruit will be a welcome complement to sharp cheese, yum! If you'd like to chat with one of our friendly and experienced bakers on the hotline to discuss some of the reasons why your dough may not have risen, feel free to give us a call: 855-371-BAKE(2253). Kye@KAF
Great bread. I made the dough in my breadmaker. Shaped and put it the recommended size loaf pan and put it in the fridge to bake in the morning. The rise was huge, too much for that size pan. I took a chance and put it in the next size bigger pan, let it rest and rise and hoped for the best. It came out great maybe not as high a rise I'd probably get if I'd started out with the bigger pan. I used some KAF apple pie spice. Definitely will make this one again.
Used this for a grilled cheese, with gouda and Swiss. Outstanding. Good on its own, too. Toasted, with cinnamon butter. Mmmmm. I did not have any crumbling issues. Next time I might use butter instead of oil.