A customized print-friendly version of this recipe is available by clicking the "Print Recipe" button on this page.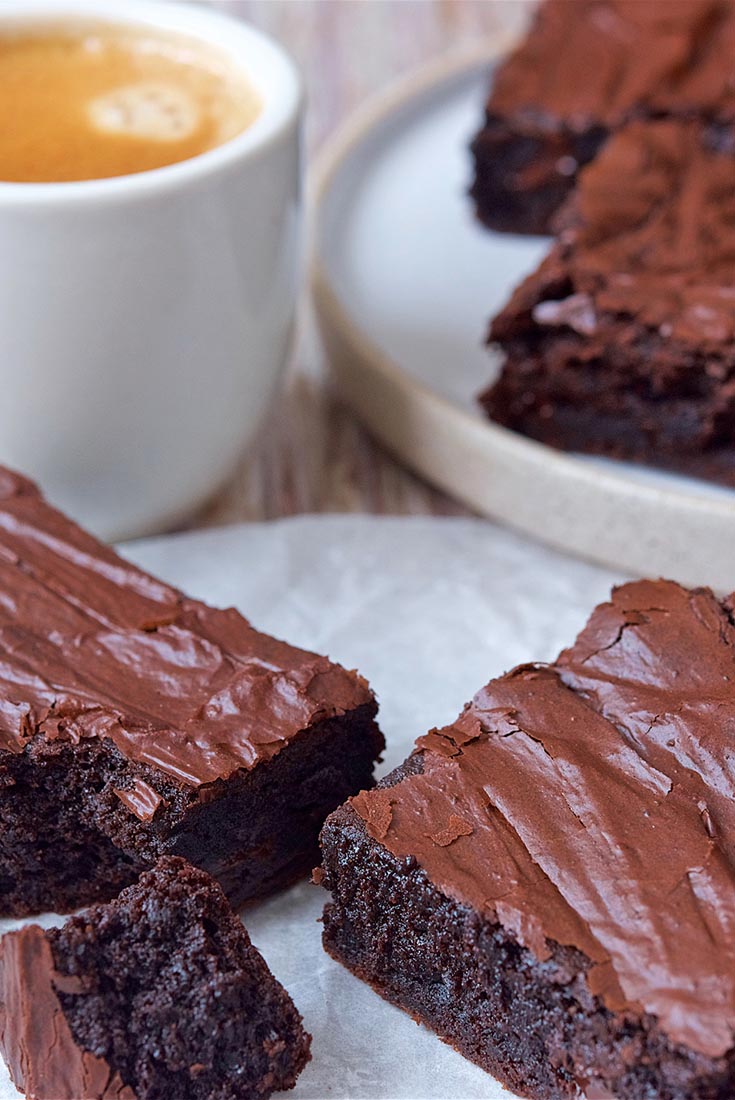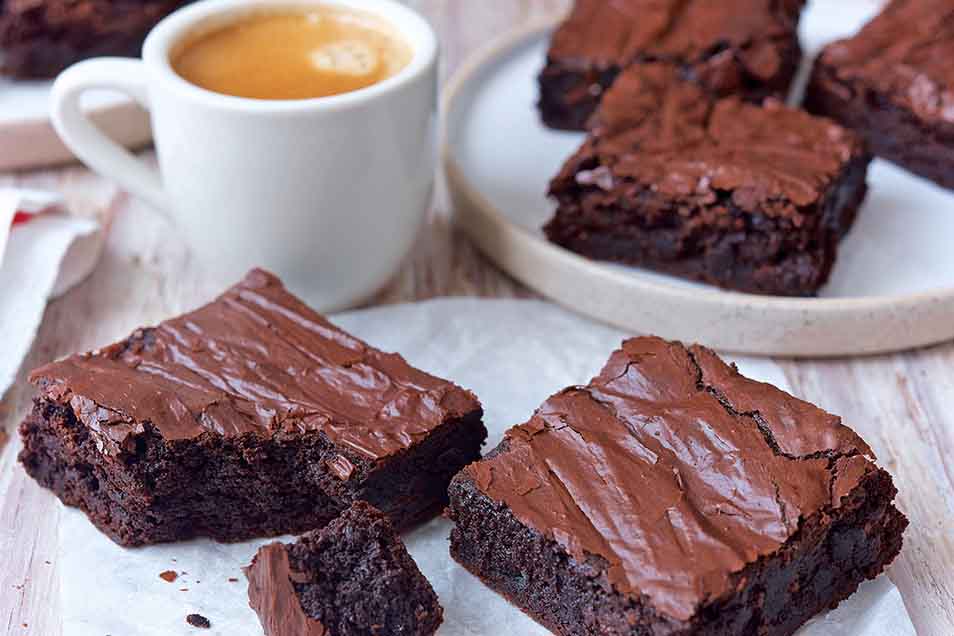 Fudgy, cakey, fudgy, cakey... can't make up your mind? If you're looking for a brownie that's right in between those two styles, you've found it. These brownies combine a fudge brownie's ultra-moist texture with a subtle cake-like rise, for the best of both worlds.

Our guarantee: These brownies, deep chocolate brown inside with a lighter-colored top crust, will be about 3/4" to 1" tall when cut. They'll be ultra-moist without crossing the line into gooey/underbaked.

Read our blog about these brownies, with additional photos, at Flourish.
Instructions
Preheat the oven to 350°F. Lightly grease a 9" x 13" pan

Crack the 4 eggs into a bowl, and beat them at medium speed with the cocoa, salt, baking powder, espresso powder, and vanilla for about 1 minute, or until smooth. You can do this while you're melting your butter (next step).

In a medium-sized microwave-safe bowl, or in a saucepan set over low heat, melt the butter, then add the sugar and stir to combine. Or simply combine the butter and sugar, and heat, stirring, until the butter is melted. Continue to heat (or microwave) briefly, just until the mixture is hot (about 110°F to 120°F), but not bubbling; it'll become shiny looking as you stir it. Heating the mixture to this point will dissolve more of the sugar, which will help produce a shiny top crust on your brownies.

Add the hot butter/sugar mixture to the egg/cocoa mixture, stirring until smooth.

Add the flour and chips, stirring until smooth. Again, adding the chips helps produce a shiny top crust.

Spoon the batter into a lightly greased 9" x 13" pan.

Bake the brownies for about 30 minutes, until a cake tester inserted into the center comes out clean, or with just a few moist crumbs clinging to it. The brownies should feel set on the edges, and the center should look very moist, but not uncooked. Remove them from the oven and cool on a rack before cutting and serving.
Nutrition Information
Serving Size

1 brownie (63g)

Servings Per Batch

24
Amount Per Serving:
Calories

260

Calories from Fat

130

Total Fat

17g

Saturated Fat

8g

Trans Fat

0g

Cholesterol

55mg
Sodium

130mg

Total Carbohydrate

36g

Dietary Fiber

2g

Sugars

27g

Protein

3g
* The nutrition information provided for this recipe is determined by the ESHA Genesis R&D software program. Substituting any ingredients may change the posted nutrition information.
Tips from our bakers
When testing to see if brownies are done, take a cake tester or the tip of a sharp knife and carefully poke it into the center of the pan, digging around just enough to see the interior. You should see moist crumbs, but no uncooked batter. Yes, you'll be left with a small divot in the center of your brownies; just cut around it when you're cutting the brownies into squares.
Want to make whole-grain brownies? Check out our recipe: Tasting is Believing Whole-Grain Brownies.
This recipe is written using Dutch-process cocoa. If you use natural cocoa, your results may be different; the brownies may taste slightly acidic, and might be denser.
Big Batch Brownies: To make a larger batch use the following measurements:
6 large eggs
2 cups (6 ounces) cocoa
1 1/2 teaspoons salt
1 1/2 teaspoons baking powder
1 1/2 teaspoons espresso powder
1 1/2 tablespoons (3/4 ounce) vanilla
24 tablespoons (1 1/2 cups, 12 ounces) butter
3 cups (21 ounces) sugar
2 1/4 cups (9 1/2 ounces) King Arthur Unbleached All-Purpose Flour
3 cups (18 ounces) chocolate chips
Spread the batter into a half sheet pan (about 13" x 18" outside dimensions). Bake at 350°F for 30 to 35 minutes or until the brownies test done as described above.
Reviews
Love this recipe! I used KAF triple chocolate blend - these will take care of a serious case of "need chocolate now". I made these twice and did have an issue where I didn't get that lovely glossy finish but I think it's because I didn't cook the butter / sugar mixture long enough - is there any trick other than using a candy thermometer to make sure I'll get that glossy look?

Try cooking the butter and sugar mixture together until they reach at least 160°F to see if that helps give you the shiny top you're looking for. We've also found in testing that it helps to include chocolate chips in the brownie batter. If you're not already doing so, include chocolate chips in your next bake and heat that butter and sugar! We think you'll be delighted by the results. Happy baking! Kye@KAF
One of the better brownie recipes I've tried. My thing is, if you're going to bake something, always use good quality ingredients! My batch turned out perfect!
These are seriously chocolatey brownies. Followed the recipe, and the blog hints exactly, including the espresso powder from KA. (And I don't drink coffee at all, and could not taste any coffee flavor at all ... just very rich, intense chocolate!) Checked at 30 minutes, but my brownies needed 35 minutes. I think my personal preference is probably a more cakey brownie, but these were certainly good. They did seem just a little greasy. Is that normal, or anything to prevent that?

Because of the high butter content in this recipe, it's normal for the brownies to feel slightly rich and may even have a buttery mouthfeel. You can try reducing the butter by 2 tablespoons and/or use oil for about half of the butter to see if you prefer that texture. It's also important to use a strong flour with a high protein content so that it can hold all the fat in with the other ingredients. Try using King Arthur All-Purpose Flour if you're not already doing so. Good luck and happy baking! Kye@KAF
The Perfect brownie recipe. They are chocolatey, chewy and super moist. I love the paper thin shiny crust on top.
I wish that the tip to bake these brownies in a metal pan (sheet pan?) were included within the recipe. I found this tip from KAF way down here in the comments section but only after baking these brownies as directed in a 9x13 pan, which happened to be ceramic. I had to bake it longer to get the center done but the edges nearly burned. If only I had known! Other than that, these brownies were delicious.

We apologize for any confusion, Nikki. The tip at the very bottom of this recipe is for a larger pan called a half-sheet pan. (It measures 13" by 18".) If you're baking in a regular 9" by 13" pan, you can follow the baking temperature and times offered in the recipe here. You might need to extend the baking just slightly in a stoneware pan, but don't bake them for too long so that they get close to burning. We hope this helps ensure a perfect batch next time. Kye@KAF
seems like too much sugar and butter, the batter never got "smooth and glossy" as indicated in the recipe, when i checked them in the oven the butter was sizzling and separating from the rest of the batter, when baked/cooled they were not fudge-y and dense but crumbly and greasy, was disappointed as I have had great recipes from this site...

We're surprised to hear this much-loved recipe gave you so much trouble, Jill. It sounds to us like you might have been using ingredients that were slightly different than what we use to test the recipe. We're wondering if there were any ingredient substitutions made, and how those ingredients were measured. We'd like the opportunity to help you enjoy these rich, fudgy brownies that are known for being top-notch. Consider giving the Baker's Hotline a call at 855-371-BAKE (2253) so we can troubleshoot with you further. Kindly, Kye@KAF
Not sure what happened but mine turned out very dry. They will still be eaten but I don't know what went wrong.

We're not sure what went wrong with your brownies either, Amy, but we'd love to help troubleshoot. One of the most common reasons why baked goods turn out dry is because too much flour is added to the batter. To ensure you're using the right amount, we encourage you to measure your flour by weight with a scale, or check out the technique demonstrated in the "Measuring standards," link above if you like to use measuring cups.

Other common reasons why brownies may turn out dry include over-baking and using certain kinds of cocoa powders. (Some cocoa powders absorb more moisture than others.) You might want to try using a different brand of cocoa next time and check for doneness a few minutes early to see if you like the results better. You're also welcome to give our Baker's Hotline a call at 855-371-BAKE(2253) if you'd like to speak with one of our friendly bakers for additional advice. Kye@KAF
Well, this is the third or fourth time I've made this and i'm never disappointed - and neither is anyone else who eats these beautiful brownies. I used the KAF triple-cocoa blend which is a must have and made no other modifications although my brownies were done before the indicated baking time - good thing I keep a close eye when I'm baking/cooking. Once again, the recipe yielded a deep chocolate, dense (but not too dense), fudge-y/cake-y brownie studded with chocolate chips (I used Guittard Akoma semisweet). The only difficult thing about these brownies is waiting for them to cool completely in the pan before we cut into them. But then again we don't wait........
This recipe is superb. I baked it as directed and I'm more than pleased by the results. The dark notes from the espresso powder make it a dark chocolate lover's delight. I used semi-sweet chocolate chips which tempered the chocolatey-ness just enough for my tastes. The texture was gooey without seeming undone and the appearance once they leave the oven is very inviting. Bravo!
"Bake the Bag" is such a wonderful way to introduce white, whole wheat flour into our baking! My review of the fudge brownie recipe is that it's good, but it's not like "regular" brownies. I followed the recipe exactly with one exception. I did not have Dutch process cocoa on hand so I used a very good quality unsweetened cocoa. I did not get the shiny "crust" shown in your photo and I am wondering if the change in cocoa is the reason why. The finished product is moist and very chocolatey but it is more like a cake than a brownie (and there is hint of bitterness, which may be because of the cocoa swap??). So, although it is tasty, I would not recommend this recipe if you are looking for brownies. The important thing, however, is that you cannot tell the brownies were made with whole wheat flour, so that was impressive.