A customized print-friendly version of this recipe is available by clicking the "Print Recipe" button on this page.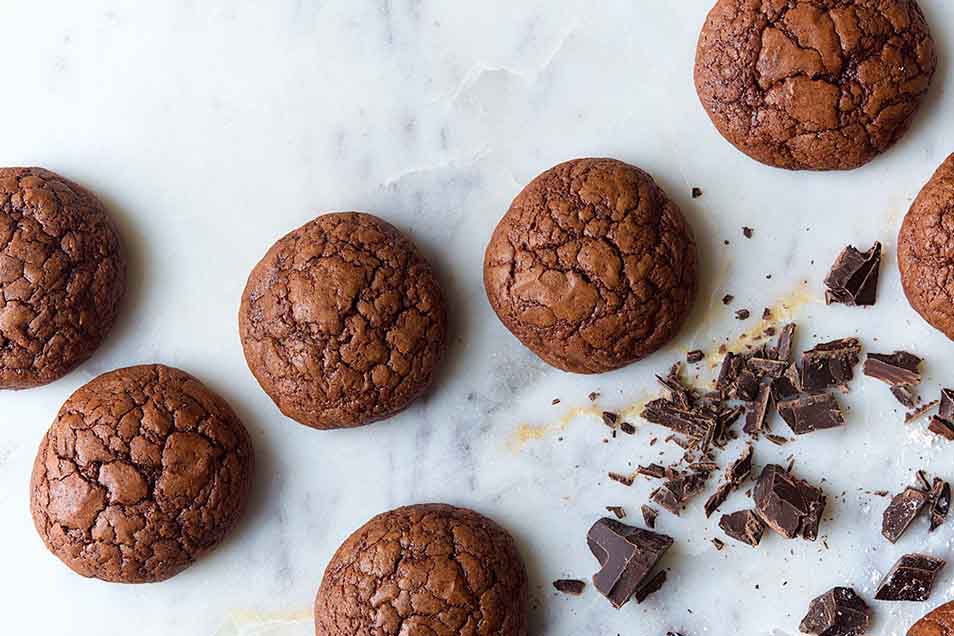 These soft, rich fudge cookies develop a shiny/cracked top surface as they bake. It's an interesting process; the cookies don't crack until just before they're done; and sometimes they develop large rivulets (like the ones pictured above), while at other times their surface is just a faint mass of tiny cracks. We've found that baking one pan of cookies at a time, on the middle rack, produces the most reliably "crackly" cookies.
Instructions
In a double boiler, or in the microwave, gently melt together the chocolate and butter. To avoid heating the chocolate too much and possibly burning it, the best method is to heat until the butter is melted and the chocolate has partially melted, then remove from the heat. Stir until all the chocolate melts.

In a separate bowl, beat together the sugar and eggs until they're thoroughly combined. Add the hot melted chocolate, then stir in the remaining ingredients.

Refrigerate the batter-like dough until it's thoroughly chilled, about 3 hours (or overnight). It needs to set and stiffen up before it can be scooped into balls.

Preheat the oven to 325°F. Lightly grease two baking sheets, three if you have them. Or line sheets with parchment, and grease the parchment.

Drop the cookie dough by heaping teaspoonfuls (balls about 1" across) onto the prepared baking sheets. A teaspoon cookie scoop makes this task extremely simple. Leave about 2" between the dough balls, as they'll spread as they bake.

Bake the cookies for 10 to 11 minutes, until their tops are shiny and cracked. They won't crack until the very end, so keep a close eye on them; when they're cracked all the way across the top surface, they're just about done. The point is, you want these baked all the way through, but just barely; additional baking will make them crisp rather than chewy.

Remove the cookies from the oven. After a few minutes, gently loosen them with a spatula, then let them finish cooling on the pan.

Yield: about 4 dozen 2" cookies.
Tips from our bakers
You may use regular chocolate chips, but we prefer the flavor of bittersweet chips, or any of our bittersweet chocolates. If you're using bar chocolate (as opposed to chips or chunks), chop it into irregular 1/2" to 3/4" chunks, to help it melt more quickly.
For larger cookies, use a tablespoon cookie scoop . The recipe will yield about 2 dozen 3" to 3 1/2" cookies.
Be sure to allow the cookies to cool before moving them off the baking sheet, as they're very delicate while hot. Loosen them with a spatula while they're still warm, then let them finish cooling on the pan.
For a double hit of chocolate, stir 1 cup chocolate chips into the batter, after you've added the flour. The cookies won't be as pretty, but they'll taste delicious!
This is a great place to use our white whole wheat flour. Your family will never dream they're enjoying whole wheat cookies!