A customized print-friendly version of this recipe is available by clicking the "Print Recipe" button on this page.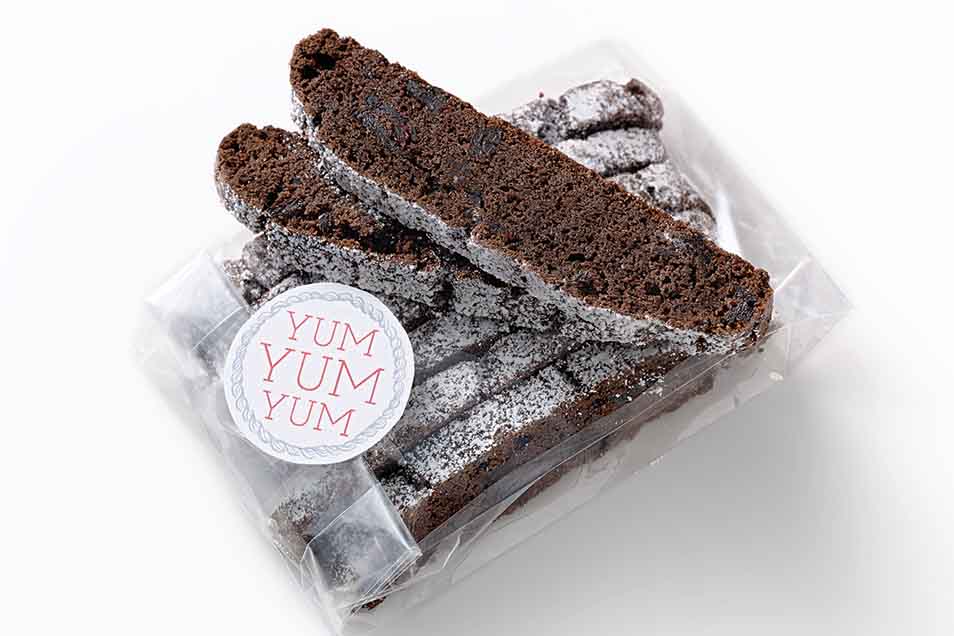 Here's a kitchen challenge: turn two hard, dense, and overly fruity desserts into one chewy, soft, delicious treat. The trick? Add chocolate. With this recipe we can turn the dreaded fruitcake into a delicious, fudgy, dip-able cookie. We'll pair dried fruit with orange and dark chocolate, then underbake the cookies, leaving them soft and chewy. The result is a beautiful holiday dessert fusion.
Edit. note: This recipe has been shared with us by our friend Joy the Baker, who prefers a softer, chewier biscotti. If you prefer a crisp/crunchy, more traditional biscotti, try our twice-baked tip, below.
Ingredients
Dough
1 2/3 cups all-purpose flour
1/3 cup Double-Dutch Dark Cocoa or Dutch-process cocoa
1 teaspoon baking powder
1/4 teaspoon salt
6 tablespoons unsalted butter, at room temperature
1 cup sugar
1 large egg
1 large egg yolk (white reserved for brushing the dough)
1 teaspoon rum, or pure vanilla extract
1 tablespoon orange zest (grated orange rind)
1/2 cup dried cherries, coarsely chopped
1/2 cup dried cranberries
1/4 cup currants
Topping
confectioners' sugar for dusting
Instructions
Place the racks in the center and upper third of the oven, and preheat the oven to 325°F. Line two baking sheets with parchment paper, or grease them lightly.

In a medium bowl, whisk together flour, cocoa, baking powder, and salt.

In the bowl of an electric stand mixer fitted with a paddle attachment, beat the butter and sugar on medium speed until light and fluffy, about 3 to 5 minutes.

Reduce the mixer speed to low, and add the egg and egg yolk. Beat until well incorporated, scraping down the bowl as needed.

Beat in the rum or vanilla extract and orange zest.

Add the flour mixture all at once to the butter mixture, and beat on low speed until well combined. The dough may seem a bit dry, but that's OK. Mix in the dried fruit.

Divide the dough between the two prepared baking sheets. If the dough is shaggy, that's fine, just press it together.

Shape the dough into logs about 1 1/2" wide and 8" long.

Beat the reserved egg white, and brush over the logs. Sprinkle generously with granulated sugar, if desired.

Bake the biscotti for 20 minutes. Swap racks, and bake for another 15 to 20 minutes, until cooked through.

Remove the biscotti from the oven, and let them rest until cool enough to handle.

Use a serrated knife to gently slice biscotti into 1"-thick slices.

Allow to cool completely before storing. The biscotti will stay fresh, in an airtight container at room temperature, for about 1 week.

Yield: 2 dozen biscotti.
Tips from our bakers
For a more traditional crunchy biscotti, place the sliced cookies on a baking sheet, and bake for 25 to 30 minutes, until dry.
Reviews
I didn't want the fruitcake style but the recipe is great. I substituted chocolate chips for the fruity additions. They are so good!
Made these today did not use any zest or fruit as I just wanted a plain chocolate biscotti. I did use the double dutch cocoa they are just right and do look like the picture.My only suggestion is to shape the dough and chill it briefly as these spread more than most but are really only slightly thinner than the photo. The taste is just right.
After reading the only available review which gave just 1 star, I was hesitant to make these but went ahead anyway. I added a cup of bittersweet chocolate chips and a 1/2 cup of pecans to the mix, just because that's my personal taste. The cookie itself was not overly chocolatey, but I did like the flavor of the orange zest and the dried fruit certainly made it flavorful. I did bake these twice to make them crisper -- after all that is why they are "bi" scotti, meaning they are baked twice. If I made them again, I would do all the dough in one big log because they were rather small and did not have that large, long shape that makes them attractive to give as gifts. They certainly did not look the same size as the picture. Overall, though, I did like these and would recommend the recipe.
The texture was good but there was no chocolate taste whatsoever so they were bland and tasteless. The word "fudgy" in the title must refer to texture not flavor.