A customized print-friendly version of this recipe is available by clicking the "Print Recipe" button on this page.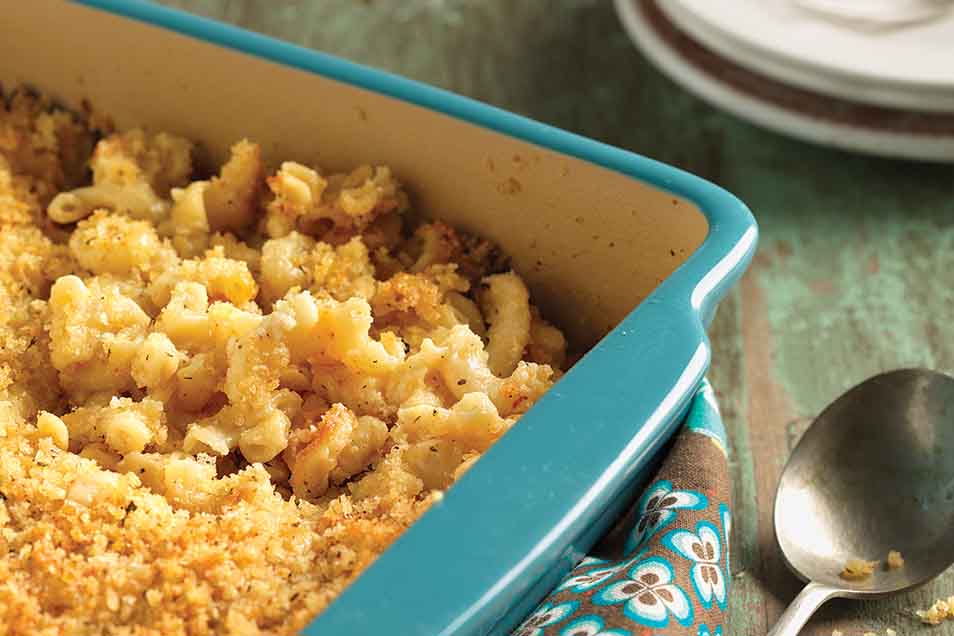 Ah, macaroni and cheese... everyone's favorite comfort food! We go beyond "same old, same old" by using both cheese powder, similar (but tastier) to that found in boxed mixes for this dish; and fresh Cabot Vermont cheddar — available nationwide.
Ingredients
Macaroni
8 ounces (about 2 cups) uncooked pasta (elbows, trumpets, rigatoni, ditalini, cavatappi, ziti... anything tubular)
2 3/4 cups milk
1/2 cup Vermont cheese powder
2 cups shredded sharp cheddar cheese
1/2 teaspoon ground black pepper
1/2 teaspoon ground mustard powder, optional
1/4 to 1/2 teaspoon salt, to taste
Topping
4 tablespoons butter
2 teaspoons garlic oil, optional
2 teaspoons Pizza Seasoning or rosemary and thyme
1 1/2 cups Japanese panko (coarse bread crumbs)
Instructions
Preheat the oven to 350°F. Grease four 1 1/2 to 2-cup ramekins, or one 2-quart baking dish.

Cook the pasta in boiling salted water until al dente (slightly firmer than you would normally eat it). Drain and rinse with cool water. Set aside.

In a large saucepan set over medium heat, whisk together the Signature Secrets, or flour, milk, and cheese powder. Bring to a boil.

Remove from the heat and stir in the cheese and seasonings. Stir occasionally, until cheese is completely melted.

Stir the pasta into the cheese sauce. Spoon it into the baking dish(es).

Melt the butter and garlic oil together, then stir in the pizza seasoning and panko bread crumbs. Sprinkle a thick layer over the pasta and cheese.

Bake the casserole for 25 to 35 minutes, until bubbly and browned. Remove from the oven, and serve hot.

Yield: 5 1/2 cups, about 4 servings.
Tips from our bakers
This recipe is easily doubled. To fill a large casserole or 9" x 13" x 2" pan, double all ingredients, EXCEPT those for the crumb topping. Or, for a more generous crumb topping, feel free to double those ingredients, too.
Reviews
I disagree with the reviewer who said there was not enough salt, but then I used a rather salty cheese (sharp cheddar with a hint of parmesean mixed in). When I make it again I'll use a shorter, wider pan in order to distribute the Panko on a wider area. Lots of adaptations could be made to this recipe, and I recommend making it by the book on the first go-round. You won't be disappointed. The VT Cheddar Cheese Powder really adds a wonderful consistency and flavor to the cheddar. The only addaptation I made was mixing in about teasspoon of Vietnamise fried garlic in with the Panko.
I have made this COUNTLESS times and am always asked to bring more "next time"! It is awesome! For the first time ever, I recently made it "gluten free", using your King Arthur flour gluten free flour and Ancient Harvest gluten free pasta - came out the same and tasted wonderful!! Your Vermont cheese powder sure makes this wonderful dish superior! I highly recommend to everyone and so easy to make..you won't be disappointed!
Great mac and cheese!!! I changed the receipe a little, I made 1 1/2 times the receipe except the flour, used whole grain pasta, excluded the salt and added 2 tablespoons of pizza dough flavor. Best mac and cheese I have ever eaten!!!!
Great cheesy flavor, creamy. Like other reviewers, I was afraid that the mixture was too wet, but it ended up just creamy enough. The crunchy topping was definitely a delicious addition to the recipe. I made it early in the day, and then cooked it right before serving. Next time I may add some hot sauce to spice things up, but even without it was devoured by all.
My husband doesn't care for Mac & Cheese. He loved this recipe! Nice and creamy, good cheese taste and the topping set it off nicely. He told me this recipe was a keeper. Yea!!!
Amazing. KAF you haven't let me down yet. My husband and I just love this Mac and Cheese. Planning on making again when the kids get home from college over the holidays. WOW!
Easy to make & really tasty! I made it with Gemelli, & the noodles really held up well to the sauce. My kids typically complain about homemade mac & cheese, but they inhaled this. My husband & I liked the added spices. Excellent flavor & texture. Will definitely be making this again (& often!).
This mac'n'cheese was really good! Creamy and smooth, with a nice crunch.
I really enjoyed this recipe. My mother, who doesn't even like and mac and cheese, thoroughly enjoyed this dish. I would also like to add that one of my personal favorite toppings is simply a generous layer of crushed up plain Lays potato chips. I also hear Townhouse crackers make a nice buttery addition.
This is the first homemade mac and cheese recipe that has turned out well for me. It has so much flavor and creamy cheese. Ususally I end up with bland mush, but I have made this three times now and everytime it has turned out perfectly. It is even good cold and re-heated. The garlic oil is a must to add a layer of flavor.