A customized print-friendly version of this recipe is available by clicking the "Print Recipe" button on this page.
German Chocolate Mini Cakes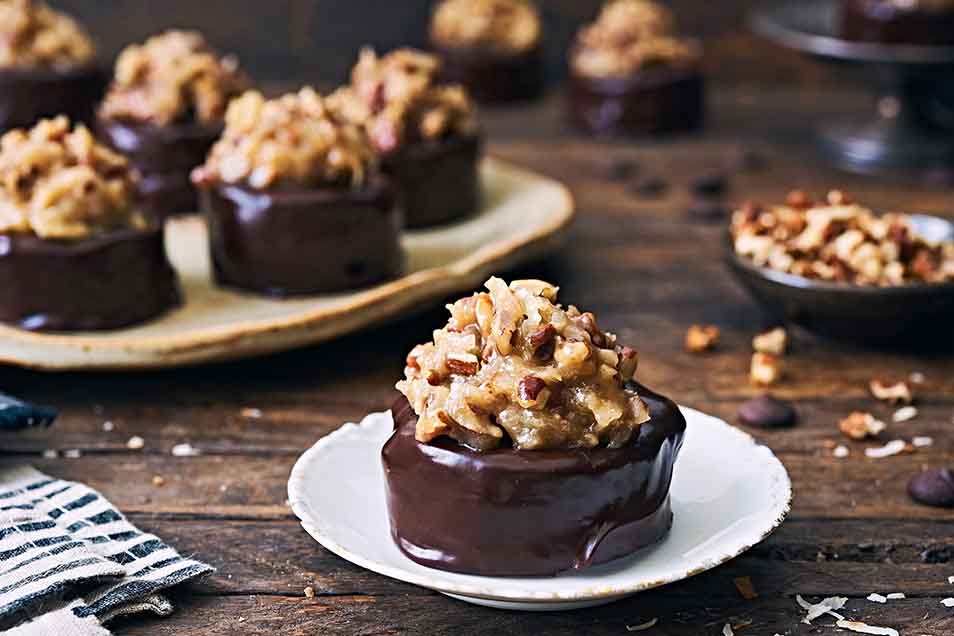 This riff on German chocolate cake features individual mini-cakes, their sides enrobed in chocolate, topped with the classic caramel-coconut-pecan filling/topping. While traditional German chocolate cake is a sweet, lighter-colored cake — more milk chocolate than dark — our version is devil's food and delicious.

By the way, German chocolate cake has nothing to do with the country, and everything to do with Sam German, an employee of the Baker's Chocolate Company, who came up with this recipe in 1852.
Ingredients
Topping
3/8 cup (5 tablespoons + 1 teaspoon) unsalted butter
1/4 teaspoon salt
1/4 cup half & half or milk
1 cup light brown sugar, packed
1 teaspoon vanilla extract
1/8 teaspoon pecan flavor or Pralines and Cream Flavor, optional
1 cup shredded or flaked coconut, sweetened or unsweetened, toasted (See "tips", below.)
1 cup chopped pecans, toasted (See "tips", below.)
Instructions
Preheat the oven to 350°F. Lightly grease or line a 9" x 13" pan with parchment paper.

To make the cake: In a large mixing bowl, beat together the butter, sugar, salt, espresso powder, baking powder, and vanilla until smooth and creamy.

Add the eggs to the butter mixture one at a time, beating well after each addition. Scrape the bottom and sides of the bowl after you've added the first 2 eggs.

Stir in the cocoa.

Beat in the flour in three additions, alternating with the water. Scrape the bowl after each addition. Pour the batter into the prepared pan.

Bake the cake for 35 to 40 minutes, until a cake tester inserted into the center comes out clean, and the cake begins to pull away from the sides of the pan. Remove the cake from the oven.

Cool the cake for 10 minutes, then run a table knife all around the sides of the pan to loosen the edges. Use a spatula to gently lift the cake free of the pan all around the edges; you're going to turn it out of the pan. Place a piece of parchment or waxed paper on a cookie sheet, put the sheet, parchment-side down, atop the cake pan, pick up the cake pan/cookie sheet, and turn the whole thing over. The cake should settle down on the cookie sheet. Lift off the pan, and allow the cake to cool for 5 minutes.

Use a 2 3/4" to 3" round biscuit or cookie cutter to cut 12 circles out of the cake. Or use whatever shape cutter you want: hearts or scalloped flower shapes are nice, too. Whatever you use, it should be around 3" in diameter. Carefully transfer the cakes to a cooling rack, right side up, and allow them to cool.

To make the icing: Heat the chocolate chips and cream until the cream is very hot; this is easily done in the microwave. Remove from the heat, and stir until the chocolate melts and the mixture becomes smooth.

Working with one cake at a time, grasp it in the center with thumb and forefinger, and roll it through the chocolate like a wheel, to coat the sides. Place the coated cake onto a piece of parchment paper, to catch any drips. Repeat with the remaining cakes.

To make the topping: Combine the butter, salt, half & half, and sugar in a medium-sized saucepan. Bring to a simmer, and cook gently, stirring occasionally, for 5 minutes. Remove from the heat, and stir in the flavors, coconut, and pecans.

Spoon the topping evenly atop the cakes; you'll use about 2 1/2 tablespoons for each.

Store cakes, loosely covered, in the refrigerator for up to 5 days.
Tips from our bakers
Toast the pecans and coconuts until golden brown in a 350°F oven. This is most easily done if you place each in a 9" round cake pan, and put them in the oven as soon as you pull out the finished cake. Bake for about 10 minutes, watching carefully towards the end, as the coconut will brown quickly. Remove from the oven, and stir the coconut to distribute the less-browned and more-browned pieces together evenly.
As for the leftover scraps, snack on them (baker's privilege!), or stir into instant pudding for an easy dessert. You'll have about 4 to 5 cups of coarse cake chunks, just in case you have a recipe calling for that amount.
Reviews
Definitely a labor of love. Because I know my skills I crumb coated the cut out cakes with frosting before dipping in the ganache. Had to make a little extra, because i was heavy handed. Had way too much of the topping, will halve in next time, or bake 2 rounds and use it inside and out. Used the leftover cake, frosting, and some topping to make 26 generous bonus cake balls that are in the freezer!
Recipe was very good. I made them in King Arthur's Mni MaryAnn pan. It made 12, which I rolled as directed in the chocolate and had enough chocolate leftover to coat the indentation of each cake with a pastry brush before filling with the coconut/pecan mixture. It was definitely easier and quicker than cutting out circles and they looked beautiful. Also, it was very interesting to learn the history of the cake's name as I live in a condo at the Walter Baker Chocolate Factory.
Great tasting cake. Is there anyway to have the same height mini cakes without wasting a lot of cake? You could make them level by trimming but then there will be a lot of waste. Thank you.

Novi, try cutting the mini cakes into squares or rectangles instead of rounds. You'll get a very cute petit four appearance without wasting a crumb of cake. Happy baking! Kye@KAF
I made these for my father's birthday. German chocolate cake is his favorite. The standard GCC is a great cake but doesn't present well. These were beautiful and delicious. I followed the recipe exactly and weighed my ingredients. The only thing I may change is the size. They're so rich that it may be even better if the servings were smaller. I'm going to use my 2" biscuit cutter when I make this again and I think there will be fewer "leftovers" as well. Thanks again KAF!
Wow. Made this in a muffin tin for my kids' birthday. I could have eaten the cake alone without any of the frosting or topping it was so delicious. I made the mistake of trying to put the topping on before the chocolate sauce cooled and it just all slid off from melting. So, I waited for it to cool to top the rest. Turned out wonderfully well.
The cake is fabulous. As others have said it has a great deep chocolate flavor. Keeping a good shape with these using the cutout method is challenging. I used both a 3 inch circle cutouts and a heart cutout (as it was my girlfriend's birthday. The cake, while relatively firm, was difficult to manage with the method of spinning the wheel/hearts in a bowl of hot melted chocolate. I used heavy cream with the chocolate chips and next time I think I may try milk or more cream in order to get the consistency thinner and perhaps make it easier to coat the cakes. So . . . . the final product looked okay, but it tasted great.
The chocolate cake and ganache are excellent but I have switched to using a different German Chocolate Cake topping. These are fun to make, look beautiful and the leftover cake scrapes ganache and topping make the best cake balls!
These turned out soooo good! The topping I had to stop myself from eating as I was preparing them. Made sure as usual with these cakes not to over mix the batter and it was perfect. It would be nice to know a way of making the batter more level. Use cupcake pans perhaps? I had to make a cut in several of them and insert wedges I made with cake scraps to even out the tops, but the frosting conveniently hides this anyway. Will definitely make again, these were a hit!

Congrats on such a successful bake, Lauren! You might want to consider investing in an offset spatula - it's a real multi-purpose tool and is great for leveling out cake batter. Mollie@KAF
Dreamy and delicious! I just made these for my son's 23rd birthday dinner. I must say, these are the best German chocolate cakes i have ever had! Of course, KAF! This takes everything to the next level: deep chocolate flavor in the cake (unlike most recipes), toasted nuts and coconut, bringing out their flavor, and chocolate ganache! The individual servings add to the appeal! I do have a couple of questions, though. I noted other reviewers remarks on the shape- like making them in muffin pans. I did find that these were uneven, due to the uneven baking height of the cake, edges shorter, etc. Also, the sides being cut made them not that smooth when rolled in the ganache. I am trying to figure out how to fix all of this. Perhaps baking in muffin pan, the cutting the dome off the tops? Then the sides would have the crust from the pan. They still would not be fully cylinder shaped. Ideas? Also, when I took my picture of them, the topping was freshly applied, so they looked all gooey and shiny. After sitting a few hours until dinner, the topping lost it's luster, and wasn't as pretty. I would wait to apply the topping closer to serving time. My son had no issues, though! Thanks for a great recipe, my friends were drooling at my pictures on Instagram and Facebook! I linked KAF and raved about all your recipes, of course!

Nancy, we saw your picture on Instagram and it was stunning! If you'd like to try baking these in a muffin pan, you're welcome to give it a try. We'd recommend trimming the top so that's flat and then turning them upside down so that you have a smooth surface for the ganache the top. You might also want to try baking the batter a popover pan (either mini or large, based on how big you want them to be). This will give you smooth, straight sides.

To keep the topping shiny, try reducing the sugar slightly and instead adding a tablespoon or two of corn syrup. This will add a bit of shine. Adding a pat of butter to the chocolate icing will also give it some shine. We hope these tips help make your already beautiful cakes even better next time! Kye@KAF
Have been making this cake which is also known as Wacky Cake for over 60 years! For parties I double the recipe, bake it in a 9x13 pan, frost, cut into squares and put it in cupcake papers. A nice touch is to decorate each square with a simple flower, etc. always gets rave reviews.