A customized print-friendly version of this recipe is available by clicking the "Print Recipe" button on this page.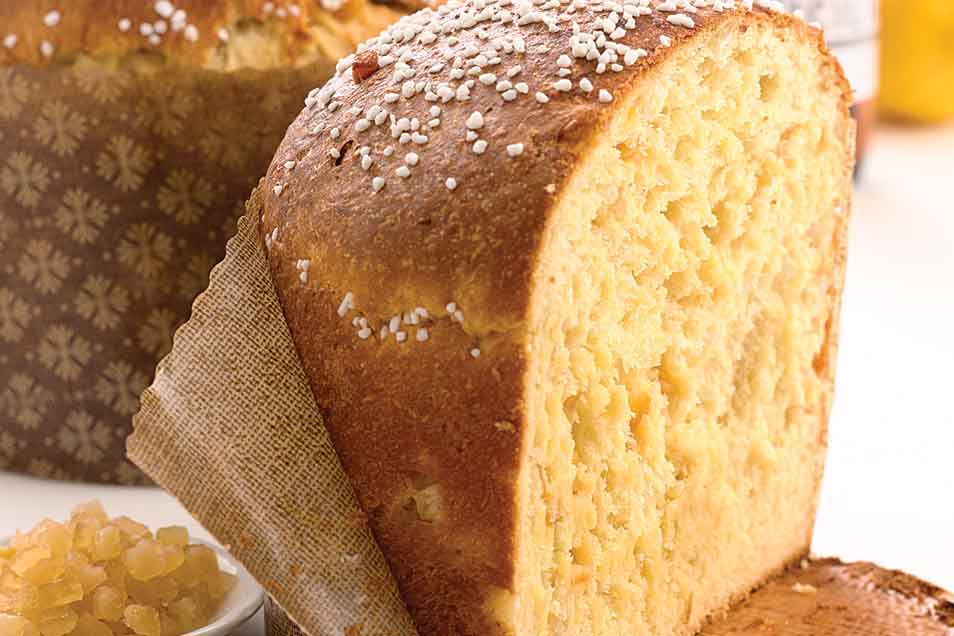 This Italian holiday bread will stay fresh longer when it's made with an overnight starter. We love substituting ginger and apricot for the more traditional candied peel.
Ingredients
Starter
1/16 teaspoon yeast
1/2 cup cool water
Instructions
Combine the starter ingredients in a medium-sized mixing bowl, cover, and allow them to rest overnight (8 to 12 hours at room temperature).

Combine the starter with the remainder of the dough ingredients (except the fruit), and mix and knead them together—by hand, mixer or bread machine—till you've made a soft, sticky dough.

Knead in the ginger and apricots.

Allow the dough to rise, covered, for 1 to 1 1/2 hours, or until it's puffy (though not necessarily doubled in bulk).

Gently deflate the dough, and shape it into a ball.

Place it in a panettone pan or other straight-sided, tall 1 1/2- to 2-quart pan.

Cover the pan and let the dough rise till it's just crested over the rim of the pan, about 1 hour. Towards the end of the rising time, preheat the oven to 375°F.

Bake the bread for 15 minutes; reduce the oven heat to 350°F and bake for an additional 35 minutes, tenting with aluminum foil if the crust appears to be browning too quickly.

Remove the panettone from the oven and cool completely. Dust with confectioners' sugar, if desired.
Tips from our bakers
To make Citrus Panettone, replace the apricot and ginger with 1 cup (6 ounces) of your favorite candied peel.
For individual panettones made in our bake-and-give papers, after the first rise, divide the dough into 12 equal pieces. Bake individual panettones at 375°F for 15 minutes, and at 350°F for another 8 to 10 minutes.
Reviews
This is now my go-to panettone recipe for the holidays; even my mother who "hates" panettone loves this one. I make at least two; one for eating as is and one to tear up and use to make french toast bread pudding for Christmas morning (and if you think it smells good baking the first time, wait until you smell it with the custard). I use considerably more ginger, and generally add some tart cherries as well. I soak the ginger and fruit in hot water for an hour, drain and rinse, and then add more hot water and some brandy (because in my family, anything good is made better with booze) and soak overnight. I drain the fruit for at least half an hour before adding, but the moisture seems to prevent the fruit from drawing moisture from the dough. I never have trouble with it rising quickly enough, although apparently that has a lot to do with the liquid rock that comes out of our Hill Country well; the local distillers say that the hard water is ideal for development of yeast and fermentation. I also don't find the dough too terribly sticky, even with the moist fruit, so maybe the hard water helps with that, too. I do hang them upside down to cool, although I'm not sure that's necessary; I'd just hate to have them collapse. And the final product has the shreddy (not crumbly) texture that I love.
I love both apricots and ginger, so it probably isn't surprising that I think this panettone is outstanding. To say that the dough is soft and sticky is an understatement; when the crystallized ginger is added in, it becomes downright wet. Next time, I'll use a bit less than 2 oz. of water. Also, the rises took patience -- the second took slightly more than two hours, rather than just one, but it wasn't at all over-proofed. Used SAF Gold yeast. Overall appearance, crumb, and flavor: A+! Will be making a few more as gifts!
This is really yummy! I made a few minor adjustments: I added a tiny bit of sugar to the biga (which really bubbled up overnight!). I used Gold yeast. And I changed the proportion of apricots to ginger to about half and half (3 ozs. of each), since I really like ginger. The second rising took longer than indicated, about two hours, but I'm glad I waited, since it didn't rise any further in the oven. This recipe fit the paper panettone pans perfectly. I will definitely be making this again.
I have made this twice with great success on the dough setting in my Zo using my own sourdough starter instead of the overnight starter in the recipe. I also use SAF gold yeast. I think the gold yeast is very important when making such a rich dough. I used citrus, raisins and apricots and baked it in the paper panettone mold sold here which was a bit too small for this recipe as it rose several inches over the top edge creating a bit of a mushroom shape. It looked a little odd but it had that perfect light and fluffy texture and the shreddy tear of a good panettone.
Baked well in the bread machine. I substituted cranberries for the apricots.
I made this, the Panettone muffins and the Stollen recipes in the last three days. This was the only one I can not rave about and will not make again. I made them as muffins following the tips. My biggest complaint would be you could not taste the ginger at all and they were so much more work than the regular Panettone Muffins.
I made this recipe for the first time today. It came out amazing! For the last 30 years, I have been using the recipe that my great-grandmother brought to America with her from Milan over 100 years ago. It's good, but I wanted to take it up a notch. I used raisins soaked in Marsala, pignoli, candied orange and citron peel. I also added 1/4 cup Marsala to the dough during first mix, all as a nod to the old recipe. But for the remainder, I used the new recipe. The combination worked like a charm. The first rise took about 3 hours (oven with light as heat source), Second rise 2 hours (microwave, micro'ed glass of water first for 5 mins to raise humidity).The only thing I suggest to watch out for is that the Panettone baked much faster than the 50 minutes total stated in the recipe. It took just about 37 minutes to reach 198 degrees. Perfect.
I had great results with this recipe. I used regular yeast for the starter (which I left for about 20 hours) and SAF gold for the dough. I used AP flour for the starter, but then ran short, so for the dough used about 47 grams AP flour and bread flour for the rest. For the fruit, I used 1/2 cup candied orange peel (from KAF--yum!) and 1/2 cup dried cranberries. Otherwise I made the recipe as written. I found the dough to be VERY sticky, it was not really possible to shape it into a ball and I just sort of dumped it into the paper pan, which I placed on a small cookie sheet to bake. I also sprinkled the top with pearl sugar. The panettone was gorgeous, rose beautifully, and was a huge hit with my dad (it was his Christmas gift). I will definitely make this again, it really was pretty easy, not much work for a huge payoff. Oh, I kneaded the dough in my KitchenAid stand mixer for about 3-4 minutes total.
I highly recommend this recipe. One thing i would suggest is to use SAF Gold yeast which is specially formulated to be used in rich yeast breads such as this one. If you don't use this yeast your rising time may be quite a bit longer than recipe says...if i remember right the first time i made this i used regular instant dry yeast and it took a long time for it to get above rim of collar and be ready to bake...just be patient...it is sooo worth it! Love the ginger and apricot combination and the fiori di sicily really takes it over the top! Oh and since i didnt have potato flour on hand, i used 1/3 C. instant mashed potato flakes instead...works perfect! Make sure your oven rack is low enough so your bread has room to rise high.
I used instant yeast (maybe some who have had problems have been using unproofed active yeast??), candied orange peel instead of apricots (same by weight), minced candied ginger, and 1/2 tsp Fiori di Sicilia- and it's fabulous!!! My first time making panettone, but far from my last! Thanks, KAF, for the panettone papers, the minced ginger, the all-purpose flour, the Fiori di Siclia and the recipe. I was delighted, and the neighbor ladies were very impressed.