A customized print-friendly version of this recipe is available by clicking the "Print Recipe" button on this page.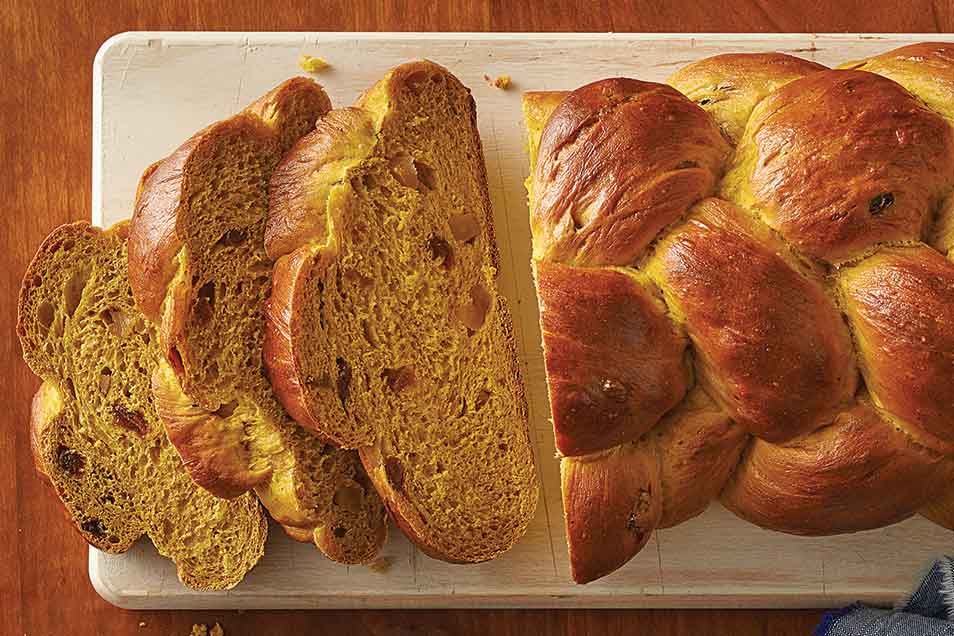 Maybe it's our lifelong familiarity with one of the holidays' cliché staples — pumpkin pie — but we can hardly imagine baking anything with pumpkin and not including ginger as one of the spices. Ginger and pumpkin are two flavors that just seem to go together, like apples and cinnamon. And they team beautifully in this bright-gold, moist, dense holiday bread. Serve it as the centerpiece of a bread basket at dinner, or with a creamy lunchtime soup.
Instructions
To mix by hand or by mixer: In a large mixing bowl, combine the flour, spices, sugar, ginger, salt and yeast. In a separate bowl, stir together the pumpkin, eggs and melted butter.

Add the wet ingredients to the dry ingredients, stirring until the dough begins to come away from the sides of the bowl.

Transfer the dough to a lightly oiled work surface; knead it for 3 minutes, allow it to rest for 15 minutes, then continue kneading until smooth, an additional 8 to 10 minutes. Knead in the raisins right at the end.

To knead in a mixer: Knead the dough with an electric mixer for 2 minutes; allow it to rest for 15 minutes, then continue kneading it for an additional 5 to 7 minutes, or until it's smooth. Add the raisins, and continue kneading just until they're incorporated.

Transfer the dough to a lightly oiled bowl, cover the bowl with plastic wrap, and set it aside to rise for 1 to 1 1/2 hours, or until puffy.

To make in a bread machine: Place all of the ingredients except the raisins into the pan of your bread machine, program the machine for Manual or Dough, and press Start. This dough may initially be a bit heavy for some machines; if necessary, use a spatula to help it get going. About 10 minutes before the end of the final kneading cycle, adjust the consistency of the dough with additional flour or water; it should be soft and smooth. About 4 to 5 minutes before the end of the kneading cycle, add the raisins. Allow the machine to complete its cycle.

Turn the dough out onto a lightly greased surface, divide it in half then divide each half into three pieces. Roll each piece into a 10" log.

Working with three logs at a time, place them on a lightly greased or parchment-lined baking sheet. Braid them together, pinching the ends together and tuck the ends under. Repeat with the remaining logs.

Set the braids aside, covered with lightly greased plastic wrap or an acrylic dough-rising cover, to rise for 1 hour; they should look puffy.

Bake the bread in a preheated 375°F oven for 25 to 30 minutes, until lightly browned and a digital thermometer inserted into the center of the loaf registers at least 190°F.

Remove the braids from oven, and allow them to cool on a wire rack.

Store, wrapped, on the counter for 5 days, or freeze for up to 3 months.
Tips from our bakers
If there's any bread left over, try a pumpkin bread pudding recipe.
This recipe can also be made into 1 six strand braid. Follow our instructional video to learn how!