A customized print-friendly version of this recipe is available by clicking the "Print Recipe" button on this page.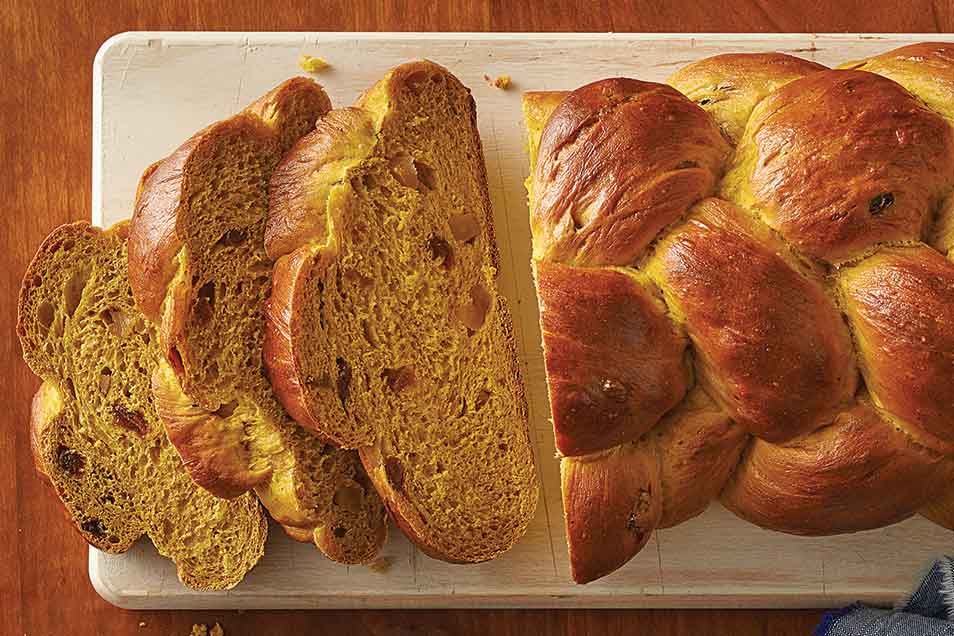 Maybe it's our lifelong familiarity with one of the holidays' cliché staples — pumpkin pie — but we can hardly imagine baking anything with pumpkin and not including ginger as one of the spices. Ginger and pumpkin are two flavors that just seem to go together, like apples and cinnamon. And they team beautifully in this bright-gold, moist, dense holiday bread. Serve it as the centerpiece of a bread basket at dinner, or with a creamy lunchtime soup.
Instructions
To mix by hand or by mixer: In a large mixing bowl, combine the flour, spices, sugar, ginger, salt and yeast. In a separate bowl, stir together the pumpkin, eggs and melted butter.

Add the wet ingredients to the dry ingredients, stirring until the dough begins to come away from the sides of the bowl.

Transfer the dough to a lightly oiled work surface; knead it for 3 minutes, allow it to rest for 15 minutes, then continue kneading until smooth, an additional 8 to 10 minutes. Knead in the raisins right at the end.

To knead in a mixer: Knead the dough with an electric mixer for 2 minutes; allow it to rest for 15 minutes, then continue kneading it for an additional 5 to 7 minutes, or until it's smooth. Add the raisins, and continue kneading just until they're incorporated.

Transfer the dough to a lightly oiled bowl, cover the bowl with plastic wrap, and set it aside to rise for 1 to 1 1/2 hours, or until puffy.

To make in a bread machine: Place all of the ingredients except the raisins into the pan of your bread machine, program the machine for Manual or Dough, and press Start. This dough may initially be a bit heavy for some machines; if necessary, use a spatula to help it get going. About 10 minutes before the end of the final kneading cycle, adjust the consistency of the dough with additional flour or water; it should be soft and smooth. About 4 to 5 minutes before the end of the kneading cycle, add the raisins. Allow the machine to complete its cycle.

Turn the dough out onto a lightly greased surface, divide it in half then divide each half into three pieces. Roll each piece into a 10" log.

Working with three logs at a time, place them on a lightly greased or parchment-lined baking sheet. Braid them together, pinching the ends together and tuck the ends under. Repeat with the remaining logs.

Set the braids aside, covered with lightly greased plastic wrap or an acrylic dough-rising cover, to rise for 1 hour; they should look puffy.

Bake the bread in a preheated 375°F oven for 25 to 30 minutes, until lightly browned and a digital thermometer inserted into the center of the loaf registers at least 190°F.

Remove the braids from oven, and allow them to cool on a wire rack.

Store, wrapped, on the counter for 5 days, or freeze for up to 3 months.
Tips from our bakers
If there's any bread left over, try a pumpkin bread pudding recipe.
This recipe can also be made into 1 six strand braid. Follow our instructional video to learn how!
Reviews
This recipe turned out wonderfully the first time I made it. I did add the optional raisins, and I used golden raisins. I ate a whole loaf in one week by myself and have been savoring the second loaf over a couple weeks. I plan to make this recipe again tomorrow because we have a weather advisory for lots of snow. Thanks for a great recipe KAF!
I made this once before and loved it. This time it turned out more dense and heavy, although still tasted good. Both times I halved the recipe to make one braid. I believe the difference may be that the first time I measured by volume and this time I used weight. This time I definitely needed to add extra flour and may not have added enough.
I made it Nov 2017 into one loaf as directed and just made it again, June 2018 into two smaller loafs (which were still good sized). It has turned out beautifully both times! The color, taste and small all remind me of fall but I will enjoy it just the same mid-summer. Wish I could share the pictures as it is an impressive loaf to share with company or friends and family. Thank-you KAF!
I've made this recipe twice now.....once as a single six braid loaf and once as the smaller loaves. Fantastic both times! I also find the dough very easy to work with. The negative review has me baffled.......I think she was having a bad day! The flavors are mild and yet wonderful. Excellent bread.....even better toast!
I followed the recipe exactly but did not add raisins. I made two small braids instead of the one large. I did not find it necessary to add any additional flour, found the dough easy to work with, baked for 25 minutes and it turned out perfect. I did use King Arthur flour. I will definitely make again.
Disgusting. I used all KAF ingredients -- including KAF bread flour -- and followed the recipe to a tee. I also got the goopy dough effect others complained of which KAF was arrogant enough to blame on non-KAF flour in response to one such comment. Ha! Besides the need to flour the dough extremely generously and work very hard to integrate the ginger cubes, I was quite suspicious of such a low baking temperature given the density of a six-strand braid. Sure enough. It was raw inside and tasted terribly like yeast. I think we've all drunk too much KAF koolaid to tell when they're pulling our leg. The recipe does not stand up under ordinary kitchen science. For those of you fawning at how great it was, you each described enough tweaks to alter what was presented. So, what you're really saying is that you are pleased with your improvization skills. Eyeballing it may be fine for grandma's cookbook but it really has no place on such a widely read and relief upon website, especially for beginners. I just tossed the last bit, as expensive as it was in time and materials, because I just couldn't choke down one more bite.

Flora, we take feedback like yours seriously and we appreciate your honest thoughts. We're genuinely sorry to hear about your disappointing results with this recipe. When troubleshooting recipes, we try to consider all possible causes of challenges, including both the most common and less likely culprits. While it's true that using another kind of flour is often the cause of a soft/wet dough, it's helpful that you shared that you did in fact use this higher protein content flour so we can rule out that possibility.

This recipe also calls for pumpkin puree, which can vary widely in moisture content and consistency. Depending on the kind that was used, a few additional tablespoons of flour may need to be added. Other variables like the weather and age of the flour can also make a difference in the texture. Bottom-line: it's our ultimate goal at King Arthur Flour to be a reliable source of baking knowledge and inspiration. We sincerely rely on and appreciate feedback like yours, so we've asked our recipe team to take another look at the ratio of dry to wet ingredients, and we will make any adjustments to the recipe if necessary. Kindly, Kye@KAF
Baked this bread yesterday and it's already half gone. Excellent! Like other reviewers, I had to add ~3/4c more flour to get a not-too-sticky consistency. Dough was still fairly sticky for the first rise but the texture improved with the rise and was easy to handle after that. I like a spicy flavor so I used the spice combo I've been using for years in all pumpkin-based baked goods: 1 tsp each of Vietnamese cinnamon, allspice, ginger & freshly ground nutmeg, plus 1/2 tsp of cloves. I also boosted the diced ginger to 1/2c. I used a 3-strand braid but next time will go for the 6-strand braid. Will definitely make this again. I think it will become a family winter-time tradition.
Made this bread for Thanksgiving and it was delicious! Making it again for New Year's Eve. Going to split into two this time. Cannot say enough good things about it. I will make it again and again!
Wow! What a beautiful bread! Made one large loaf and cooked beautifully. I was a little worried about it rising, since there was no warm water in the recipe, but it turned out great! Moist, tender and delicious. The candied ginger was a nice, unexpected surprise. It could definitely be split into 2 smaller loaves.
This is super bread! Had to add about 1 1/2 cups additional bread flour, dough was so wet after the rest period. Dough doubled well at first rise! Decided to make two smaller loaves, using only 3 braids for each. Baked for 22 minutes, browning nicely. Gifted a loaf to rave reviews! Will make again! It was snowing and the house filled with yeast bread baking! Thank you King Arthur for another great bread recipe!