A customized print-friendly version of this recipe is available by clicking the "Print Recipe" button on this page.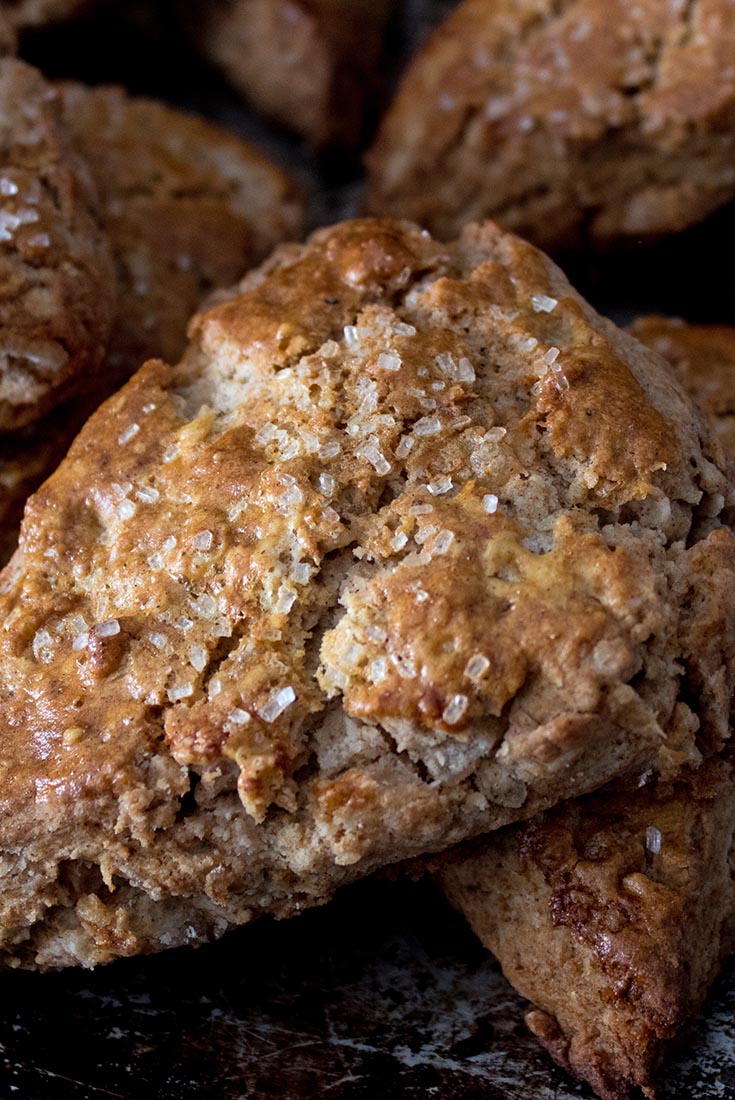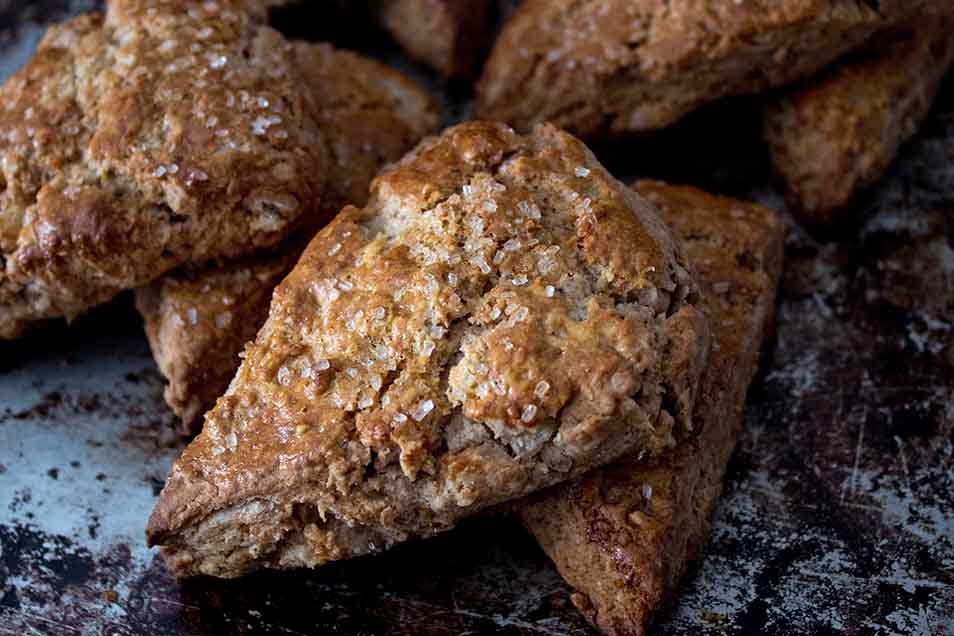 This recipe comes to us from our head bread baker, Martin Philip. The scones are as tender as can be and feature a medley of aromatic spices. Martin recommends freshly grinding your own spices with a spice mill or mortar and pestle for optimum flavor.

This recipe was excerpted from Breaking Bread: A Baker's Journey Home in 75 Recipes by Martin Philip, photography by Julia A. Reed, Copyright © 2017. It has been reprinted with permission of Harper Wave, an imprint of HarperCollins Publishers.
Ingredients
Scones
2 teaspoons baking powder
1/2 teaspoon baking soda
1/2 teaspoon salt
1/2 teaspoon black pepper, freshly ground
1 teaspoon cinnamon, freshly ground
1 teaspoon coriander, freshly ground
1/2 teaspoon cardamom, freshly ground
1/4 teaspoon clove, freshly ground
4 tablespoons (1/4 cup) cold unsalted butter, sliced into 1/8"-thick pieces
1/2 cup crystallized ginger, chopped into pea-sized pieces
3/4 cup heavy cream
1/4 cup brown sugar, light or dark, packed
Instructions
Set your oven rack on a rung in the top third of the oven. Preheat the oven to 425°F. Lightly grease a baking sheet, or line it with parchment paper.

Weigh out your flour; you'll find its weight by toggling to "ounces" at the top of the ingredient section above. Or measure it by gently spooning it into a cup, then sweeping off any excess. In a medium bowl whisk together the flour, baking powder, baking soda, salt, and ground dry spices.

Add the cold butter, tossing to coat with the dry ingredients. Then press the butter pieces between your thumbs and forefingers into small flat pieces, or "leaves."

Add the ginger and toss to combine.

In a small bowl whisk together the cream and brown sugar.

Add the wet ingredients to the dry ingredients and mix gently until the mixture is just combined. The dough should be firm and barely cohesive (some dry bits are OK).

Transfer the dough to a lightly floured work surface, and fold a few times to incorporate any dry bits if necessary.

Pat the dough into a circle 1" thick and 7" across. You may chill the dough until set for easier cutting.

Cut the dough into eight wedges with a chef's knife, cutting directly down; don't saw. Arrange the scones evenly on the prepared pan.

Brush the scones with the egg wash and garnish with coarse sugar, if desired.

Bake the scones for 18 to 22 minutes on the top rack, rotating after 14 minutes, until they're light gold and firm to the touch.

Remove the scones from the oven, and serve warm or at room temperature. Store baked scones, well wrapped, at room temperature for 2 to 3 days; or freeze for up to 1 month.
Tips from our bakers
Freeze unbaked scones, well wrapped, for up to a month. To bake them from frozen, keep them covered and allow them to thaw overnight in the refrigerator before baking them as directed above.
Reviews
I made these for Easter for the first time and they tasted great. I followed the recipe exactly. Super easy to make. It took me longer to find crystallized ginger than it did to make the scones. Finally found it packaged as a candy in the organic section of the grocery store. I cut the dough into 10 scones instead of the 8 recommended and sprinkled them with a very tiny amount of sparkling sugar so as not to over-power the spices. I will be making them again next week for a fundraiser. Just finished eating a day-old one - delicious! My neighbor loved them, too, and took a couple home with her.
I made this recipe gluten free and it was great. I made it in the scone pan (not the mini) and it was perfect. I will definitely make it again.
I read the entire book. Loved it. Then I made the scones. Delicious! Shared some with a man doing some work for us. He kept talking about how good my kitchen smelled. Later a neighbor stopped by and said the same thing so he ended up taking some home also. Will make these again!
First I want to say it never ceases to amaze me that people will change a recipe and then say they didn't like it. Hello! Make the recipe as stated and then leave a comment. My husband and I both enjoyed them. Hubby usually doesn't care for scones but loved these. The fresh spices added a wonderful warmth to them. I used dark brown sugar and didn't have cardamom so used equal parts cinnamon and nutmeg which I read could be a substitute for cardamom.
Mmmm! Wonderfully flavorful, lovely texture, and the recipe came together so easily. Thank you for the great recipe, Martin! I can't wait to get my hands on your new book. I'd also like to play around with whole grain flours in these scones. Maybe whole wheat pastry flour, as the flavor seems to pair great with ginger. I'm wondering if the amount of cream would need adjusting if going with whole wheat. It'd be great to hear any recommendations!

Whole wheat pastry flour would be right at home in these scones. For best results, measure your flour by weight using a scale. (1 cup of whole wheat pastry flour weighs 96 grams.) Start by replacing half of the all-purpose flour with whole wheat pastry flour to see how you like the results. With this approach, you shouldn't need to adjust the liquid drastically. If you use 100% whole wheat flour, you may need to add slightly more cream to make a moist, tender dough. Happy baking! Kye@KAF
I made a vegan version of these by substituting Earth Balance for the butter, and vegan creamer for the heavy cream. I couldn't find unsweetened vegan creamer, so I eliminated the brown sugar and added a little molasses for the malty flavor. No egg wash, of course, so they don't have the glazed look on top, but they are delicious!
Delicious! My husband loved them.