A customized print-friendly version of this recipe is available by clicking the "Print Recipe" button on this page.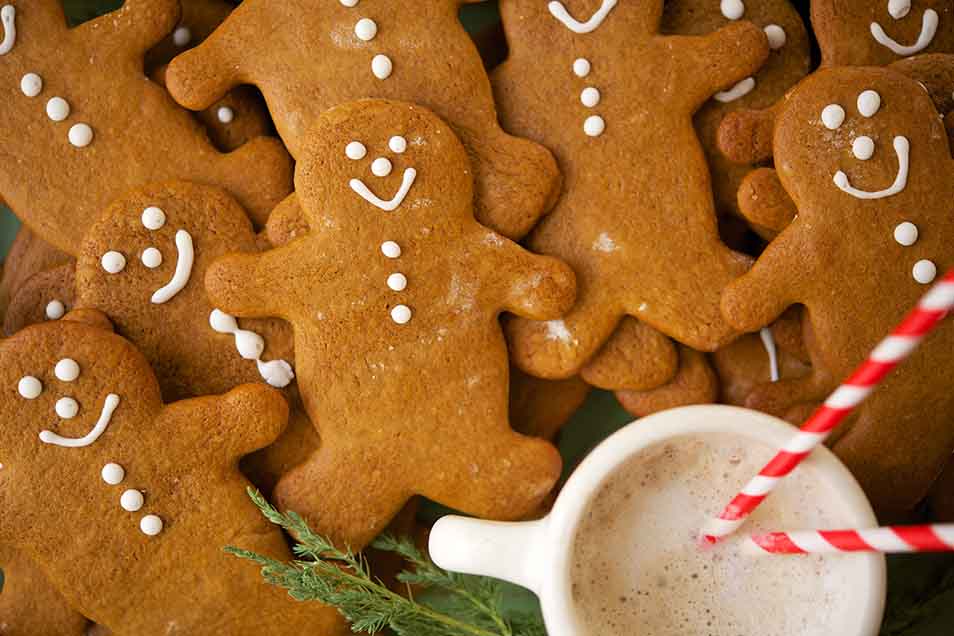 This molasses-dark, ginger-and-spice flavored cookie is perfect for gingerbread men. We roll it a bit thicker than usual, to give the cookies just a hint of chew. While ginger is often thought of as a winter baking flavor, we've found that ginger pairs well with various fruits, too. Ginger and peach is an especially wonderful combination; try gingerbread cookies served with fresh sliced peaches, or a peach crumble topped with gingerbread crumbs.
Instructions
In a saucepan set over low heat, or in the microwave, melt butter, then stir in the brown sugar, molasses, salt, and spices.

Transfer the mixture to a medium-sized mixing bowl, let it cool to lukewarm, and beat in the egg.

Whisk the baking powder and soda into the flour, and then stir these dry ingredients into the molasses mixture.

Divide the dough in half, and pat each half into a thick rectangle. Wrap well, and refrigerate for 1 hour or longer. The dough may be sticky and hard to roll if not thoroughly chilled, so make sure it's cold before continuing.

Preheat your oven to 350°F. Get out several baking sheets; there's no need to grease them, though lining with parchment saves effort on cleanup.

Once the dough has chilled, take one piece of dough out of the refrigerator, and flour a clean work surface. Roll the dough 1/8" to 1/4" thick; the thinner you roll the dough, the crispier the cookies will be. Flour both the top and bottom of the dough if it starts to stick. Alternatively, place the dough on parchment, and put a sheet of plastic wrap over it as you roll, pulling the plastic to eliminate wrinkles as necessary when rolling; this will keep dough from sticking without the need for additional flour.

Cut out shapes with a floured cookie cutter, cutting them as close to one another as possible to minimize waste.

Transfer the cookies to ungreased cookie sheets (or, if you've rolled right onto the parchment, remove the dough scraps between the cookies). Bake the cookies just until they're slightly brown around the edges 8 to 12 minutes, or until they feel firm. Let the cookies cool on the baking sheets for several minutes, or until they're set. Transfer them to a rack to cool completely. Repeat with the remaining dough.

Decorate the cookies with Royal Icing or Simple Cookie Glaze and food safe markers.
Nutrition Information
Serving Size

29.9g

Servings Per Batch

36
Amount Per Serving:
Calories

115

Calories from Fat

37g

Total Fat

4g

Saturated Fat

3g

Trans Fat

0g

Cholesterol

16mg
Sodium

101mg

Total Carbohydrate

18g

Dietary Fiber

0g

Sugars

8g

Protein

2g
* The nutrition information provided for this recipe is determined by the ESHA Genesis R&D software program. Substituting any ingredients may change the posted nutrition information.
Reviews
I wish I could insert a picture. I did exactly what the recipe asked for and it was entirely too doughy. It turned into one big cookie after being baked and had to be trashed.

Bethany, we're so sorry this recipe didn't work out for you! While we can't be exactly sure what happened to your gingerbread cookies, there are a few common causes of doughy, running-together cookies. If the ratio of sugar to flour is off (as with too much sugar or too little flour), this can definitely result in the kind of cookies you're describing. The same goes for an oven that isn't preheated all the way. The other common issue is using flour from a brand other than King Arthur Flour, which typically has a lower protein content and doesn't react the same way in recipes designed for a more protein-rich flour. If you want more specific troubleshooting, we encourage you to call our free and friendly Baker's Hotline at 855-371-BAKE (2253). Kat@KAF
I made this recipe for the first time ever doing gingerbread cookies and I love it I highly recommend this recipe the cookies are delicious
I agree with the comments from people who weighed their ingredients - the dough is way to sticky. I cut the amount of molasses to 6 oz instead of 9 oz and they came out amazing. Several years ago I found this out and realized that the recipe in my King Arthur Flour Cookie Cookbook did not match the one that was posted on the website (at that time). I made sure to mark my cookbook with the different amount of molasses (6oz) and it's worked every time!

Thanks for sharing your feedback, Nancy. We've confirmed with our Recipe Team that the 9 oz of molasses is the correct amount, and that this does indeed create a sticky dough. If you check out the blog article associated with this recipe (linked to the right of the main photo) you'll be able to see the sticky texture we're going for. After it chills in the fridge covered in parchment, you then add flour to help with rolling. Since it colder and has had a chance to firm up, you wind up not needing to use as much flour to roll, preventing the cookies from getting too tough or losing any flavor. If you prefer the results of your cookies using 6 oz of molasses instead of 9 — no problem! We encourage you to use whichever amount works best for you. Kindly, Annabelle@KAF
I've made these for school functions and they are always a major hit. Kids and parents like them, with the main comments being, "these are not hard" and "they are not too spicy/sweet". I normally add a dash of vanilla and this time subbed 1/3 of the flour for almond flour just to try it and they turned out wonderfully.
If you are weighing this recipe, you will need to add more flour. I've made this recipe several times but the first time I weighed my ingredients instead of using measuring cups the dough came out unusable. With that being said, if you add enough flour, the cookies are really good. I've even gotten rave reviews from people who normally dislike anything sweet. I don't remember how many extra grams of flour I used but it was about 2oz more flour when I made the recipe again using ounces. Unfortunately you won't know for sure you got the flour right until the dough has rested, you have punched out your shapes and tried to take out the shapes from the dough.

It sounds like you might have used a flour that was softer (had lower protein content) than King Arthur All-Purpose Flour. If you use another kind or brand, you may need to add more in order to get the same results. We recommend adding additional flour by the tablespoon (just as you did!) until the dough comes together and has the consistency of a semi-firm cookie dough. (It shouldn't be sticky to the touch.) We hope your future bakes of this recipe produce five-star results! Kye@KAF
I weigh ingredients so I know accuracy was not a problem, but I had to add more flour, and then cookies were perfect. I am a retired home ec teacher and have converted many of my favorite recipes to metric weights. In doing so, I came to the realization that many cup measures are not equal to the gram standard. I wonder how many positive comments were from cooks using conventional American measures while less glowing reviews came from those using a scale. According to my measuring cups, conventional bakers would have used more flour, which is ultimately what I did to get a dough stiff enough to handle.
We baked these cookies yesterday evening. They are delicious. We made two modifications - we added a teaspoon of vanilla extract and we used salted butter (on hand) and reduced the salt to 1/2 teaspoon. As recommended, roll them on the thicker side to ensure a chewy cookie. We tempered some Ghirardelli chocolate and dipped half of the cookies in the chocolate. Yummy.
Baked these cookies this year and last with Pre-K students aged 3 - 5 and the recipe worked out great. Last year I didn't even chill the dough - no time! Just patted it out and cut! This year I used a flax egg (due to an allergy) in one batch and no one knew. Kids enjoyed the spice. Love this recipe and we will use it again next year. Very forgiving which is important when working with little bakers!
I made these cookies for Christmas 2017, and I wish I could rate these higher than 5 stars! The cookies were awesome!! I baked them according to the recipe, and they were crispy yet chewy on the inside. My granddaughter ate at least a dozen in one sitting. This recipe is a keeper!
This is the first time I ever made gingerbread cookies. With only 1/2 c molasses in the house, I used 1/4 c of honey to come up to 3/4 c. Quickly sticky when taken out of the fridge for rolling, so rolled between wax paper. Peeled off bottom wax paper, and put it on silicon baking sheet. Wrote on top wax paper, to cut out letters for kids' names, with a knife point, then peeled off top wax paper. This recipe is "sensitive" to how thick they're rolled out, the thicker it's rolled, the "puffy"ier the outcome. This recipe is "sensitive" to when you take them out of the oven to recut outlines - @6 minutes, edges recut are raggedy, @8 minutes, better, will test drive @10 minutes. Used a plastic straw, to punch holes for: those being used as ornaments and gift tags, and for a place to bind panels used as gingerbread book covers for gift cards. Overall, taste was good. Will be using the baked "scrap" for baking with spiced plums. None of it came out rigid enough to be used for structure, like a gingerbread house. May be due to the honey I used, may be it needs to stay longer in the oven to REALLY dry out, most likely due to my 1/4 inch rollout.