A customized print-friendly version of this recipe is available by clicking the "Print Recipe" button on this page.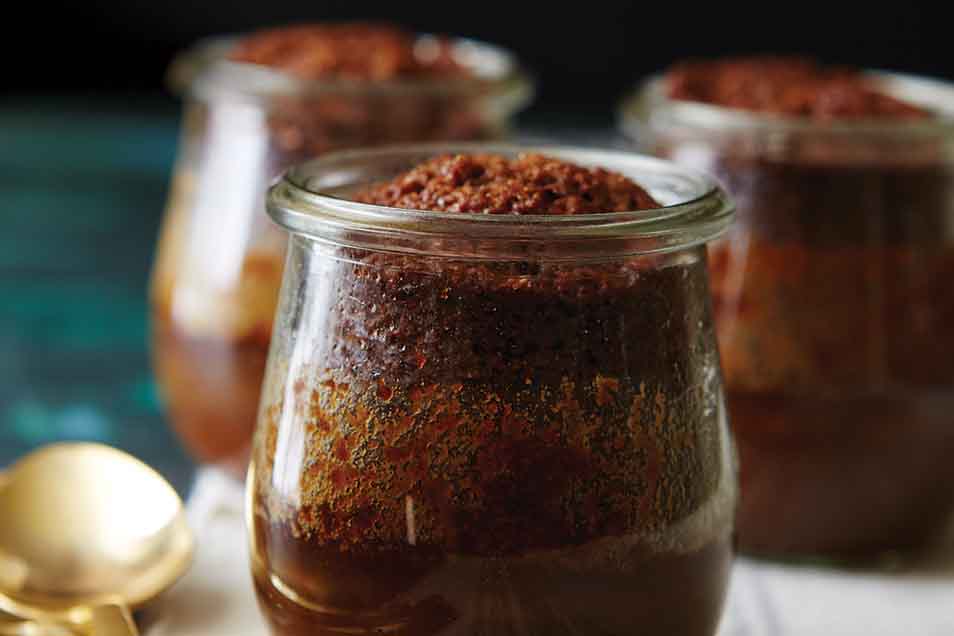 Spicy and moist, this enduring favorite is made even better with its own comforting layer of pudding. Don't forget a scoop of vanilla ice cream to take it over the top.
Ingredients
Cake
1 1/4 cups King Arthur Unbleached All-Purpose Flour
3/4 teaspoon baking soda
3/4 teaspoon ground ginger
1/2 teaspoon ground cinnamon
1/8 teaspoon ground nutmeg
1/4 teaspoon salt
1/2 cup molasses
1/2 cup milk
1 large egg
1/4 cup unsalted butter, at room temperature
1/4 cup granulated sugar
pudding
1 cup light brown sugar
4 teaspoons cornstarch
1 1/4 cups hot water
1/4 cup unsalted butter
Instructions
Preheat the oven to 350°F. Butter an 8" square pan, or eight 8-ounce ramekins.

For the cake: Combine the flour, baking soda, ginger, cinnamon, n nutmeg, and salt in a medium bowl. Set aside.

In a small bowl mix the molasses, milk, and egg. Set aside.

In a mixing bowl, cream the butter and sugar together. Add the flour and molasses mixtures by turns, beating on low speed, just until blended. Scrape the sides and bottom of the bowl as needed.

Pour the batter into the prepared pan. If using ramekins, place them on a parchment-lined baking sheet and portion a heaping 1/4-cup of batter into each one.

For the pudding: Mix the brown sugar and cornstarch together. Heat the water and butter together just until the butter melts; gradually stir this into the brown sugar mixture.

Pour the pudding mixture slowly over the patter in the 8" pan. If using ramekins, scoop a scant 1/4 cup of the pudding mixture over each of the filled ramekins. Place the ramekins on a parchment-lined baking sheet.

Bake for 25 to 28 minutes for either size, or until a toothpick inserted in the center of the cake on top comes out clean. Remove from the oven and serve warm.
Nutrition Information
Serving Size

144g

Servings Per Batch

8
Amount Per Serving:
Calories

373

Calories from Fat

108

Total Fat

12g

Saturated Fat

8g

Trans Fat

0g

Cholesterol

54mg
Sodium

225mg

Total Carbohydrate

64g

Dietary Fiber

1g

Sugars

48g

Protein

4g
* The nutrition information provided for this recipe is determined by the ESHA Genesis R&D software program. Substituting any ingredients may change the posted nutrition information.
Reviews
What an incredibly delicious dessert! I feel your estimate of the time needed for preparation is off by about 10 minutes (unless, like Martha Stewart, you have a small army of kitchen helpers running around tidying up after you)! Also, it took quite a bit longer to bake than stated, but oh my, the result was amazing. I added about half a cup of chopped ginger (not the crystallized kind but the kind that comes in syrup) to the batter, but it miraculously ended up in the pudding! My husband gave it 10/10.
This was Fantastic- I had to cook it a little longer than stated but it was like magic how it went from liquid in the center to a light cake with delicious sauce underneath. I'll definitely make this again. I
This is a fantastic cake & easily adaptable for vegans. I doubled the recipe and substituted almond milk, Earth Balance butter, and EnerG egg replacer for the dairy products. I also added a teaspoon of baking powder and adjusted the spice ratio a bit, including a pinch of ground clove. This was a big hit with my family.
Good start, but needed extra spices...I doubled everything, and added 1/4-1/2 tsp finely ground black pepper and 2 tsp grated fresh ginger.
A very moist attractive cake but it is too sweet! If I make it again I want to cut down on the sweetness. Any suggestions on how to reduce the sugar in the cake or pudding without ruining the cake?

We've found you can decrease the sugar in the cake by 10-25% without compromising too much on flavor or texture. The pudding would be tricky as the sugar is such a key component, but typically you can decrease by 10%. Happy baking! Annabelle@KAF
Despite having used newly purchased spices (for my Christmas season baking) I found the gingerbread flavor in this recipe somewhat mild and although I also bought vanilla ice cream to go with it as suggested, it was good but not WOW, didn't pop as I was anticipating. Next time I will double the amount of each spice and add some orange zest.
I made this for a St. Patrick's Day dinner party dessert. KAF is one of the few recipe sources that I will trust for serving a previously untried recipe to guests, and I was not disappointed. I doubled the recipe and made it in a 13x9 inch baking dish. I added some KAF crystallized ginger bits for an extra kick. I'll admit that I was a bit nervous pouring the very watery pudding liquid over the gingerbread batter but it cooked into a moist, spicy gingerbread with a flavorful pudding layer. I served it warm with scoops of black walnut ice cream. It was a big hit with all my guests. This is a new favorite.
I ate a similar cake in a restaurant in Albuquerque, and loved it so much that I hunted online for a similar recipe until I found this one. Ta-dah! I made it tonight, and the cake was exactly as I remembered. Fabulous! This recipe is VERY forgiving. How forgiving, you ask? Well, I prepared the batter and spread it in a rectangle pan smaller than a 13x9 but not an 8x8. I began preparing the caramel sauce... I mixed the brown sugar with the corn starch and promptly got a shocking text from my sister which required my response. My family came home like a gaggle of geese, further distracting me. I melted the butter in the water. I poured the melted butter and water gently over the cake batter. As I looked at it, I thought it did not look right but I thought it would bake out. As I turned around to check the oven temp before I put the cake in-- aaaack! There sat the brown sugar! Quickly, I sprinkled the brown sugar evenly all over the buttery-water/watery-butter and muttered a plea to myself for the cake to still be good. And voila! It was splendid. It was jiggly when I took it out, but I paid attention to the other reviewers and trusted the fact that the cake was pulling away from the sides. It does want vanilla ice cream, however, and I didn't have any ... but resourceful me, I had cookie dough ice cream so I plucked out the cookie dough from the ice cream and made it work.
If you like Gingerbread, you must make this cake. It is awesome! I made it for Christmas Eve dessert and everyone loved it. Some even went back for seconds. I'll be saving this recipe to make again. I baked it as written and for the amount of time shown in the recipe. Perfect.
Wow! I did a couple of tweaks, being the creative type: I added 1/2 cup each of dried cranberries and diced candied ginger, and a squeeze of lemon and a little rum to the pudding mix. I baked it in 1/2 pint mason jars, made 10 from a recipe (there was pudding mixture left over), so there was room at the top. I put the canning lids and rings on while they were fresh out of the oven to take them to the party, served them still hot with a big dollop of thick homemade eggnog on top. NOTE: this is not preserving them! Must be eaten within a couple of days...folks were amazed! This is delish! Perfect "finger food" for around the Sostice bonfire. I'd like to see if this recipe could be made with less bowls....