A customized print-friendly version of this recipe is available by clicking the "Print Recipe" button on this page.
Gluten-Free Ancient Grains Drop Biscuits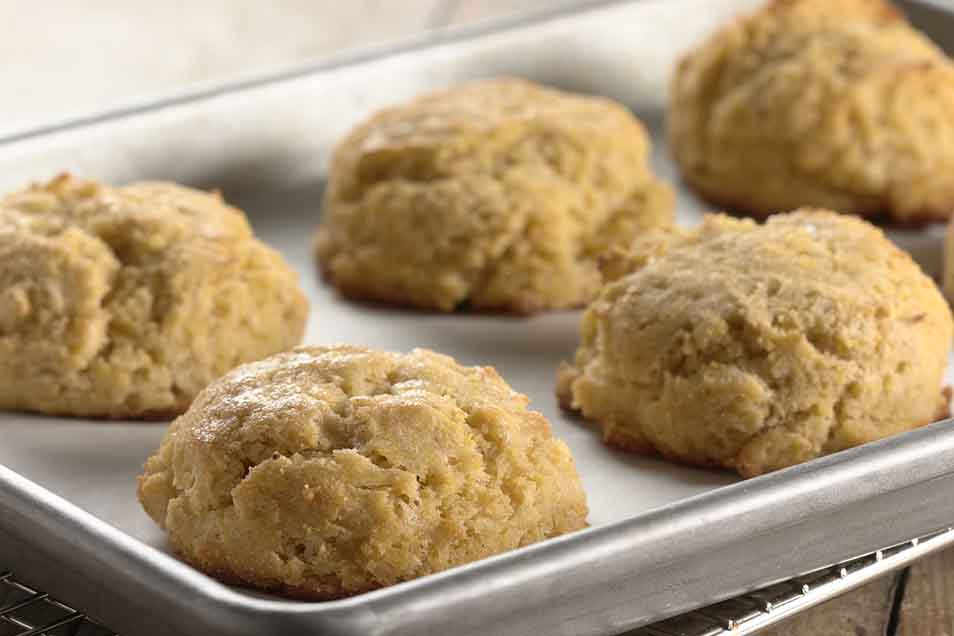 Corn and maple syrup complement the flavor of ancient grains beautifully. These biscuits are a delicious, slightly sweet treat for the whole family.
Ingredients
3/4 cup Ancient Grains Flour Blend
3/4 cup yellow cornmeal
3/4 cup King Arthur Gluten-Free Multi-Purpose Flour or brown rice flour blend*
1 teaspoon xanthan gum
1 tablespoon baking powder
1/2 teaspoon salt
1/2 cup butter
3/4 cup buttermilk
1/4 cup maple syrup, real maple syrup preferred for best flavor
1 large egg
*See recipe for this blend below.
Instructions
Preheat the oven to 425°F. Lightly grease a baking sheet, or line with parchment paper.

Whisk together the dry ingredients, then use a fork, pastry blender, or electric mixer to work in the butter, mixing until everything is crumbly with some pea-sized pieces of butter remaining.

Whisk together the wet ingredients and stir into dry ingredients until just combined. The dough will be very wet.

Drop golf-ball sized portions onto the prepared baking sheet about 2" apart. A tablespoon cookie scoop, generously filled, is helpful for this.

Bake the biscuits for 12 to 14 minutes, until they're light golden brown. Remove them from the oven, and serve warm.

Yield: about 24 biscuits.

*Make your own blend
Many of our gluten-free recipes use our King Arthur Gluten-Free Multi-Purpose Flour, which includes ingredients that reduce the grittiness sometimes found in gluten-free baked goods. Our flour also increases the shelf life of your treats, keeping them fresh longer.

The following make-at-home blend, featuring stabilized brown rice flour, works pretty well when substituted; and it tastes better than a blend using regular brown rice flour.

Whisk together 6 cups (28 1/2 ounces) King Arthur stabilized brown rice flour; 2 cups (10 3/4 ounces) potato starch; and 1 cup (4 ounces) tapioca flour or tapioca starch. Store airtight at room temperature. Note: You can substitute white rice flour for the brown rice flour if you like; it'll make your baked goods grittier (unless you manage to find a finely ground version).
Tips from our bakers
For a more traditional-looking biscuit, flatten the tops slightly with wet fingers before baking.
Reviews
I highly recommend this recipe. I messed around with it quite a bit: sour cream and milk instead of buttermilk, and didn't have the ancient grain blend so subbed different fliurs on hand. I made this the biscuit topping for my blueberry cobbler; it came out delicious and really well textured! Very excited to try this again, properly.
Baked as written, using weight vs volume. They don't rise much but are tender inside with a buttery flavor. I can smell and taste the slight bitterness of the quinoa and the maple syrup helps balance that. Next time I'll try honey because I like honey and cornmeal together. I patted some into English muffin rings to make a biscuit suitable for splitting for an egg sandwich but I don't think they rose enough for that. Might be good, split, with sausage gravy on top of the halves, or an easy-over egg, open faced.
Excellent taste & texture! Will make again and again! So easy and you would never know they're gluten-free!
I reduce the butter to 1/4 cup; and use powdered buttermilk blend and water instead of real buttermilk. I scoop the mix into 8 greased biscuit rings on parchment paper on a baking sheet. I let the biscuits cool, then freeze them individually. For use, I microwave slightly, slice in half horizontally, add a fried egg, slice of cheese, and Canadian bacon for a delicious breakfast or lunch sandwich. Biscuits and sandwich outstanding!! Best gluten-free biscuits by far!! For strawberry shortcake biscuits, I add 3 Tbls of sugar and 1/2 tsp of vanilla to the mix; and bake in the biscuit rings. Terrific!!
These are definitely sweet biscuits. Good flavor but mine were gritty.
I didn't like the smell of the ancient grains flour or the biscuits as they were baking so wasn't sure I'd like the finished product but they are really good for gluten free. I substituted milk for buttermilk only because I didn't have buttermilk and I didn't have enough maple syrup so used probably less than 1/8 cup maple syrup. I'm so surprised!
Great texture and flavor. Substituted for dairy: almond milk in place of buttermilk and margarine in place of butter.
This is a wonderful tasting biscuit. You would never know it is gluten free. I purchased the brown rice flour potato flour and tapioca starch to make the gluten free blend of flour for this recipe. It would be more convenient to be able to buy a larger bag of brown rice flour. I am anxious to do more gluten free baking with your other recipes. Thanks for such a wonderful web site.
I liked these but thought they were too crumbly when warm. When cooled they were much easier to handle. I used a food processor to cut in the butter. I haven't tried these as shortcake but plan to. They have a nice combination of flavors. I used the grade B maple syrup from the KA store.
Yum! These slightly sweet, grainy biscuits were delicious with a bowl of rich, spicy chili. They came together in a snap when I used a food processor to cut the cold butter into the flours. I misread the size cookie scoop recommended in the recipe (heaping 1 T) and used my muffin scoop instead, yielding 12 larger biscuits. They took a few extra minutes to bake, but came out nicely! These biscuits would also make a good cobbler topping or shortcake. I will make them again.