A customized print-friendly version of this recipe is available by clicking the "Print Recipe" button on this page.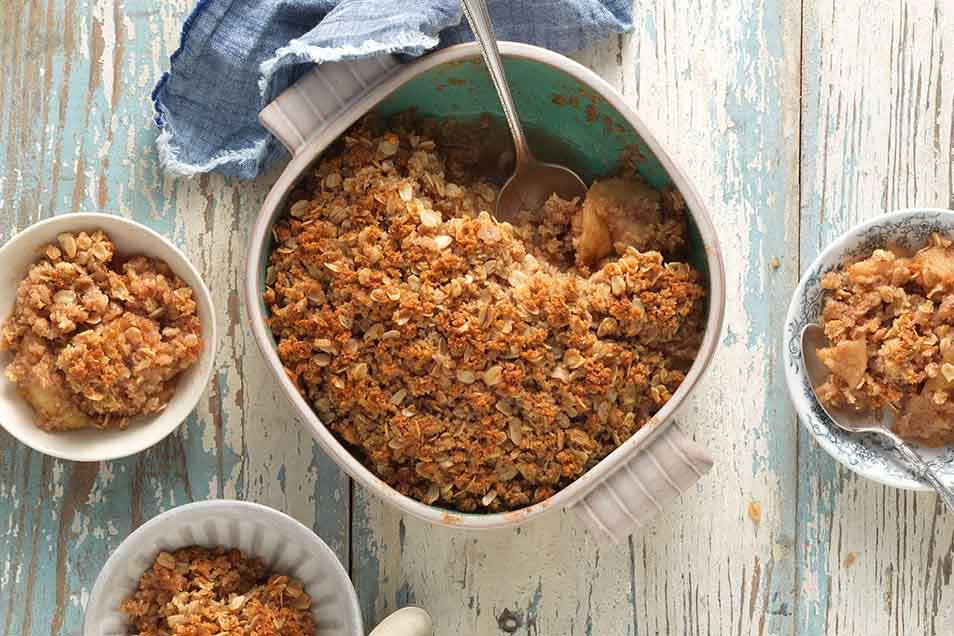 For a new twist on an old autumn favorite, try this not-too-sweet, not-too-tart apple crisp with toasted, buttery, gluten-free bread crumbs in the topping.
Ingredients
Filling
5 to 6 apples, peeled, cored, and sliced
juice of 1 orange
2 tablespoons boiled cider
1 1/2 teaspoons ground cinnamon
1/4 teaspoon ground nutmeg
1/4 cup sugar
1 tablespoon tapioca starch, optional
pinch of salt
Topping
3/4 cup butter, melted
3 cups gluten-free bread crumbs
1 cup gluten-free oats
3/4 cup brown sugar
1 teaspoon ground cinnamon
pinch salt
Instructions
Pulse some gluten-free bread (approximately 1/2 loaf, depending on loaf size) in your food processor and set 3 1/2 cups of the crumbs aside for the topping.

To make the filling: Peel, core, and slice about 6 apples; the variety is your choice.

Combine the boiled cider and orange juice, and toss with the apples.

Combine the cinnamon, nutmeg, granulated sugar, and a pinch of salt. To thicken the filling, add 1 tablespoon gluten-free tapioca starch. Toss the apples with the sugar/spice mixture to coat, and spread in an 8" square pan.

To make the topping: Mix 3 cups of the bread crumbs, the oats, brown sugar, cinnamon, and a pinch of salt. Pour the melted butter over the mixture and stir, allowing the bread crumbs to absorb the butter.

Press the topping evenly over the apples and bake in a preheated 350°F oven for 20 to 25 minutes, or until the topping is golden and the apple filling is bubbling.

Remove from the oven, and serve warm; ice cream or whipped cream are a tasty topping.

Yield: about 8 servings.