A customized print-friendly version of this recipe is available by clicking the "Print Recipe" button on this page.
Gluten-Free Bacon and Cheddar Savory Biscuits made with baking mix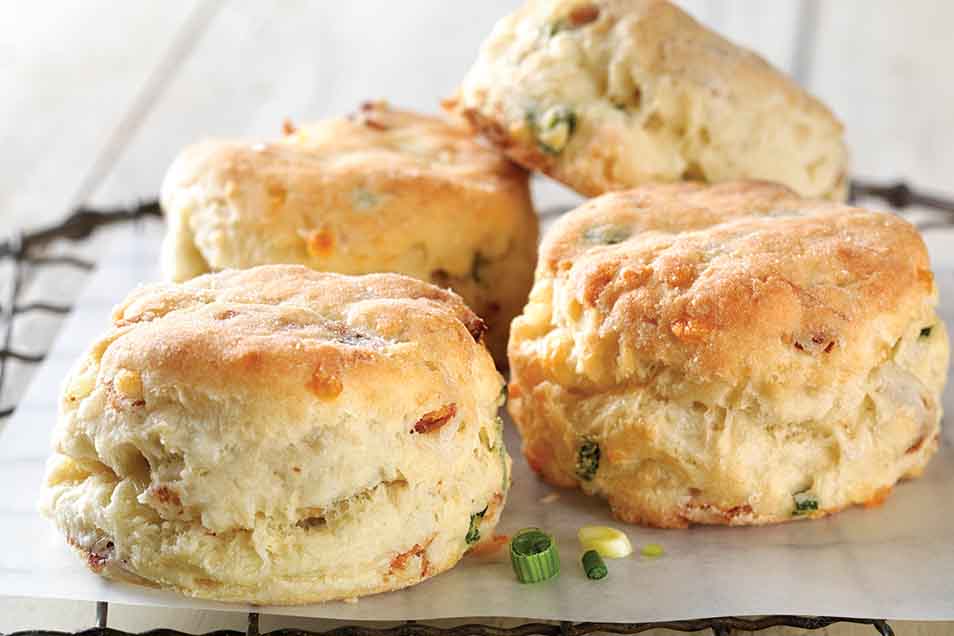 We love the richness of these biscuits — don't skimp on the cream, it really makes a difference!

Note: Please read and follow the recipe carefully; it calls for our gluten-free all-purpose baking mix, NOT our gluten-free multi-purpose flour.
Ingredients
2 1/4 cups King Arthur Gluten-Free All-Purpose Baking Mix*
1 cup shredded sharp cheddar cheese
1/4 pound bacon (about 5 to 6 strips uncooked bacon), cooked crisp and then crumbled or cut into pieces
1/4 cup thinly sliced scallion tops
2 large eggs
1 cup heavy cream
*Make sure you use our gluten-free BAKING MIX — NOT our gluten-free flour.
Instructions
Preheat the oven to 400°F, with a rack in the middle.

Measure the baking mix into a bowl.

Stir the cheese, bacon, and scallion tops into the baking mix.

In a separate bowl, whisk together the eggs and cream.

Add the egg mixture to the dry ingredients, stirring until blended. The dough should be cohesive and sticky.

Turn the dough out onto a work surface lightly dusted with baking mix and fold it over on itself four times.

Pat the dough into a 6" x 8" rectangle about 3/4" thick.

Cut rounds with a 2 1/2" cutter dipped in baking mix; brush any surplus mix off the tops of the biscuits.

Place the biscuits on an ungreased or parchment-lined baking sheet, leaving 1" between them for crispier biscuits, or placing them close together (nearly touching) for soft-sided biscuits.

Bake the biscuits for 16 to 18 minutes, until golden brown. Remove them from the oven and let them rest for 10 minutes or so before serving. They're best enjoyed slightly warm.

Yield: 6 to 8 biscuits.
Tips from our bakers
For drop biscuits or scones: Don't fold the dough or pat it out; simply drop it by the 1/3-cupful onto the ungreased baking sheet, and bake as directed. For scones, drop by the 1/3-cupful into the greased wells of a scone pan, and bake as directed.
Reviews
I made these biscuits as drop biscuits and they cooked up well. However, I found the bacon taste too strong (yeah, how does bacon not help things?). I made them again, leaving out the bacon and adding a tablespoon of Italian seasoning, as I do when I make GF bread. The seasoning didn't help much either, they were just pretty tasteless. I only recommend them because when you cut them in half and toast lightly with a bit of butter, they make a good vehicle for honey.

We're sorry these didn't quite hit the mark for you in the flavor department. Using a good quality sharp cheddar definitely helps a lot as a starting place. If you decide to eliminate the bacon and replace it with spices in the future, you may want to consider adding some salt to the dough to make up the difference. While spices are wonderful, they can't quite make up for the lack of salt, which may be the "oomph" that you're missing when you remove the bacon in these. Happy baking! Kat@KAF
I usually bake from scratch but bought the GF mix by mistake. I used turkey bacon, sharp cheddar and freeze dried chives. I patted them into the rectangle and cut it into 12 squarish biscuits; nothing brushed on top. Very nice, quick to come together and better than the wheat-based baking mix everyone knows by name. A box of baking mix makes one batch of these and one coffee cake.
Each and every time I make these. They go FAST! I sometimes use freeze dried chives and/or swiss and gruyere cheese. Cheddar is still best but hands down my go to biscuit recipe.
This was my first time making biscuits with the GF mix, and they were fabulous! I followed the recipe with no changes, and agree that gentle handling of the mix once turned onto your floured board, and cutting the biscuits quite thick, are key. I did use a smaller biscuit cutter and it made a good dozen regular sized biscuits. Fantastic for mini-BLT's or other 'sandwich' type uses. Mine browned up perfectly with nothing brushed on top. Highly recommended.
I loved how these came out. Tasted great and nice texture. The dough was a little too sticky to shape properly, but it worked. We used them in place of sandwich bread to make great ham sandwiches. They also worked well with a hard boiled egg sandwich. The cheese just melts into the bread and you don't actually see it. I also added about 1 T of sugar and 2 T of buttermilk powder - I find that often helps gluten free flour mixes to taste better.
I made these over the weekend and they were delicious. They were easy to make and looked wonderful. We drizzled a little honey on them, but decided the next time I make them we are going to make them into BLT's, by slicing in half and adding bacon, tomato, lettuce and mayo. My husband, who is not, gluten free loved them and somethings, you just keep to yourself until after you hear "this is the best biscuit ever." I put 4 in the freezer to enjoy during the week.
Delicious! I made this exactly as stated except for the scallion tops...didn't have them...and they were perfect. These are easily as good as a regular biscuit. My gluten-abled family members did not know they were GF. They rose beautifully, and were a nice golden color when done. Amazing texture, too. Finally, a recipe that I can use for the whole family, including the two GF members, instead of having to make two different batches. I've tried other GF biscuit recipes, ever hopeful, but this is the first recipe I consider to be the ideal GF substitute for my biscuit-loving family. Thanks, King Arthur!
I found this recipe very easy to use. The first time my biscuits were a little small and not as fluffy 'biscuity'. The second I made them I found out why, I patted the dough out too thin. The thicker the dough is before I cut into it, the fluffier they became. This is my absolute favorite recipe to use for biscuits. It's so easy my 4 year old helps me make it. I tried to use buttermilk as a recipe swap in place of the heavy cream....bad idea. Stick with the cream!!!
These were awesome! I omitted the bacon and added some garlic powder and they came out great! I was so impressed with how they rose. This is the first gluten free biscuit recipe I've had success with. I would like to know if this recipe could work for a sweet or breakfast type biscuit by leaving out the savory ingredients and adding a little honey or sugar? Thanks for a great recipe!
These are so easy to make. I made them for the first time yesterday but I omitted the bacon and I made drop biscuits. They were delicious, crunchy on the outside and soft and creamy inside. I will certainly make these again. They rival a certain restruants biscuits which I had been craving but they aren't Gluten Free.Thank you King Arthur Flour.