A customized print-friendly version of this recipe is available by clicking the "Print Recipe" button on this page.
Gluten-Free Brazilian Cheese Buns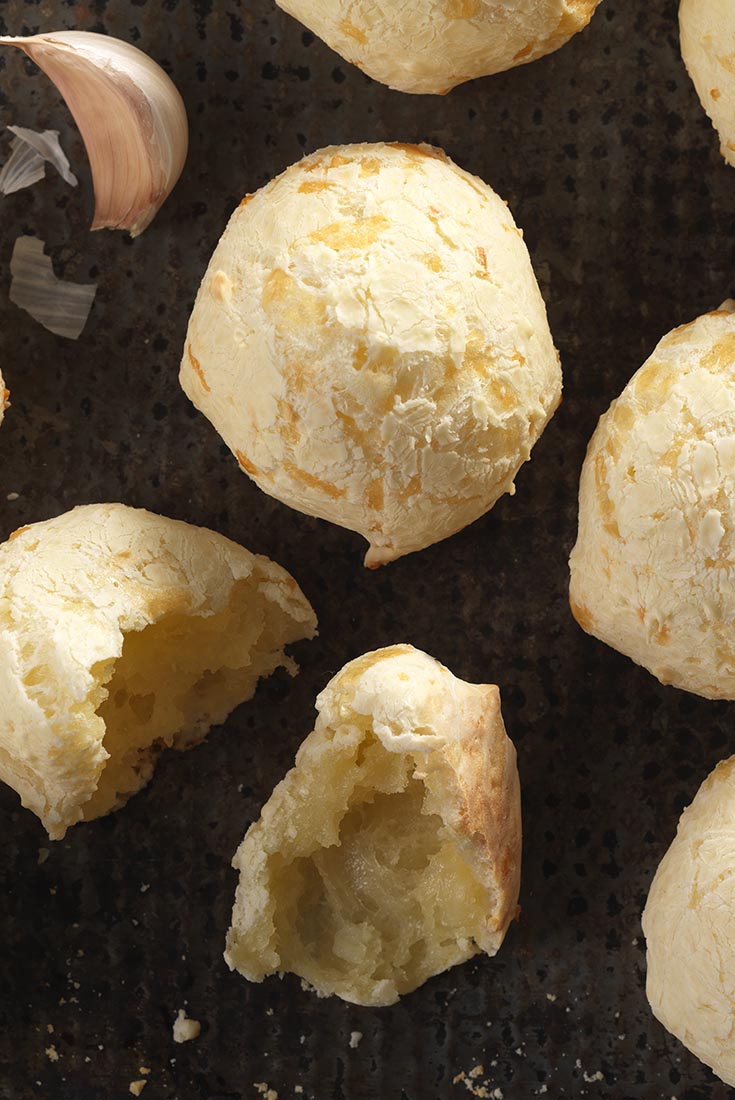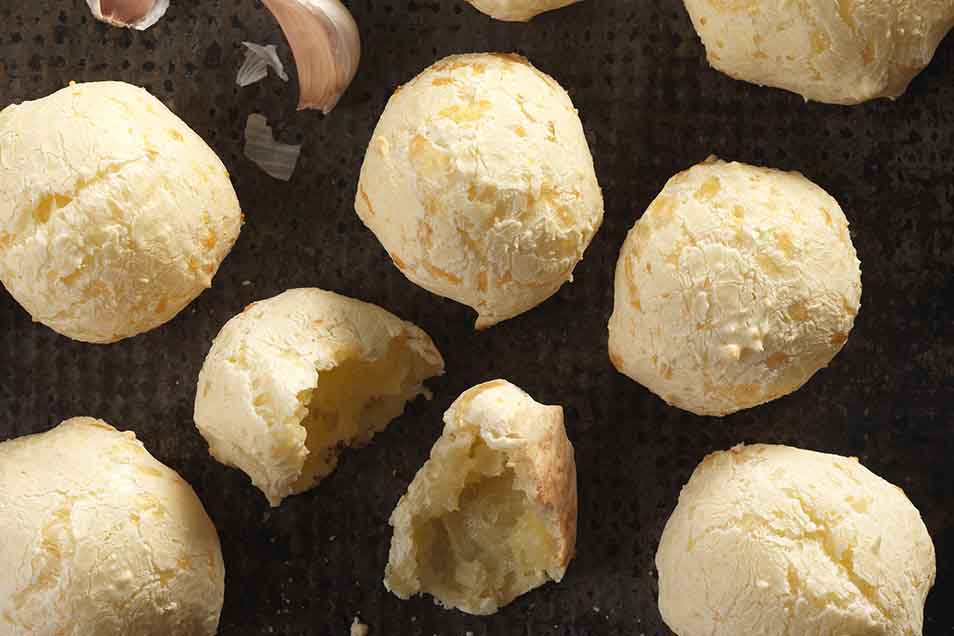 Soft, chewy Pao de Queijo rely on tapioca starch (a.k.a. tapioca flour) for their structure, and garlic and cheese for their wonderful flavor. They're gluten-free, but don't reserve them for your friends and family living the gluten-free lifestyle. These fast and easy buns will quickly become your go-to bread to serve alongside soup, or with salad or pasta.

Follow our step-by-step photos for making these buns at our blog, Flourish.
Ingredients
1/2 cup unsalted butter
1/4 cup water
1/4 cup milk
3/4 teaspoon table salt or 1 teaspoon kosher salt
2 cups tapioca flour or gluten-free tapioca starch
2 teaspoons minced garlic
heaping 2/3 cup grated Parmesan, Romano, or aged Asiago cheese
2 large eggs, lightly beaten
Instructions
Preheat the oven to 375°F. Lightly grease a couple of baking sheets; or line with parchment.

Put the butter, water, milk, and salt in a saucepan, and heat till the butter has melted and the mixture has come to a full boil. While the mixture is heating, put 2 cups of tapioca flour into a mixing bowl.

Pour the boiling butter mixture over the tapioca flour, beating to combine. Beat at high speed till the mixture becomes smooth and elastic-looking; this will happen very quickly.

Beat the garlic and cheese into the dough till well combined.

Stick your finger into the dough. If it's uncomfortably hot, let it sit for a couple of minutes to cool a bit; you don't want to cook the eggs when you beat them in. If it seems hot but not burning hot, continue with the next step.

With the mixer going, gradually dribble in the beaten eggs, beating till well combined and smooth.

Drop the mixture in 2-tablespoon balls (about the size of a golf ball) onto the prepared baking sheets, spacing them about 1 1/2" apart. A level tablespoon cookie scoop works well here.

Bake the rolls for about 20 minutes, till they have a freckled appearance (from the browning cheese), and they're beginning to color a bit. Remove them from the oven, and serve hot.

Yield: 18 to 20 buns.
Nutrition Information
Serving Size

1 bun, 33g

Servings Per Batch

20
Amount Per Serving:
Calories

105

Calories from Fat

33

Total Fat

6g

Saturated Fat

4g

Trans Fat

0g

Cholesterol

36mg
Sodium

163mg

Total Carbohydrate

10g

Dietary Fiber

0g

Sugars

0g

Protein

2g
* The nutrition information provided for this recipe is determined by the ESHA Genesis R&D software program. Substituting any ingredients may change the posted nutrition information.
Tips from our bakers
These rolls reheat nicely in the microwave. Microwave briefly right before serving; test one first, to see how long it needs.
Note: For a dairy-free version of these buns, substitute margarine for the butter, and soy milk, almond milk, or rice milk for the milk called for in the recipe. Results may vary from the original.
Reviews
This recipe goes great with soup. I added 1 1/2 tsp of dried basil to the dough with 11/2 tsp of garlic powder. You should definitely try this recipe!
This is a fantastic recipe. I microwaved milk & butter to boil. Added 1/4 tsp xanthan gum & 1/2tsp baking powder. Used 1 tbsp portions, brushed with parsley & melted butter. Wish I could add photo. A definite go to...
What is the difference between tapioca flour and tapioca starch?

Thankfully, Susan, they're the same thing. Happy baking! Annabelle@KAF
Many thanks for this. I used 50% tapioca and 50% mixed gluten free mix (that I make up). I put in 1/4 tsp baking soda, 1 level tsp baking powder as well as the eggs. Lots of cheese. I added a little more liquid to get the mixture a more runny. I used muffin trays, filled 1/2. They rose very well but collapsed a bit. Apart from that they were very successful. I'll do it again for sure. I also liked how quick it was to make.
I made these at the request of our host for a dinner party because there were to be some GF guests. I used Bob's Red Mill tapioca starch since that is the brand sold locally. I was a bit apprehensive, since this was to bring to someone else's home and to share with others so I read other reviews and the KA blog and got some helpful hints. I weighed both the tapioca starch and the cheese. I was surprised how the dough came together when I added the boiled water milk mixture. First it looked curdled and then zap, a smooth elastic ball. I continued to follow the recipe and did not have to add additional tapioca starch. The buns came out looking just like the photos. I thought they were a little on the tough side, but maybe that is because they had to be microwaved just before sitting down to our meal. Maybe that is how they are supposed to be. The flavor was OK. They got gobbled up by the GF and the non GF guest. The most frequent comment was cheesy. The recipe overall was pretty simple. I probably will only make these again if I need to serve a GF crowd.
Brazilian cheese buns were requested by our dinner party host. I was glad to find a recipe on KA's site. I read many of the reviews and looked over the blog and felt I got good advice. I used Bob's Red Mill Brand tapioca starch (sold locally) and weighed the tapioca and the cheese and followed the recipe without variation. At first I thought the dough wouldn't come together and then all of a sudden the clumpy looking stuff became smooth. I did not add any extra tapioca flour. The texture seem about right but I opted to used a mini muffin pan (lightly greased with vegetable oil). Got 20 little buns that puffed up nicely. Everyone commented on the cheesy texture and they were pretty much gobbled up by those who were concerned about gluten free and those who weren't. I thought the texture was a little on the "tough" side for dinner rolls, but maybe that is how these are supposed to be. If you're looking for a gluten free roll recipe, these would certainly fit the bill
This recipe is great. I highly recommend it.
As a Brazilian, I can say these taste great, close to the originals, I'll definitely redo it! My only problem was the texture inside the cheese balls, it was really dry instead of cheesy (which got me by surprise once I read all the previous reviews), and I followed the instructions perfectly. On step number 3, when the dough is supposed to be kinda elastic, it actually had a crumbly texture, which only changed once I added the eggs. I would add another type of cheese that has the same consistency as the original "queijo minas" (which I find it in Canada by the name Baladi). Anyway, it's a good receipy
These are so delicious!! We have been GF for five years and my son was so happy to have these amazing rolls for dinner. The dough looks pretty sticky so I baked them in muffin tins and they puffed right up. Baked recipe as directed. Thanks
Followed the recipe using bobs red mill tapioca flour which produced a very liquid batter. I added about 1/2 cup more tapioca and the batter was still very loose,too loose to scoop into balls. I didn't want to alter the recipe any more so I scooped the batter into greased muffin tins and baked as instructed. They puffed and rose well and looked just like the ones in the photograph .