A customized print-friendly version of this recipe is available by clicking the "Print Recipe" button on this page.
Gluten-Free Brown Rice Flour Blend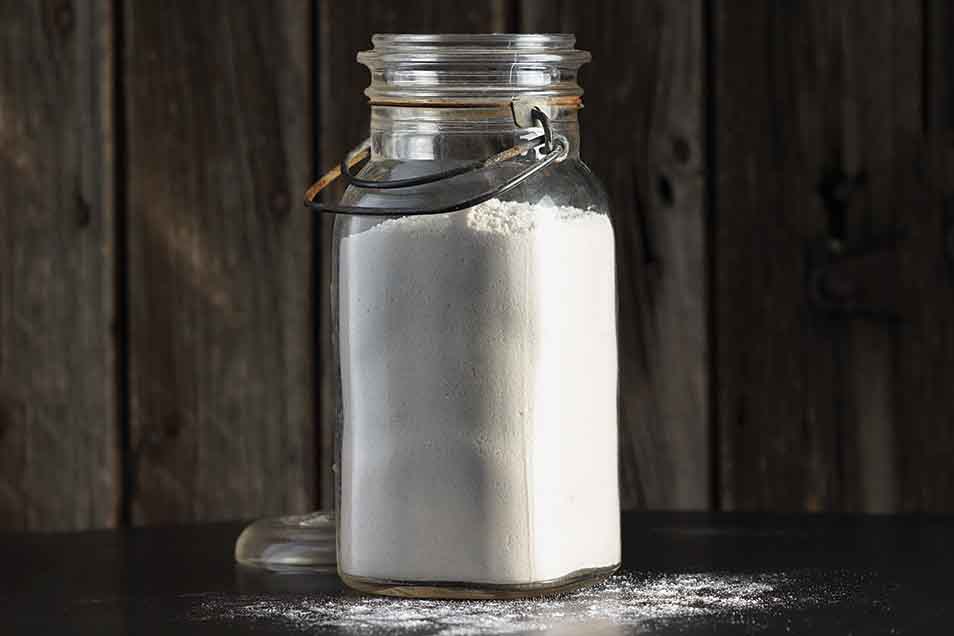 This mixture of gluten-free flours is used in many of the gluten-free recipes on this site. Featuring stabilized brown rice flour, this tastes better than a blend using regular brown rice flour; and it's much less gritty than blends using white rice flour. Enjoy!
Ingredients
6 cups stabilized brown rice flour
2 cups potato starch
1 cup tapioca starch
Instructions
Whisk all of the ingredients together.

Store airtight at room temperature for 1 month. Freeze for longer storage.
Tips from our bakers
Since brown rice flour can vary quite a bit in its grind, and thus in its volume, the most accurate way to make this blend is by weighing your ingredients, rather than measuring them with a measuring cup.
Reviews
Quick question, unfortunately I cannot tolerate potato starch. Could you recommend a substitute? Would arrowroot flour work? Thanks

Thanks for reaching out! We have a couple of things to try. First, replace the potato starch with 2 cups of medium grain or sticky rice flour. If you're unable to find either of those, change the ratio to 7 cups of brown rice flour and 2 cups of tapioca starch. Tapioca can give things an overly chewy texture, so this would be a backup option. Happy GF baking! Annabelle@KAF
I have a question before I make this. I'm not sure what stabilized brown rice flour means. Does it have ingredients other than brown rice?

Kim, our brown rice flour has been stabilized to help extend the shelf life of your baked goods, and preserve the nutty flavor and nutritional qualities of the flour. The only ingredient in this product is Whole Grain Brown Rice Flour; simply look for a package that says "stabilized brown rice flour" for best results. Kye@KAF
Hello all, I would love to try this flour but I am currently living in a country where I do not find potato starch so easily even more difficult the tapioca starch. I have plenty brown rice, corn starch here and xanthan gum which I brought from Europe. How can I modify this recipe without the tapioca but keeping the qualities ?

Alyssa, tapioca is what gives gluten-free products their "stretchy-ness." Without it, the texture won't be quite right but you can try making up for the amount of tapioca flour with a 50/50 combination of rice and potato flour. The resulting blend may work well enough, but it will be inferior to the original recipe. If you can't find potato flour either, it's best to skip this recipe and look for another blend. Good luck! Kye@KAF
This recipe is excellent and works every time. I use the gram measurements but never noticed that the ounces for the brown rice flour should be 32, the whole bag.
Thanks for having such a sharp eye! You are correct, the brown rice flour amount should be 32 ounces. We will correct this on the recipe. Barb@KAF
Made this GF flour blend, then used it to make the GF sandwich bread. I made half of the flour blend recipe and stored left-over blend in an airtight container, in the fridge. The taste of the bread was incredible, and the aroma was divine. I am very happy with this flour blend, and I thank you for offering it on your website.
Good blend, use it in everything! I was wondering if substituting the Hi-Maize would be possible to increase the fiber and if so, would it be substituted for the potato or tapioca starch (or a little of both). Any ideas? Thanks!
What I recommend you do is make the blend as written and when you are ready to bake, substitute 1/4 to 1/3 of the blend with hi maize fiber in your favorite recipes. Elisabeth
This is the best gluten free flour recipe that I have ever found. Twice I accidentally grabbed this gluten free flour instead of my all purpose white flour and made waffles and muffins and both were outstanding. I didn't use guar gum or xanthan gum because I thought I was using regular flour. I thought the consistency was odd on the waffles and the recipe didn't make as many but they were just as light as the regular ones and my husband liked the ones made with this combination of flours more than regular flour. The muffins turned out perfect as well. Best of all, I also got to eat my mistake!
We use this flour for everything. It tastes fantastic - nobody can tell a difference between our GF baked goods and "regular" flour ones. The texture is pretty soft, but it's held up well in breads, scones and similar recipes. We buy the ingredients in bulk and keep this stuff in the freezer - powdered gold!!!
I love this! I made it this morning using King Arthur Brown Rice Flour and used the finished product in Orange Cranberry Muffins. The muffins were beautiful with a fabulous texture. I will be using this recipe many times over.