A customized print-friendly version of this recipe is available by clicking the "Print Recipe" button on this page.
Gluten-Free Carrot Cake with Cream Cheese Frosting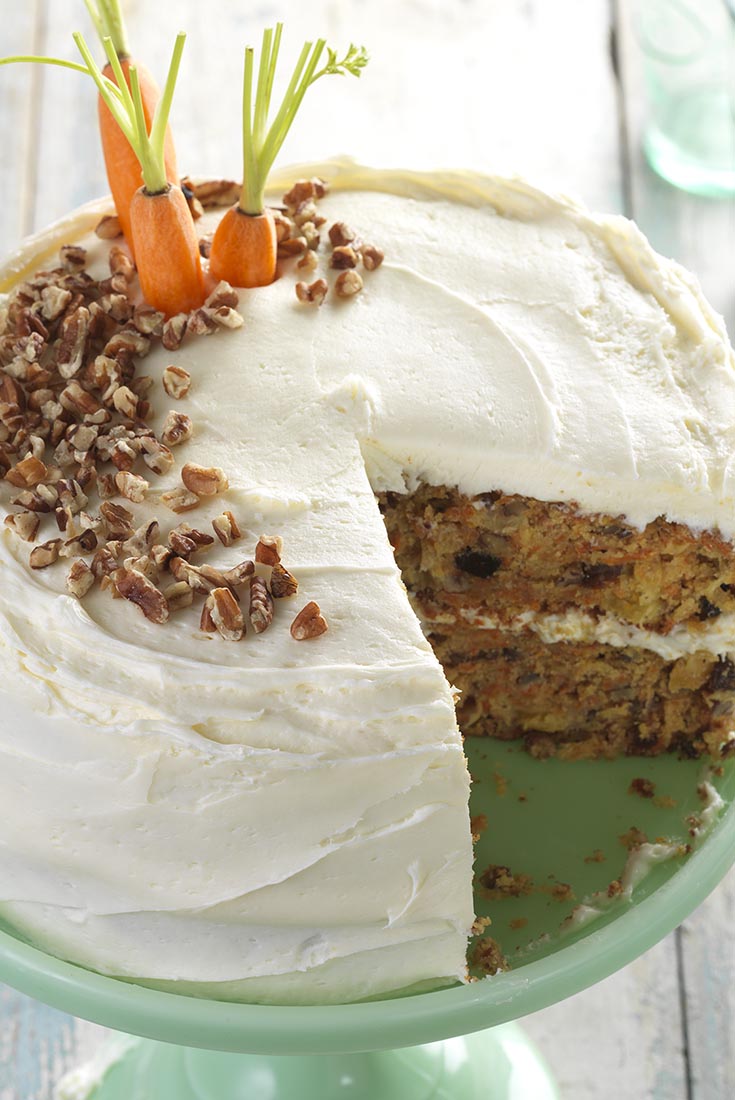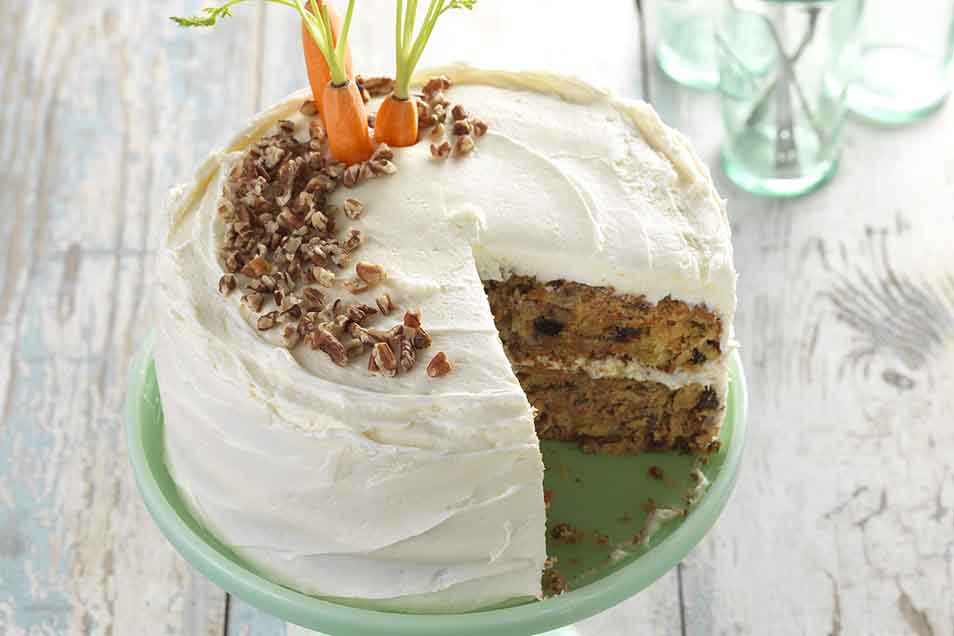 Moist, delicious, and full of tasty ingredients, this cake — made from our easy mix — doubles as formal dessert or casually delicious afternoon pick-me-up.
Ingredients
Cake
1/2 cup vegetable oil
4 large eggs
4 1/2 cups (1 pound) shredded carrots
1 teaspoon ground cinnamon
1/2 teaspoon ground ginger
1/4 teaspoon ground cloves
1 box King Arthur Flour Gluten-Free Yellow Cake Mix
1/2 teaspoon baking soda
1 cup raisins
1 1/2 cups finely chopped pecans or walnuts
20-ounce can crushed pineapple, drained, optional*
*Or substitute pineapple rings or chunks, drained and chopped
Frosting
1/2 cup (8 tablespoons) unsalted butter
8-ounce package cream cheese
1/4 teaspoon salt
2 teaspoons vanilla OR 1/2 teaspoon Fiori di Sicilia
2 1/2 to 3 1/2 cups glazing sugar or confectioners' sugar
milk or cream to adjust frosting's consistency, if necessary
Instructions
Preheat the oven to 350°F. Grease two parchment-lined 8" round cake pans; one 9" x 13" rectangular pan; or the wells of one muffin tin (12 muffin cups). Or line the muffin tins with papers, and spray the insides of the papers.

Beat together the oil, eggs, carrots, and spices.

Whisk the cake mix with the baking soda; stir into the bowl with the wet ingredients.

Add the raisins, nuts, and pineapple (if you're using it). Mix until blended.

Spoon (or pour) the batter into the prepared pan(s).

Bake the cake layers for 60 minutes; the 9" x 13" pan for 50 minutes; or cupcakes for 30 minutes. The cake should be brown and firm on top, with an internal temperature of 212°F.

Remove the cake(s) or cupcakes from the oven, and allow to rest for 5 minutes before turning out of the pan onto a rack to cool. Frost when completely cool.

To make the frosting: Beat the butter and cream cheese together until smooth.

Add the salt and vanilla; beat in the sugar.

Beat in an additional teaspoon of milk or cream if the frosting is too stiff to spread; beat in more sugar if it's too thin.

Spread the frosting over the cake layers and stack them, then frost to cover; or spread frosting onto the 9" x 13" cake, or onto the cupcakes.

Yield: two 8" rounds; one 9" x 13" cake; or 24 cupcakes.
Reviews
I made this cake for my husband's birthday because two family members are gluten-sensitive. It was easy to make and even easier to eat! One guest stated that it was the best carrot cake he'd ever eaten and asked for a big chunk to take home. Because GF cakes often rise less than wheat flour cakes, I baked it in cake pans that were slightly smaller--possibly 7.5"--than my regular pans and the batter filled them more than 2/3 full. In the end, I had two thick layers and the finished cake was very pretty. My husband said that he would be happy to have that cake any time.
This has become a favorite in my house. My grandson doesn't like pineapple but he liked it in this cake. It is so moist. I just amped up the spices a bit because we like our carrot cake a bit more spice flavored. Most of my baked goods recipes are now coming from KAF. They are the best!!
OMG...we love this carrot cake!! It's moist, flavorful and the best gluten free carrot cake that I have made yet. And the cream cheese frosting is delicious. I just add a 1/2 tsp more of cinnamon in the cake batter and not as much 10x powder in the frosting. None of my family can tell that it's gluten free.
I love King Arthur GF products. I'm sure the regs are wonderful too, but since I have celiac, I have to focus on what's possible safely. And King Arthur's is my gold standard when it comes to GF baking. With this particular recipe there maybe too much ginger and not enough cinnamon, just personal preference. And I totally goofed and bought baby carrots to shred. After an hour of shredding I gave up with just about 3 cups of carrots. My cake will be no worse off though, it is a bountiful batter with all the raisins and nuts and pineapple lacing through it. Ive never heard of pineapple in carrot cake, but all these other rave reviews convinced me to give it a go. It was a winning end to a dinner I made my parents for helping my fiancee and I move. The carrot cake has a moist substantial body, and the spices warmed up the flavor of the carrots and nuts, and gave a proper turbo boost to a yellow cake mix. Hail to the King!
Made this for Easter and everyone raved about it. I add carrot, pineapple, raisins and shredded coconut. So nice to have a gluten free dessert that I love to eat. My father in law also loved it so I made him one for Father's Day, and he doesn't even have to eat gluten free.
Of course I didn't add raisins or the nuts since we don't like them in our cakes but this is the best carrot cake!! I baked two 8 inch rounds for 50 minutes as I have the double oven and the top oven cooks faster. The cream cheese frosting is the best I have ever made. I highly recommend this recipe.
I made this cake for a birthday party for someone who has an allergy to gluten. Everyone at the party loved it- there was only one piece let. You couldn't even tell it was gluten free. The only trouble I had was finding the cake mix. (I had to go to 3 grocery stores.) I will DEFINITELY make this again. Another fabulous GF recipe from King Arthur Flour.
Absolutely wonderful cake! Added pecan cream filling from my favorite "Commissary Carrot Cake " recipe (made with King Arthur gluten free flour) and toasted coconut on the sides. It was a huge hit at a bridal shower, no one could believe it was gluten free. Oh, I did soak the raisins in the pineapple juice first and made 3-9" round layers. Yummy!
This was a great recipe. I made it for a dinner party at a friend's house, who must eat gluten free. I really liked the spices and the addition of crushed pineapple. The amount of carrots is a lot higher than other recipes, and I really liked it! The only thing that I would change is the frosting. I used 2.5 cups sugar (the low end of the suggested range), and everyone thought it was too sweet. I will probably cut back on the sugar next time.
I made this recipe exactly as written except for one thing. I used the pineapple juice to soak my raisins in and included the juice into the recipe.It made two thick 8 1/2 inch layers and I lowered the temp to 325 degrees as my oven tends to cook a tiny bit hot.I cooked them for 50 minutes and tested them for an internal tempurature of 212. They were perfect. Next time I will make three layers out of the recipe and double the frosting. This cake is so good that over 24 hours later it still has an amazing crumb and is still moist. My husband has been eating it so much that he has eaten half the cake now by himself. I would truly recommend this cake to anyone. Great Job King Arthur. Thank you so much.