A customized print-friendly version of this recipe is available by clicking the "Print Recipe" button on this page.
Gluten-Free Carrot Cake with Cream Cheese Frosting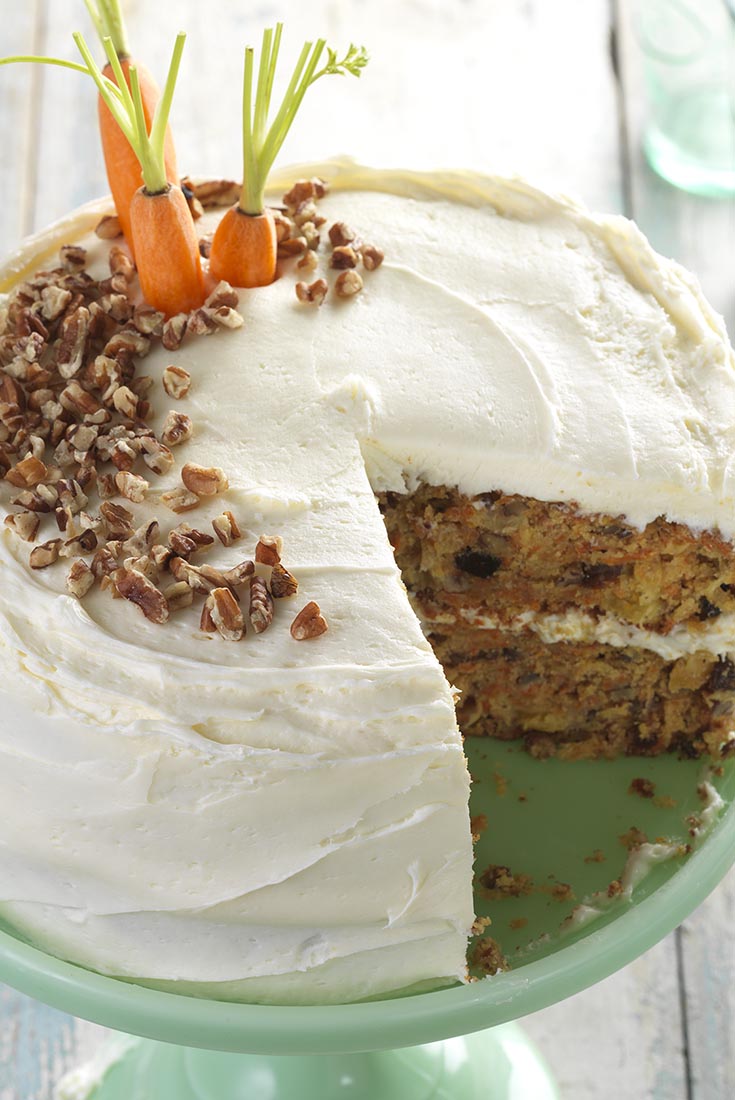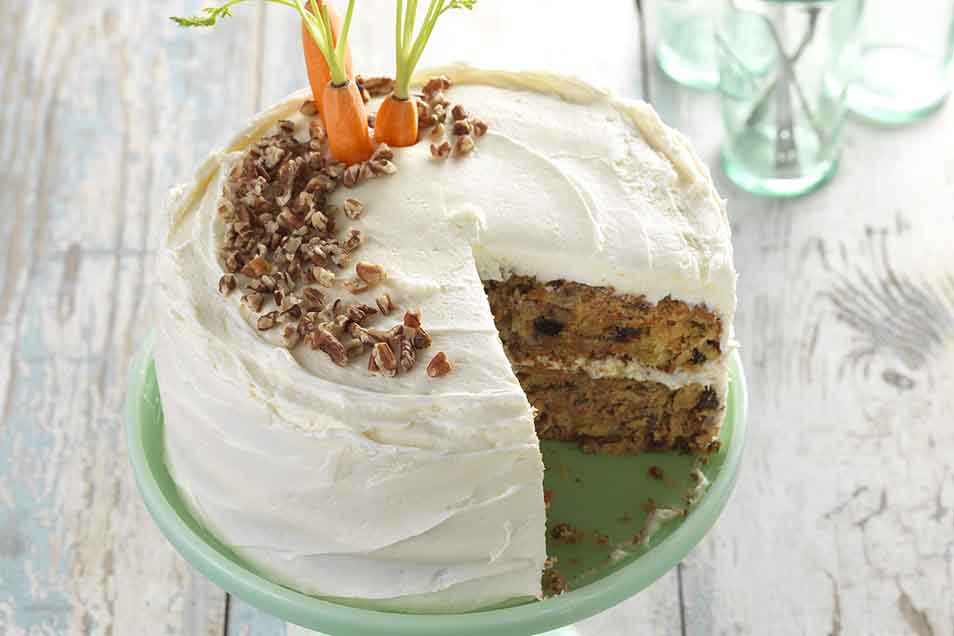 Moist, delicious, and full of tasty ingredients, this cake — made from our easy mix — doubles as formal dessert or casually delicious afternoon pick-me-up.
Ingredients
Cake
1/2 cup vegetable oil
4 large eggs
4 1/2 cups (1 pound) shredded carrots
1 teaspoon ground cinnamon
1/2 teaspoon ground ginger
1/4 teaspoon ground cloves
1 box King Arthur Flour Gluten-Free Yellow Cake Mix
1/2 teaspoon baking soda
1 cup raisins
1 1/2 cups finely chopped pecans or walnuts
20-ounce can crushed pineapple, drained, optional*
*Or substitute pineapple rings or chunks, drained and chopped
Frosting
1/2 cup (8 tablespoons) unsalted butter
8-ounce package cream cheese
1/4 teaspoon salt
2 teaspoons vanilla OR 1/2 teaspoon Fiori di Sicilia
2 1/2 to 3 1/2 cups glazing sugar or confectioners' sugar
milk or cream to adjust frosting's consistency, if necessary
Instructions
Preheat the oven to 350°F. Grease two parchment-lined 8" round cake pans; one 9" x 13" rectangular pan; or the wells of one muffin tin (12 muffin cups). Or line the muffin tins with papers, and spray the insides of the papers.

Beat together the oil, eggs, carrots, and spices.

Whisk the cake mix with the baking soda; stir into the bowl with the wet ingredients.

Add the raisins, nuts, and pineapple (if you're using it). Mix until blended.

Spoon (or pour) the batter into the prepared pan(s).

Bake the cake layers for 60 minutes; the 9" x 13" pan for 50 minutes; or cupcakes for 30 minutes. The cake should be brown and firm on top, with an internal temperature of 212°F.

Remove the cake(s) or cupcakes from the oven, and allow to rest for 5 minutes before turning out of the pan onto a rack to cool. Frost when completely cool.

To make the frosting: Beat the butter and cream cheese together until smooth.

Add the salt and vanilla; beat in the sugar.

Beat in an additional teaspoon of milk or cream if the frosting is too stiff to spread; beat in more sugar if it's too thin.

Spread the frosting over the cake layers and stack them, then frost to cover; or spread frosting onto the 9" x 13" cake, or onto the cupcakes.

Yield: two 8" rounds; one 9" x 13" cake; or 24 cupcakes.
Reviews
I made this carrot cake recipe for Father's Day. Everyone loved it and didn't believe it was GF until I served myself - I'm the only one with gluten sensitivity in my family.
I made this for my husbands birthday. I found it, as did my guests, to be so moist, so flavorful, and probably the best carrot cake I have ever had. I totally recommend this recipe. If you have trouble finding the cake mix, there are other brands of GF yellow cake.
I made this for my husbands birthday. I found it, as did my guests, to be so moist, so flavorful, and probably the best carrot cake I have ever had. I totally recommend this recipe. If you have trouble finding the cake mix, there are other brands of GF yellow cake.
Has anyone substituted apple sauce for the oil? I typically don't use oil in baking, but am concerned about this as I only get one shot and I can't screw up our Mother's Day dessert!!

Hi there! It should be okay to substitute applesauce for half of the oil, but we haven't tested it replacing it completely so it would be a bit of an experiment. Annabelle@KAF
I used Craisins instead, followed the recipe exactly. The best EVER cake. I bake the cake in a 9 x 13 pan, for church fellowship for 2 of us who are GF. And the rest of the unknowing crowd devours the cake. Superb mix. I can always trust KAF for delicious and safe, medically, for me.
I had very short notice that I needed to make a carrot cake for a birthday party. I'm a HUGE fan of KAF gluten free mixes so I grabbed a box of the vanilla cake mix and a variety of mix-ins and made cupcakes as soon as i got home. I added pecans, coconut and mixed fruit including golden raisins and dried cherries, and it was a huge hit. Can't say enough good things about KAF gluten free mixes!
I made this for a Wedding Shower and it was a Big Hit. !! Loved by all and the bride is GF. I am wondering if this same cake could be made in a bundt pan? Any one try that ? Just curious.

It isn't something we've tried, Joko, and we'd only worry that the cake might not come out in one piece. It's certainly worth experimenting with though. Worst comes to worst, take all of the carrot cake pieces and make a delicious trifle out of them! Annabelle@KAF
Very good, excellent esp. considering that it was semi-homemade. I added 1 tsp. orange rind, grated 3 cups very fine carrots, and 1 cup processed sweet coconut, and I added one 8 ounce can of drained crushed pineapple instead of the 20 ounce can. I used one of my favorite canned frostings for ease. And since I have 8 ' cake pans which are a little duller or slightly darker I baked them for 30 minutes at 350 degrees and the last 15 or 17 minutes at 325 for a total of 45 to 47 minutes. A heavy cake almost like a fruit cake. My husband loves fruit cake and loved it. We both love carrot cake and it was great.
I'm joining the bandwagon :) This recipe was delicious and the whole family loved it. I think it's the pineapple that makes it so moist. Will definitely make again!!!
This is for the cake only, because I used my go-to cream cheese frosting. I omitted the raisins and baked in three 6 inch pans, but otherwise made as directed. This recipient is winning! I am not a GF eater or baker. I made this to accommodate a friend. It was fantastic and nothing about it tastes off or grainy. I was on the fence abiut using a cake mix, but am really happy I went with this great job KAF, as always.