A customized print-friendly version of this recipe is available by clicking the "Print Recipe" button on this page.
Gluten-Free Carrot Cake with Cream Cheese Frosting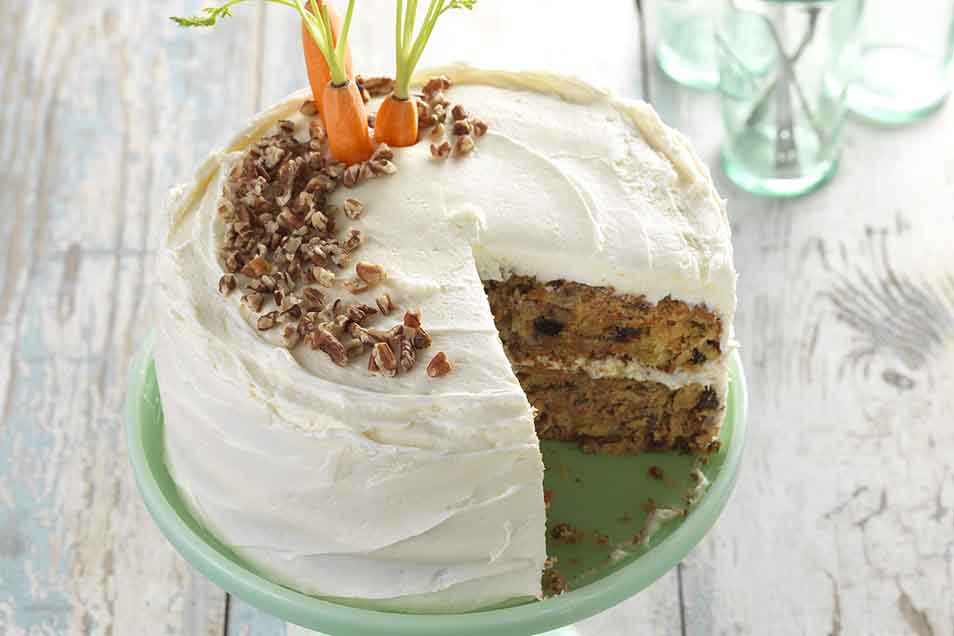 Moist, delicious, and full of tasty ingredients, this cake — made from our easy mix — doubles as formal dessert or casually delicious afternoon pick-me-up.
Ingredients
Cake
1/2 cup vegetable oil
4 large eggs
4 1/2 cups (1 pound) shredded carrots
1 teaspoon ground cinnamon
1/2 teaspoon ground ginger
1/4 teaspoon ground cloves
1 box King Arthur Flour Gluten-Free Yellow Cake Mix
1/2 teaspoon baking soda
1 cup raisins
1 1/2 cups finely chopped pecans or walnuts
20-ounce can crushed pineapple, drained, optional*
*Or substitute pineapple rings or chunks, drained and chopped
Frosting
1/2 cup (8 tablespoons) unsalted butter
8-ounce package cream cheese
1/4 teaspoon salt
2 teaspoons vanilla OR 1/2 teaspoon Fiori di Sicilia
2 1/2 to 3 1/2 cups glazing sugar or confectioners' sugar
milk or cream to adjust frosting's consistency, if necessary
Instructions
Preheat the oven to 350°F. Grease two parchment-lined 8" round cake pans; one 9" x 13" rectangular pan; or the wells of one muffin tin (12 muffin cups). Or line the muffin tins with papers, and spray the insides of the papers.

Beat together the oil, eggs, carrots, and spices.

Whisk the cake mix with the baking soda; stir into the bowl with the wet ingredients.

Add the raisins, nuts, and pineapple (if you're using it). Mix until blended.

Spoon (or pour) the batter into the prepared pan(s).

Bake the cake layers for 60 minutes; the 9" x 13" pan for 50 minutes; or cupcakes for 30 minutes. The cake should be brown and firm on top, with an internal temperature of 212°F.

Remove the cake(s) or cupcakes from the oven, and allow to rest for 5 minutes before turning out of the pan onto a rack to cool. Frost when completely cool.

To make the frosting: Beat the butter and cream cheese together until smooth.

Add the salt and vanilla; beat in the sugar.

Beat in an additional teaspoon of milk or cream if the frosting is too stiff to spread; beat in more sugar if it's too thin.

Spread the frosting over the cake layers and stack them, then frost to cover; or spread frosting onto the 9" x 13" cake, or onto the cupcakes.

Yield: two 8" rounds; one 9" x 13" cake; or 24 cupcakes.
Reviews
I have a lot of experience with home baking and some experience with gluten free baking as my sister has celiac disease. I think this recipe would be perfect if it didn't say the pineapple was optional, or actually suggested a replacement that wasn't just another style of pineapple. I had a feeling not using such a large amount of wet ingredient and not replacing it wasn't a good idea. So, comparing to another recipe with great reviews, to replace the pineapple I used 3/4 cup oil instead of the suggested half, and I added 8 oz unsweetened applesauce. Came out perfect. I'm very surprised how much better this mix is than other gluten free ones I've tried. Baked in two 9 inch pans and it was plenty of batter. I used walnuts, but not raisins. I also used a 16 oz bag of baby carrots and chopped them in a food processor. No cleaning, peeling, or shredding. Just dump them in and cover with water a few inches over the tops, pulse until they're very small pieces, and drain. Makes carrot cake 10x easier :)
Made this mostly as-written and it was delicious. I think the only adjustment was adding a little more spices and a tablespoon or two of freshly grated ginger root tossed in. I did use the optional crushed pineapple. The frosting did need a couple more cups of powdered sugar added to stiffen up a bit. The cake was super chunky and moist and kept moist for several days in a covered carrier on the counter. We froze half of it to enjoy later, but it was so good that it might find its way out of the freezer sooner rather than later! Great cake! Thanks for the recipe!
This is a fabulous cake! I made it for our family's Easter dinner. It was requested again, this time for Thanksgiving!
Very tasty recipe, I used fresh pineapple (blenderized). Only small problem was that it took more like 35-37 minutes for the cupcakes to cook all the way through. Also, since I'm a little new to GF cooking, didn't anticipate that they wouldn't rise quite as high as regular flour does. But they taste great! Icing is amazing too.
We do not need to be gluten free in our household, but I tried this cake at a work meeting one day and immediately knew I needed the recipe! My husband loves carrot cake, but is hesitant to try anything "new fangled"!! I made the cake, neglecting to tell him it was gluten free ( haha). He proclaimed it the best he had ever had! I then told him the recipe.....he didn't care, as he took another piece! It is moist, flavorful and delicious. I did make it one time with a "regular" cake mix and it came out equally well. For those leaving out the pineapple, you don't even really taste the pineapple, but I think it adds more moisture to the cake. Just be sure to drain it well.
Just made this carrot cake recipe for my daughters bday. Turned out great! I did omit raisins & nuts and used Kite Hill almond cream cheese in the frosting to make it dairy free. We also sub melted coconut oil for vegetable oil. Cake was DELICIOUS!!! Moist and full of flavor. Everyone loved it. This will be added to our list of faves and made again! Highly recommend it. Served cold out of fridge.
Came out soggy and did not taste good. I am sorry i made this, I threw it out. Waste of money.

We're sorry to hear that this well-loved recipe didn't do the trick for you, Gina. If we can help pick out a recipe that better fits your tastes, or help troubleshoot this one, please give our Baker's Hotline a call at 855-371-BAKE. Kindly, Annabelle@KAF
Really delicious. Can you substitute flax "eggs" in this recipe? Thank you

We haven't tested it, Elizabeth, but we bet it will be just as delicious with a flax egg substitute! Annabelle@KAF
I made this carrot cake recipe for Father's Day. Everyone loved it and didn't believe it was GF until I served myself - I'm the only one with gluten sensitivity in my family.
I made this for my husbands birthday. I found it, as did my guests, to be so moist, so flavorful, and probably the best carrot cake I have ever had. I totally recommend this recipe. If you have trouble finding the cake mix, there are other brands of GF yellow cake.