A customized print-friendly version of this recipe is available by clicking the "Print Recipe" button on this page.
Gluten-Free Cheese Crackers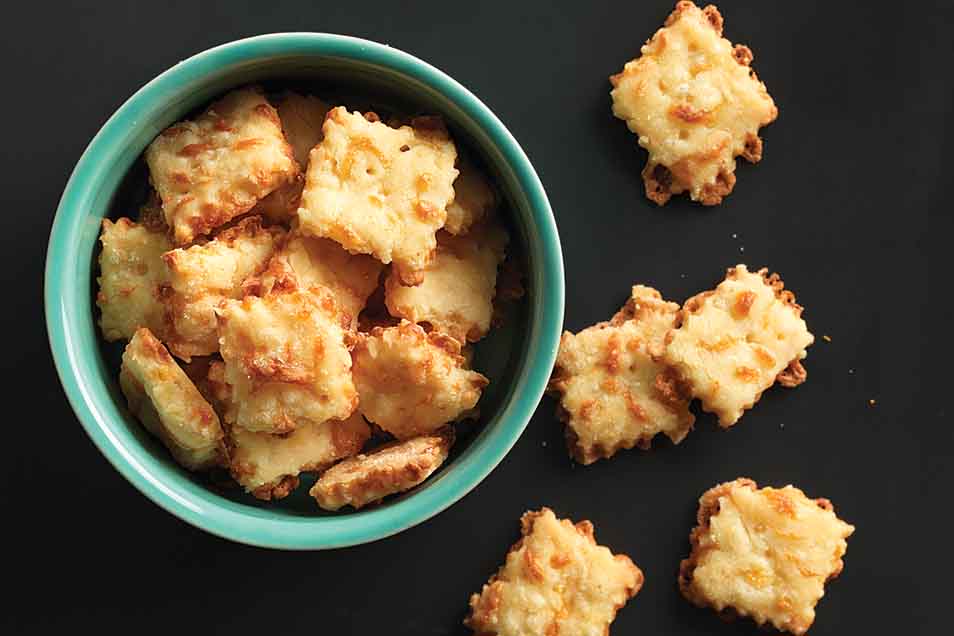 Who can resist crunchy cheese snack crackers? Our gluten-free version is a dream come true for those following a GF diet. These light, crunchy crackers, with in-your-face cheese flavor from fresh cheddar, are positively addictive. Our thanks to reader Stephanie Kay for suggesting these crackers, on behalf of her daughter — who was very much missing Cheez-Its® on her GF diet!
Ingredients
1 1/2 cups King Arthur Gluten-Free Multi-Purpose Flour or brown rice flour blend*
1 teaspoon baking powder
1/2 teaspoon xanthan gum
3/4 teaspoon salt
1/2 teaspoon dry mustard
1/8 to 1/4 teaspoon cayenne pepper**
paprika (optional, for color; start with 1/4 teaspoon, adding more for deeper color)
1/2 cup (8 tablespoons) unsalted butter
2 cups grated sharp cheddar cheese
1 large egg
1 tablespoon white vinegar
3 tablespoons water
*See the formula for brown rice flour blend in tips, below.
**1/8 teaspoon is discernible, while 1/4 teaspoon packs a moderate punch. Use more if you want a truly eye-watering experience.
Instructions
Preheat the oven to 400°F. Get out two large baking sheets; there's no need to grease them. If you have parchment, get out two pieces of parchment.

Whisk together the dry ingredients, then work in the butter until the mixture is crumbly.

Add the grated cheese and stir until thoroughly combined.

In a separate bowl whisk together the egg and vinegar until frothy, then add the water.

Add the wet ingredients all at once to the dry ingredients, mixing to make a cohesive dough. Add additional water a teaspoon at a time, if necessary to bring the dough together.

Divide the dough into two pieces, and shape each into a rough square.

Roll out one piece of dough at a time, keeping the piece you're not working with covered to prevent drying.

Lightly dust your work surface, or a piece of parchment, with gluten-free flour blend.

Roll the dough 1/4" thick, and cut into 1" squares, use a pizza or pastry wheel, a bench knife, or a plain knife. Prick each cracker with a fork.

If you've rolled on parchment, simply lift the parchment onto the baking sheet. Separate the crackers a bit, leaving about 1/4" between them, so they crisp evenly. If you're not using parchment, transfer the crackers to the baking sheet, leaving about 1/4" between them.

Repeat with the remaining piece of dough.

Bake the crackers for 12 to 16 minutes, until their edges are starting to brown.

Remove them from the oven, and cool right on the pan.

Store cooled crackers in an airtight container, or tightly wrapped in plastic.

Yield: about 15 dozen 1" crackers.
Tips from our bakers
*Make your own brown rice flour blend
Many of our gluten-free recipes use our King Arthur Gluten-Free Multi-Purpose Flour, which includes ingredients that reduce the grittiness sometimes found in gluten-free baked goods. Our flour also increases the shelf life of your treats, keeping them fresh longer.

The following make-at-home blend, featuring stabilized brown rice flour, works pretty well when substituted; and it tastes better than a blend using regular brown rice flour.

Whisk together 6 cups (28 1/2 ounces) King Arthur stabilized brown rice flour; 2 cups (10 3/4 ounces) potato starch; and 1 cup (4 ounces) tapioca flour or tapioca starch. Store airtight at room temperature. Note: You can substitute white rice flour for the brown rice flour if you like; it'll make your baked goods grittier (unless you manage to find a finely ground version).
Be sure to taste your supply of cayenne pepper before deciding how much to add; we had two varieties in the test kitchen and the level of heat was very different between the two.
Not baking gluten-free? Enjoy our Crunchy Parmesan Crackers.