A customized print-friendly version of this recipe is available by clicking the "Print Recipe" button on this page.
Gluten-Free Chewy Granola Bars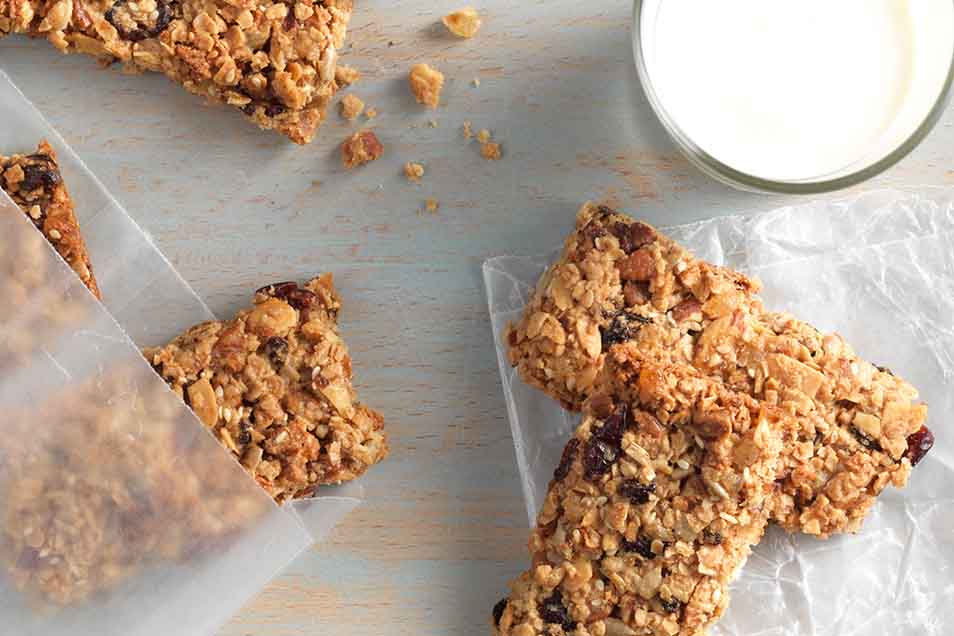 These chewy-style granola bars are quick and easy to make and can be custom-made to suit your flavor preferences. They're the perfect take-along snack to keep you energized for your favorite activities.
Ingredients
1 2/3 cups quick rolled oats
1/2 cup oat flour
1/3 cup sugar
1/2 teaspoon salt
1/4 teaspoon cinnamon, optional
2 to 3 cups dried fruits and nuts, chopped/diced
1 teaspoon vanilla extract
6 tablespoons melted butter or vegetable oil
1/3 cup honey, maple syrup, or corn syrup
1 tablespoon water
Instructions
Preheat the oven to 350°F. Lightly grease a 9" x 13" pan.

Stir together all the dry ingredients, including the fruit and nuts. For best texture and easiest cutting, be sure the fruits and nuts are cut/chopped into small, fairly uniform pieces.

In a separate bowl, whisk together the vanilla, melted butter or oil, honey or syrup, and water.

Toss the wet ingredients with the dry until the mixture is evenly moistened.

Spread the mixture in the prepared pan, and pat down gently.

Bake the bars for 25 to 30 minutes, until they're golden brown around the edges.

Remove the bars from the oven, loosen the edges, and cool for 5 minutes.

Use a knife (or bench knife) to cut the bars while they're still warm in the pan; remove from the pan, and cool on a rack.

Wrap the bars individually to store. Alternatively, store the bars in layers with parchment in between; or place them in a single layer on a plate, and cover with plastic. In humid weather, it's best to store bars in the refrigerator. For longest storage, put individually-wrapped bars in the freezer.
Tips from our bakers
For granola bars with a hint of peanut flavor, add 1/3 cup (3 1/8 ounces) peanut butter to the dry ingredients along with the other wet ingredients.
For a crunchier bar, increase sugar to 1/2 cup (3 1/2 ounces).
Reviews
I am no stranger to making either granola or granola bars, but I have been searching for a recipe without peanut butter since my daughter doesn't like it. The first thing that jumped out at me were the large quantities of sugar and butter respectively. I decided to go ahead with the recipe as written. Sure enough, these were unpalatable. So sugary, they were sickening and greasy to no end. They also did not stick together really as bars, but that bothered me a lot less than the taste. I actually almost never throw away food, much less something I baked, but these had to go immediately. I love this website and the recipes on here, just not this one. I will stick to my peanut butter granola bars from now on

We're sorry to hear that this recipe wasn't a good fit for you, Katie. You may like to check out our Coconut, Fruit & Nut Bars recipe. If we can help troubleshoot or pick out a recipe that better fits your tastes, please give our Baker's Hotline a call at 855-371-BAKE (2253). Kindly, Morgan@KAF
Love how you can add more seeds nuts and chocolate chips to this very adaptable recipe. Also powdered peanut butter is a great addition. I find it's easier to press in the pan and then cut the squares before baking. Enjoy these very much even my kids like them a big win
My first granola bake, I followed the recipe entirely, but got an excellently tasting part granola part bar. It was dry and brittle on the top and the pieces fell off. I will certainly try again with better preparation. Maybe I need to cut the nuts into smaller pieces and use some liquid like egg as mentioned in a previous suggestion. Even then this recipe is for keeps.

We hope you will try this recipe again, Sushma, because you're so close to homemade granola bar perfection! We've found that chopping the nuts and choosing mix-ins that are small in size makes a notable difference. The bars made with larger mix-ins are much more prone to crumbling. You're welcome to also try adding an egg white to the mixture if you're looking to make crunchier, more stable bars. Good luck and happy baking! Kye@KAF
Followed directions exactly. Used all listed ingredients with no substitutions. Came out like granola not bars.

Thank you for giving this recipe a try, Laurie, but we're sorry to hear that it didn't come out the way you'd hoped. We'd love the chance to talk through the recipe with you, so we encourage you to reach out to our free and friendly Baker's Hotline staff to help troubleshoot at 855-371-BAKE (2253). Kindly, Annabelle@KAF
Four stars cuz they didn't stay together well, but i did get bars. I didn't read the reviews beforehand. I added 2.5 cups of dried stuff. I also added about 1/3 cup of peanut butter, maybe not enough. I cut back the sugar. My dried stuff was 1/2 cup each: pumpkin seeds, sunflower seeds, dark chocolate chips, chopped dates, and then a mix of hemp and Chia seeds. They're bloddy delish, but fragile.

Delicious bars are just what we're aiming for, Stacey! We hope we can also help make them more hardy so you can treat them like real granola bars. You might want to experiment with adding an egg to the oat mixture to see if helps them set up more fully. Happy baking! Kye@KAF
Outstanding! I didn't have oat flour, so I substituted with almond flour and it was PERFECT. For the nuts and fruits, I added 1/2 C sunflower seeds, 1/2 C dried cranberries, 1/2 C crushed pecans, and 1/2 C sliced almonds for a more protein packed bar. I used maple syrup instead of honey. It's true, these are crumbly *while even slightly warm*, but if you let them sit until completely cooled, they should firm up nicely. I got 20 bars out of them (about half a 13 by 9 pan at around 1/2 thick)
Great recipe! After reading all the reviews I knew I could make some modifications. It all started with bananas...i didn't have enough for banana bread : ) . So I substituted one banana for 2 tbs butter...added cranberries, walnuts and pumpkin seeds. Wow! They are so good! The bars held up well. I think the bananas helped. Can't wait to try coconut, macadamia and dark chocolate!
Saw this recipe on the back of a bag of KAF oat flour and gave it a try. I added a lightly beaten egg and used brown sugar (just a personal taste preference) as opposed to granulated sugar. The bars held together very well, we're moist and were quite tasty! Next time I will bake them for 25 minutes instead of 30. I like the recipe as you can change it up by using different dried fruits and nuts each time.
I made these today. I was so tired of the store bought bars. These came out perfect! I followed recipe and had no problems. I did notice that someone below had suggested only 25 mins. to bake and I did that. I cut them into bars and had no problem with that. I used dried cherries and cranberries this time, will try some other fruit combo next time. Yes! there will be a next time for this recipe! Thanks KAF!
I made these today by swapping out the sugar for 1/3c of organic brown rice syrup and I used honey for the other 1/3c.. I eliminated the water because of having 2 liquids for sweeteners. I used just under 2 c. of extras.. mine were dried cranberries and golden rains with a couple tablespoons of choc chips. After mixing I used the 9 x 13 pan with parchment. After patting it in the pan I left it set for about 30 min for the liquids to soak into the oats. I baked it for 25 min ( next time I would try 22 since the raisins started to smell like they were burning) After about 1 minute I lifted the parchment with mixture out to a cutting board where I gently cut the bars and then transferred them to a cooking rack. I got 24 bars and some crumbles. Cooled bars 1 hour. Drizzled with vanilla bark coating. All of your trials were very helpful and then today I called a King Arthur rep and talked out my ideas with her. By leaving out hard items like nuts I think it really helped in keeping this together.