A customized print-friendly version of this recipe is available by clicking the "Print Recipe" button on this page.
Gluten-Free Chocolate Cake or Cupcakes made with baking mix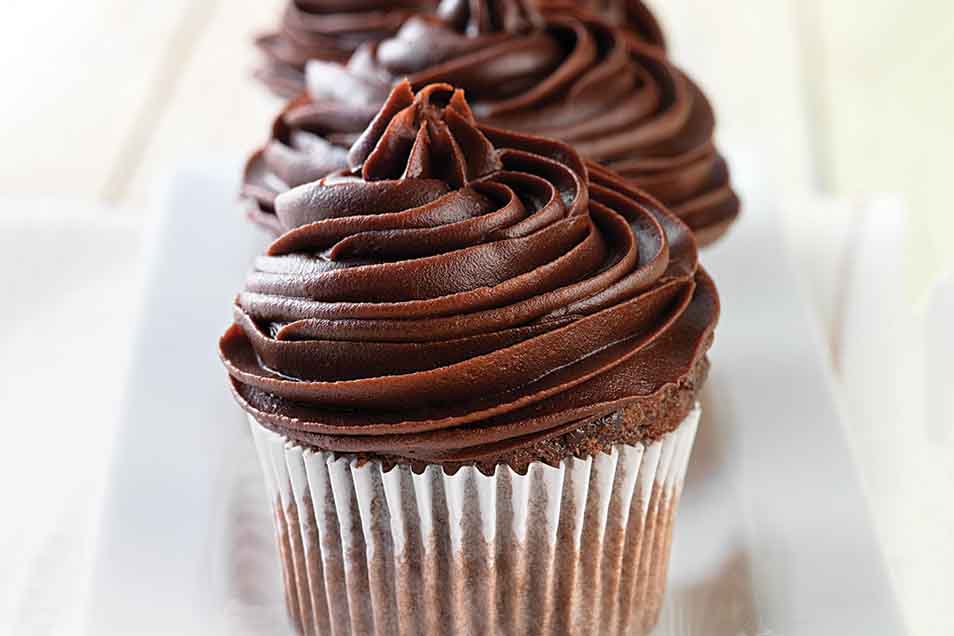 A tender, light chocolate cake perfect for adults and children, and ideal for snacking and celebrating! Double the recipe and bake two layers for a delicious birthday cake.

Note: Please read and follow the recipe carefully; it calls for our gluten-free all-purpose baking mix, NOT our gluten-free multi-purpose flour.
Ingredients
1 cup King Arthur Gluten-Free All-Purpose Baking Mix*
1/2 cup Dutch-process cocoa
1 cup sugar
1/4 cup or 4 tablespoons softened butter
1/4 cup vegetable oil
1 teaspoon vanilla extract
3 large eggs
1/2 cup water
*Make sure you use our gluten-free BAKING MIX — NOT our gluten-free flour.
Instructions
Preheat the oven to 350°F. Lightly grease an 8" square or 9" round pan; or line 12 muffin cups with cupcake papers, and spray the insides of the papers with non-stick vegetable oil spray.

Whisk together the baking mix and cocoa.

Beat the sugar, butter, vegetable oil, and vanilla together until well blended and lighter in color.

Add the eggs one at a time, mixing until just incorporated after each addition.

Stir in the baking mix alternately with the water.

Spread the batter into the prepared pan. For cupcakes, scoop batter by level 1/4 cupfuls into the prepared muffin tins; a muffin scoop works well here.

Bake the cake until a cake tester or toothpick comes out clean and the middle springs back when pressed lightly, 35 to 40 minutes for a layer, or 20 to 22 minutes for cupcakes.

Remove the cake from the oven, and set it on a rack. Allow it to cool for 5 to 10 minutes before removing it from pan.

Cool another 5 to 10 minutes before cutting into squares; or cool completely before frosting.

Yield: Yield: one 8" square cake, one 9" round cake, or 12 cupcakes.
Reviews
My Go-To Gluten Free Chocolate Cupcake recipe! I have made this recipe many times. So far no one has noticed that they're gluten free (don't let them see the ingredients.) Our very favorite is to fill the baked cupcakes with jello cheesecake pudding. I use a little hole cutter tool but I imagine you could just cut a slit in cooled cupcake and pipe it in like a frosting filling ;-)
Does anyone know if King Arthur gluten free flour is same thing as baking mix

Hi there, fellow baker. The Gluten-Free Baking Mix is different than our Gluten-Free All-Purpose Flour. The Baking Mix, (think Bisquick) includes leavener, salt, xanthan gum, and a few other ingredients. If you're looking to make a chocolate cake using the Gluten-Free All-Purpose Flour, we encourage you to look at our recipes for Gluten-Free Chocolate Cake or Gluten-Free Cake Pan Cake. Happy GF baking! Annabelle@KAF
So... I made these cupcakes for a picnic today and of course, I had to try one. Hands down the most amazing cupcakes ever (gluten or non-gluten). We don't eat dairy so I substituted Earth Balance for the butter. They came out light fluffy and delicious. I dare anyone to guess they are gluten free. It's in the vault. Thank you KA for making the best GF mixes.
I just made these for my grandchildren. I have some that eat gluten free so I wanted to find a recipe to make a birthday cake that everyone would eat and like. I made the cupcakes and we all agree they are delicious.
The taste is wonderful, but my cupcakes collapse and stick to the muffin paper cups. What am I doing wrong?

It sounds like they need another few minutes in the oven, Gloria. Gluten-free cakes and cupcakes are especially tricky to determine doneness in, but if you have an instant-read thermometer, you want the internal temperature to be between 205°F and 210°F. As for the sticking, it never hurts to give your muffin papers a quick greasing with pan spray just before adding your batter to them. Happy GF baking! Annabelle@KAF
I found this recipe on the back of a KA gluten free baking mix box and tried it after being told I was allergic to wheat and all milk products. I did substitute coconut oil for the butter,. And I usually only get one cupcake out of a dozen if the grandkids bare here. Delicious
BEST EVER Chocolate Cake!! Took this to Vacation Bible School for a treat and not a crumb came back home. This cake was so moist no frosting needed. The 'Church Ladies' were very, impressed to say the least. The kids couldn't get enough of it. A real keeper, friends. Thank You King Arthur!!
These are super! Everyone likes them and easy to make. Please put this recipe back on the box, it's great!
These turned out way better then I expected! Thanks!