A customized print-friendly version of this recipe is available by clicking the "Print Recipe" button on this page.
Gluten-Free Chocolate Chip Cake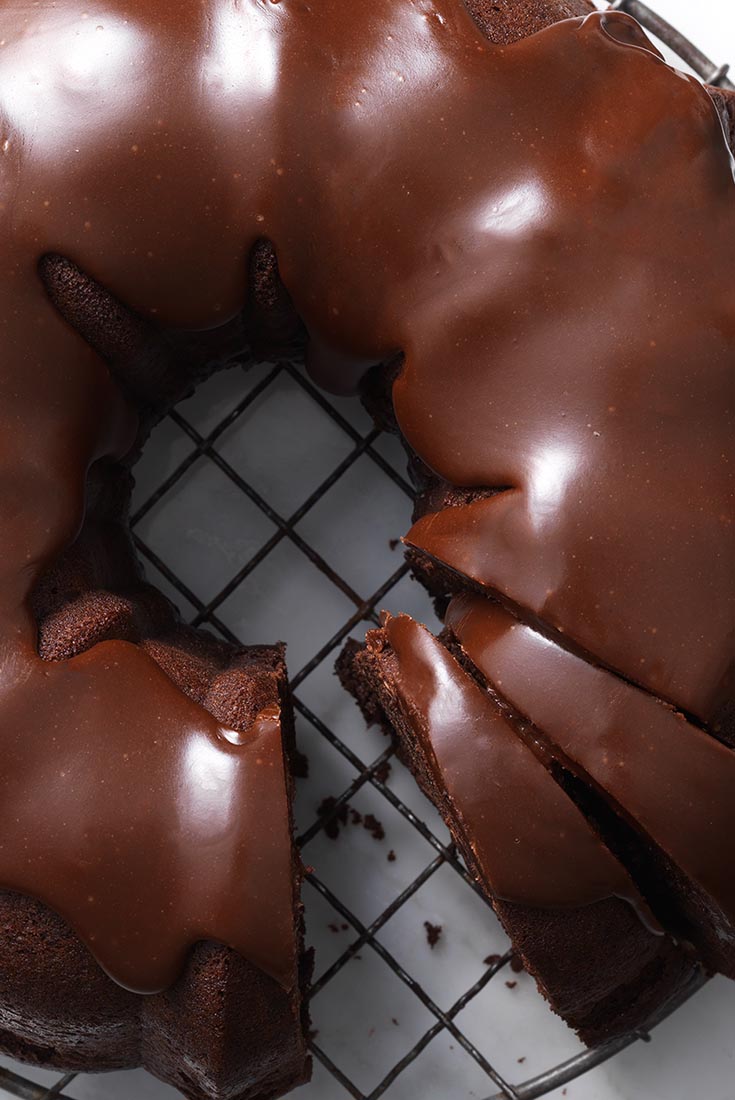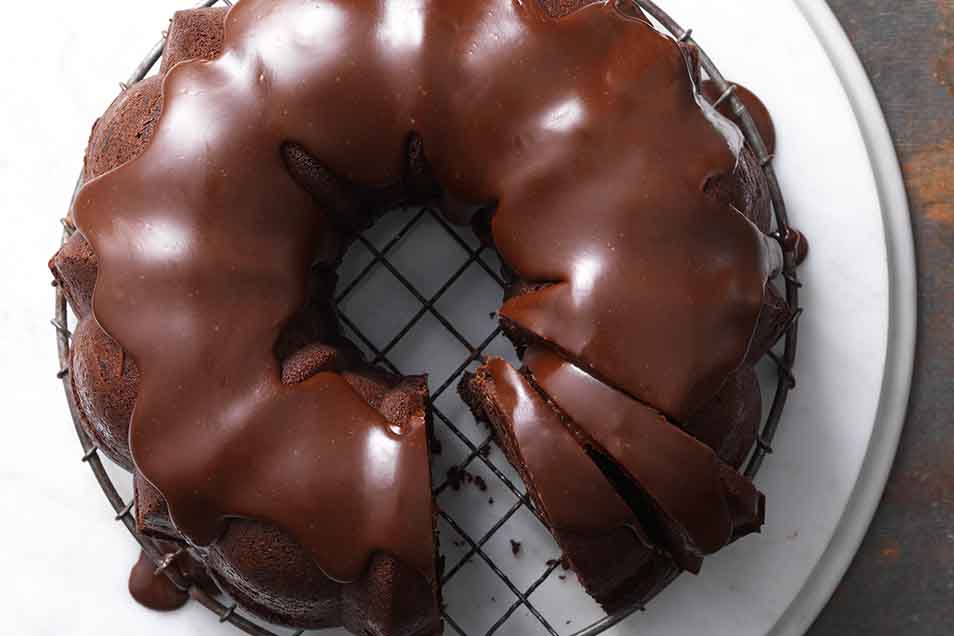 You'd never know this moist, tender, tasty cake has no gluten!
Ingredients
Cake
2/3 cup vegetable oil
4 large eggs
1 1/3 cups water
2 cups chocolate chips
*See "tips," below, for a recipe suggestion to use in place of our mix.
Glaze
1/4 cup (4 tablespoons) butter
1/4 cup light corn syrup
2 tablespoons cocoa powder, natural or Dutch-process
1 tablespoon water
1 teaspoon vanilla extract
1 teaspoon espresso powder, optional
pinch of salt
2 cups confectioners' sugar
Instructions
Preheat the oven to 350°F. Grease a full size (12-cup) Bundt or tube pan.

To make the cake: Whisk together the oil, eggs, and water.

Toss the chocolate chips with the dry mix, and then add to the liquid ingredients and stir until smooth.

Pour the batter into the prepared pan.

Bake the cake for 45 to 50 minutes (for a tube pan), or 60 to 70 minutes (for a Bundt pan), until a cake tester or toothpick inserted into the center comes out with perhaps crumbs clinging to it, but no wet batter.

Remove the cake from the oven, and after 10 minutes turn it out onto a rack.

To make the glaze: Melt the butter in a medium-sized saucepan set over low heat.

Stir in the corn syrup, cocoa, water, vanilla, espresso powder, and salt. Heat and stir until the salt dissolves.

Mix in enough confectioners' sugar to make a glaze with the consistency of thick molasses; you may not need the entire 2 cups.

Transfer the cake to a serving plate; if it's still a bit warm, that's OK.

Spoon the glaze over the cake, covering it as thoroughly as possible. Reheat the glaze briefly if it becomes too thick to pour.
Reviews
This cake exceeded my expectations. It was delicious and moist. There's no way anyone would be able to tell this was gluten-free. It came out of the pan beautifully. Did not stick at all. I'm serving it to my family and I'm the only one needing to eat gluten-free. Thank you for a product of such high quality.
I read the reviews re the top of the cake sticking to the pan . . . thought that b/c I am an experienced baker and GF baker, and b/c the King Arthur folks kept replying and saying it never happened in the Test Kitchen, that I'd be fine. Wrong. I thoroughly lubed up my bundt pan w/coconut oil (my usual b/c cakes release so well), sugared it up (b/c again, it works flawlessly) and sure enough, about 2/3 of my cake stuck to the pan. I'm left with a warty-looking, short bundt cake. I do have a bowl of DELICIOUS cake scraps. Thank goodness I did this early in the a.m. so I had time to get another cake mix so I can do this over, minus the chips. I dunno, King Arthur, the fail rate for this is VERY HIGH, I feel like there should be a red warning on this recipe that says, "proceed at your own risk!" I usually trust you guys implicitly and yet this was a complete disaster.

Hi Sarah, thanks for taking the time to share your baking experience with us. We take customers' feedback like yours to heart, so we took this recipe back to the test kitchen again to see if we could replicate (and then hopefully remedy) the sticking. We baked in both simple and intricate Bundt pans and found the cake released easily when the pans were prepared using a high-quality non-stick spray (like Everbake Pan Spray). It should be noted that using high-quality chocolate chips (check the ingredients to ensure they contains soy lecithin) will increase your chances of the cake not sticking. It's important to us at King Arthur Flour that bakers are successful, so we've also added the instructions to toss the chips in some of the dry mix to prevent them from falling to the bottom and sticking, as well as adding a tip about how to release cakes that stick. We hope you and other bakers don't need to use that resource, but it can come in handy if you end up with a stubborn cake. Kye@KAF
I absolultely love King Arthur mixes; they are the only ones I purchase. However, I had the same trouble with the top of the cake sticking in the pan due to the chips. I made this for today's Mothers Day celebration and am going to take it anyway. I also made a chocolate ganache for the topping as it is easier..thinking it would coat the top and it too turned out too thin. I love baking and am rather experienced but this recipe looks like a kindergartner made it! LOL! I wish I had read the reviews prior to baking as the cost of the ingredients is approximately $15. It is no wonder people purchase premade cakes! LOL! I have made the Almond cake with no problems...using the Yellow Cake GF mix. It was not a problem of not greasing the pan enough....

We're sorry to hear about the trouble you had with the chocolate chips sinking to the bottom of this cake, Laurie. Since several reviewers have mentioned a similar problem, our Research and Development Team recently revisited this recipe. Try as we might, we haven't been able to replicate the same problem in our Test Kitchen. A couple of factors that could potentially cause this kind of a problem are over-beating the batter and/or baking in an oven that's not quite up to temperature. If neither of these factors seem to fit in your case, feel free to give our Baker's Hotline a call, and we'll see if we can puzzle this out further together: 855-371-BAKE. Mollie@KAF
This cake is the least favorite KA recipe I have ever tried. I am a very experienced baker by the way. The cake batter is very wet, and following the directions to have a tester come out without wet batter meant that I had to bake longer than the stated time. This resulted in a very dry cake. I was also not thrilled with the flavor. The company said they liked the icing and the chips; this is because they were really high quality chocolate. ( The icing is a good recipe though. ) Anyone looking for a gluten free hit, should try the gf almond bundt cake. It is great.

We're happy to hear you confidently recommend our Gluten-Free Almond Bundt Cake, but it's too bad this chocolate cake recipe didn't stand up to the high standards set by the Bundt recipe. It's important to use King Arthur Flour Gluten-Free Chocolate Cake mix, as others might not be designed to work with the ingredients called for here. The batter should look surprisingly thin; don't worry, that's OK. If you have an instant read thermometer, you can try using that to test for doneness; look for a temperature between 205-210°F. The icing should help keep the cake pleasantly moist. We hope that helps with your GF cakes in the future. Kye@KAF
I am an experienced GF baker and made this for the first time. I followed the directions and tossed the chocolate chips in flour, something I knew from experience to do. After folding in the chips I immediately put it into a very well greased bundt pan and straight into the oven. All of the chips went straight to the bottom. When it came time to invert the cake I lost about 2/3 of the top. I think this was because of the weight and gooeyness of the sunken chips. It scraped out easily but it looks like a mess. The taste is decent, but I wish I had just made to round cakes. I don't think the box should have the bundt as an option.

We're genuinely sorry to hear you had trouble with this cake, Kim. We understand it can be frustrating when a recipe doesn't turn out as you hoped, especially when making a Bundt cake. We haven't replicated the problem you described with the chips falling to the bottom of the cake, so we're wondering if perhaps the batter was a bit thinner than intended (too much liquid added perhaps, or another kind of GF chocolate cake mix used?). We'll keep a close eye on this recipe to see if others experience trouble as well, and we encourage you to try again following the tips on our blog for preventing Bundt cakes from sticking, adding the chips to the top of the batter after it's in the pan. We hope this helps! Kye@KAF
I just made this recipe and unfortunately, it was a disaster. I followed the directions exactly and greased the pan really well. When I released the cake from the pan, a good amount of it stuck in the pan. It seemed like it was all gooey chocolate that did not come out so I assume the chips all sank to the bottom. I managed to salvage the part that did come out, and luckily, I will be able to serve it. I tasted the part left in the pan, and since it is so very, very sweet, I will just dust it with powered sugar instead of using the glaze recipe here.

We're glad to hear that you were able to make the most of a sticky situation, Karen. While we haven't had the same trouble with chocolate chips sinking to the bottom of this cake, it can help sometimes to toss add-ins like this in a bit of gluten-free flour before adding them to the batter. It's also important to bake the cake soon after pouring the batter into the pan. The longer the batter sits, the more likely the chips are to sink to the bottom. If we can help troubleshoot further, please give our free Baker's Hotline a call at 855-371-BAKE. Mollie@KAF
I made this recipe twice! I can't find King Arthur GF products where I live, so substituted Kinnikinnick GF chocolate cake mix. I am questioning if the recipe is correct...mainly the addition of 1 1/3 cups water? (if making a regular cake with this mix, it uses 2/3 water). The batter was extremely thin and watery. The cake tasted good, but did not rise at all. It stuck in the pan also, maybe cause the batter was so thin it washed away the coconut oil I used to grease the pan. Anyone else have this question?

Jacqueline, the amount of water in this recipe is correct when a King Arthur Flour Gluten-Free Chocolate Cake Mix is used. We can't vouch for your results when another brand of mix is used; it may be designed to make a different amount of batter and/or use entirely different ingredients. If you're not able to find our products in grocery stores nearby, you can always consider ordering them from our online store.

As for the sticking problem, you might find the article on our blog called, "How to prevent Bundt cakes from sticking," helpful. Good luck and happy gluten-free baking! Kye@KAF
Absolutely delicious, although I made a couple changes. I hate it when people rate something but make changes, but I dont think my changes really affected the outcome so much since its a pretty amendable recipe. The recipe isnt too overly sweet and the glaze added just enough sweet. I almost just dusted it with powdered sugar but went with the glaze and glad I did. * I had no issue getting it out of a bundt springform pan. I used coconut oil (its what I had in the house) melted and what was leftover from the recipe I used to coat the pan. And I coated it LIBERALLY and then dusted it with cocoa powder. Popped out perfectly. *I didnt have chocolate chips so I switched it to coconut. I used unsweetened coconut flakes and added about a cup if not more. *In the glaze, I used coconut extract rather than vanilla and then topped the whole think with more coconut flakes after I poured it. It sets FAST so you have to be quick to get them to stick. Recipe was a huge hit and I cant wait to try it again for a special occasion.
I had the same experience as three out of twelve of the previous reviewers. Although tasty, this cake was impossible to get out of the bundt pan. I even tried making it a second time with the same result. I made a trifle out of the pieces.

Clean and easy release can be the biggest challenge when it comes to baking beautiful Bundt cakes, Sue. One thing that can help is thoroughly greasing your pan, then coating the inside with granulated sugar. Counter-intuitively, the hot sugar will help the cake release without tearing or crumbling. If your cake still sticks, make sure you've loosened its edges with a spatula or table knife. If still no luck, put the cake in its pan back into the turned-off (but still warm) oven for 5 minutes, then try again. The cake should slip right out of the pan. Hope this helps! Mollie@KAF
This cake was so moist and chocolatey. No one besides me knew it was GF. Everyone raved. Very rich, I used less powdered sugar in the glaze as I don't like things too sweet. You will need a lot of milk to go with this one. So yummy!