A customized print-friendly version of this recipe is available by clicking the "Print Recipe" button on this page.
Gluten-Free Chocolate Cream Pie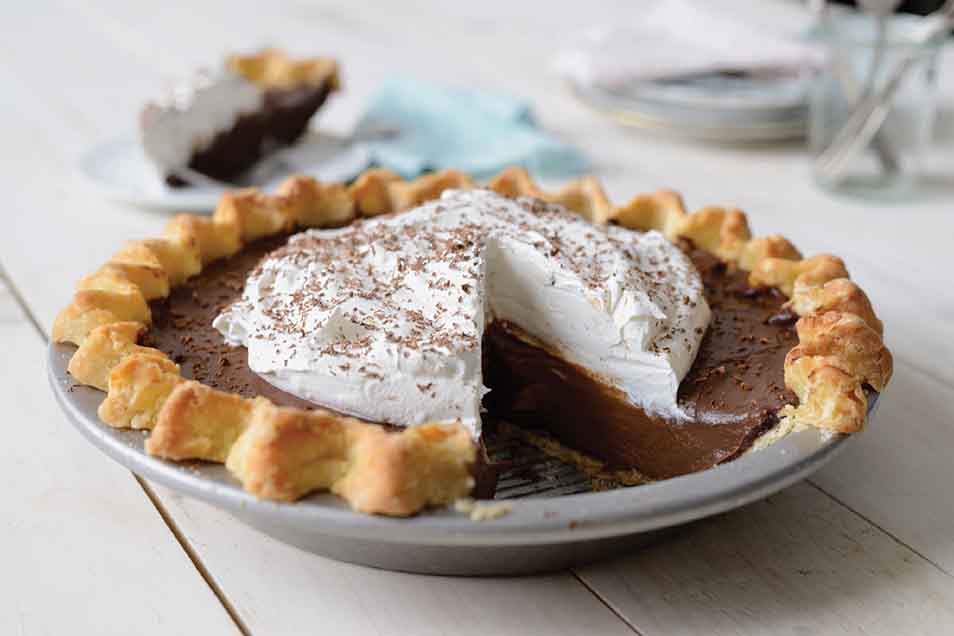 With chocolate cream pie one of the most highly rated recipes on our web site, we felt it was high time for a gluten-free version. It turns out it was a piece of cake - or pie! - converting our existing recipe. We kept essentially the same filling, and paired it with our flaky, tender, gluten-free pie crust. The result? A pie that makes everyone swoon, gluten-free or not.
Ingredients
Filling
2 tablespoons unsalted butter
1 1/3 cups semisweet chocolate, chopped; or chocolate chips
1 teaspoon vanilla extract
2/3 cup granulated sugar
3 tablespoons cornstarch
2 tablespoons unsweetened cocoa powder
1/8 teaspoon salt
3 large egg yolks
1 cup heavy cream
2 cups milk
Instructions
To prepare the crust: Preheat the oven to 375°F. Lightly grease a 9" pie pan.

Roll the pie dough into a 12" to 13" circle on a piece of plastic wrap, a silicone rolling mat, or in a pie bag that's been heavily sprinkled with gluten-free flour or flour blend. Invert the crust into the prepared pie pan, pressing it into the pan.

Line the bottom of the crust with pie weights. Or line with parchment, then add dry rice, or dried beans.

Bake the crust for 25 minutes. Remove the weights, and bake for an additional 10 to 15 minutes, until the crust is light golden brown; it's helpful to have a pie shield or some foil at the ready in case the edge of your crust begins to brown too quickly.

Remove the crust from the oven, and allow it to cool until you can touch it comfortably.

To make the filling: Place the butter, chocolate, and vanilla into a 2-quart bowl; set aside.

In a medium saucepan off the heat, whisk together the sugar, cornstarch, cocoa, and salt.

Whisk in 1/4 cup cold heavy cream until the mixture is smooth, with no lumps. Repeat with another 1/4 cup of the cream, then whisk in the egg yolks.

Over medium heat, gradually whisk in the remaining cream, and the milk.

Bring the mixture to a boil, whisking constantly as it thickens; boil for 1 minute.

Remove the pan from the heat and pour the mixture over the reserved chocolate and butter. Whisk until the chocolate is melted and the mixture is smooth.

Pour the filling through a strainer into a bowl, to remove any lumps.

Place plastic wrap or buttered parchment paper on the surface to prevent a skin from forming, and chill thoroughly.

To assemble the pie: Spoon the cooled filling into the cooled, baked pie crust. Level the top with the back of a spoon or an offset spatula.

Spoon or pipe whipped cream on top, if desired. Or top individual slices with whipped cream when serving.

Keep the pie chilled until ready to serve.

Yield: one 9" pie.
Tips from our bakers
The filling needs to be strained while it's still quite warm. You can use the back of a ladle, a flexible spatula, or a wooden spoon to stir it through the strainer. Scrape the underside of the strainer once in awhile with a clean spatula, to help the process along.
A shallow metal bowl with more surface area will chill the filling most quickly.
For best slicing, refrigerate the pie overnight before serving.
Reviews
The filling has a rich chocolate flavor and it is an easy recipe to make. I used the King Arthur Flour Pie Crust Mix for the crust and it is delicious.
I am not a baker and this was pretty easy even for me. I didn't strain the mixture and it came out great anyway. Highly recommend and will make again!
Delicious flavor, but the filling didn't set as much as hoped - consistency was still more like pudding pie rather than cleanly sliceable. Any quick fix suggestions? Freezing could work but would distort the moisture content (and create mini ice crystals).

Hmm, it sounds like the filling needed to boil a bit longer before taking it off the heat to ensure the cornstarch's thickening powers have activated. Try letting it boil for 1 1/2 to 2 minutes while whisking constantly to achieve a thicker consistency. Annabelle@KAF
so first off, when I made this pie it turned out very bitter-dark chocolate flavored. not very appealing to us- we like sweet fillings. I always very carefully follow instructions, and nothing seemed wrong at any point during the process, so either something went wrong while my back was turned, or it was simply meant to be how it is. It did set up very nicely, and if you like dark chocolate (assuming I didn't screw up somewhere) you probably don't need to fiddle with the recipe. I plan on re-making this recipe at a later date and tweaking the sugar amount, as well as adding milk chocolate instead of semi-sweet, and seeing how it goes. This is the closest in texture I've come to replicating my granny's old recipe, so kudos for that.
This is a great and easy recipe!!
It was good, but not amazing. However, I feel like that was more my fault than the recipe's. The higher quality chocolate you use, the better this recipe will turn out. My chocolate was dairy free, so that wasn't great. HOWEVER I took off a star because I completely burnt my pot when I made this. I followed the recipe very carefully, but ended up with a layer of burnt stuff at the bottom. It didn't affect the taste because I caught it on time (plus using a mesh strainer helped), but wow I spent more time cleaning the pot than I did making the recipe. BE CAREFUL!!! 3/5 stars for my pie, 4/5 for the recipe itself. Good, but probably wouldn't make again.

Jamie, we're sorry to hear you were left with such a mess to clean. We recommend using a heavy-bottomed pot and heating it only over medium to prevent burning. We also recommend whisking constantly as it thickens to ensure an even distribution of heat. We hope this helps in the future! Kye@KAF
The chocolate cream pie is delicious, so rich and creamy chocolate. The GF pie crust is tasty and flaky. I made it for dessert for Thanksgiving to rave reviews from everyone!