A customized print-friendly version of this recipe is available by clicking the "Print Recipe" button on this page.
Gluten-Free Chocolate Peppermint Snaps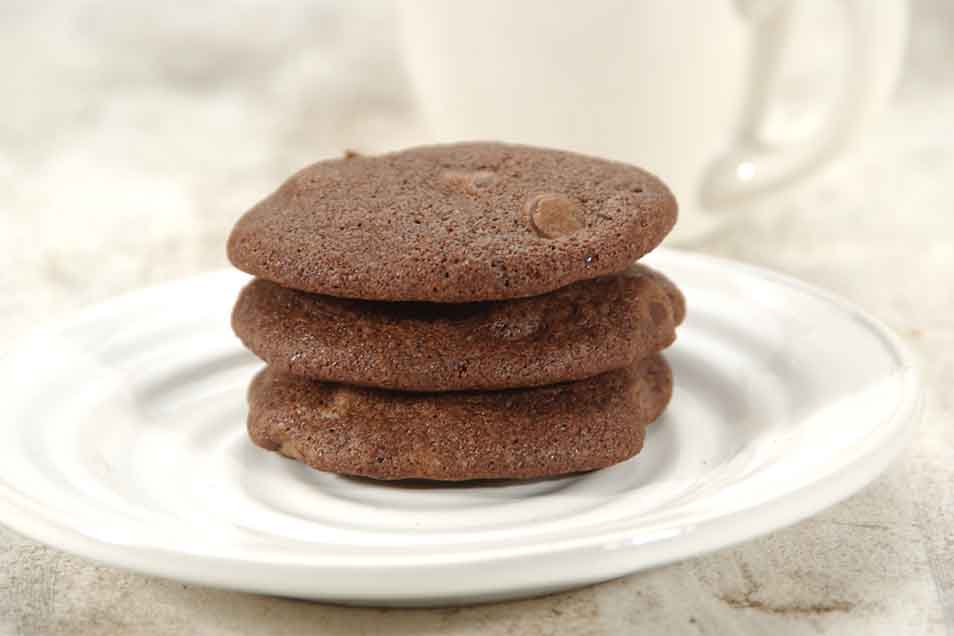 These cookies are crisp on the outside, soft in the middle, and a treat for gluten-sensitive, mint-chocolate cookie lovers everywhere.
Ingredients
3/4 cup (12 tablespoons) unsalted butter
3/4 cup brown sugar, firmly packed
1/2 cup granulated sugar
1 teaspoon vanilla extract
1 teaspoon peppermint extract or 3 to 5 drops peppermint oil, to taste
1/2 teaspoon salt
2 large eggs
3 tablespoons water
1 1/2 cups (8 1/4 ounces) King Arthur Gluten-Free Multi-Purpose Flour or 1 3/4 cups (7 7/8 ounces) gluten-free brown rice flour blend*
1/2 cup Dutch-process cocoa
1/2 teaspoon baking soda
1/2 teaspoon xanthan gum
1 cup semisweet chocolate chips
*For recipe, see tips from our bakers, below.
Instructions
Beat the butter, sugars, flavorings, and salt in a large bowl, scraping the bottom and sides of the bowl.

Beat in the eggs and water.

Whisk together the flour blend, cocoa, baking soda, and xanthan gum. Add half to the ingredients in the bowl, beat to combine, and add the other half.

Stir in the chocolate chips.

Cover the bowl and refrigerate the dough for 1 hour or longer. If you chill it longer, it'll become harder to scoop; but otherwise will bake just fine.

Preheat the oven to 350°F. Lightly grease two baking sheets, or line them with parchment.

Drop rounded teaspoonfuls of dough 2" apart onto the prepared baking sheets; a teaspoon cookie scoop works well here.

Bake the cookies 10 minutes (for soft and bendy); 12 minutes (for firm), and 14 minutes (for crisp). Remove them from the oven, and cool on the pan for 5 minutes before transferring to a rack to finish cooling.

Yield: about 5 dozen cookies.
Tips from our bakers
*Make your own blend
Many of our gluten-free recipes use our King Arthur Gluten-Free Multi-Purpose Flour, which includes ingredients that reduce the grittiness sometimes found in gluten-free baked goods. Our flour also increases the shelf life of your treats, keeping them fresh longer.

The following make-at-home blend, featuring stabilized brown rice flour, works pretty well when substituted; and it tastes better than a blend using regular brown rice flour.

Whisk together 6 cups (28 1/2 ounces) King Arthur stabilized brown rice flour; 2 cups (10 3/4 ounces) potato starch; and 1 cup (4 ounces) tapioca flour or tapioca starch. Store airtight at room temperature. Note: You can substitute white rice flour for the brown rice flour if you like; it'll make your baked goods grittier (unless you manage to find a finely ground version).
Reviews
Thank you KAF for yet another great gluten free recipe! I have a daughter and son who cannot tolerate gluten and I've made them many of your recipes. They are able to enjoy some of their favorites without discomfort. I appreciate the helpful tips and feedback to questions. My son's favorite cookie is double chocolate chips cookies and these turned out great! I come back to your site frequently and I find your GF flours and baking mixes to be high quality.
I was thinking of replacing the peppermint oil & chocolate chips with crushed peppermint stick. Any obvious reasons this would not work? Appreciate your input prior to taking the plunge with my first attempt at gluten free cooking for a cookie swap. BTW I definitely heeding advice re: chilling. Thx!!!
Yes, that should work well. Enjoy and be brave! Elisabeth@KAF
Not great, not awful. Based on the other amazing recipes (brownies and popovers are our favorites so far) this is well below average.
We're glad you found some GF recipes that are pleasing - but sad this one didn't make the grade for you. Other reviewers mention the importance of chilling or freezing the dough for best results. Happy GF Baking! Irene@KAF
These cookies are delicious! You cannot even tell that they are gluten free.
I made these cookies last week as a "test run" for our annual family Christmas cookie baking weekend. Besides the taste and texture, I was curious to see how well they would hold up for a period of time. And I found that the taste was delicious, just enough peppermint to compliment the chocolate, while the texture was really great. No grittiness at all, which is so common in GF baked goods, they were nice and crispy, and I held onto them for a week to see how they would be, and they were still tasty and crispy (around the holidays I love a cookie that will last a bit....if you can keep the hands out of the tins). I did make the dough and refrigerate overnight, and I had no problems with spreading. Also I used a kitchen teaspoon to scoop them, and I got a nice size cookie, and a single batch gave me 6 doz. Making these again next week. Thanks KAF for another great recipe.
These are wonderful! Like the previous reviewer, I found that some spread a little too much when baking so it's important to keep the dough chilled, as well as the baking sheet, until they go into the oven. I baked them 14 mins for a crispier cookie, and they were barely crispy when fresh from the oven.... I wouldn't call them 'snaps'. Once they were cooled and stored in a cookie jar they got quite soft and break easily, but they're still a great GF cookie. I followed the recipe exactly up to the point of adding 1 cup chocolate chips -- instead, I used 1/2 c choc chips and 1/2 c Andes Creme de Menthe baking chips. I will be making these again and will try other combinations to add (like nuts, dried cranberries, etc.)
These cookies are wonderful! You would never know that they are gluten free! Because we don't like to have too many tempting treats at the ready, I always freeze all of my drop cookies before baking. That way I can pull out of the freezer only as many as I need and always have warm, fresh-baked cookies when I want them. I did the same with these cookies and found that I like the look and texture of them better when they've been frozen first rather than baked from the fresh dough. When I use unfrozen dough they spread quite a bit and come out flat. When the dough is frozen the cookies come out a little puffier.