A customized print-friendly version of this recipe is available by clicking the "Print Recipe" button on this page.
Gluten-Free Chocolate Yule Log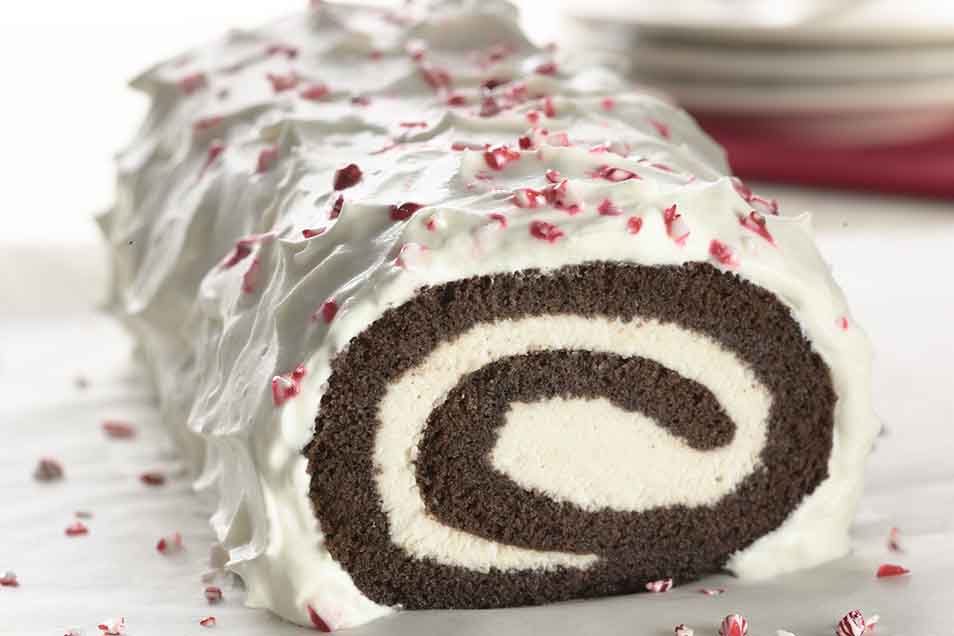 This traditional Christmas treat is sure to delight "gluten free-ers" and regular cake lovers alike. The cake and filling can be flavored many different ways and can be given decorations galore.


Ingredients
Cake
1/2 cup confectioners' sugar
2/3 cup King Arthur Gluten-Free Multi-Purpose Flour or 3/4 cup brown rice flour blend*
1/4 cup unsweetened baking cocoa or Dutch-process cocoa
1 teaspoon Cake Enhancer, optional
1/2 teaspoon baking powder
4 large eggs
1/2 teaspoon salt
1/2 cup granulated sugar
1 cup gluten-free vanilla syrup, coffee syrup, or simple syrup, for brushing on cake; or substitute 1/2 cup of your favorite liqueur
*See "tips," below.
Filling
2 cups heavy cream, divided
2 tablespoons Instant ClearJel, divided; optional, but helpful*
2 teaspoons vanilla extract
4 teaspoons sugar
*Instant ClearJel doesn't carry a certified gluten-free designation.
Instructions
To make the cake: Preheat the oven to 375°F. Line a 9 1/4" x 14" x 1" (jelly roll) pan with parchment or foil; generously grease the parchment or foil.

Sift together the confectioners' sugar, flour, cocoa, Cake Enhancer, and baking powder twice.

Whip the eggs and salt at high speed of an electric mixer for about 5 minutes, until thick and lemon-colored.

While continuing to beat, gradually add the granulated sugar, then the flour mixture, blending just until the dry ingredients are wet.

Stir with a spatula or spoon until the batter's color is mostly even, but with some streaks remaining. Immediately pour the batter into the prepared pan.

Bake the cake for 13 to 16 minutes, or until a toothpick inserted in the center comes out clean.

Remove the cake from the oven, and cool it in the pan for 1 hour.

Dust the top with confectioners' sugar, run a knife around the edge to loosen, turn out onto clean parchment, and remove bottom parchment or foil. Trim off hard edges, if necessary.

Brush syrup or liquor over the cake. Allow it to sit for a few minutes for syrup or liquor to soak in while preparing the filling.

To make the filling: Mix 1 tablespoon of the Instant ClearJel with 2 teaspoons of the sugar. Whip together 1 cup of the heavy cream, the ClearJel/sugar mixture, and 1 teaspoon vanilla extract until soft peaks form.

Spread the whipped cream (about 2 cups) over the prepared cake, leaving an inch along a short edge clear of cream.

Rolling towards the edge that's clear of cream, roll the log onto a sheet of plastic wrap, then use the wrap to round the roll.

Refrigerate the log for a minimum of 2 hours, or up to 48 hours, to firm up.

Unroll the log from the plastic wrap, and place it on a serving platter.

Mix the remaining 1 tablespoon Instant ClearJel with the remaining 2 teaspoons sugar. Whip the remaining cup of heavy cream with the ClearJel/sugar mixture and 1 teaspoon vanilla extract until soft peaks form. Spread over the cake.

Refrigerate until serving time. Just before serving, sprinkle with shaved chocolate; crushed gluten-free candy canes, or crushed gluten-free peppermint hard candies.

Refrigerate any leftovers; cake is best enjoyed within a day of making it.
Nutrition Information
Serving Size

162g

Servings Per Batch

8
Amount Per Serving:
Calories

470

Calories from Fat

210

Total Fat

24g

Saturated Fat

14g

Trans Fat

.5g

Cholesterol

155mg
Sodium

230mg

Total Carbohydrate

60g

Dietary Fiber

1g

Sugars

46g

Protein

6g
* The nutrition information provided for this recipe is determined by the ESHA Genesis R&D software program. Substituting any ingredients may change the posted nutrition information.
Tips from our bakers
*Make your own blend
Many of our gluten-free recipes use our King Arthur Gluten-Free Multi-Purpose Flour, which includes ingredients that reduce the grittiness sometimes found in gluten-free baked goods. Our flour also increases the shelf life of your treats, keeping them fresh longer.

The following make-at-home blend, featuring stabilized brown rice flour, works pretty well when substituted; and it tastes better than a blend using regular brown rice flour.

Whisk together 6 cups (28 1/2 ounces) King Arthur stabilized brown rice flour; 2 cups (10 3/4 ounces) potato starch; and 1 cup (4 ounces) tapioca flour or tapioca starch. Store airtight at room temperature. Note: You can substitute white rice flour for the brown rice flour if you like; it'll make your baked goods grittier (unless you manage to find a finely ground version).
** Be sure to check your ingredients for gluten-free certification. Some items processed in our facility are not certified gluten free, so don't hesitate to give us a call if you have questions before proceeding with the recipe.
Reviews
Cracked like crazy, completely unrollable.

We're so sorry to hear this cake cracked and was difficult to shape, A. It sounds like it may have been just a bit too dry to have that flexibility to roll up cooperatively. Dryness could be caused by over-baking or if too much flour were added.

To ensure you're using the right amount, we recommend checking out the "Recipe Success Guide," link next to the ingredients header above. You'll see that either measuring your flour by weight using a scale, or fluffing and sprinkling the flour into your measuring cup are the most accurate ways to measure flour.

We thank you for your feedback and have shared it with our Recipe Team. Kindly, Annabelle@KAF
Total failure! I would give this zero stars if KA allowed that rating. The KA flour is impossible to find in Chicago grocery stores so I ordered it online. The KA recipe calls for KA GF MULTI purpose flour, BUT they don't sell that any more. They sell GF ALL purpose flour. I've made this in the past with the MULTI purpose flour and it was good. With the ALL purpose flour, the cake turned out dry and tough. It actually broke into three pieces before I could finish filling it with whipped cream! I was embarrassed to serve this to my family for Christmas. The only saving grace for me is that I've been making buche de Noel annually for at least 10 years so my family knows how much better my cakes have been in the past. There was no saving grace for this cake. What a waste of time and ingredients!

We're so sorry this recipe didn't work out for you this year! The old Gluten-Free Multi-Purpose Flour and the Gluten-Free All-Purpose Flour are actually the same thing; the difference is simply an update in packaging to better reflect the contents. We appreciate your pointing out that the ingredients in this recipe are out of date, though, and we will definitely be fixing that soon. It sounds like your latest yule log might have had a bit too much flour in it or been overbaked. We'd love to work with you to figure out how to make your next cake a success! If you call our Baker's Hotline at 855-371-BAKE (2253) we work together to figure out exactly where this most recent bake went awry. Happy baking! Kat@KAF
I made this last year for Christmas and am making it again, by popular demand. I made it pretty much as written, and it came out great. I think I could have pulled the cake out a minute or two sooner, as it cracked a little when I rolled it, but no one cared. I didn't have the gel stuff for the filling, but used some meringue powder to thicken and it was great. Added a tiny bit of peppermint extract to the exterior frosting for flavor.
I made this for the first time about 5 or 6 years ago. A friend of mine has an autistic son and he is on a gluten free dairy free diet. This was the first dessert I made for our Christmas celebration that we could all have some of - he was so thrilled!! Back then, I did not use all of the simple syrup and the cake was a bit dry (my fault for not using all of the syrup). I have decided to make it again this Christmas and will be sure to use all of the simple syrup. I made my own filing (since he can't have whipped cream) by mixing 7-minute frosting with a buttercream (made with Spectrum Shortening - he is allergic to soy in addition to the food allergies) and produced a very good tasting whipped cream buttercream - I call it faux whipped cream. My son's friend has been on the diet for 11 years and I have baked a lot for him in that time. My first place to go for recipe's is King Arthur. Most of the recipes I've tried, it was the first time ever making that recipe and they have always turned out great!! King Arthur is definitely my go-to for gluten-free recipes (and all recipes)! Thank you King Arthur!
Did anyone else have trouble rolling the cake? Mine cracked terribly! Tastes good though.
I made this for Christmas and it is a keeper! My hat is off to King Arthur for creating such wonderfully delicious gluten-free recipes.
I will rate this a 10 if I can. I made this last Christmas for a GF friend, and he couldn't stop raving about it. The cake was moist and light, and the cream filling was just perfect - in both texture and sweetness. I did have difficulty rolling it the first time since I cooled the cake first. However, that batch (I called yule pile of log) was eaten up quickly as well.
Fabulous recipe. It was delicious and was enjoyed by everyone. I received so many compliments with this recipe. I used a chocolate whipped cream recipe for the filling and frosting.