A customized print-friendly version of this recipe is available by clicking the "Print Recipe" button on this page.
Gluten-Free Cinnamon Star Bread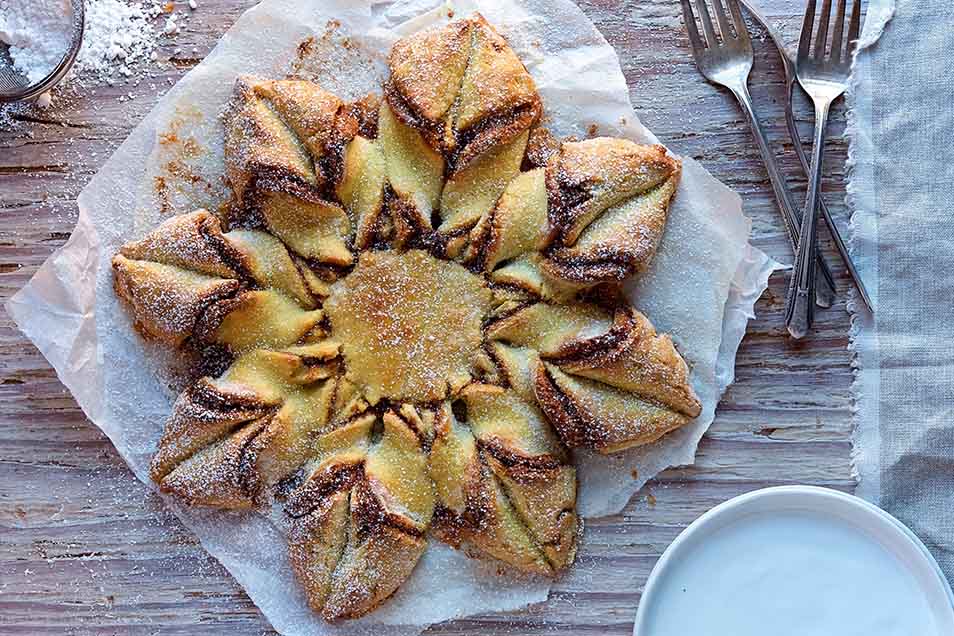 This lovely bread is perfect for any special occasion. Stuffed with cinnamon-sugar, it's as tasty as it is pretty. Making an intricate design like this using gluten-free dough is a challenge; but take your time, make sure your rolling surface is well floured, and you should be able to pull it off.
Ingredients
Filling
1 large egg, beaten
1/2 cup sugar*
1 tablespoon cinnamon or 2 teaspoons Vietnamese cinnamon*
*or substitute 1/2 cup cinnamon-sugar
Instructions
Stir and knead all the dough ingredients together until a soft, smooth, easy-to-handle dough forms. Using a stand mixer equipped with the paddle attachment, this will take about 3 minutes at low speed. Scrape the sides of the bowl halfway through the mix time, adding more flour or water a tablespoon at a time if needed to bring the dough together. The finished dough won't be elastic and springy like a typical yeast dough; it'll feel like cookie dough.

Place the dough in a lightly greased bowl and allow to rise for 60 minutes. It won't appear to rise much; it's OK if it just puffs slightly.

Divide the dough into two equal pieces and shape each piece into a disk.

Cover one disk with plastic, and roll the second disk into a 10" circle on a piece of parchment; it helps to use a 10" plate or upside-down pan to trace a circle onto the parchment first. Feel beneath the dough as you roll; if it's sticking to the parchment, pick it up, sprinkle some flour on the parchment, and continue.

Dust the top surface of the dough circle with flour, then flip it over onto a fresh parchment sheet. This step keeps the dough from sticking as you shape your star.

Brush the dough with the beaten egg and sprinkle the cinnamon-sugar evenly over the surface, leaving 1/4" of bare dough around the perimeter. Set it aside.

Roll the second piece of dough onto the same piece of parchment with the traced circle, flouring underneath if necessary to prevent sticking. Brush the surface with the beaten egg. Swiftly, using the parchment to help you, turn the dough over onto the filling-covered dough circle, trying to line up the edges as accurately as possible.

Place a 2 1/2" to 3" round bowl or cup upside-down in the center of the dough circle as a guide. The bowl or cup shouldn't be too heavy and should have a dull edge, as the dough is fairly delicate. With a bench knife or sharp knife, cut the circle into 16 equal strips, from the edge to the cutter, cutting all the way through the two layers.

Using two hands, pick up two adjacent strips and carefully twist them away from each other 1 1/2 times so that they're standing on edge. Pinch the strips together at their ends. Repeat with the remaining strips of dough to make the eight points of a star. Remove the bowl or cup from the center of the star.

Transfer the star on its parchment to a baking sheet, cover it with lightly greased plastic wrap, and let it rise until it becomes slightly puffy, about 60 minutes. Again, there won't be much movement, but you should notice a bit more volume.

While the star is rising, set a rack in the middle of the oven and preheat the oven to 400°F.

Brush the star with a thin coat of the beaten egg. Bake it for 17 to 20 minutes, until it's nicely golden; the center should register at least 205°F on a digital thermometer.

Remove the star from the oven and allow it to cool for about 10 minutes. Dust with confectioners' sugar and serve warm.

Store the star, tightly wrapped, at room temperature for a day or so, and refresh it in a warm 250°F oven for about 10 minutes before serving. Freeze for longer storage.
Reviews
My 5 year old loves watching The Great British Bake Off and wanted to try a more difficult recipe than waffles or cookies so we gave this a try. With just three people in our family, we ate half of it right after it came out of the oven! Since she is gluten free sometimes baking can be more challenging but we loved this recipe and found it easy to follow.
The "dough" never became anything more than mashed potato consistency, making the rest of it pretty much impossible. I even called the help line and was told to add more flour to it until it was no longer sticky...which I did, and it wound up not sticky thick mashed potatoes. It was even worse and more fragile after rising. Flipping the pieces was basically impossible without an offset spatula. I did the best I could with it, but it looks like something a kindergartner would put together and it will probably wind up in the trash with the first batch of dough that didn't come out the way I expected it to. This isn't my first GF recipe, but it is the first one that I've completely given up on. The dough that results from this mix might be good for other things that don't require a lot of movement, it might even make decent tasting bread. But it was not good for this recipe at all.

We're so sorry to hear this recipe didn't work for you, Amy! We're glad that you reached out to our hotline for help when you saw that the dough wasn't forming correctly, because that's exactly what we encourage all our bakers to do. There are so many variables that go into making a dough that finds that balance between being too wet to work and too crumbly to cohere, and that's especially true with gluten-free baking. Ultimately, we hope that you don't let this dim the joy of baking for you, and that you keep on trying new recipes. Happy baking! Kat@KAF
My sister eats gluten free, so I made this for her for her birthday. She loved it. She said it's not too sweet, as she said many gluten free baked items are usually too sweet for her. In the baking process I did learn that when baking with gluten free, it's very important that all ingredients are room temperature. Happy baking!!!
I REALLY wanted to like this recipe. I made the traditional version (with gluten) as part of the #bakealong and LOVED it. It's my family's new favorite. However, since my daughter is gluten intolerant, I tested this recipe for when she comes home from college. *sigh* I just can't get GF yeast-doughs to taste right. The fragility of the dough was fine and I managed to get the shape looking like in your photo - just needed a bit of TLC. But the texture was crumbly and didn't have the "chew" that makes the other star bread so good! I know, that's the whole point of gluten so maybe I was expecting too much. But I LOVE your recipes and mixes for GF cookies, cakes, brownies, and quickbreads. I just can't get yeast breads like this or pizza dough to turn out well. This was OK, and I may try it again to see if it turns out better next time...

As you note, Suz,there really is no replacing the multi-faceted role gluten plays in yeasted doughs, which makes them much more challenging to convert. Despite this, we appreciate your dedication to getting this one right. If you aren't already, it is important to use the gf flour called for here (Measure for Measure), as different gluten-free blends differ much more in performance than different all-purpose flours. Mollie@KAF
Is there a substitute for the milk powder? I am allergic to dairy but would love to make this gf recipe.

Sara, you can omit the dry milk powder and use your favorite plain, unsweetened non-dairy milk in place of the water in the recipe instead. Almond and soy milk are both great choices. Happy GF baking! Kye@KAF
I officially kicked off my holiday baking season with this recipe! My gluten-free roommate loved it, and so did I. The dough was very simple to make. The shaping of the dough was a little challenging -- the dough was a bit fragile so when twisting it, it tended to crack. I did what I could to pinch everything back together a little, and after baking you couldn't tell. I wish the dough got a bit crisper on the outside, but perhaps I just didn't bake it for long enough (although it had turned a lovely golden color). Next time I might sprinkle some sugar on top to give the crust a bit more crunch. I'm waiting for the dough to rise for the gluten-filled version of the star bread, which will make for a fun comparison.