A customized print-friendly version of this recipe is available by clicking the "Print Recipe" button on this page.
Gluten-Free Cinnamon-Streusel Sour Cream Coffeecake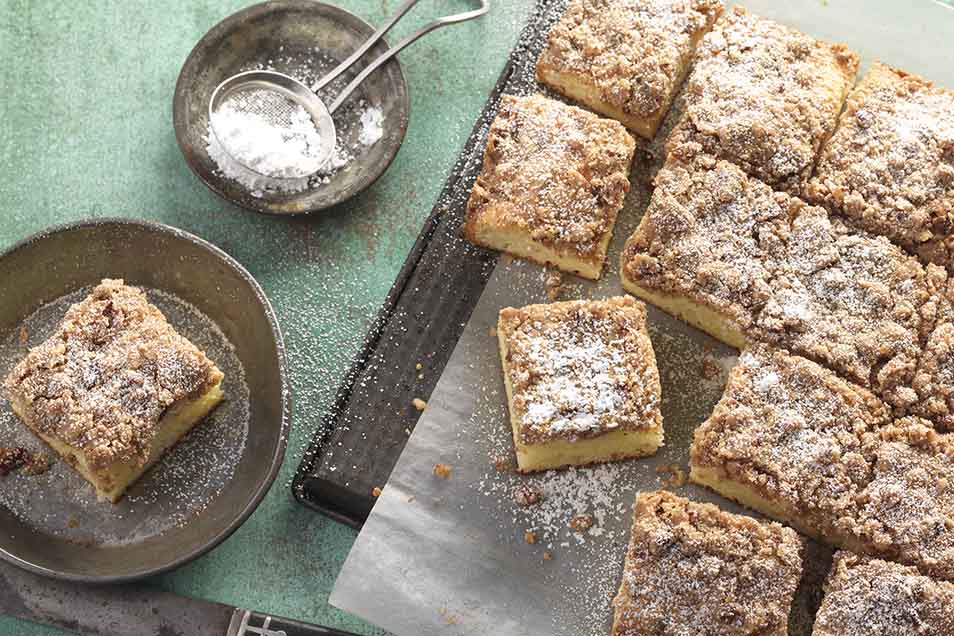 This moist vanilla cake topped with sweet, crunchy cinnamon streusel is the luscious, warm, cinnamon-scented treat you've been waiting for. This recipe makes two 8" square coffee cakes that freeze, thaw, and reheat beautifully; making two means you can have a second cake ready to enjoy in your freezer.
Ingredients
Streusel topping
1/4 cup King Arthur Gluten-Free Yellow Cake Mix
1/4 cup cornstarch
3/4 cup chopped nuts (almonds, pecans, or walnuts are tasty)
1/4 cup brown sugar
1 teaspoon ground cinnamon
1/8 teaspoon salt
2 to 3 tablespoons melted butter
Cake
1 cup sour cream
5 tablespoons vegetable oil
4 large eggs
1 box King Arthur Gluten-Free Yellow Cake Mix (less the 1/4 cup used in the streusel)
Instructions
Preheat the oven to 350°F. Lightly grease the bottoms of two 8" by 8" square pans.

To make the streusel topping: Whisk together all the dry ingredients, mix in the melted butter, and continue to stir until the mixture forms crumbs.

To make the cake: Whisk together the sour cream, oil, and eggs.

Add the remaining cake mix, whisking until smooth.

Pour half the batter into each of the prepared pans. Sprinkle one-fourth of the streusel atop each cake.

Bake for 20 minutes, then sprinkle the remaining streusel over the cakes.

Bake an additional 10 to 15 minutes, until cake is brown and the middle is firm to the touch. The internal temperature at the center should be 210°F to 212°F.

Remove the cakes from the oven, and let them cool in the pans for 10 minutes. Dust with confectioners' sugar, if desired, and serve warm.

Yield: two 8" x 8" cakes.
Tips from our bakers
This cake is good at room temperature, but it's extra delicious served warm. To reheat an individual serving, microwave for 10 to 15 seconds on high. To reheat the whole pan, cover with foil and warm in a 300°F oven for 10 to 15 minutes. To thaw and reheat a frozen cake, cover with foil and warm in a 350°F oven for 25 minutes. For crisper streusel, remove the foil and bake for 5 more minutes.
Reviews
Sadly, this was not anywhere as good as the coffee cake I used to make using Glutino's yellow cake mix (which was originally Gluten Free Pantry's white cake mix). I wish that Glutino hadn't discontinued that mix (at least, I haven't been able to find it anywhere). I thought I'd try this recipe. I was very diappointed. The cake didn't rise very much and it was chewy, not tender. The addition of the cornstarch to the streusel made it gummy. Maybe it was just as well the streusel was skimpy. Although that may have been because I only used nuts on one cake as I have family who are allergic to tree nuts. Anyway, it was better than no coffee cake at all, but I won't be making this recipe again.
This is better than what I was looking for! I wanted to use the cake mix to make muffins, but found this and decided to try it. I wanted blueberry and couldn't have the nuts, so I tried it as follows and it was the most moist and delicious coffee cake ever! To the Streusel I added another teaspoon of cinnamon, and 1/2 cup instead of 1/4 cup dark brown sugar. To the cake mix I added 1tbs French vanilla instant pudding. Then I folded in 1 1/2 cups organic frozen blueberries. I drizzled my homemade icing when cooled. I wish I could add a picture because it was high, moist and just plain delicious! My son calls it the Blueberry Cinnamon Streusel Glazed Coffee Cake I love your gluten free cake mixes and have happily experimented with great success!
This was my first gluten-free bake after being diagnosed with a wheat allergy. It's suprisingly light with just the right amount of crunch from the streusel. I didn't have sour cream so I subbed Vanilla Greek Yogurt and baked it in one 9 x 13 pan. I thought it turned out great. I'm packing up the slices individually to keep in the freezer for a sweet (but not too sweet) treat.
I threw this together one morning while I was getting ready for work. Had all the ingredients out and put them together, then popped it in the oven while I showered. So easy!!! It was made for a church function and everyone raved over it! Several ladies had said that gluten-free was "awful", but changed their minds when they actually tasted this. It is moist and flavorful and cuts nicely into whatever sized portions are needed. I'll make this again and again... Thanks, KAF!