A customized print-friendly version of this recipe is available by clicking the "Print Recipe" button on this page.
Gluten-Free Classic Baked Doughnuts made with baking mix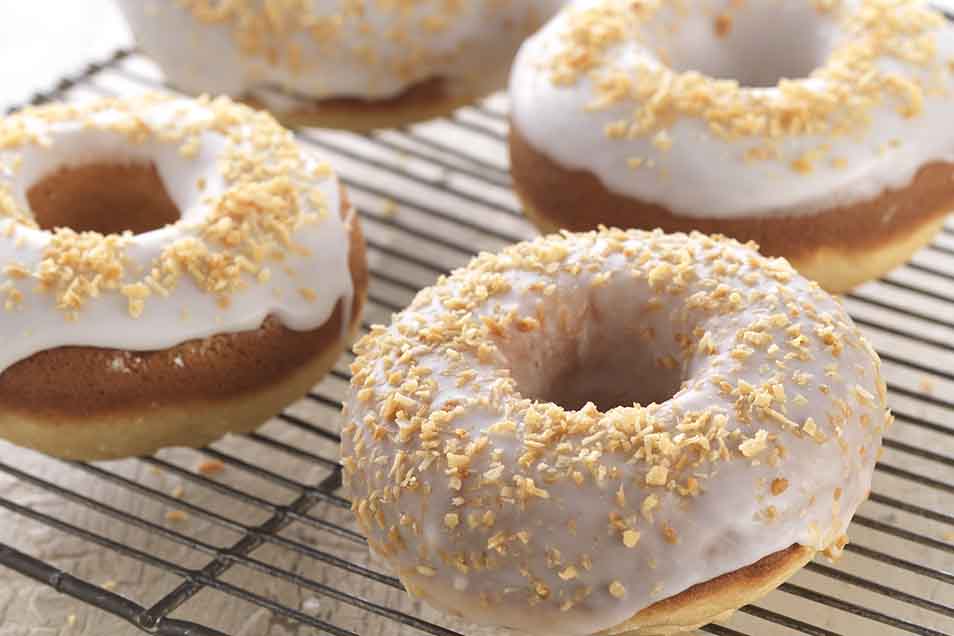 Imagine a big mug of hot coffee and a couple of delicious powdered-sugar donuts. Our friends who bake gluten free can indulge in this classic treat again; it's easy to make with our gluten-free baking mix. Which doughnuts do you like best — chocolate chip, cinnamon sugar, or coconut? With a few small changes, this recipe will make magnificent examples of any of those; see "tips," below.

Note: Please read and follow the recipe carefully; it calls for our gluten-free all-purpose baking mix, NOT our gluten-free multi-purpose flour.
Ingredients
Doughnuts
1/4 cup butter
1/4 cup vegetable oil
1/2 cup granulated sugar
1/3 cup brown sugar
2 large eggs
1 teaspoon vanilla extract
1/2 teaspoon ground nutmeg, to taste
2 2/3 cups King Arthur Gluten-Free All-Purpose Baking Mix*
1 cup milk
*Make sure you use our gluten-free BAKING MIX — NOT our gluten-free flour.
Topping
1/2 cup confectioners' sugar
Instructions
Preheat the oven to 425°F. Lightly grease two standard doughnut pans.

In a medium-sized bowl, beat together the butter, vegetable oil, and sugars until smooth.

Add the eggs, beating to combine.

Stir in the nutmeg and vanilla.

Stir the gluten-free baking mix into the butter mixture alternately with the milk, beginning and ending with the baking mix and making sure everything is thoroughly combined.

Transfer the batter to the prepared doughnut pans, filling the wells to about 1/4" below the rim. A teaspoon cookie scoop works well for this; as does a piping bag, or a plastic sandwich bag with the corner cut off.

Bake the doughnuts for 10 minutes, until set. Remove them from the oven, and wait 5 to 7 minutes before turning them out of the pans onto a rack. Enjoy warm; or cool completely.

Shake doughnuts in a plastic or paper bag with about 1/2 cup non-melting white sugar (for best results), or confectioners' sugar.
Tips from our bakers
*To make chocolate chip doughnuts, stir 3/4 cup semisweet chocolate chips into the batter before filling each well to the rim with batter.

*To make cinnamon doughnuts, increase the nutmeg to 1 teaspoon. Shake warm doughnuts in a plastic bag with about 1/4 to 1/3 cup cinnamon-sugar instead of the confectioners' sugar.

*To make coconut doughnuts, sprinkle toasted coconut into each of the wells of the pans before spooning in the batter; you'll need about 1/2 cup total. Can you use plain instead of toasted coconut? Yes; but it browns unevenly, and won't produce as good a result.