A customized print-friendly version of this recipe is available by clicking the "Print Recipe" button on this page.
Gluten-Free Corn Muffins made with baking mix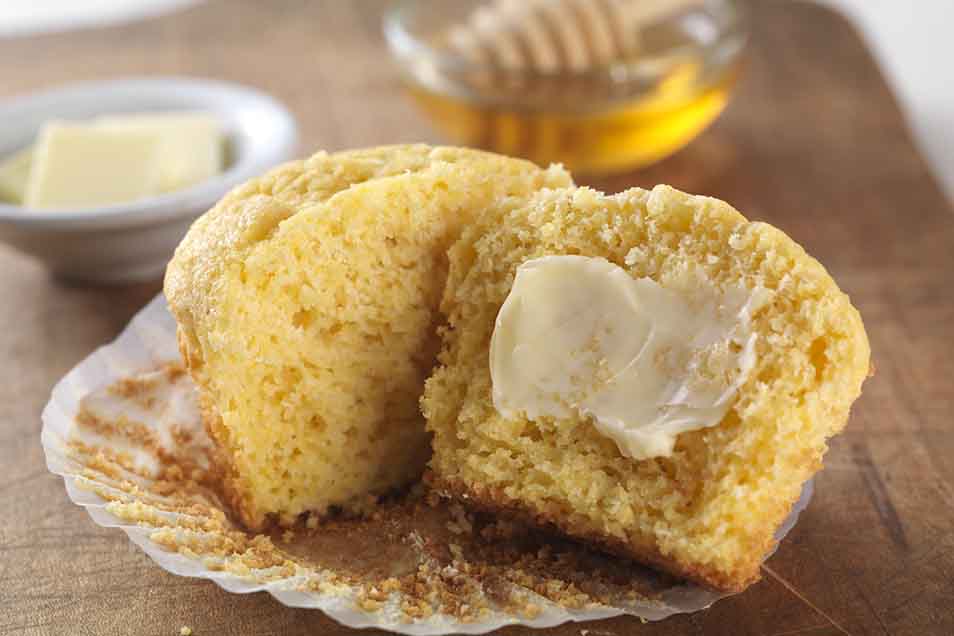 These moist and tender corn muffins are great for breakfast or dinner.

Note: Please read and follow the recipe carefully; it calls for our gluten-free all-purpose baking mix, NOT our gluten-free multi-purpose flour.
Ingredients
1 cup King Arthur Gluten-Free All-Purpose Baking Mix*
3/4 cup gluten-free cornmeal
1/3 cup sugar
1 teaspoon baking powder
1/2 teaspoon salt
2 tablespoons melted butter or vegetable oil
2 large eggs
1 cup milk
1/2 teaspoon gluten-free vanilla extract
1 cup dried cranberries, optional
*Make sure you use our gluten-free BAKING MIX — NOT our gluten-free flour.
Instructions
Preheat the oven to 375°F. Grease 9 muffin cups in a 12-cup standard muffin pan.

Stir together the dry ingredients; set aside.

Whisk together the melted butter or oil, eggs, milk, and vanilla.

Stir the dry ingredients into the wet ingredients. Scrape the bottom and sides of the bowl and continue to stir for about 30 seconds, until well blended.

Stir in the dried cranberries.

Fill the muffin cups almost full. Let the muffins rest for 10 minutes.

Bake the muffins for 20 to 25 minutes, until a cake tester or toothpick inserted into the center of a muffin comes out clean.

Remove the muffins from the oven, and after 5 minutes transfer them to a rack to cool.

Yield: 9 muffins.
Tips from our bakers
Allow the muffins to rest for 10 to 15 minutes before serving. This balances the muffins' moisture, making them more tender.
Gluten-free muffins bake better in greased muffin pans. If you choose to use paper liners, expect the yield to increase slightly, and the muffins to be less domed.
Reviews
Just made these muffins tonight. They were a little sweeter than I wanted but it's OK. I was going to add something to them but since they were on the Sweetside I didn't. They were very good I will be eating them with my breakfast in the morning. This recipe is definitely a keeper. I also want to try your gluten-free corn muffin recipe with the buttermilk.
I have started to eat gluten free and have tried a number of mixes. This gluten free corn muffin recipe is the best!! Follow the directions exactly and WOW!
Thank you! Here are my tweaks to the recipe, in case anyone has a similar situation: a) we just have the KA GF flour on hand, not the baking mix b) I'm restricted on sugar c) and on dairy So, I omitted the sugar entirely, used unsweetened almond milk, and added maybe ~1/3 C or less of GF oat flour (not suitable for all folks, understood). The eggs we have are not large, so I used 3 instead of 2. Upped the baking soda to 2 tsp since we weren't using the baking mix. Added ~20 drops of clear stevia to the wet ingredients... I baked the muffins in a greased LaForme mini-muffin tin and 18min was perfect!!! They rose beautifully and got a little crusty on the outside. (No browning, because.. no sugar.) It is so rare that I can adapt a baking recipe that uses sugar for texture as well as taste and end up with a satisfactory result for me and the younger eater(s)... this was a hit! Thank you thank you KAF!
The best recipe I've found for gf cornbread. Followed the recipe except for the cranberries and vanilla as I was serving this with pea soup. I did left the batter sir 10 min. It proofed slightly and I stirred and scooped into the muffin tin. Perfect!
I've made this recipe several times. The first time was for gluten free friends, but now it's our family favorite, too. I substitute canned corn for the cranberries and leave out the vanilla. I also use a little less sugar, too, since we prefer a savory muffin. Nice recipe!
Great recipe! I substituted rice milk for regular milk, I also used date sugar instead of white sugar-different texture, but great taste! Thanks for the recipe KAF. I love the all purpose baking mix-it's very versatile and easy to use.
We are pleased you are enjoying the Gluten-free All purpose Baking Mix! Elisabeth@KAF
wow, these exceeded every hope! i was praying i could make cornbread with my KAF gluten free baking mix and poof! there was this recipe. they'll be perfect with my "mole de olla"! i can always depend on KAF for baking news, recipes and fantastic products. thank you!
My son cannot have gluten, milk or eggs so we tried this recipe with a few substitutions. We used plain rice milk for the milk and egg replacer for the egg. I wasn't sure how it would turn out but they turned out fantastic. KA Baking Mix is amazing!
Excellent corn bread. Just a slight bit sweet. Great texture and easy to make. I substituted rice milk to make it non-dairy. I added a tsp. of lemon juice to make it more like buttermilk.
This recipe was fast to make and the results were excellent. The muffins had a nice cornbread texture and didn't have the soft squishy feel of a gluten free muffin. I look forward to making more recipes with the baking mix!