A customized print-friendly version of this recipe is available by clicking the "Print Recipe" button on this page.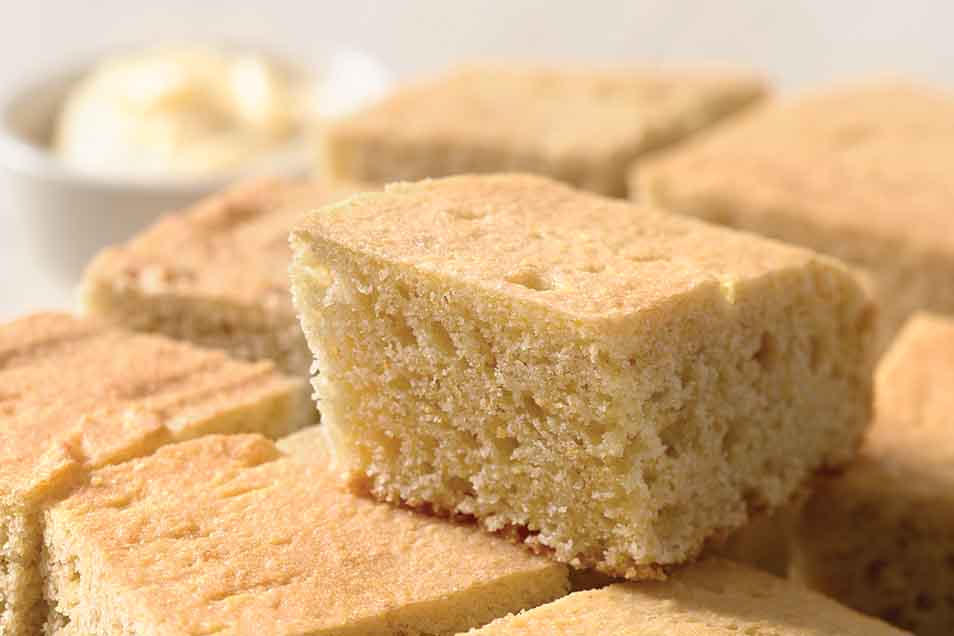 We like our cornbread a little sweet here in New England. If you like a more Southern-style cornbread, feel free to cut down on the sugar.
Ingredients
1 1/2 cups yellow cornmeal
1 1/2 cups Gluten-Free Multi-Purpose Flour
1/4 cup buttermilk powder
2 tablespoons King Arthur Cake Enhancer, optional
1 tablespoon baking powder
3/4 teaspoon salt
1 teaspoon xanthan gum
1/2 teaspoon baking soda
5 tablespoons melted butter or oil
1/2 cup brown sugar
1 1/2 cups water
1 tablespoon vinegar, cider or white
3 large eggs
Instructions
Preheat the oven to 375°F. Lightly grease a 9" x 9" square pan.

Whisk together the cornmeal, Gluten-Free Multi-Purpose Flour, buttermilk powder, Cake Enhancer, baking powder, salt, xanthan gum, and baking soda.

Whisk together the melted butter or oil, sugar, water, vinegar, and eggs.

Stir in 1 cup of the dry ingredients. Add the remaining dry ingredients about 1 cup at a time; after each addition, scrape the bottom and sides of the bowl, and beat for 30 seconds on medium-high speed.

Once all the dry ingredients have been added, beat on medium speed for an additional 2 to 3 minutes.

Spoon the batter into the prepared pan. Use your wet fingers to gently smooth the surface. Let the cornbread sit for 10 minutes.

Bake the cornbread for 25 to 30 minutes, until it's golden brown, about 3 to 4 minutes beyond the point where a toothpick inserted into the center comes out clean. The internal temperature of the finished bread should be 190°F.

Remove the bread from the oven, cool 5 minutes, and serve warm.

Yield: about 12 servings.
Reviews
I used corn flour, and just beat the batter by hand until it was well mixed. I was impressed how well it turned out! A high rise and was not heavy.
Excellent!! This recipe was easy to follow, the rise on the bake was high and it tasted balanced. No problems here.
Question please. Aren't we supposed to use Gluten Free Cornmeal? I love cornbread and corn muffins and want to try the recipes.

You are correct, Mary. Most cornmeal is naturally gluten-free, though it's always a good idea to look at the label and ensure it wasn't packaged in a facility that contains wheat. Annabelle@KAF
This bread is absolutely fabulous! My family never feels "cheated" with this gluten free recipe.
PS to my earlier review. I omitted the xgum since the mix already had it in it...
PS to my earlier review. I omitted the xgum since the mix already had it in it...
This turned out very good. The best GF corn muffins I've made. I made the following changes due to what I had on hand in the middle of a blizzard. I used the GF Baking Mix. Added 1 tsp extra baking powder and 1/4 tsp salt. Used 1 1/2 cups unsweetened almond milk and 2 TBs of cider vinegar- probably could have used 1TBs. Used 3-4 TBS Mexican honey in place of brown sugar- another TBS spoon would have been good. Made 12 muffins and served Bison Chili over them....this was by far the best cornbread I've had in 5 years since going GF...
I used buttermilk with tablespoon of extra water in place of water and buttermilk powder. I also used a 1 oz scoop and a mini muffin pan for 12-16mins. I think I will use honey in place of brown sugar next time. They came out with a good texture and not dry. I left out the cake enhancer since I didn't have it.
The flavor of this cornbread is really great. It's kind of dry and crumbly, but i still love it. Not sure if this really makes much of a difference but I forgot to add the xanthan gum until I already had it poured into the pan, so I sprinkled it in and stirred it gently in the pan without scraping up the sides of the greased pan, (which by the way was a 9 inch pie plate because I could not find my 9 inch square pan). I would really like to know why my cornbread always seems to come out dry no matter what recipe I use.
The xanthan gum helps support the structure of GF baked goods. Sounds like adding it after it was already in the pan worked for you. The texture of cornbread can always be a little on the dry side. If you would like it to more moist, consider adding less corn meal and replacing it with flour. Happy baking! Elisabeth@KAF
Excellent - you wouldn't even know it was gluten free! I skipped the cake enhancer and had to use a sugar substitute since hubby has to be gluten free AND sugar free...