A customized print-friendly version of this recipe is available by clicking the "Print Recipe" button on this page.
Gluten-Free Cranberry-Orange Bread with Sorghum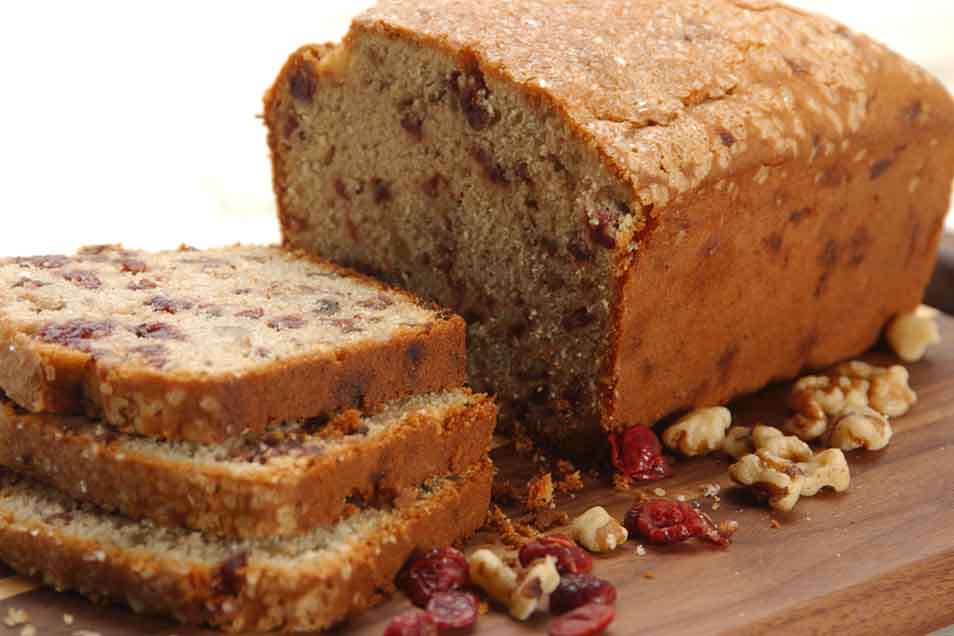 Cranberry and orange are a classic flavor combination. This gluten-free quick bread adds sorghum flour for body.
Ingredients
2/3 cup sugar
6 tablespoons soft butter
1/2 teaspoon salt
2 teaspoons baking powder
1 tablespoon grated orange rind (zest) or 1/8 teaspoon orange oil
3 large eggs
1 cup King Arthur Gluten-Free Multi-Purpose Flour or brown rice flour blend (*See recipe in tips from our bakers, below.)
3/4 cup sorghum flour
2 tablespoons whole flax meal
1/2 teaspoon xanthan gum
3/4 cup orange juice
1 cup dried cranberries
3/4 cup chopped pecans or walnuts
Instructions
Preheat the oven to 350°F with the oven rack in the middle. Lightly grease an 8 1/2" x 4 1/2" inch loaf pan.

Place the sugar, soft butter, salt, baking powder, and grated orange rind or orange oil in a mixing bowl. Beat with an electric mixer until fluffy.

Whisk together the flours, milled flax, and xanthan gum.

Beat the eggs into the butter mixture one at a time, scraping the bottom and sides of the bowl between additions.

Add the dry mixture about 1/3 cup at a time, alternating it with the orange juice.

Stir in the cranberries and nuts.

Scoop the batter into the prepared pan, mounding it in the center of the pan to create a dome shape. Sprinkle with coarse sparkling sugar, if desired.

Let the batter rest for 10 minutes.

Bake the bread for 58 to 68 minutes, until it's golden brown on the top. If you have a thermometer, the internal temperature should be 200°F or higher; see tip below.

Remove the bread from the oven, and allow it to rest in the pan for 15 minutes, then transfer it to a rack to cool completely. The bread is tender, and will slice with less crumbling after it's completely cool, about 4 hours.
Tips from our bakers
*Make your own blend
Many of our gluten-free recipes use our King Arthur Gluten-Free Multi-Purpose Flour, which includes ingredients that reduce the grittiness sometimes found in gluten-free baked goods. Our flour also increases the shelf life of your treats, keeping them fresh longer.

The following make-at-home blend, featuring stabilized brown rice flour, works pretty well when substituted; and it tastes better than a blend using regular brown rice flour.

Whisk together 6 cups (28 1/2 ounces) King Arthur stabilized brown rice flour; 2 cups (10 3/4 ounces) potato starch; and 1 cup (4 ounces) tapioca flour or tapioca starch. Store airtight at room temperature. Note: You can substitute white rice flour for the brown rice flour if you like; it'll make your baked goods grittier (unless you manage to find a finely ground version).
It's often difficult to be sure gluten-free quick breads are fully baked in the middle. A cake tester inserted into the center may come out crumb and batter free before the bread is fully baked; thus, using an instant-read thermometer is a good idea.
Reviews
First off this quick bread had great flavor and texture and I would make it again. I used yoghurt instead of orange juice hoping this would help deal with the crumbly aspect of this bread and whole fresh cranberries, but I didn't win that battle. Regardless, the bread was moist, correct texture, the cranberries added a nice tart pop and I put KA sparkling white sugar on top for crunch. I'll keep working on this as I would love to have a nice thick slice toasted and buttered for breakfast.
This was a delicious recipe, however like a few others, mine was dry. I make your brown rice flour mix regularly and that's what I used. I baked until about 204 degrees - maybe try to bake it until just 200 next time. I'm wondering if I could sub out the butter for oil (maybe canola) and that might help the dryness?

Thanks for giving this recipe a bake, Bonnie. Since it calls for creaming the butter along with other ingredients, we wouldn't recommend subbing a liquid fat like oil in place of the butter. Instead, you might try measuring out a lighter cup of flour by fluffing it up in its container, sprinkling it into the measuring cup, and leveling it off. This method, as opposed to dipping a measuring cup into a bag of compressed flour and scooping it out, will achieve the relatively light cup our recipes intend, and thus a more moist final product. Hope this helps to make for some even happier baking! Mollie@KAF
Can I use a covered baker?

Typically covered bakers are used to bake crusty breads because they capture steam and help create a thick, golden crust. Quick breads often turn out best if they're baked in medium-colored metal pans; however, if you'd like to use the base of your covered baker, you might consider leaving the lid off to promote even baking and a soft crust. Happy baking! Kye@KAF
Your tips indicate using an instant read thermometer to ensure the GF bread is done. What temperature should it read?

Lois, the internal temperature of this bread should be 200°F or higher when it has finished baking. Enjoy! Kye@KAF
Delicious! I do sometimes add 1 teaspoon cinnamon and 1/2 teaspoon of cloves for a wonderful tart and spicy flavor. I also substitute the flax with almond flour.
Flavorful and delicious. Substituted fresh cranberries for dried and it was moist and tasty. Highly recommend and I will certainly make this again
The taste and smell of this bread were amazing. My only issue was that it was dry. I used the make-it-yourself mix of rice flour, tapioca starch, and potato starch (which works beautifully for every other recipe I've tried), along with the sorghum, etc. I made the GF coconut banana bread the same day and it was wonderfully moist. I was wondering if adding Greek yogurt might help add in some moisture next time. I love the flavor, and would like to find a way to make it work.
I am happy to hear you love the flavor. Be sure you are not baking the bread too long (internal temp 200 degrees). I would try reducing the amount if flour by 1 T. first. See if that makes a difference in the moisture content. Enjoy! Elisabeth@KAF
Perfect! I used raisins instead of dried cranberries but it still turned out great.
Just made this recipe and had my first two slices. I toasted the second and added some butter and cinnamon sugar to it and it was delicious. The recipe suggested using a thermometer to test for doneness. I removed my loaf at 202 degrees and it was perfect.
This recipe is wonderful. Tasty, Yummy.