A customized print-friendly version of this recipe is available by clicking the "Print Recipe" button on this page.
Gluten-Free Dessert Crêpes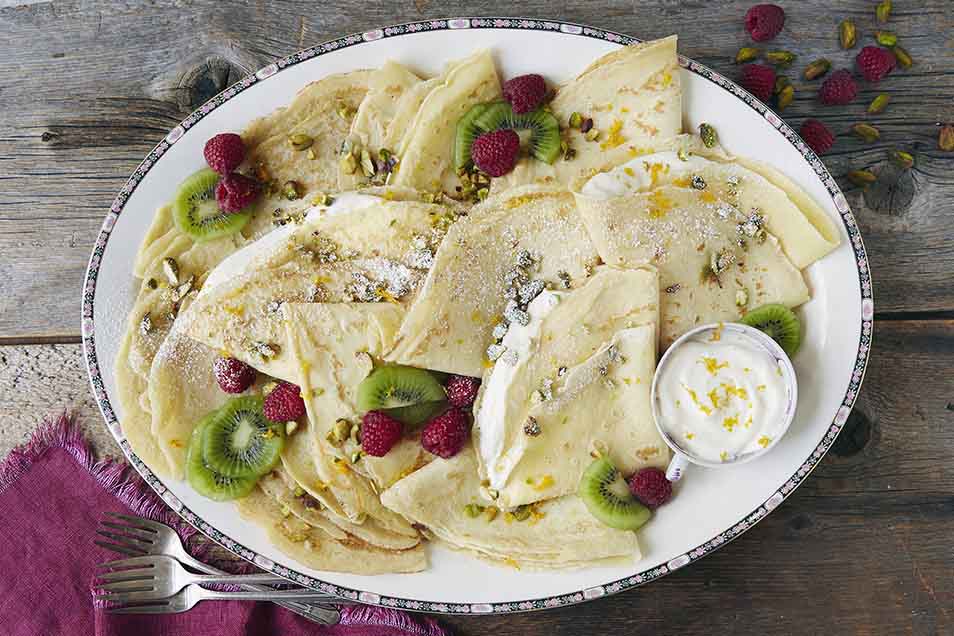 Light, tender and now even gluten-free- crêpes are everyone's favorite flapjack. Roll up a buffet of breakfast dessert flavors with these soft, thin and tender pancakes that will leave your brunch guests raving! Dress them up with cream cheese and orange zest, bananas and caramel, or a strawberry-ricotta filling and a drizzle of chocolate. The creative possibilities await you!
Ingredients
1/2 teaspoon salt
2 tablespoons granulated sugar
1/2 teaspoon xanthan gum
2 1/2 cups milk
4 large eggs
1 teaspoon vanilla extract
1/4 cup butter, melted
Instructions
Combine the flour, salt, sugar and xanthan gum in a medium-sized bowl.

In another, smaller bowl, beat together the milk, eggs, and vanilla.

Make a well in the flour mixture and pour in about half the liquid mixture. Blend well, then add the remaining liquid and stir until fairly smooth; a few lumps can remain.

Stir in the butter. Cover and let sit for at least an hour.

The best pan in which to cook crêpes is a 10" cast iron pan or crêpe pan. Heat the pan until it's medium-hot. Wipe the bottom of the pan with a bit of butter or oil (a paper towel works well).

Pour a scant 1/3 cup batter into the bottom of the pan, pick it up, and tip it in a circular motion so the batter covers the bottom of the pan. Cook until the bottom begins to brown and you can slide a spatula under it. It will hold together quite well, so you can flip it over easily.

Cook briefly on the other side, and place on a warm plate. Cover until the remaining batter is cooked.

Fill crêpes with fruit and whipped cream, sweetened cream cheese and berries, or anything else from bananas and chocolate or caramel, to ice cream and maple syrup.
Nutrition Information
Serving Size

1 crêpe, 78g

Servings Per Batch

12
Amount Per Serving:
Calories

169

Calories from Fat

54

Total Fat

6g

Saturated Fat

3g

Trans Fat

og

Cholesterol

74mg
Sodium

232mg

Total Carbohydrate

24g

Dietary Fiber

0g

Sugars

3g

Protein

5g
* The nutrition information provided for this recipe is determined by the ESHA Genesis R&D software program. Substituting any ingredients may change the posted nutrition information.
Tips from our bakers
In the mood for something savory? Just leave out the sugar and vanilla, and you'll have a great canvas for a wonderful dinner entrée.
Reviews
I've tried making GF crepes once before, and they were a gloppy mess. This worked wonderfully, even making a half batch! I used the KA gluten free flour, followed the directions, and was so very happy that I had a beautiful, thin crepe in my pan. I rubbed the finished ones with butter and sprinkled them with cinnamon sugar, folded, and repeated. Wonderful! Out of curiosity, why does the batter need to rest? Thank you, your GF recipes have turned out consistently well for me!

Gina, the brief rest allows the starches in the Gluten-Free Flour to become fully hydrated. This helps the batter thicken and also prevents a gritty texture. The crepes will have a delightfully smooth mouthfeel if you use King Arthur Gluten-Free Flour and include this step. Happy GF baking! Kye@KAF
I agree with the others, the batter is too thick. Had to add a lot of extra milk. Pretty much everyone is saying the same thing so I think the recipe is just off. Even so, once the extra milk was added it was delicious!

Thanks for reviewing this recipe, Michelle. We agree that there seems to be a trend where most bakers feel the need to add additional milk in order for the batter to have the right consistency. We've asked our Recipe Team to look into this to ensure the ratios are correct as written. We'll be sure to update the recipe if we find any changes are needed. Thank you for helping keep us on our toes! Kye@KAF
Of all sites, KAF should have the GF flour listed by weight as well. I read lots of reviews where people complained about needing to add extra milk, but I said, "Psshhh, I weigh my flour... no worries." Good thing I had extra milk on hand, because I needed well over a cup to make this recipe work. The taste was good, so I will make these again, but if someone there can please modify the recipe to use weight in grams or ounces, that would really help many, many people.

We love baking by weight, Melissa. You can view all of the ingredients in this recipe (and others) by toggling between "ounces," "grams," and "volume," based on what you'd like to see. Happy GF baking! Kye@KAF
This is a wonderful recipe. I used the gluten free flour I had on hand and some teff flour. It's my new favorite flour. The batter was thick. I added about an extra cup of milk to get to the right consistency. In my experience this is a common step in a crepe recipe. Add about a quarter cup of milk until you have the consistency of thick cream. The crepes were easy to flip, tender and flavorful. My kids, 11 and 13, both helped me cook some of the crepes. Definitely try these crepes they are delicious. Your friends and family will love them too, whether or not they need to eat gluten free.
Batter was way too thick, needed to add extra milk to thin the batter. Great tasting once I added more milk.

Hi Roxanne, We're glad to hear you gave this recipe a try. Our recipes are written using the "fluff and sprinkle" method, which means the flour is stirred up to aerate and then gently sprinkled one spoonful of flour at a time into the measuring cup. This may help you get the right consistency batter from the very start next time. We're glad you were able to get the delicious result you were looking for! Kye@KAF
These turned out fantastically. I added unsweetened cocoa and a pinch of espresso powder and love the results. Please continue the good work on GF recipes!
I've tried other flours for crepes and was greatly disappointed, but your mix is the best. I've made this twice and love it. I've added up to an extra 1/2 cup of milk to get the batter thinner. I'd also probably add more sugar the next time. This makes it more the consistency of my mother's recipe from Slovenia. Do you have the calorie chart for this recipe? Really glad that you enjoyed this recipe and that it brought back memories of your mom. We do not have a calorie count for this particular recipe, sorry. Happy Baking! JoAnn@KAF
Great Start on a recipe; 5 star with following modifications: +2 more eggs for a total of 6 +~1 cup milk (did not measure, but added at least one cup of milk so that batter just coats that back of a spoon as in a traditional crepe batter) Let batter rest for at least 1/2 hr. 1 hr to over night is best
Turned out as giant pancakes.
Lulu, we're sorry to hear these crepes did not come out as expected, but crepes at their very nature are giant pancakes! If you give us a call at the Baker's Hotline at 855-371-2253, we'd be happy to figure out what type of gluten-free dessert you are looking for and point you in the direction of an appropriate recipe. We look forward to helping you with your crepe dissatisfaction. --Kye@KAF