A customized print-friendly version of this recipe is available by clicking the "Print Recipe" button on this page.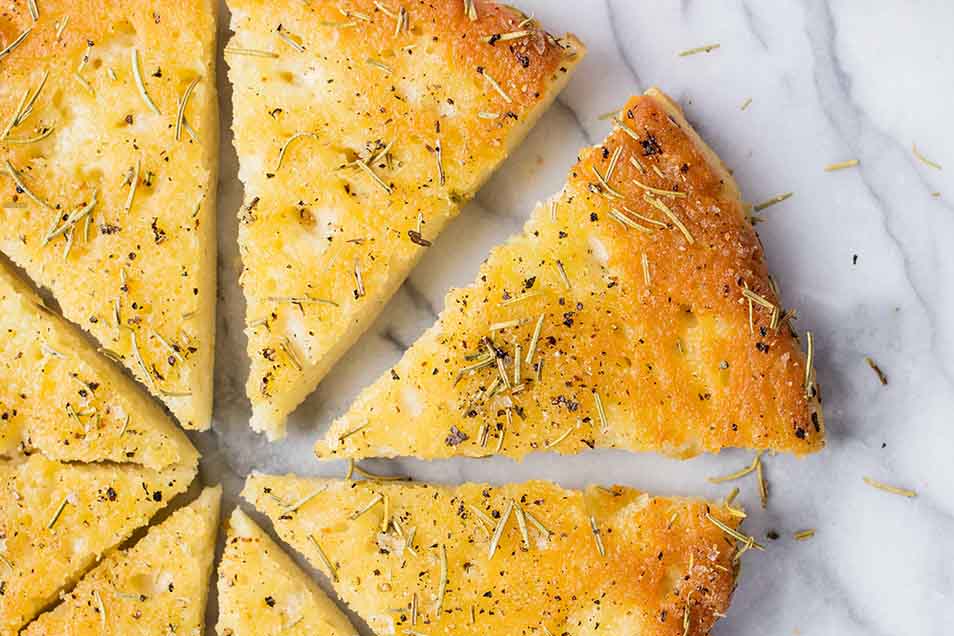 This Italian-style flatbread is lofty and soft, rather than thin and crisp. It's reminiscent of a thick-crust pizza sans topping, and is a tasty side for soup and salad — or a quick dip picker-upper!
Ingredients
Topping
2 tablespoons olive oil
generous 1/2 teaspoon dried herbs of your choice; rosemary is traditional
generous 1/4 teaspoon coarsely cracked black pepper, optional
coarse sea salt, optional
Instructions
To make the dough: Place the dry ingredients (except the yeast) into a large mixing bowl. Mix until thoroughly blended.

Place the warm water, olive oil, yeast, and about 1 cup of the dry mixture into a small bowl. Stir to combine; a few lumps are OK. Set aside for 30 minutes or so, until the mixture is bubbly and smells yeasty.

Add this mixture to the dry ingredients, and beat on medium-high speed for 4 minutes. The mixture will be thick and sticky, but not elastic; it won't feel like regular yeast dough. Note: you must use an electric mixer to make this dough; mixing by hand doesn't do a thorough enough job.

Cover the bowl, and let the dough rest/rise for 30 minutes or so.

Preheat the oven to 375°F.

Use non-stick vegetable oil spray to lightly grease a 9" x 13" pan, or two 9" round pans. Drizzle 1 tablespoon olive oil atop the spray; the spray keeps the bread from sticking, while the olive oil gives the bottom crust great crunch and flavor.

Sprinkle the herbs (and pepper, if you're using it) into the pan. Don't add the sea salt yet; that comes later.

Scrape the dough from the bowl into the 9" x 13" pan, or divide it between the two round pans.

Using your wet fingers, start at the center of the dough and work outwards towards the edges, pressing the dough to fill the bottom of the pan.

Let the dough rest, uncovered, for 15 to 30 minutes, until your oven is thoroughly preheated.

Bake the focaccia for 20 to 23 minutes, until it's set, and the top springs back when pressed. It won't be brown. You'll also notice it's shrunk away from the sides of the pan, and perhaps deflated a bit; that's OK.

Remove the focaccia from the oven, and immediately turn it out of the pan onto a cooling rack. It'll be pale on top, golden brown on the bottom — which is why you put the herbs and pepper in the bottom of the pan, rather than sprinkling them on top of the dough. This bread is served bottom-side up, to showcase its golden bottom crust.

Sprinkle the focaccia with coarse salt, if you're going to enjoy it immediately. If you're going to reheat and serve it later, or serve it at room temperature, don't apply the salt until just prior to reheating/serving.

Cut the focaccia into squares or wedges, and serve. Store any leftovers, well wrapped, at room temperature for a day; freeze for longer storage (up to a month).
Tips from our bakers
To make a delicious filled focaccia, stir the following into the dough: 3/4 cup shredded Italian-blend cheese; 1/2 cup oil-packed sun-dried tomatoes, drained and chopped (or 1/2 cup of your own oven-roasted tomatoes, chopped), and 1/3 cup minced fresh basil. Bake as directed, adding about 3 to 5 minutes to the recommended baking time.
Reviews
I have to say that this is the best gluten free bread I have had! KA has the best gf recipes and products and I have tried most. I made this as written but used a little smaller pan. I did use parchment and the oil and it came out great, it won't brown as much with parchment but it doesn't matter because it is so good! I also added some Italian spices on the bottom and salt when it was finished. If you slice in half and out in toaster it comes out great and makes great garlic bread. Thank you for all your gf recipes and products!!!
I used this recipe to make GF focaccia for a family gathering yesterday, since my daughter is gluten free, and served it with ribollita (https://goo.gl/cNkZ5e). I found it quite good, got rave reviews, and had to send the few remaining pieces home with my son-in-law. I omitted the buttermilk powder and replaced the water with the same amount of buttermilk, which gave the bread a great tangy flavor. I baked the focaccia in two round cake pans, sprayed lightly with non-stick spray, and put parchment rounds on the bottom of the pans. I made the loaves right-side up, used fresh rosemary instead of dry, and sprinkled the top with flake sea salt and caramelized red onion slices after coating it with olive oil. The focaccia didn't rise much but had a pleasant texture, baked to a golden brown, and had wonderful flavor. One thing I'd do differently next time is to use a bit less olive oil (I used Kalamata oil), but it was delicious. Thanks, KAF!
I'm not gluten-free, and I don't try gluten-free very often, but I have not yet made anything gluten-free that I actually liked. This was okay. I used KF gluten-free flour and followed directions exactly. There were no problems. I used KF pizza dough flavor and rosemary for topping. I wasn't sure if I should use the paddle or dough hook mixer attachment since it is a stickier dough. I called and KF said the dough hook, in case anyone else wonders.
I just made this bread and followed the recipe exactly as written. I put the olive oil on the bottom of my pan. I baked it for 20 minuets. Completely stuck to bottom of pan! The taste was good though

Thank you for sharing this feedback with us. Some of our other focaccia recipes calls for spraying the bottom of the pans with non-stick spray before the olive oil is drizzled into the pan. That way the focaccia doesn't stick and you get great flavor and crunch from the drizzled olive oil. We've asked our Recipe Team to add this to the recipe here. Happy GF baking! Kye@KAF
I made this recipe exactly as indicated-Delicious! Baked it on my pizza stone; pretty as a picture! Thank you King Arthur for quality gluten free products and super recipes!
My husband really misses eating bread since he had to go GF. I made this recipe when we had company and it was an instant hit. Everyone enjoyed it including the people who do not eat GF. It was yeasty, chewy, and had a crispy crust. Although the recipe has quite a few steps, none of them are complicated. I had planned to make pizza with the second pan of bread, but there wasn't a single piece left. I have already shared the recipe. This will be made many times in the future!
I looked at the comments and followed the suggested substitution of buttermilk for water and omitted the buttermilk powder, and I used parchment paper - it came out beautifully!!! Kids loved it and foodie husband said it tasted good... highly recommend !
My problem with this recipe is that despite carefully weighing all the ingredients and cooking for much longer it still ended up raw squidgy in the middle. Anyone else found this, any ideas on correcting? I did cook again and reduced water but not much air got in. It had a great crust and was chewy something lacking in all other GF bread, but just wish it would cook better. And I was using stainless steel pan and high heat to start like I would have done for gluten bread in my past life.

Hello Sulamaye, it's very possible your oven is running cool, and using an oven thermometer to check for accuracy would help with the bake. Laurie@KAF
Can I use buttermilk instead of the buttermilk powder?

Olivia, you can use 1 1/2 cups of real buttermilk instead of the water in this recipe, and omit the buttermilk powder. The focaccia will be flavorful and delicious! Kye@KAF
Excellent Flavor and texture!!! I actually set this recipe up in my bread machine (just to make the dough). This way I was able to get the 'mix' as recommended in the recipe/other reviews. Once the dough was done, I placed it in a bowl and set it to proof for an hour + ... I live at 7,000 ft, so I often have to allow breads to rise longer. Next time, I'll add a bit more proofing time. For baking, I placed the dough (and yes it was the consistency of very thick pancake batter, so you can't really roll it out) onto a baking sheet lined with parchment paper. Put some 'thumbprints' into the dough all around, drizzled olive oil and then sprinkled some Garlic powder (no salt)--optional, a pinch of Za'atar sprinkled throughout (optional) and then Maldon sea salt flakes (salt I think is essential). I followed my much-loved non-GF focaccia recipe for baking: Pre-heat oven 400 degree F . Bake on top shelf for about 10 minutes, turn oven down to 375 and move bread to lower shelf for 10-15 min. This comes out perfectly with browning/crust on top so you don't need to worry about it being an 'upside' down bread. I'm not a GF person by necessity and usually only do GF when celiac family members visit. I personally loved the flavor and texture. My GF family members wanted the recipe immediately!