A customized print-friendly version of this recipe is available by clicking the "Print Recipe" button on this page.
Gluten-Free Harvest Muffins made with baking mix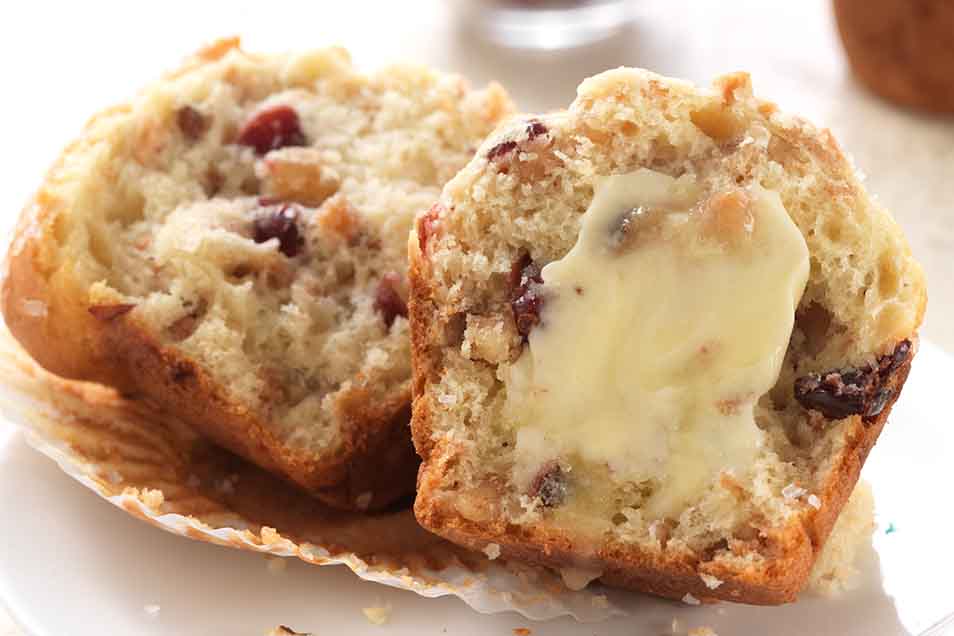 A hearty fruit-filled, flavorful muffin, perfect for breakfast or an afternoon snack.

Note: Please read and follow the recipe carefully; it calls for our gluten-free all-purpose baking mix, NOT our gluten-free multi-purpose flour.
Ingredients
1/2 cup diced dried apples
1/2 cup dried cranberries
1/4 cup water
1 1/2 cups King Arthur Gluten-Free All-Purpose Baking Mix*
1/3 cup sugar
1/4 cup melted butter or vegetable oil
2 large eggs
1/2 cup milk
1/2 teaspoon gluten-free vanilla extract
1/2 cup diced walnuts
cinnamon-sugar, for sprinkling on top; optional
*Make sure you use our gluten-free BAKING MIX — NOT our gluten-free flour.
Instructions
Preheat the oven to 375°F. Grease 8 cups of a standard muffin pan.

Combine the dried apples and cranberries with the water. Cover and let sit for at least 30 minutes (up to overnight) on the countertop; or cover and microwave for 60 seconds, then cool for 5 minutes.

Stir together the baking mix and sugar. Set aside.

Whisk together the melted butter or oil, eggs, milk, and vanilla.

Stir the baking mix and sugar into the wet ingredients. Scrape the bottom and sides of the bowl and continue to stir for about 30 seconds, until well blended.

Stir in the soaked fruit, with any remaining liquid; and the walnut pieces.

Fill the muffin cups almost full. Sprinkle with cinnamon-sugar.

Let the muffins rest for 10 minutes; this allows the leavener in the baking mix to start working its magic.

Bake the muffins for 20 to 25 minutes, until a cake tester inserted into the center of a muffin comes out clean.

Remove the muffins from the oven, and after 5 minutes transfer them to a rack to cool.

Yield: 8 muffins.
Tips from our bakers
Dried apricot pieces and dried blueberries are another great fruit combination to try with this batter.
Allow the muffins to rest for 10 to 15 minutes before serving. This allows moisture to permeate the muffins fully, making them more tender.
Gluten-free muffins bake better in greased muffin pans. If you choose to use paper liners, expect the yield to increase slightly, and the muffins to be less domed.
Reviews
Delicious! Moist inside, crunchy top. I used butter instead of oil. Lightly spooned baking mix into measuring cups and leveled. Used heavy muffin pan. Baked 20 minutes. A few changes: Half cup of boiling water to soak cranberries, then discarded all the water. Peeled and chopped a large Gala apple instead of dried apple. One teaspoon vanilla, added a couple dashes of cinnamon in the batter, coarse sugar/cinnamon for generous sprinkling.
I used almond milk and oil to be dairy free and they turned out great! Great flavor and texture!
I made this recipe substituting orange juice for the milk and adding 1/4 tsp orange oil. I did not have dried apples, so I chopped up half an apple. The muffins were delicious, with that cranberry-orange touch! I have made them several times, and each time tasters have commented that they are surprised that they are gluten free. Thanks for a great recipe!
I used fresh blue berries in place of the apples and coconut milk in place of regular milk because of having to go dairy free. Worked perfectly. Very tasty and the texture of the muffin was very good. Enjoyed every single bite.
I love all of your gluten-free recipes but it would be helpful if when the recipe calls for your baking mix, you also include an option using the ingredients for those of us who only have your all-purpose gf flour on hand.
Thank you for the suggestion, I will certainly send it to our Test Kitchen for review.-Jon