A customized print-friendly version of this recipe is available by clicking the "Print Recipe" button on this page.
Gluten-Free Irish Soda Bread Muffins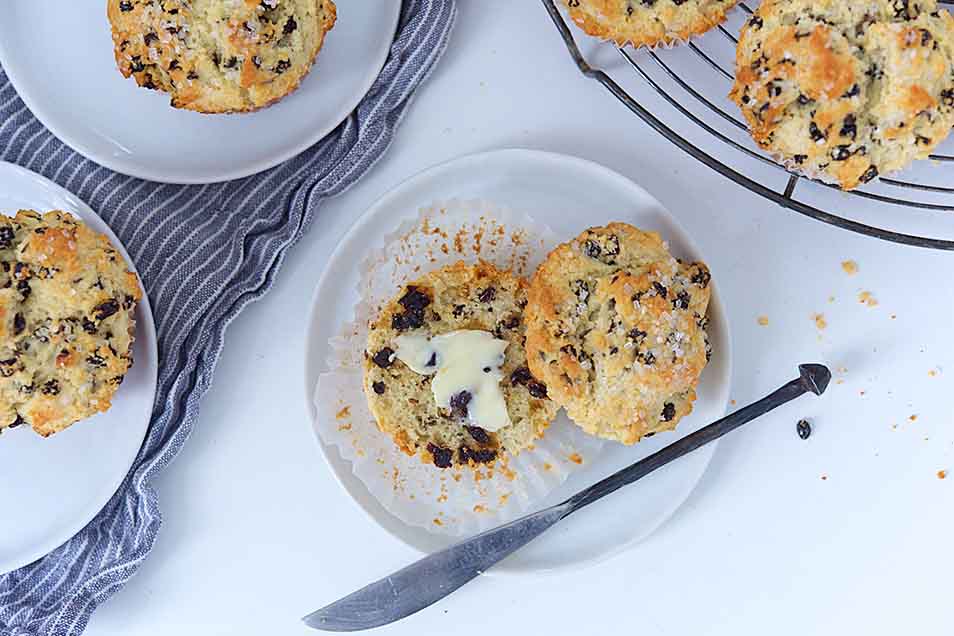 This gluten-free version of an American-Irish classic is baked into muffins, rather than bread — the better to share on St. Patrick's Day!
Ingredients
2 1/4 cups King Arthur Gluten-Free Flour
2 teaspoons baking powder
1/4 teaspoon baking soda
1/2 teaspoon salt
1/3 cup granulated sugar
1 1/2 cups currants (first choice) or raisins
1 1/2 to 2 teaspoons caraway seeds, to taste
2 large eggs
1 cup yogurt or sour cream*
6 tablespoons melted butter or 1/3 cup vegetable oil
coarse sparkling sugar, for topping; optional but good
*For best results, use full-fat yogurt or sour cream. Nonfat will yield an unpleasantly tough muffin; lower-fat will make an acceptable but less-tender muffin.
Instructions
Preheat the oven to 400°F. Lightly grease a standard muffin pan; or line with papers, and grease the papers.

In a medium-sized mixing bowl, whisk together the flour, baking powder, baking soda, salt, sugar, currants or raisins, and caraway seeds.

In a separate bowl, whisk together the eggs, yogurt or sour cream, and melted butter or oil.

Stir together the dry and wet ingredients. As soon as everything is evenly moistened, stop stirring; this batter doesn't need beating.

Spoon the batter into the prepared pan; a muffin scoop works well here. The stiff batter will be mounded in the cups. Top with sparkling white sugar, if desired.

Bake the muffins for 18 to 20 minutes, until a cake tester inserted into the center of a muffin comes out clean. Remove them from the oven. Tip the muffins in the pan, so their bottoms don't get soggy. Wait 5 minutes, then transfer the muffins to a rack to cool. Serve them plain, or with butter and/or jam.

Yield: 12 muffins.
Tips from our bakers
If you choose Greek-style rather than regular yogurt, thin it with a couple of tablespoons of milk before using.
Reviews
These are so yummy!! I made them with coconut sugar and almond milk yogurt in replace of refined sugar and dairy. Loved them!!
Did not use gluten free flour but came out the best!!! I added cranberries and currents with orange glaze on top. Excellent flavored recipe,moist and tender. Thanks so much, Kathy
These were really good for a gluten free baked good. Great for breakfast.
Moist and tastes spot on.
Excellent recipe, as I expect from KAF. I didn't have the GF flour so, as recommended by another reviewer, I used the GF Baking mix and omitted the baking soda, baking powder and salt. I used currants and caraway and would have added orange zest but I forgot. Maybe next time! I've been hankering for GF Irish Soda Bread for years and finally found a recipe that I knew would be successful. Thank you!
The best textured gluten-free muffin that I've baked! Made these with sour cream. Sprinkled raw sugar sparingly on top - nice crunch that did not make the muffin too sweet. Half of the recipe made 6 generously sized muffins. This recipe goes into my "make again" folder.
Ok. I haven't had much luck with GF Irish soda bread so I thought I would try these. OMG they are delicious. I have made them twice in two weeks. I get between 22-24 muffins with this batter. I would highly make these muffins.
I made these as written except that I added a teaspoon of lemon extract. Just ate one fresh from the oven and it was really good - nice flavour and texture! Any suggestions as to what adjustments would have to be made to bake it as a loaf? b

Just increase the baking time, Joyce, and you should be good to go! Bryanna@KAF
For those of us who are gluten free and miss some of the treats for special occasions, these are the best! I just made these for our St. Patrick's day breakfast, and they are a hit. They aren't as dry was Irish soda bread, too.