A customized print-friendly version of this recipe is available by clicking the "Print Recipe" button on this page.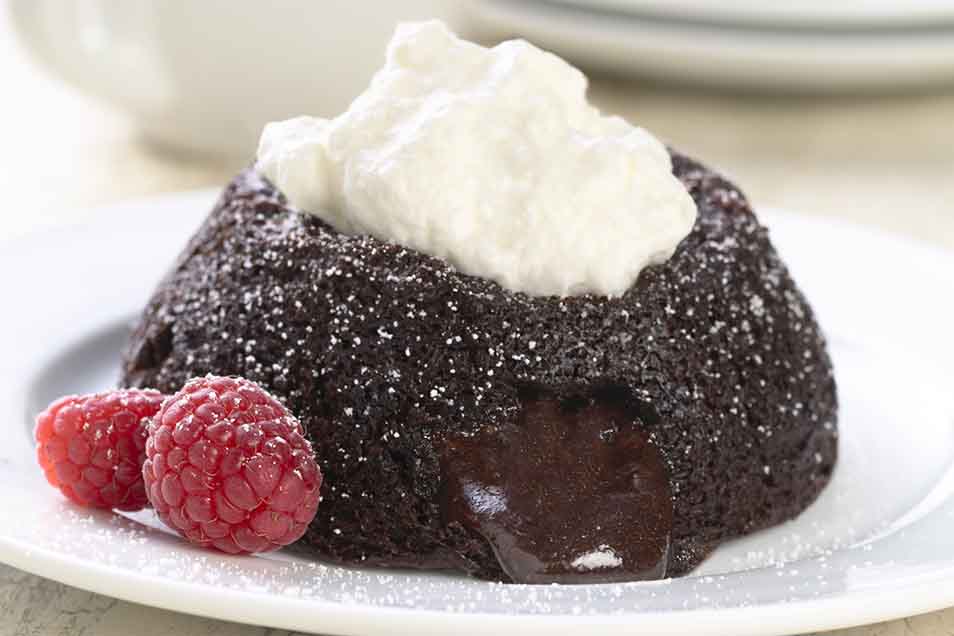 Want a quick way to impress and indulge your dinner company? Turn your gluten-free chocolate cake mix into something elegant with this easy variation to create a molten chocolate wonder.
Instructions
Preheat the oven to 375°F and lightly grease 3 silicone baking cups. Whisk the cake mix, confectioner's sugar, cocoa and espresso powder until they are thoroughly blended.

Add the water and melted butter to the dry mixture and stir gently.

Stir in the egg just until blended, taking care not to over-mix.

Divide the batter among the baking cups and place 2 bittersweet chocolate disks (optional) into the center of the batter in each cup. Bake at 375F for 14 minutes or until the internal temperature of the cakes reaches between 160-165°F. A quarter-sized circle in the center of the cakes will appear underdone and jiggly when you pull the cakes from the oven.

Immediately run a small knife or small offset spatula around the edges of the cakes to loosen them from the sides and allow them to cool for 5 minutes.

Turn the cakes out onto individual plates and serve immediately with crème anglaise, chocolate sauce, or a nice fruit purée.

Yield: 3 servings.
Reviews
Just finished eating these and they were great! I used a couple squares of quality milk chocolate in the center and baked in ceramic ramekins since I don't have silicone. They needed one extra minute in the oven and with some vanilla ice cream, they were so good! Guests didn't know they were gluten free and loved them too.
So easy and tastes wonderful. Does not taste any different because it's gluten free. I will be making this a lot!
Love it. I make it with an egg substitute, no espresso and a top 8 free chocolate chips. Very easy. Small portion. Highly recommend. And most of all my daughter loves it!
Hi, 1219g butter for this Lava Cakes?
Yikes! Looks like we had an error on this recipe. It should be 85 grams or 3 ounces! The change for this recipe should be updated tomorrow. Jon@KAF
I thought this was great. Using a mix to cut done on prep means I can have this more often! Especially since I can't have this at restaurants anymore. I added the hot water with the butter because I couldn't find it in the directions. I actually used hot coffee in its place. I didn't have the discs to put in, but it didn't matter. Will be making this often as I have to use the mix up now! Poor me (haha).