A customized print-friendly version of this recipe is available by clicking the "Print Recipe" button on this page.
Gluten-Free Maple Pecan Shortbread Cookies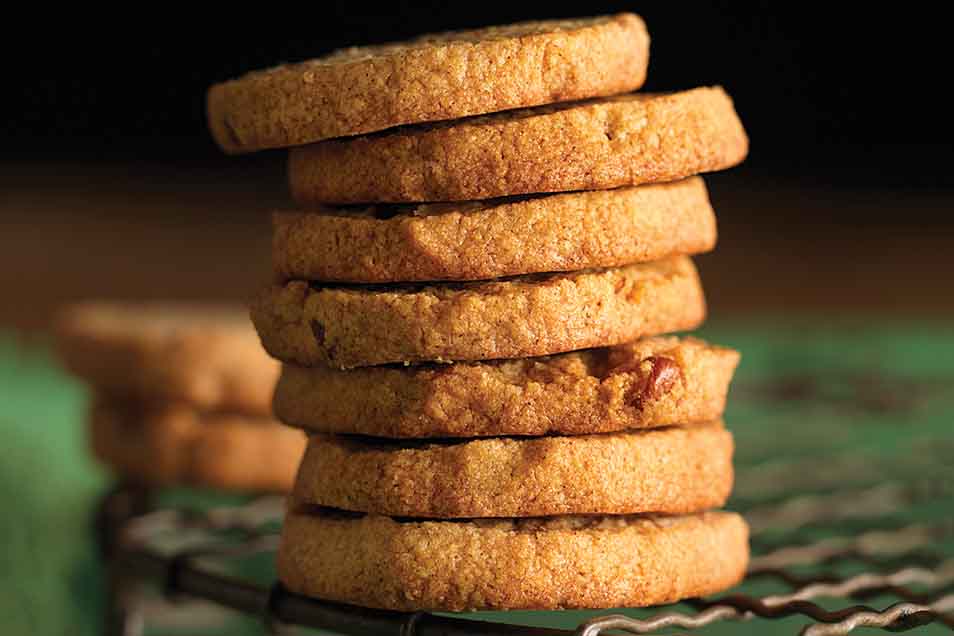 These cookies, created by blogger Alyssa Rimmer of Simply Quinoa, have a crisp texture and buttery flavor; are sturdy enough for shipping, and make great gifts. They're made with almond flour, which is higher in good-for-you fats and has more vitamins and minerals than grain-based flours. Since the holidays are already full of indulgences, this healthier cookie is a welcome addition.
Instructions
Put all of the ingredients except the pecans in a large mixing bowl, and beat on low speed until the dough comes together. Add the pecans and mix to combine.

Place a piece of plastic wrap on your work surface, and shape the dough on top of it into a log. Wrap in the plastic, roll on the counter to round it up, and chill for at least 1 hour.

To cut and bake: When the dough is firm, remove it from the fridge and preheat the oven to 350°F. Line a baking sheet with parchment paper.

Slice the dough into 1/4"-thick rounds and place them on the baking sheet. Bake the cookies for 12 to 14 minutes, until they're lightly browned.

Remove the cookies from the oven and cool them on the pan for 10 minutes before transferring them to a rack to cool completely.
Nutrition Information
Serving Size

1 cookie, 10g

Servings Per Batch

20 cookies
Amount Per Serving:
Calories

58

Calories from Fat

45

Total Fat

5g

Saturated Fat

1g

Trans Fat

0g

Cholesterol

5mg
Sodium

15mg

Total Carbohydrate

3g

Dietary Fiber

0g

Sugars

2g

Protein

1g
* The nutrition information provided for this recipe is determined by the ESHA Genesis R&D software program. Substituting any ingredients may change the posted nutrition information.
Tips from our bakers
If you have an empty paper towel core, it's the perfect vessel for holding your rolled dough and keeping it perfectly rounded while it chills.
Reviews
I attempted this recipe today and the dough never came together. I used gluten free flour and coconut oil instead of butter (but all the research I did suggested that this recipe should still work.) The dough never moistened enough to stick together (even when I added an extra tablespoon of coconut oil. It was still powdery and very loose in the bowl. It tasted as if it would make a great cookie but there's no way what I ended up with would chill into any form of dough. I tried to call the Bakers Hotline but there was no answer. I would love any suggestions KA may have so I can try this recipe again.

Hi there, fellow baker! We're sorry that a baker wasn't available to answer your call today. We'd suggest giving this recipe another try using almond flour, or another kind of nut flour if you'd prefer. The Gluten-Free Flour wouldn't work well as a substitution because the texture is very different and it will absorb a lot more liquid. Using a nut flour will produce a dough that comes together quite easily, even if you're substituting coconut oil in place of the butter. Happy baking! Morgan@KAF
Just made these for the first time and they were great. Kept the recipe the same except I made a glaze with maple syrup and confectioners sugar. It was yummy!! My husband lived them and I will be making these again. Also made the cranberry, orange almond shortbread cookies with an orange glaze. I will definitely chop the dried cranberry when I make this again.
I made these cookies this afternoon for my neighbor living with celiac disease. Instead of rolling the dough into a log and chilling it, I decided to flatten it into a disc, chill it for two hours, roll it out, and use a round cookie cutter. Despite preparing a batch and a half of the dough, it only yielded 20 thin 2" round cookies. Otherwise, the flavor, especially when using maple extract, is terrific.
This was a really easy recipe with few ingredients that I already had. And mixing altogether in a bowl then rolling up and slicing when ready to bake was a breeze. There just weren't enough! I don't know if you could double the recipe and have the same outcome; I baked them for 10 minutes and they were done. Maybe I sliced them too thin.... But they are delicious indeed!

Go ahead and double all the ingredients if you're looking to make more cookies, Kay. They'll turn out just as delicious as a single batch, just better because there will be more! Kye@KAF
This recipe produces cookies that have become favorites at our house and are good for potlucks and other celebrations. Having several family members who prefer to be gluten-free, the cookies fill a gap that is otherwise difficult to fill with a homemade cookie. I added a maple buttercream icing smear to each cookie as a great addition to flavor and texture. A quality maple flavoring in the icing amplifies the overall great taste of the cookie.
Love this recipe - the flavors and texture are addictive. Question for KAF team: even though the cookie log is perfectly round when I chill it (and I'm letting it chill in a paper town holder to help with the roundness), when I slice the cookies, they always end up with a flat side, which makes the cookies not so attractive. I've also tried freezing the logs and then slicing. Any tips to keeping these perfectly round? Thanks.

Terry, if you freeze the logs for 24 hours they should get very hard and hold up well, even when sliced. If you find that they're still a bit flat on one side, then you can try using (unflavored) dental floss to make slices. The dough should be barely chilled if using this approach, then loop the floss around the bottom of the log and make a simple knot. Pull downwards on the strings to tighten the knot, effectively slicing the dough at your desired thickness. This should help solve your conundrum! Kye@KAF
A great recipe easy to make, wonderful flavor and typicall of almond flour recipes they taste even better the next day. The maple flavor and pecans pair well together enhanced by the almond flour. No extra sweetener needed as the maple syrup is just the right amount. Next time I make them I'll refrigerated the dough for a couple hours before baking.
This is my go-to gluten free cookie recipe. I usually make it with coconut oil in place of butter (1-1) which makes these cookies vegan as well. The coconut flavor works with the maple/nut flavor profile. Cookies are best if dough is refrigerated for 12-24 hours, These cookies are very good - people are shocked to find out they are gluten free!! Is it my favorite cookie - no. Is it very good for gluten free - absolutely.
I followed the recipe exactly as it is and tasted the raw dough since there are no eggs and there is no APF. I found the dough not sweet at all so i added en extra teaspoon of maple syrup and tasted again but it wasn't sweet enough still. So i added 1 teaspoon cane sugar and then it tasted ok. I also had the log crumbling on me and was not able to cut discs from the log. So i rolled it out and used a cookie cutter. I also had to bake them for longer than 14 minutes, around 16 minutes. In the end, they taste good though!

It sounds like you might like our recipe for Maple Shortbread Cookies rather than this one, which is designed to be gluten-free (assuming you don't need to bake gluten-free). It's a bit sweeter and it shouldn't crumble as much since the all-purpose flour helps bind the dough. I hope that helps! Kye@KAF
Excellent shortbread cookie with nice golden crisp texture and good maple flavor, I only used quality pure maple syrup and subbed the maple extract for almond extract. I used whole cane sugar instead of confectioners and added 2 Tbsp. of Tapioca Flour to help bind everything together as well as 1 more Tbsp of butter. Classic cookie that I will make again and again!